ProView – deuter Aircontact Ultra 45+5 SL Review
I tested the deuter AirContact SL 45 + 5 pack for snow hydrology fieldwork and backcountry splitboarding in Crested Butte, Colorado this spring. For snow hydrology fieldwork, we carry a lot of gear into the backcountry—from snow "pit kits" equipped with scales, density cutters, and thermometers to shovels, probes, climbing skins, and a whole bunch of extra layers to keep warm while collecting data. I wanted to see how the AirContact Ultra 45 + 5 SL did while carrying this quantity of gear, and how it held up out on the snow. I also used it as my pack for splitboarding adventures in Crested Butte's backcountry after our data collection field days to see how it performed during long days of moving through the mountains.
deuter Aircontact Ultra 45+5 SL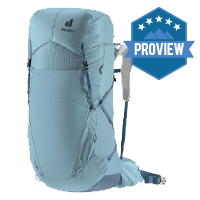 Product Name: deuter Aircontact Ultra 45+5 SL
Product Description: Reduced to the essentials, this lightweight pack made with bluesign® certified body fabric expertly balances comfort and weight, so you can devote more energy to the trail. This is largely down to the AirContact back system covered in Air Spacer mesh which performs three functions in one to save weight: Comfort, cushioning and ventilation. The innovative Clip & Loop back length adjustment offers a tailored, comfortable fit, while mobile VariFlex ECL hip fins and an ergonomic lumbar pad distribute the load effectively. And the hardwearing ripstop body fabric made from performance fibers is built to withstand the rigors of long-distance hiking.
Offer price: $250 MSRP
Currency: USD
Quality

Features

Durability

Fit

Eco-Friendly
Summary
The deuter AirContact SL 45 + 5 is a sleek backpack designed for the small-framed woman looking for a small overnight pack or a large day pack. I found this backpack to be comfortable on my lower back and supportive while carrying up to 30 pounds of weight. The pack's optimal uses include long day trips and short multi day trips—for example, to a remote backcountry hut. I did find the 45 + 5 L size to be slightly too small for a go-to overnight pack, and slightly too big for a go-to day pack, which is my only real complaint about this backpack. That said, the AirContact SL is a high-quality pack with excellent features and a comfortable fit for folks with narrow builds, and I can't wait to use it for future trips!
Pros
Slim profile for smaller-framed women
Supportive and comfortable while carrying weight
Lots of lumbar padding for a lightweight pack
Huge mesh outer pocket
Cons
Awkward capacity size
Extremely long hip belt
Limited back panel adjustability
Fit and Comfort
Deuter went all-out to design a comfortable trekking pack that works well for people with small-framed bodies. The Deuter SL, or slim line, design was developed by a team of women with the goal of making packs more comfortable for women and people with slim frames. This line of packs feature shorter back lengths, more conical hip belts, smaller distances between shoulder straps, and softer edges to reduce chafing. The Deuter AirContact SL Ultra utilizes all of these slimmer features.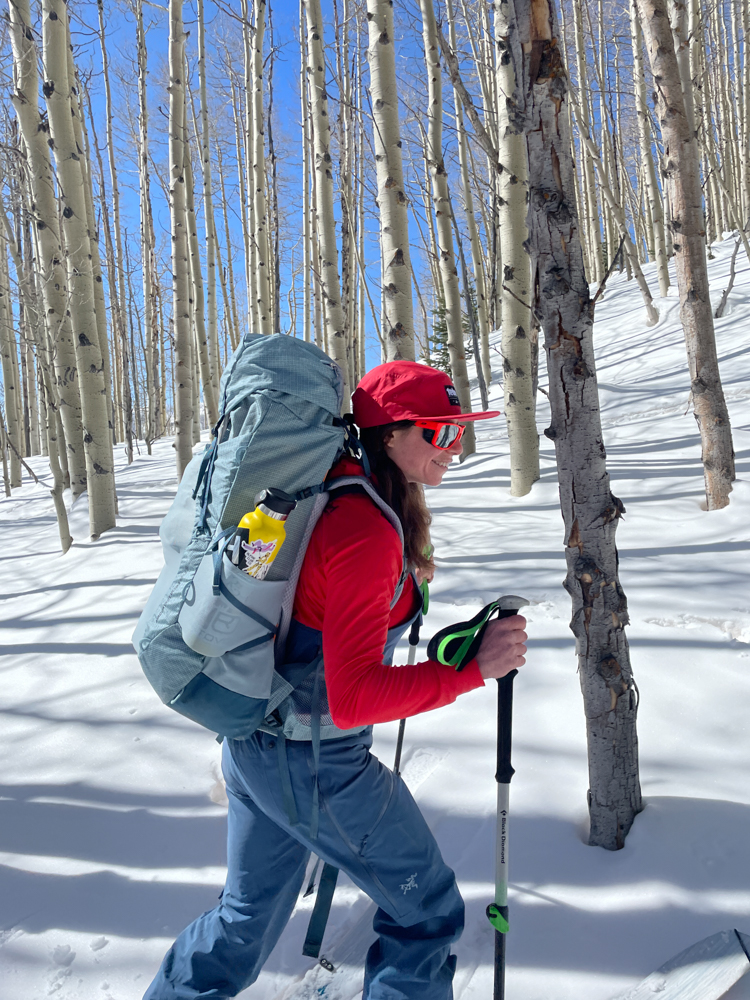 I appreciated these features because it meant that even when fully loaded, the pack fit me well, sitting on my hips without the dreaded pressure on my shoulders that I feel when packs don't fit. This was huge for me, as I require a shorter torso length to avoid large packs hitting my glutes when walking uphill.
That said, I didn't find the back length to be particularly adjustable, and did not understand the point of the Clip and Lock system for adjusting the shoulder straps – it seemed like the only viable place to clip the shoulder straps was on the middle adjustment, as the other two loops were quite small for the carabiner attachment to go through. Because of this, I would say trying this pack on to make sure the back length is correct would help you decide whether the pack is right for you.
The AirContact back system and AirSpacer mesh was awesome. I found that it vented well and felt comfortable against my back on long days in the snow. The comfort components of this pack, such as ergonomic carry features, were a huge sell on this backpack for me. For the past several years, I've been guiding backpacking with ultralight-style packs—my usual goal is to minimize my personal weight when carrying extra gear for clients. The Deuter AirContact Ultra, in comparison, felt luxuriously padded in the hip belt and lower back in comparison to lower-profile ultralight packs I have used. The pack features a triangular support on the lower back that feels cozy and comfortable when the pack is weighted.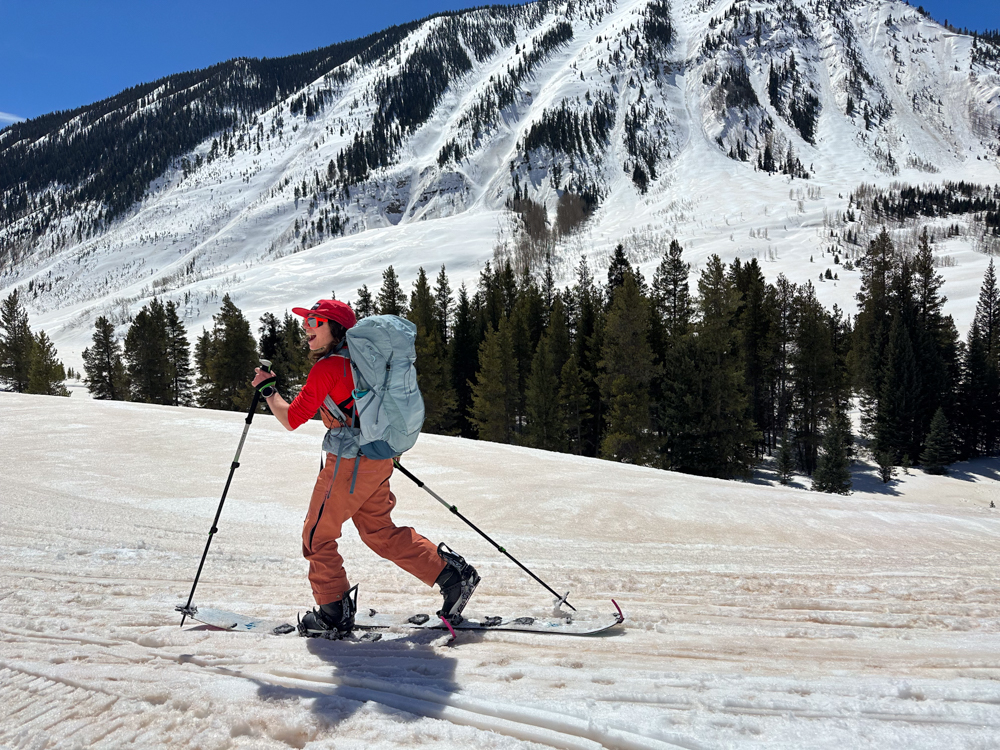 Look and Style
This is a sleek, attractive pack. I got my AirContact Ultra in the dusk-denim colorway— a beautiful, pale-blue-and-white grid pattern. Deuter's summer 2023 color options are festive and eye-catching, which made me feel stylish taking this pack out for snow fieldwork. The pack's shape and design is extremely sleek, thanks to the SL, or "slim line" design, made specifically for women and those with smaller, narrower frames.
The pack features a large, main body compartment, a medium-sized brain for the on-trail essentials, two mesh water-bottle compartments, and a huge mesh pocket for extra storage on the outside of the main body. This minimalist design looks streamlined on the user, and has excellent, simple functionality.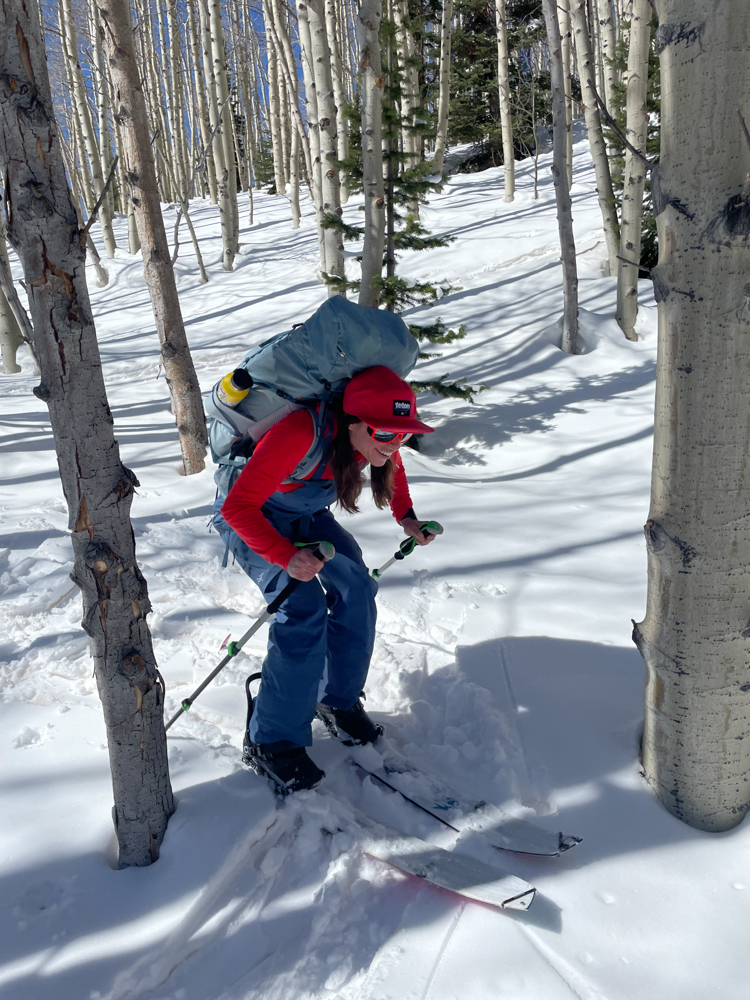 My one complaint regarding the look and style of the pack was the extremely long hip belt it features. While I am on the smaller side of users for this pack, I found that the hip belt, when fastened, went all the way down to my knees. I plan to cut this down with a hot knife—less due to any problems with function, and more because it looks rather unstylish. I imagine that for those with wider hips this would be less of a problem than it was for me with my narrow hips.
Features
The AirContact Ultra's massive mesh pocket on the outer body of the pack is excellent for shoving items you may want to quick access on the trail, or things you don't want inside your pack— I'm looking at you, muddy camp shoes, trowel, and toilet paper bag. The brain of the pack is removable if you don't want or need it for a given excursion, reducing the pack weight and increasing accessibility to the main compartment. The brain also features a carabiner attachment for keys to ensure they don't get lost. Inside the pack, there is a large pocket that can fit up to a 3 liter water reservoir, as well as a hose hole for easy hydration while out on the trail.
Weight and Capacity
The Deuter AirContact Ultra weighs in at 2.65 pounds for its 45 + 5 liter size. It's not the most ultralight pack for its size on the market, but it does an excellent job of pairing lightweight construction and streamlined design with comfort under a load. I found it to be a comfortable pack when loaded with my enormous snow "pit kit", extra layers, shovel, probe, and snacks during snow hydrology field days in Crested Butte.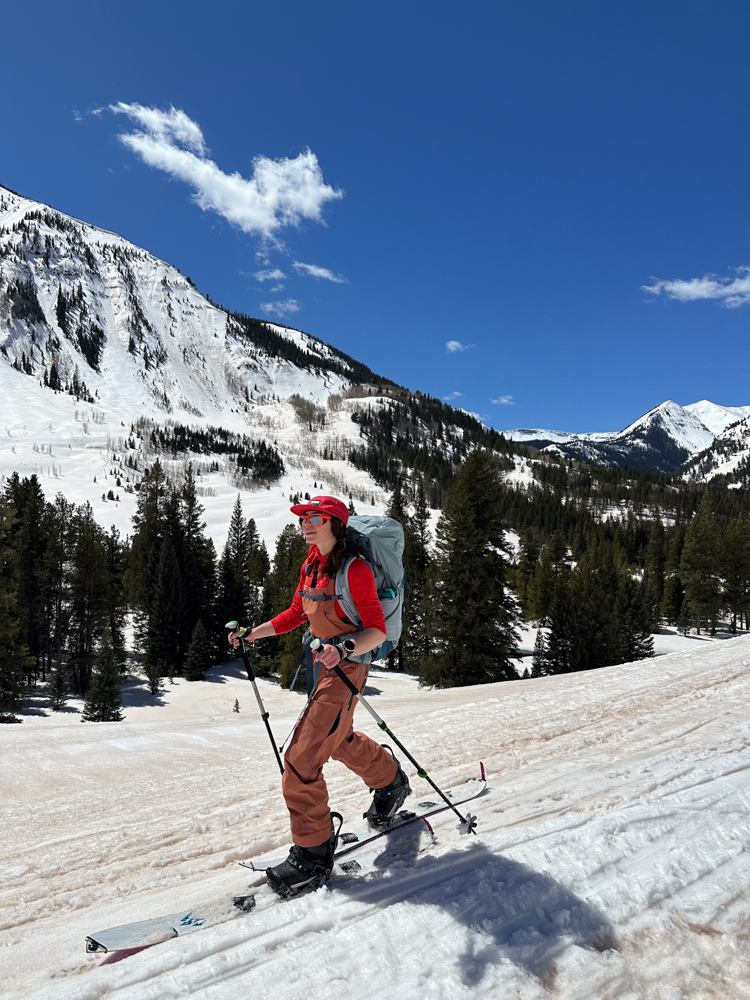 Deuter recommends that the pack is not loaded with more than 33 pounds. Because of this, it's really only designed to be used for lightweight adventures — this is not the pack for you if you're carrying 50 pounds on the trail. While I did not try to load it with more than 30 pounds, I can see why the slim design is not intended to carry more than that. Save this pack for single night backpacking trips, hut trips, and high-volume day trips.
Durability and Construction
The AirContact is built with 175 Denier Polyamide Ripstop Ultra HD fabric. This fabric is highly durable. When I set the pack down in the snow, despite the fact that it is not truly waterproof, it didn't soak through. It is certainly a high-quality backpack, as expected from a manufacturer like deuter. This pack is also covered by the deuter Lifetime warranty, which means that if anything were to happen with this pack, deuter would fix or replace it for me.
One con I observed was that the pack has mesh hip belt pockets. While this is not a huge problem, I feel that it could pose durability issues later, as mesh is more prone to holes than the polyamide ripstop material used elsewhere on the pack. These mesh hip belt pockets also mean that the contents of these pockets are fully exposed if your pack was to get wet. As someone who usually likes to keep a cell phone in my hip belt pocket, I was not a huge fan of this.
What sets this product apart?
The slim design is what set the AirContact Ultra apart for me. As a small woman, finding backpacks that fit me well is incredibly difficult. Additionally, I found the combination of ultralight materials and comfort features to be unique: this is a lightweight pack made to be comfortable on trail, with serious lumbar support and hip padding.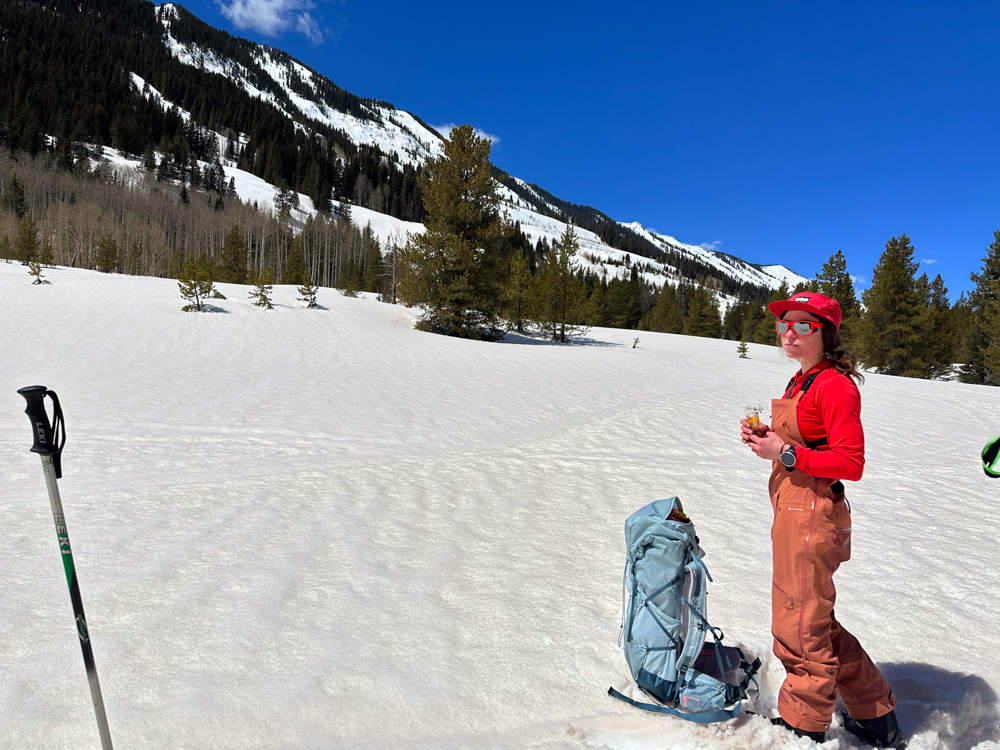 Friendliness to the Earth
Deuter made the AirContact Ultra pack with PFAS-free materials, which means that no per- & polyfluorinated chemicals were used in its construction. This group of chemicals are generally used in water-repellant items, like Gore-tex, and pose a variety of serious health and environmental impacts during the production and disposal process. Additionally, the pack's body fabric was made with Bluesign-certified materials. Bluesign materials go through a certification process to ensure environmental friendliness, and deuter uses a minimum of 70% Bluesign certified materials. Deuter is a socially and environmentally- conscious company with an extensive sustainability plan, and won the German Sustainability Award for Global Partnerships in 2022. Finally, they offer a repair service to keep products in use throughout their lifecycle, avoiding waste.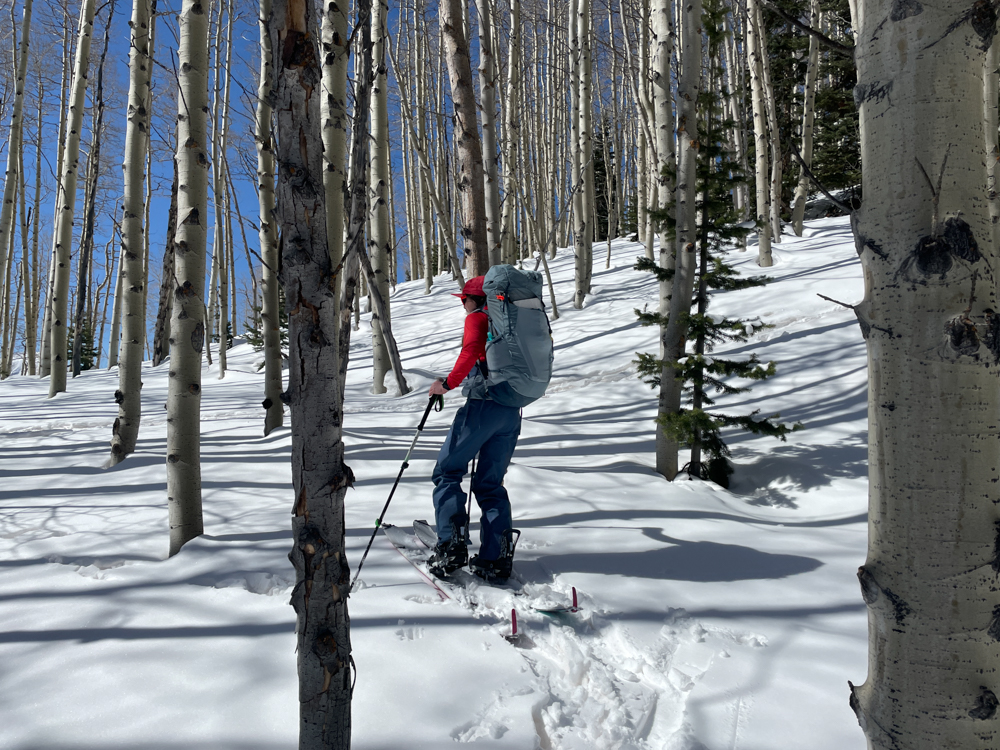 The Final Word
The deuter AirContact Ultra 45 + 5 is an excellent pack for smaller-framed women who are looking for a backpack balancing comfort and support with lightweight construction. Though I found the capacity and size of it to be a little bit awkward for both day trips and overnight trips, I feel it is an excellent pack for those looking for a 45 liter pack. This backpack is durable and well-made, and would be a great choice for a hut-to-hut trip, short overnight trips, or long day trips. The AirContact system was excellent, and the fit was optimal for me, as a five-foot-tall woman—though the back panel has limited adjustability. I would recommend this pack to smaller folks looking for a backpack made with their body type in mind. Even topped off with snow research gear, I found this pack to be comfortable and supportive, and plan to take it along with me for plenty of personal and work trips this coming season.
Shop the deuter Aircontact Ultra 45+5 SL on Outdoor Prolink. Not a member? Apply today!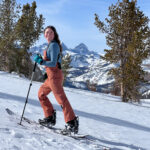 Jackie is a backpacking guide at Lasting Adventures Guide Service in Yosemite National Park, CA. She also works on a snow hydrology field research team, writes for HikingDaily.com, and is currently writing a thesis in Environmental Studies at the University of Colorado, Boulder. She loves splitboarding, scrambling, and rambling around in the Eastern Sierra and the Colorado Rockies. Follow her adventures on instagram @jackieeflor.