ProView – GOREWEAR Torrent Road Cycling Kit Review
Winters in western Canada are fabulous for outdoor sports from cross-country skiing to trail running. Road cyclists, however, are largely confined to indoor smart trainer workouts, as extreme sub-zero temperatures prevail for many months. Averting cold, snow, and ice to test 3-season cycling gear can be a real challenge!
GOREWEAR Torrent Road Cycling Kit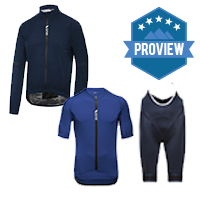 Product Name: GOREWEAR Torrent Road Cycling Kit
Product Description: A race oriented, slim fitting, durably waterproof and highly breathable GORE-TEX kit.
Offer price: $120-$230 MSRP
Currency: USD
Quality

Features

Fit

Durability

Eco-Friendly
Summary
All three items:
are true to size
fit exceptionally well
are highly functional
resonate high quality
are really comfortable
look very sleek
offer great value for money
Pros
Excellent fit and comfort
Attractive color options
Designed to last
Super functional
Easy to store away
Cons
Reflective elements could be larger
Ventilation in jacket arm pits missing
Eco-friendliness unclear
In early March, I finally got a few opportunities to test the GOREWEAR Torrent cycling kit – including bib shorts, jersey, and jacket – on short rides in Edmonton's beautiful river valley. Conditions were mostly sunny, just below freezing point, and with little wind. I stuck to paved roads in more open areas though to better assess the windstopper functionality. In addition, I have been wearing the shorts and jersey during my indoor training, including long-duration and high-intensity sessions.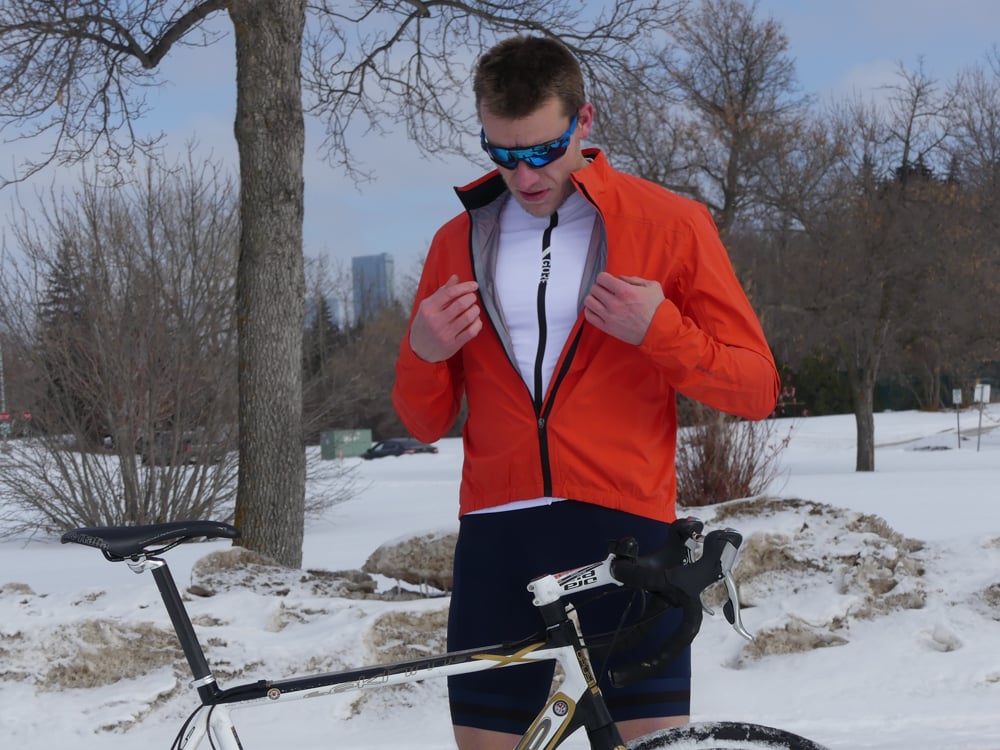 Cycling has always been my favorite sport and last year I successfully competed in my first long-distance race, the Patagonman Xtreme Triathlon in Chilean Patagonia. Milestones in 2023 are the Ironman 70.3 in Victoria and the Bikingman X in Morocco, while the real highlight awaits in 2024. In spring, I will set out on a 30,000km cycling journey from Alaska's High Arctic to the tip of South America, tracing the routes of migratory birds to improve their conservation. Identifying cycling gear that works well for me on this epic adventure is really critical.
Performance
So how did the GOREWEAR Torrent kit perform in light of next year's expedition? Well, of course it's not possible to emulate the scope and intensity that comes with cycling 150km per day for eight months straight. Multiple rides, though, have given me a good glimpse into comfort and functionality for distances and durations that are relevant to both competitive and recreational cyclists. What immediately excited me was the perfect fit of all three items: a white XL (US) jersey, an orange XL (US) jacket and blue L (US) bib shorts. At 192cm height and 93kg, I would describe myself as athletic with a rower's frame, slim waist, long legs and medium-sized quads.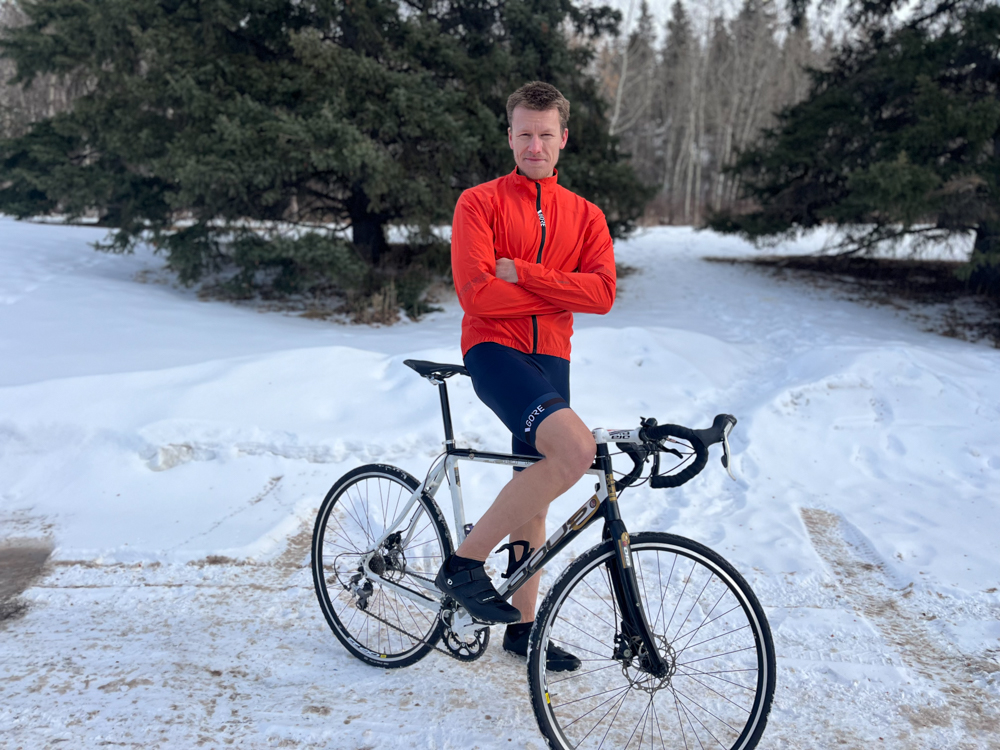 Let's look at the bib shorts first. They have a tight, yet comfortable fit with flat hems that prevent sliding. The elastic shoulder straps are soft with a pleasant feel, sitting snug without pulling the shoulders down. The chamois pad is less chunky compared to those in my other cycling shorts, and importantly causes no chafing, while the windstopper cup effectively reduces wind chill.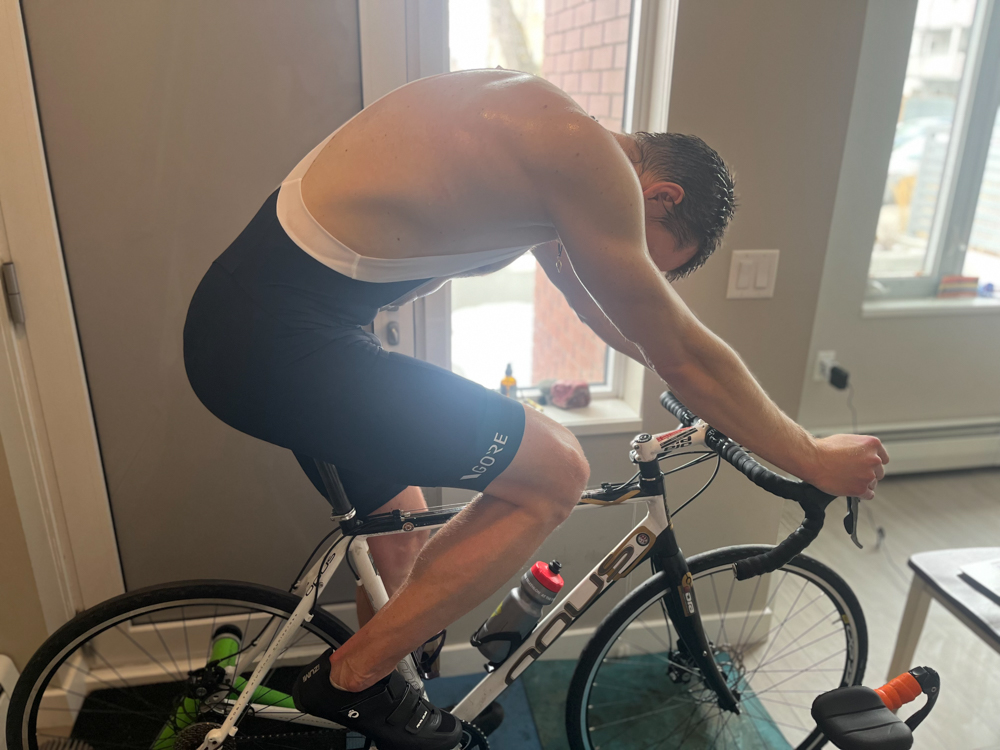 Just like the bib shorts, the jersey sits skin-tight, thanks to the grip of the elastic hem, while enabling unrestrictive range of motion. Combined with the drop-tail, the lower back remains well-protected even in racing position. The extended back portion features three deep pouches with ample space for snacks and smaller pieces of garment. Access whilst riding is easy and the strong stretch material offers safe storage. A zipped pocket to the right is large enough to hold valuables like keys and cards that are not required during the ride. The front zip is not only functional, sliding up and down very smoothly, but is also quite stylish with the GORE logo coming on display as the slider travels up, a feature also found in the jacket.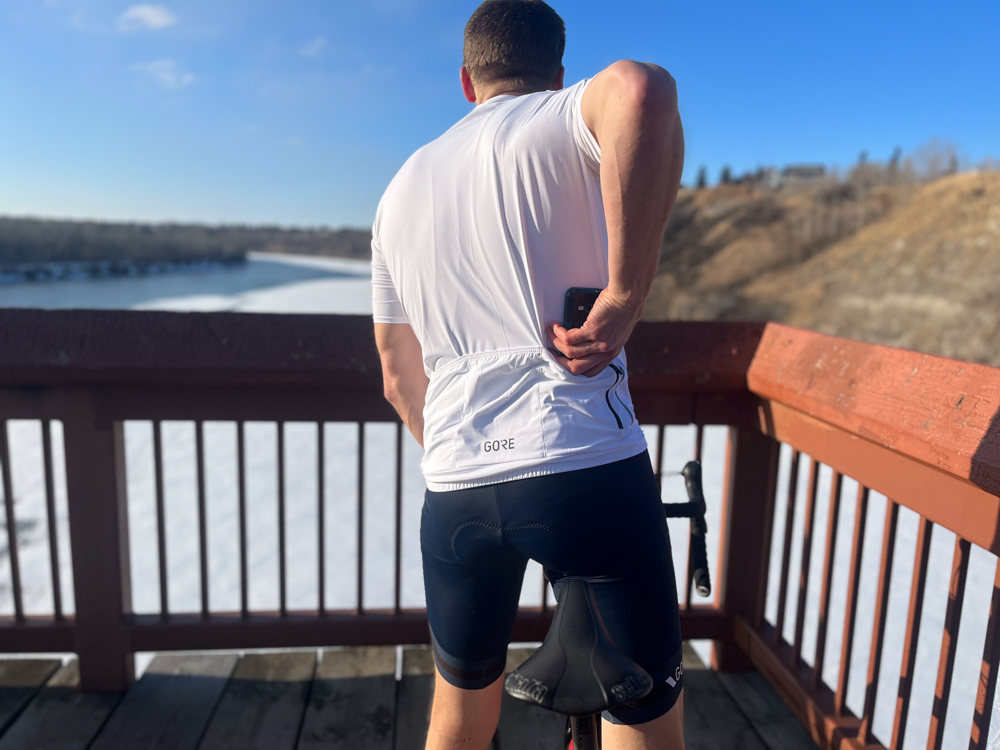 My favourite trait in the jacket though are the long sleeves. This includes a thoughtful short extension on the back of the hand which helps to position the sleeve over a glove. Thanks to the stretch material and great cut, I have great arm and shoulder mobility, unlike in most other jackets that I have tested. The unconstrained range of motion also helps to reach the zipped back pocket which can easily hold a mobile phone. Moving the pocket's zip is a bit fiddly though while on the go despite the support cord. The front zip on the other hand responds rather well and tucks neatly into the zip garage of the fleece-lined collar.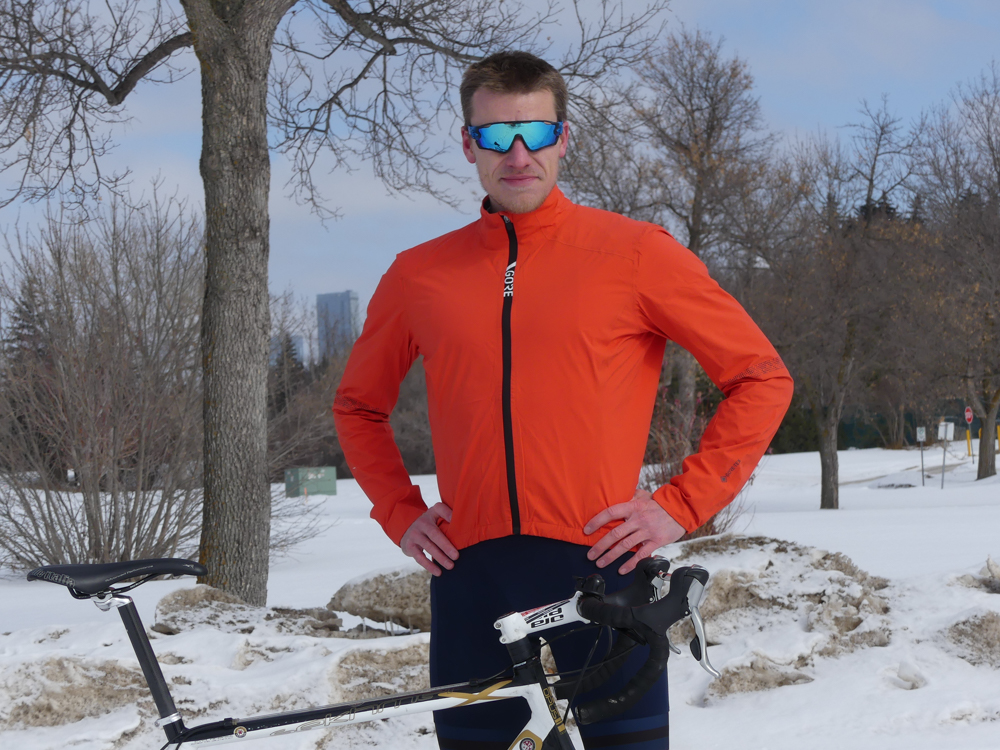 So far, the Torrent kit has exceeded my expectations and I can't wait for winter to pass to explore its full functionality, including rain and wind protection, breathability, and durability. My verdict: The combination of blue bib shorts, white jersey, and orange jacket looks super stylish, all items fit exceptionally well and are race oriented, they are light and easy to store away, with great attention to detail. I would definitely value a kit of this quality for the upcoming Alaska to Patagonia cycling expedition.
What sets the product apart
The Gore Wear Torrent cycling kit stands out for its superb combination of quality and design: nothing feels compromised.
Who is the product for
My personal planetary footprint largely influences my consumption behaviour. Paired with a relatively nomadic lifestyle, I prefer a small selection of high-quality gear that excels under many circumstances. The Torrent kit fits that description in that it works well for both training and competition. Thanks to the outstanding quality and design, I believe it speaks to competitive athletes and recreational cyclists alike.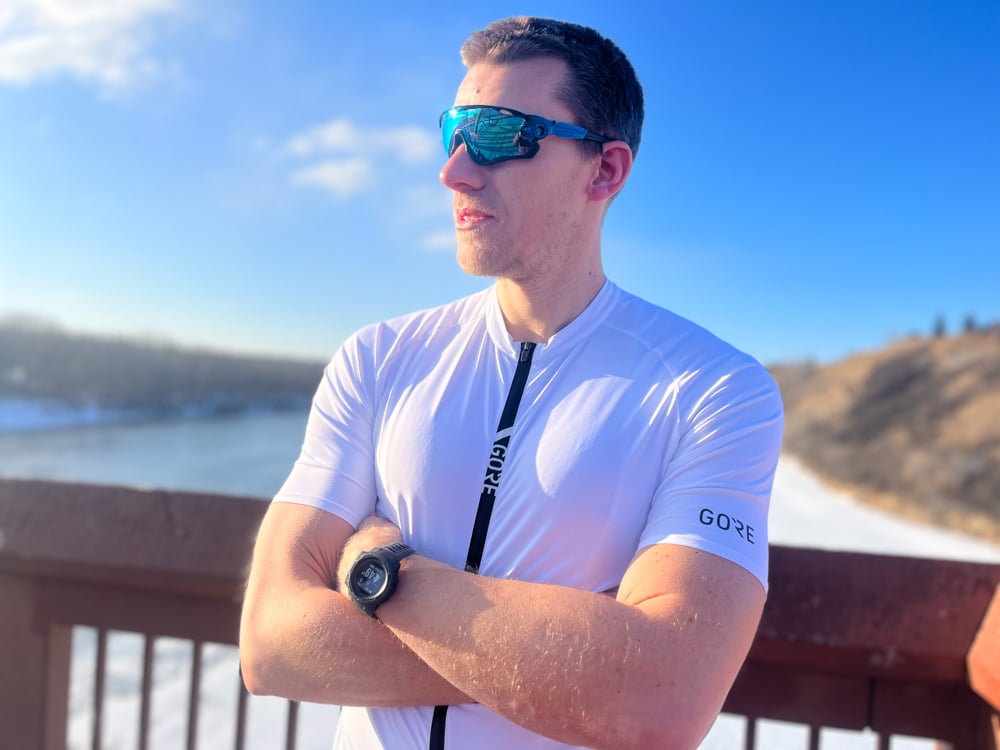 Friendliness to the Earth
Corporate accountability on socio-environmental standards is the prime criterion for seeking out my expedition sponsorships and partnerships. GOREWEAR does not elaborate on the environmental footprint or eco-friendliness of the Torrent clothing line. The company's GORE-TEX® products are bluesign® and STANDARD 100 by OEKO-TEX® compliant, and efforts to ensure the same standards for other products are being made. Based on my online research, while GOREWEAR is committed to select environmental certification standards, there is no mentioning of additional measures to reduce the company's footprint, such as the use of plant-based, recycled, and PCF-free materials.
The Final Word
The GOREWEAR Torrent kit has a wonderful slim fit, offers superb functionality, and looks really sharp.
Shop GOREWEAR on Outdoor Prolink. Not a member? Apply today!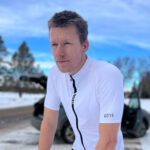 Timm holds a PhD in Global Change Ecology and researches human impacts on biodiversity from tropical forests to temperate grasslands. A long-time Explorers Club member, he is passionate about wildlife photography and endurance athletics. His next adventure is a cycling expedition from Alaska's High Arctic to the southern tip of Patagonia in the context of a migratory bird conservation project called Flyway Heroes. You can connect with him at @10millionreasons or @flyway_heroes