ProView – Deuter Freerider Pro 34+
The Deuter Freerider Pro is a thoughtfully designed purpose-built backcountry ski/board pack.  Featuring back panel access, and dedicated compartments for avalanche gear and skins, Deuter has again lived up to its reputation as a premier pack maker.
Deuter Freerider Pro 34+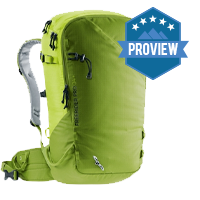 Product Description: The Freerider Pro has all the features and flexible capacity you need for multi-day winter adventures in the mountains. This latest incarnation of the Freerider Pro has a new roll-top closure. This allows you to expand the capacity of the pack by 10 litres. The roll-top itself is also fitted with a stowable strap for the attachment of extra kit or a climbing rope, or to compress the roll-top itself. At times during the day when you don't need your skis, snowshoes or snowboard, they can be attached to the outside of the pack quickly and easily using two dedicated gear straps; skis can be affixed diagonally across the back or in an A-frame, a snowboard or snowshoes in an upright position. These versatile gear straps can also be used for compression.
Offer price: $180 MSRP
Quality

Features

Durability

Fit

Eco-Friendly
Summary
Deuter's Freerider Pro 34+ is an excellent pack for backcountry skiing/snowboarding.  Big enough that a savvy packer could use on AT hut trips, yet ergonomic enough to ski well with.   
Pros
Back panel entry

 

Deuter's commitment to sustainability

 

Skin sleeve, dedicated avy gear pockets
Multiple ski/gear attachment points
Cons
Hydration pack not included
Unrefined hydration hose routing system
Winter has long been my muse, driving over Red Mountain Pass in a September snowstorm, seeing the car in front of me spin out multiple times, and coming across a Ferrari half-on/half-off US-550, I was home.  But, as the intermittent at best storm cycles followed, the reality of my premature "stoke" set in with the womping of a deep persistent slab problem.  My September high formed a layer of highly faceted snow close to ground level, creating a dangerous — at best — snowpack across Colorado and Utah.  With four fatalities already this season, by those with extensive backcountry experience, and in terrain that has historically been safe in high avalanche conditions; avoidance and conservative decision making are key to living to ski another day.  Thus, big lines, couloirs, and ski mountaineering were out when I tested this pack.  So, I set out to tour, and what better way to test a pack than by filling it full of gear and taking it for long skins through the alpine.
Performance
Immediately I noticed that my elbows didn't hit this pack like with my other similar sized ski packs.  Closer inspection revealed that the Freerider taper towards the bottom creating an ergonomic design built for ski movement.  In true Duetur fashion, the Alpine Suspension system is excellent and comfortable, wearing this pack all day is not a problem. 
The roll-top is perfect for stuffing a puffy in when shedding layers, while the rear panel entry is great for digging out lunch or a camera.  The material is durable and kept my gear dry.  Capable of attaching skis crosswise, or in an A-Frame, and snowboard, this pack is perfect for those times you find yourself rock climbing in tech boots.  You should note, if you are planning on using the A-Frame ski attachment function, be sure to pack a Voile Strap to avoid having your calves hit the tails of the skis. 
One of my favorite features is the dedicated skin pocket, gone are the days of needing to carry a stuff sack for the skins.  Simply fold your skins to your preference and stow them in the flat pocket on the face of the pack.  Though I did find it hard to fit full-width cheat sheets (180mm) in the sleeve.  For more technical approaches Deuter built in an ice ax attachment and straps to lash on a climbing rope.  Also included is a goggle pocket, and a sling for carrying a helmet.  As with any dedicated ski pack, there is an easily accessed, well-organized avalanche safety gear pocket.  This pocket easily fit a pro-sized shovel-like BD's Evac 7, and includes instructions on getting rescued in German should the unfortunate need arise.
Lastly, the rear panel has a hydration sleeve and hose port.  This is one area the pack could use some refining as the design is very simple and is not easily compatible with all hydration systems.  I would have liked to see a more robust hose sleeve built into the shoulder strap as opposed to a single elastic strap, as well as a magnetic nozzle holder on the sternum strap.
Additionally, the Freerider 34+ is more than a ski pack; I used this pack to shoot a wedding on a peak in Washington, as well as a mountain biking piece in the desert of the Colorado Plateau.  As a professional photographer, I have a proclivity to back panel entry packs.  All my camera bags are hybrids of ski packs and various camera cells (the Medium Kit Cube from Mountain Smith pairs well with this bag).  They have better suspension systems, are more ergonomic, and have features that as an adventurer I chose not to live without like being able to carry avy gear, or a helmet, or a hydration sleeve.  Set the pack down, unzip the back, and boom, there is your camera and lenses!  It's organized, there is a place to set lenses when making quick changes, the gear is protected/won't fall in the dirt, and they are easy to quickly repack to get back on the move. 
Mother Earth
Dueter shows its commitment to sustainable and equitable business practices through partnerships with Bluesign, Fair Wear Foundation, Alliance for Sustainable textiles, and is using PFC free impregnation process for their coatings.  Bluesign audits factories and products with an eye to resource consumption, pollution production, and chemical exposure in workers and consumers.  While Fair Wear focuses on worker conditions and strict working procedures in low-income countries. 
Final Word
The FreeRider 34+ from Deuter is an absolute crusher as a AT pack.  Its design is comfortable, durable, functional, and stylish.  The hydration system and lack of an included bladder are the only shortcoming.  Finally, combining the back panel entry with with a camera cell, this pack doubles well as a camera pack.     
Shop the Deuter Freerider Pro 34+ on Outdoor Prolink. Not a member? Apply today!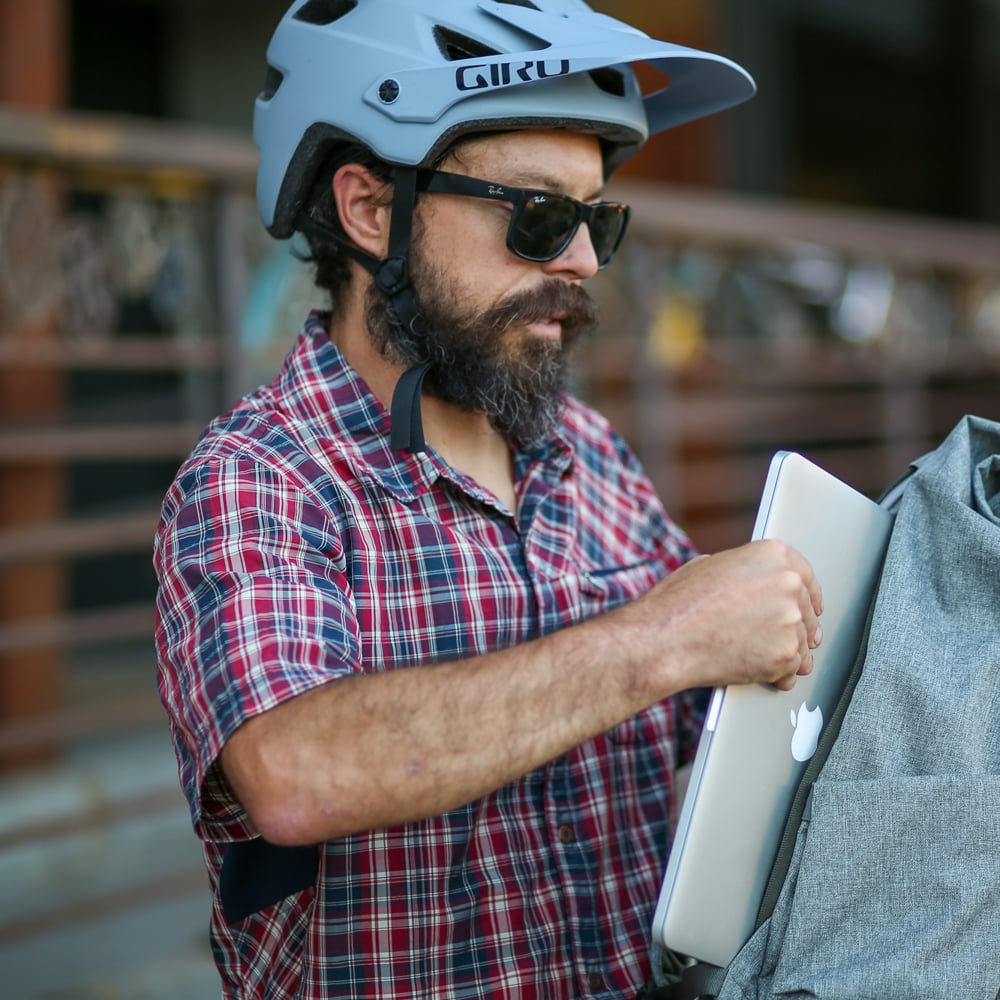 Brook is a Grand Junction, Colorado based professional photographer focusing on the outdoor space.  Brook is a contributor to Rock & Ice and Mountain Flyer magazines.  When not behind the lens, Brook can be found adventuring around the west or climbing in Spanish speaking countries.  You can view Brook's work at www.brookhayerphotography.com or on Instagram @brookhayer. Connect with Brook by email at [email protected] or on IG.