ProView – Exped Lyra 2 FR
I brought the Exped Lyra III on a trip with two other people to test its capability as a "basecamp" style tent for climbing peaks. On a trip where I would typically bring a lighter sleeping setup, I wanted to see if this tent would be a good fit for packing a little heavier but having a more comfortable camping setup once the tent was pitched and off my back.
Exped Lyra 2 FR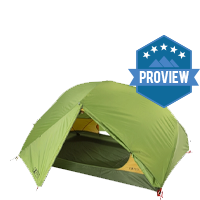 Product Description: Lyra III is built to provide lightweight, freestanding and affordable shelter for 3 people in 3 seasons for backpacking and trekking. 2 doors and 2 vestibules allow easy entry, exit and gear storage. Endostructure poles (poles on inner tent) allow easy set-up without the fly in dry conditions. Pole segments are unified into a continuous, shock-corded array for rapid set-up. Strong and light micro-hubs strengthen the pole intersections and eliminate wear of the fly at these critical points. Multiple set-up and deployment modes allow Lyra to adapt to changing conditions and personal preferences for optimal comfort.
Offer price: MSRP: $329.00
Quality

Features

Durability

Fit

Eco-Friendly
Summary
The Exped Lyra III is a great tent for car camping, backpacking, or setting up a basecamp with 2-3 friends. The large rainfly will shield you well from the elements and the green color is great for blending in with your surroundings if you prefer not to be seen camping. If you're introverted and enjoy your personal space, the tent is easy to set up by yourself and hide in the woods away from all those pesky extroverts.
Pros
Storage Space
Fits Three Comfortably
Easy Set-Up
Cons
Poor Ventilation
Flimsy Tent Stakes
I took the Lyra III into the heart of Glacier National Park on a trip that would require a long day from camp to climb a remote peak within the park including traversing the park's largest glacier. The tent stood up to overnight rain and an early morning mountain goat stampede. Due to Covid-19 all three of us did not sleep in the tent, but we used it as storage for all of our gear while my friends were outside in bivies. All while keeping myself dry and safe from death by ungulate.
Fit/Comfort/Look
Given the global pandemic, I did not test the tent with three people inside, but it seems to be a tent that will fit three comfortably. The Lyra III is not one of those "three-person" tents that fit three people only if you all are comfortable cuddling with one another. I slept inside the tent with three large overnight packs and had room to sprawl as much as I wished. My friends meanwhile endured the rain outside in bivy sacks, sometimes the extra weight is worth it. The tent is a lovely green color. If you're someone that doesn't like flashy colors and prefers to blend into the forest – this will be a great tent for you.
Features
There are a few key features I really enjoy on the Lyra III. First, the double vestibules make it nice to have storage outside the tent but have your gear safe from the rain. Inside are a couple of mesh storage pockets so you don't roll over and accidentally crush your glasses (speaking from experience) or set off your bear spray (thankfully no experience here). Lastly, on the top of the tent is a small slot to insert a headlamp or cell phone that casts the light evenly across the whole tent. This is great for rainy evenings or any occasion you'd like some light inside the tent without having to wear or hold a light. The key feature I would like to see added is some sort of ventilation, a little bit of condensation did build up inside of the rain fly overnight. I expect with three people in the tent there would be a lot more that would form.
Weight/Packability
The tent packs easily into its stuff sack and can be cinched down nicely. Easier than the barely big enough sacks that leave you groggily struggling in camp in the morning when trying to pack and continue hiking. The weight of this tent sits in the middle of the spectrum of three-person tents. It weighs around 5 pounds, while others weigh as little as 3-4 pounds and some as heavy as 7 pounds.
Function/Performance
This tent performed well in every aspect I wanted it to, and even one area I didn't expect – protection against a goat running back and forth through our campsite in the early hours of the morning. While goats are cute and all, no one likes to wake up to a hoof in the face. There was a bit of rain overnight and no water was found in the tent afterward. In addition, in the morning I found the rainfly to have shed almost all of the water by morning before the sun even hit the tent to dry it out. All this and the tent is extremely easy to set up, I was able to set it up by myself with no help from friends. This makes dividing camp chores a little easier and efficient.
Durability/Construction
The Lyra III seems extremely durable. I had no problems except for the tent stakes which bend very easily. If you are camping in terrain with rocky soil, I'd recommend purchasing separate stakes that will hold up better. I bent two on the first outing, and since then I have bent even more.
Friendliness to the Earth
Exped practices sustainability across all of its products. Their products are BlueSign certified, they strive to be PVC free by 2025, and their tent materials are free of dangerous flame retardants.
The Final Word
Despite tent stakes that don't hold up well, this is a great tent for backpacking or car camping with your friends. It holds plenty of space for three people and their gear while protecting everyone and everything from the elements. The ease of packability makes it an awesome option for anyone adding it to their kit.
Find Exped Lyra 2 FR on Outdoor Prolink. Not a member? Apply today!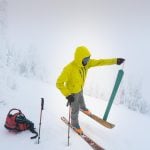 Paul Fotter is a Ranger within Glacier National Park during the summers where he works in the backcountry permit office, completes boat inspections for invasive species, completes backcountry patrols, and assists with search and rescue as needed. In the winter, he is a volunteer with the Flathead Avalanche Center where he assists the forecasters with their field work. He is a backcountry skier, climber, and trail runner. Connect with him on Instagram @paulfotter!