ProView – Ultimate Direction Adventure Vesta 5.0
The Adventure Vesta 5.0 is a bigger capacity running pack designed for longer trail running adventures. With 16.5L of space you can plan and pack safely for an all day (and all night) backcountry adventure. It accompanied me on my first ever circumnavigation of the Three Sisters with over 52 miles and 15 hours of trail running fun! 
Ultimate Direction Adventure Vesta 5.0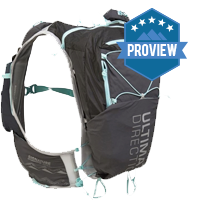 Product Description: The Adventure Vesta boldly goes where no Vesta has gone before.
Offer price: $179.95
Quality

Fit

Durability

Features

Eco-Friendly
Summary
The Adventure Vesta 5.0 is a lightweight, large capacity running pack that is great for all day (and night) trail running adventures. 
Pros
Many pockets and places to stash gear
Built in rainfly for multi-season running
Customizable fit.
Cons
Plastic backing for the cinching system can cause skin irritation
Leading up to the Three Sisters Circumnavigation I put in hundreds of trail miles with the Adventure Vesta. From multiple sections of the PCT to summiting South Sister before work, this pack and I got to know each other pretty well. The majority of my training is done close to home in the high desert, so I wasn't able to use the awesome built-in rain fly but hope to do so soon in the coming months. What I can say is the lightweight, breathable mesh backing allowed for maximum airflow during hot 90+ degree days on the trail. The 16.5L capacity of the pack allowed me to carry enough gear for myself and my dog during long training runs. She completed 37 of the 52 miles around the Three Sisters Circumnavigation run. This wouldn't have been possible without the extra space needed to carry enough water for her and me, along with a dog medical kit, dog boots, dog treats, and dog cooling vest in addition to all of the human gear I needed for myself.  
Fit
The Adventure Vesta offers a customizable fit for optimal comfort during multi-hour trail runs. As a woman, I found the most important customization to be the upgraded sliding rail sternum straps. I was able to place them according to my specific chest and body needs. Using the t-hooks on the sternum strap allowed me to change their placement throughout the day as my posture changed (aka, began to hunch over more due to fatigue).
Look/Design/Eco-Friendly
I enjoyed the overall look of the Adventure Vesta including the subtle patterned details on the vest. I was impressed with how clean the white mesh stayed after hours of use. There was little to no discoloration of the pack, both inside and out after months of testing on the trail. After researching the materials used for the pack, I wasn't able to find any recycled, repurposed, or sustainable product sourcing in the supply chain.  
Features
It's honestly hard to name a favorite feature because there were so many. It is this attention to detail that makes a great running pack. There are 5 total front stash pockets that I used to store my most important and frequently used items throughout my run. I used the removable PLB pocket for my Garmin inReach Mini (when needed for longer runs) and removed it completely from my pack when I didn't need to carry a location device. I used both of the upper front pockets for water bottles and the left front zippered pocket for phone storage. The front two lower stretch mesh pockets were great for storing snacks, gels, and salt tabs that I needed to be consuming on an hourly basis. The back of the pack can store up to a 3L bladder in addition to a headlamp, jacket, more snacks, and in my case all of my dog's gear. The external bungee system was perfect for securing layers of clothing that I shed throughout the day. I also used the bungee system for long term trekking pole storage if I wasn't using the pole holders on the front of my pack. This was just a personal preference, if I knew I wasn't going to be using my poles for hours at a time I prefer to keep them in the back of my pack so that they are out of the way. 
Weight/Durability
The pack weighs less than 10oz (without bladder or water bottles) which makes it super lightweight and ideal for long days. When completely empty it packs down very small which made it a great vest to take inside my backpacking pack when I knew I still needed to get a training run in during a camping trip. The Adventure Vesta is a durable pack that showed no signs of degradation after many hours and miles of testing. I'm thoroughly impressed with how well it has held up in the super hot summer months. 
The larger pack size makes it a good choice for longer self-supported runs while the external bungee system and removable pocket also make it a good choice for shorter training runs by cutting down weight and having the ability to compress the size of the pack. Overall I like the versatility this pack offers by being able to carry large amounts of gear when need be or stripped down to be a lightweight everyday running vest. I can confidently say that this will continue to be my go-to pack for self-supported ultra runs in the backcountry and a top contender for 100-mile races in the future. 
Room for Improvement
The customization I liked the least was the Comfort Cinch 2.0 because it uses plastic housing to contain the bungee cords which caused hot spots, chafing, and some minor bruising on my back during testing. This didn't happen all the time but was certainly a concern during the beginning of my testing while I was still figuring out the correct adjustments and fit for my body. In addition, there was no place to store the cords once fully cinched down. The flapping cords were a nuisance during my runs so I ended up letting them out which led to a slightly bouncier and lower sitting pack which didn't bother me as much.
The Final Word
The Adventure Vesta 5.0 is designed with all-day ultra running adventures in mind. It is a game changer for those looking to push the self supported limits in the backcountry. The many storage solutions provide ample space and easy access to carry all the necessary gear for a big day (and night) on the trail. The 3L reservoir (not included) and 500ml bottle options allow for longer travel time between water stops. This allows runners to move quickly and efficiently through the backcountry when out on a multi-hour self supported runs. The comfort cinch system which is great for getting a customizable, no bounce fit but can also irritate your back if the plastic closures aren't correctly positioned. Overall, this is a running pack I will continue to choose for my longest and biggest trail running endeavours. Without having to worry about cutting my gear list down to fit inside my pack, I can continue to dream up bigger running adventures with my trusty four legged side kick by my side.
Shop Ultimate Direction Adventure Vesta 5.0 on Outdoor Prolink. Not a member? Apply today!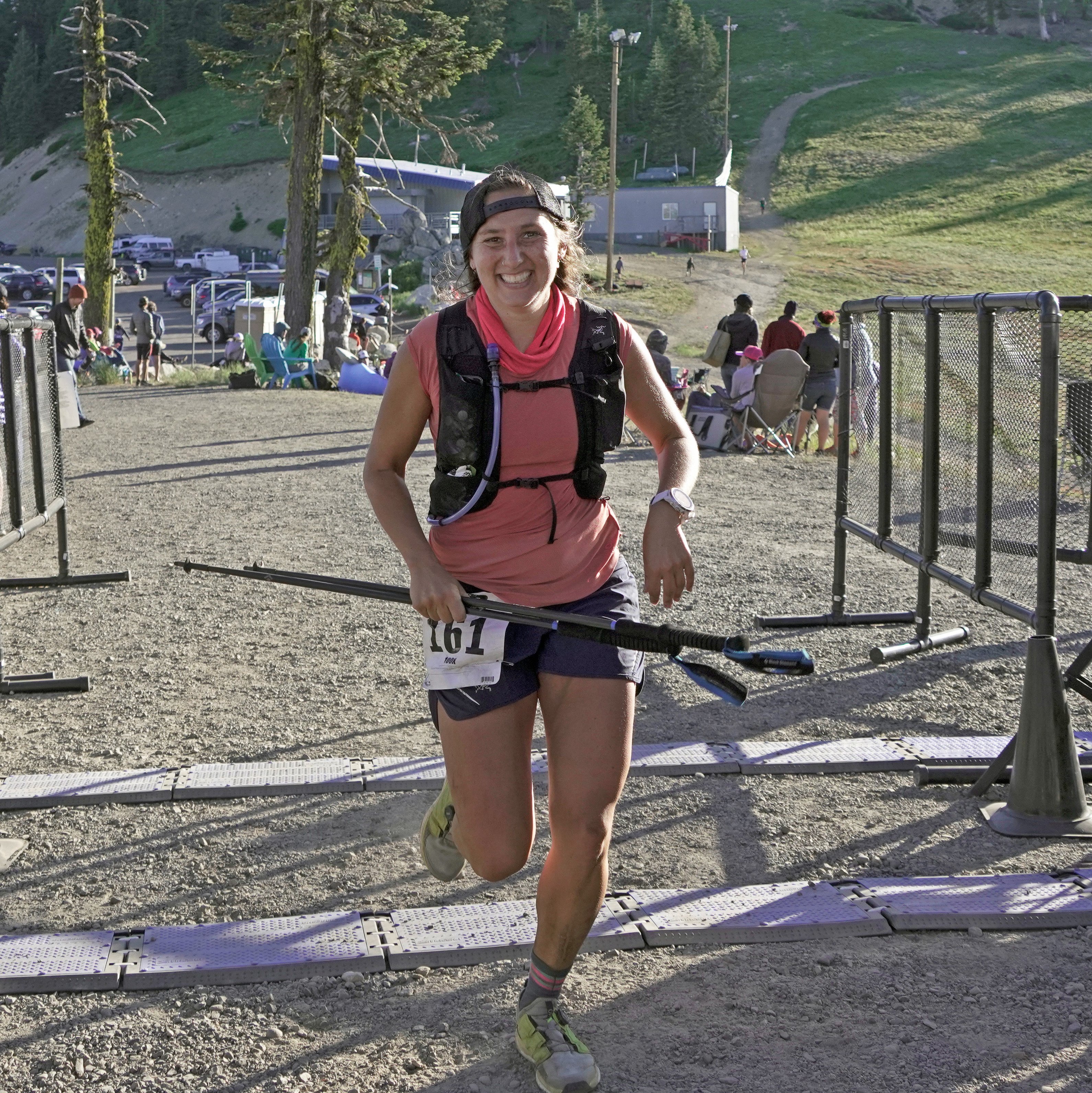 Dani Reese is a midwestern lightning bug based in Sawtooth City, Idaho. She is the Community Manager at Ruffwear, an outdoor performance dog gear company based in Bend, Oregon. Dani is passionate about dog adoption and creating community wherever she goes. In addition to more than 10 years of professional marketing, Dani brings a deep passion and authentic approach to each person and project she meets. These days you can find her trail running, backpacking, and skiing with her pinecone obsessed dog, Vilas. You can follow their adventures on Instagram at @danioutdoors.