ProView – Küat Grip 6 Clamshell Ski Rack
It's like the designers at Kuat used a bunch of terrible roof racks, found all the problems with each one, and created a rack that solved them all. While super tall vehicles may not be the best choice for this rack, the Kuat Grip 6 is still frustration-free to install, easy to load and unload, has a low profile, and gets you to the slopes to enjoy the powder party faster.
Küat Grip 6 Clamshell Ski Rack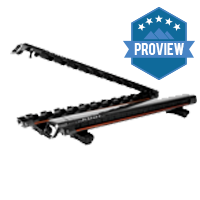 Product Description: Whether you're loading up for an afternoon on the slopes or following the snow for a week, the GRIP makes quick work of packing your arsenal of skis and boards. With real capacity for up to 6 sets of large skis or 4 snowboards, the GRIP has more than enough room to bring the crew along for the ride.
Offer price: MSRP: $398.00
Quality

Features

Fit

Durability

Friendliness to the Earth
Summary
It's like the designers at Kuat used a bunch of terrible roof racks, found all the problems with each one, and created a rack that solved them all. While super tall vehicles may not be the best choice for this rack, the Kuat Grip 6 is still frustration-free to install, easy to load and unload, has a low profile, and gets you to the slopes to enjoy the powder party faster. 
Pros
Great usability even with gloves on
Spring-loaded top bar
Slide-out bottom bar
Rubber teeth both cradle and secure your skis/snowboards.
Cons
One lock arrived faulty
Have to reach for the spring-loaded top bar
Pricetag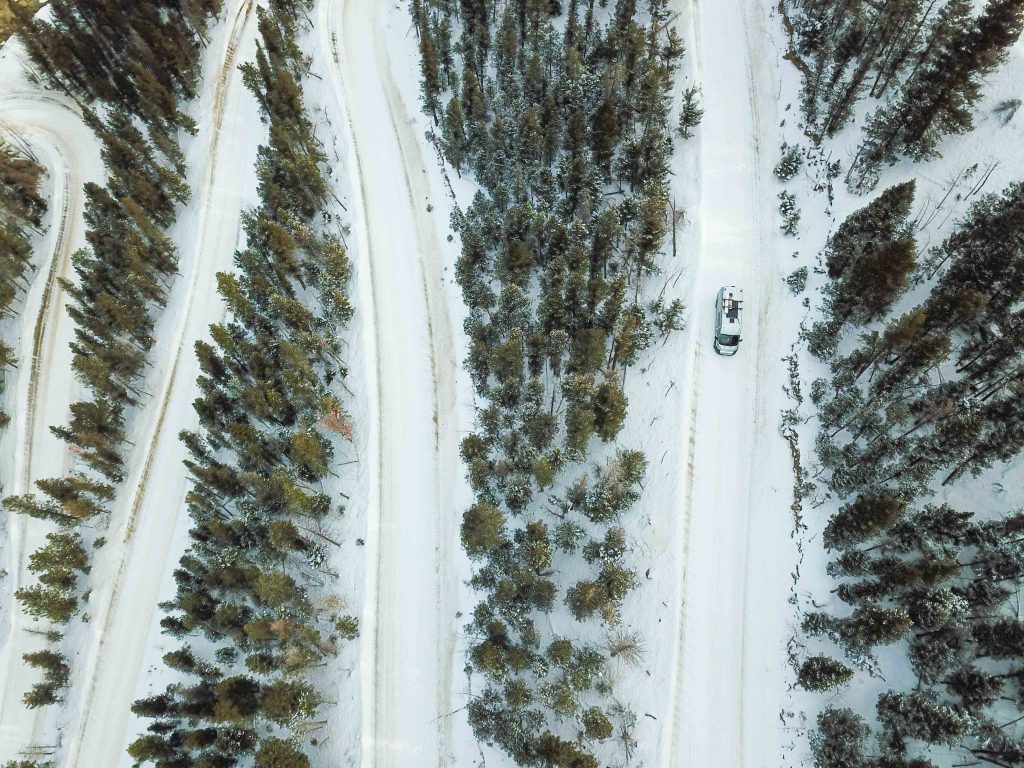 If you're a resident of Colorado, there are a few items that are more than the sum of their parts. The plaid shirt, the craft beer, and the ski rack, to name a few. This ski rack from Kuat is one of the most user-friendly, frustration-free racks I've used. I have personally scoured the internet, looking for the crossbars that fit my vehicle, and a ski rack that fits those exact crossbars. The Grip 6 takes the guessing out of the equation. More time for powder turns!
I have lived in a van with my partner for over three years. Living nomadically comes with all the Instagram worthy highlights, but more frequently, it is filled with complications, setbacks, and overall rough living. Don't let me complain too much, we have the pleasure of living closely with the seasons. We carry in our van only what we will need for the adventures at hand. That means deconstructing and reconstructing as each season passes. Last year, we used a skybox to contain our winter downhill hardgoods. This year, the Grip 3 has taken the stage, ahem, roof rack.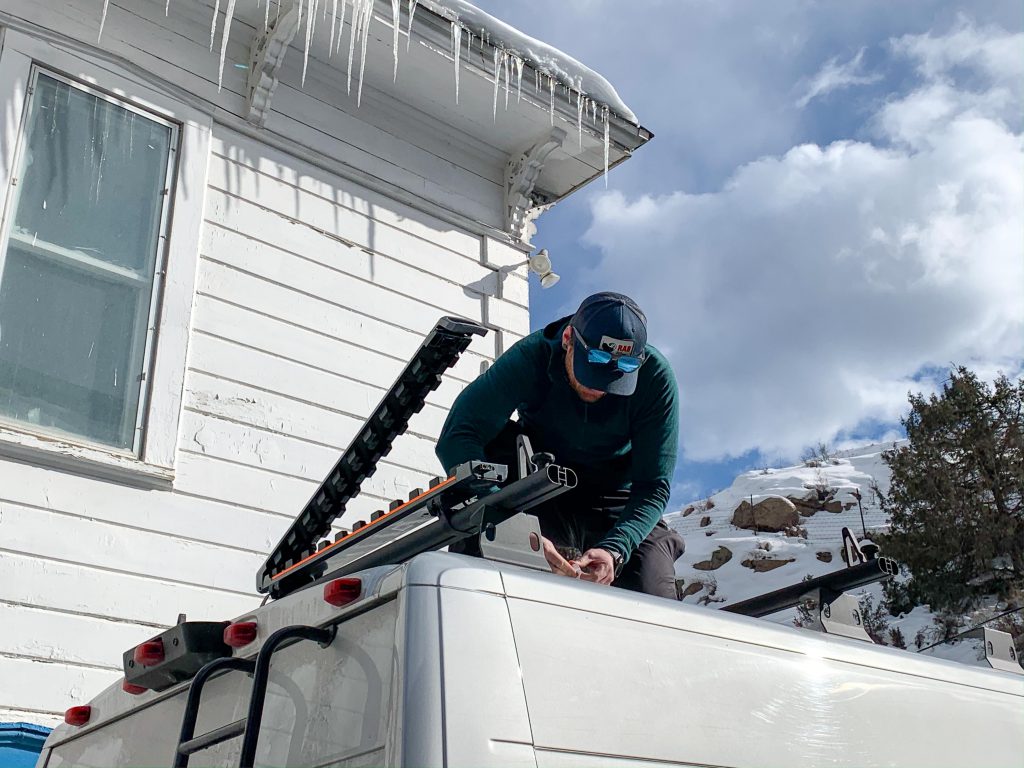 Features/Performance
We have a heater in our van, but it can only work so hard. We spend much of our time bundled up, drinking tea (hot chocolate). When we are ready to grab our gear from the rack, the last thing we want to do is unbundle for maneuverability. I need all the warmth I can get! The handle on the Kaut Grip 6 for opening and closing the rack, and the locking mechanism, are both large enough that you can leave bulky gloves on and still maneuver. Once you pop the handle, the rack springs open so you can load with both hands. With past racks I've used, I have to hold up the top side of the rack, while I grab my gear and place it in the rack with the other hand. Or worse– use my gear to prop up the top arm while I load other gear. I'm sure my snowboard appreciated the extra wear and tear. The spring-loaded top bar makes it far easier to load, and my snowboards get used for their intended purpose, surfing powder and looking cool.
My other favorite feature of the Kuat Grip 6 is the slide-out bottom arm. There is no way we would be able to use this rack on top of the van without this slide-out feature. There is a tab on the inside of the rack that initiates the slide-out, then you place your gear on the lower rack, and slide it back in until it locks. The tab is a little small, but still possible to activate with gloves on. I personally have to climb on top of the van to load in unload. This is dangerous in the winter when the roof becomes slippery and icy. No outdoor sport is worth a nine-foot fall– unless your gear is already attached to your feet. This danger is the main reason we used a clamshell-style skybox instead of a roof rack. The issue comes when closing the top portion of the rack. You have to be able to reach up above the rack to pull the arms down and lock the rack. At 5'6, my height-disadvantage gives me a closing-Kuat-rack-disadvantage. My partner, at 6'2, is able to close it easily by standing inside the van. This would not be an issue on shorter vehicles and low roof vans.
Another unique feature of the Kuat Grip 6 is the rubber teeth along the bottom and top arms that secure your gear. They've trademarked this GripLock™ system, and for good reason. The rubber teeth look hard, but when you touch them, it's obvious they give your gear a nice big hug. Instead of one long line of rubber, each piece of gear gets its own compression and security. It's like an alligator resting its teeth around your split board, but VERY gently! There are also three lock heights. If you are traveling with super thick gear, powder skis, I'm looking at you, you can use the topmost 'click' and still secure your gear. Otherwise, you can press down and get as much alligator hug as you'd like. Pro Tip- don't push down on the rack so much it begins to bow on the top. Make sure it's parallel throughout. The hinge on the other side of the rack adjusts for your lock setting on each side, keeping equal pressure throughout the rack. This means your innermost gear (the gear closest to the side that doesn't open) doesn't have added pressure when fully loaded. This smooth fit throughout also means the dreaded rack whistle is a thing of the past.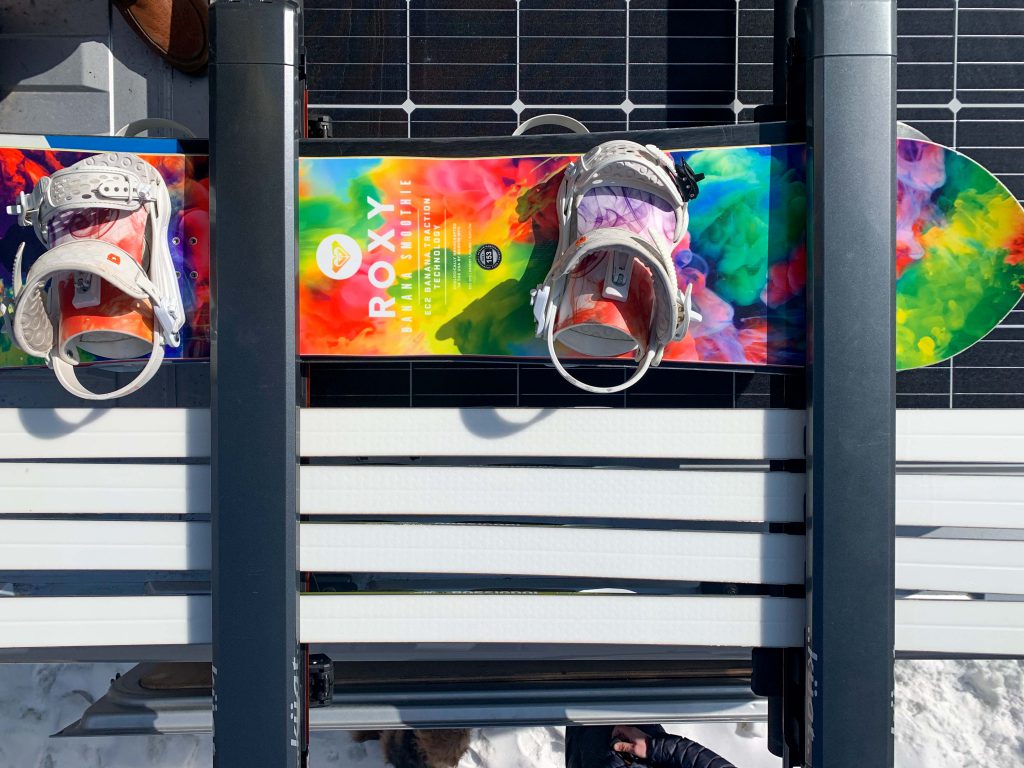 When I first received the Kuat 6 Grip, I was hesitant that it would actually fit on the crossbars we have on the van. On the website, it says "any" bars. ANY! But we have a super beefy crossbar system on top of the van. They are 3" X 1.5" extruded aluminum which makes for a large diameter for the rack to fit around. And while we did have to adjust the rubber-coated steel strap to the longest it would go, it fit! Don't go too far, we did end up jamming one of the pieces and had to spend some time getting it to catch and engage again. There was no cutting, measuring, or testing to get it to the right length. You place it on your crossbar, adjust the strap length with the provided allen wrench, and lockdown. We have another vehicle for when the van is stationary for a while, and we could easily transfer this from the large van crossbars to the normal-sized ones on the truck. No specific rack for specific crossbars – genius.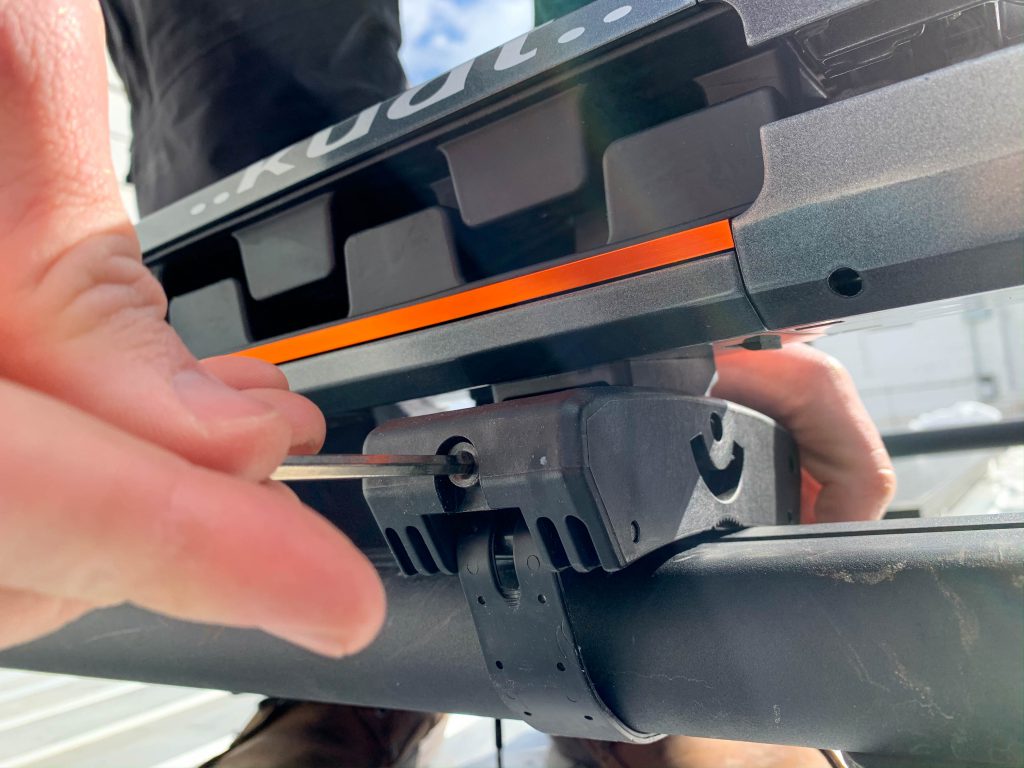 Weight/Profile
The Kuat Grip comes in two different sizes, Kuat Grip 4, and Kuat Grip 6. The Kuat Grip 4 fits four sets of large skis or two snowboards and weighs 18 pounds. The Kuat Grip 6 fits six sets of large skis or 4 snowboards and weighs 24 pounds. Both have a carrying capacity of 160 pounds. So if you plan on securing eight ski-bikes with the rack, or moving your taxidermy moose, you're out of luck. Otherwise, you should be able to cart all your needed gear to the mountains no problem! We usually have a combination of skis and snowboards up there and have been happy with the size of the 6. We have not personally tested the taxidermy moose situation.
The Kuat Grip 6 is low profile, much lower profile than my previous racks. With the beefy crossbars up there already, we haven't noticed a huge difference in miles per gallon. They definitely have a lower profile than the skybox we traveled with last year.
Look/Style
I've already mentioned I snowboard to look cool, so it's no secret I was excited that this rack looks good too. The rack comes in three different colors: Grey/Orange Anodize, Black, and Pearl metallic/silver anodize. The metal outer shell is super strong and has an attractive finish. This rack compliments our van nicely.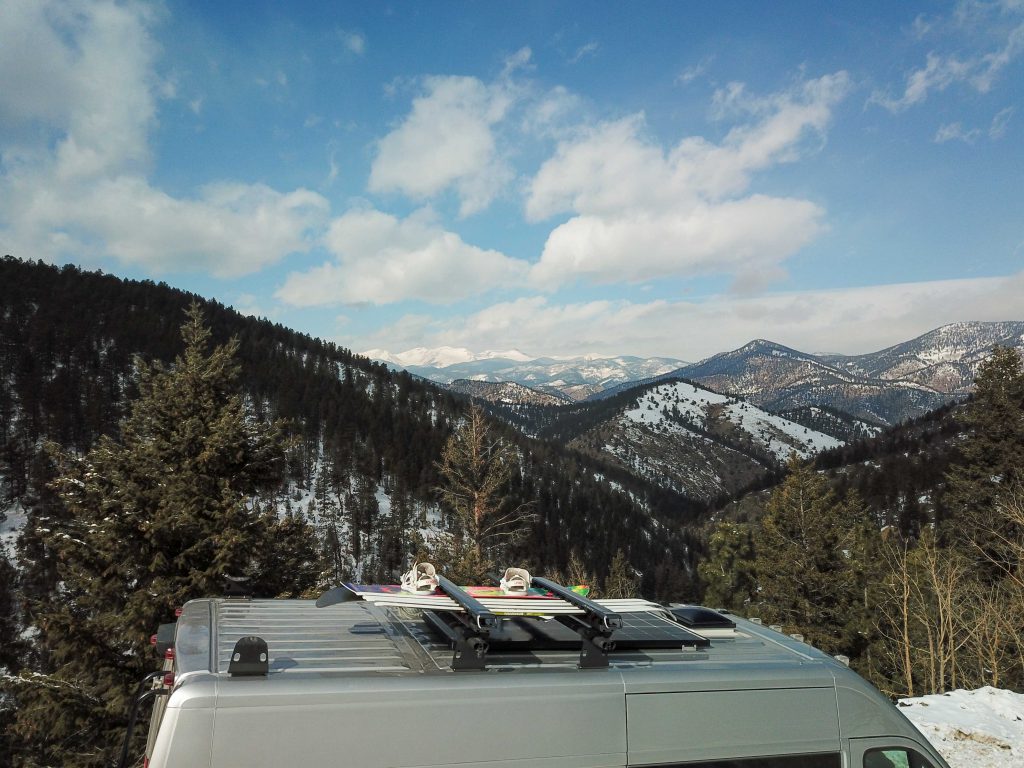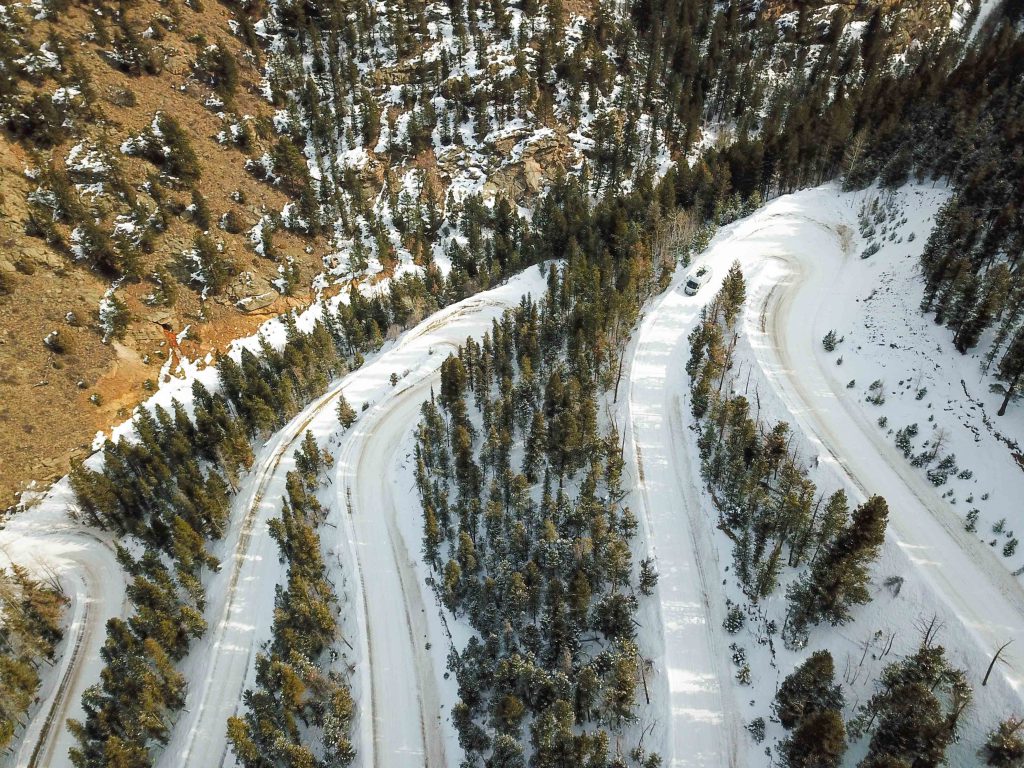 Durability/Construction
We beat up our equipment. I know, everyone says that, but for us, it's actually true. In the van, gear that should last seasons gets one, maybe one and a half seasons of use. Pants get holes and ski poles break in half. All of our gear is subjected to extreme heat and cold. We were in Canada this winter and had to find a place to stay because -40 degrees Fahrenheit stopped our van from running smoothly. Everything in that van was super chilled. The only issues we've had with the rack were from icing over. The rack still functions, but the bottom slide-out will stick. We still get to ride though!
The rack comes with a Limited lifetime warranty, so if durability is ever a question, Kuat can help out.
Room for Improvement
We did have a problem with the locks on the actual rack itself. When we began installation, one fell out completely. Kuat was able to send us new locks. After some research, it looks like this is a known problem and Kuat should be working on a fix.
The box also arrived missing one of the four flip mounts. Customer service was super helpful and an extra was also delivered promptly. Off to adventure!
Friendliness to the Earth
While the rack is made overseas, and I wasn't able to find information about where the materials are from, Kuat is taking steps in the right direction. Kuat has paired with the National Forest Foundation's Trees for US program. This program, nicknamed Future Forest Initiative, helps restore national forests across the country. From the Kuat website, "All racks will symbolize the effort with Future Forest Initiative stickers, so adventurers will know that their rack is not only going to help them get out and do more but literally create a better future for national forests. It's a commitment and tradition that Küat Racks couldn't be more proud of."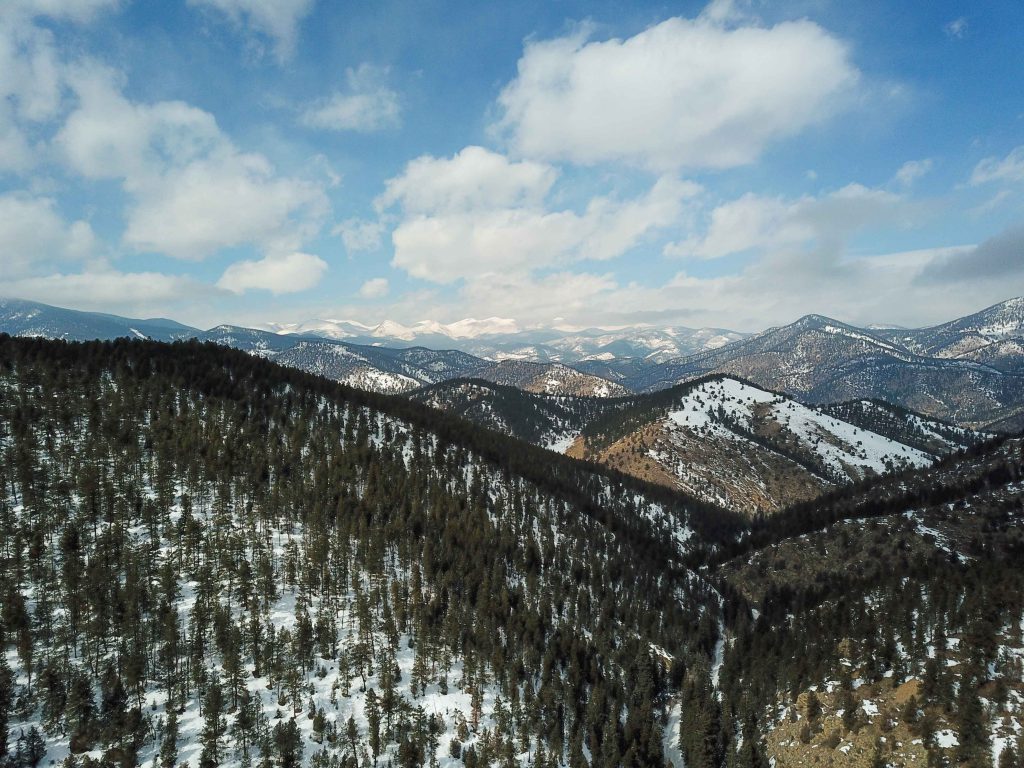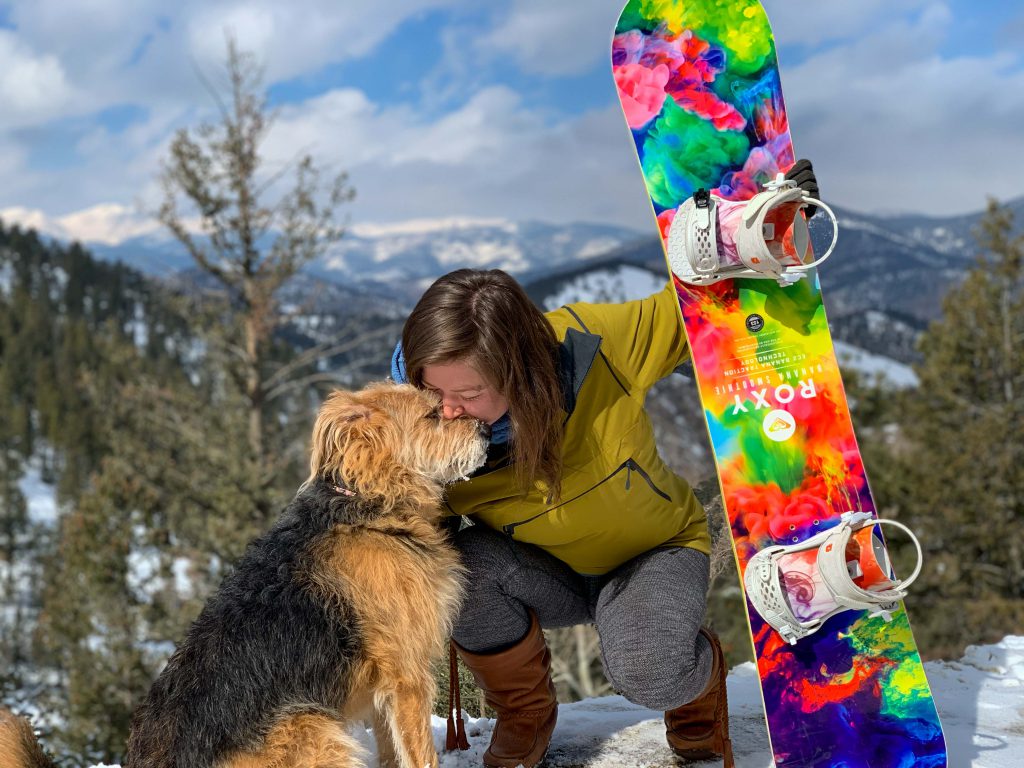 The Final Word
I would recommend this rack to anyone looking to upgrade their system or install a rack for the first time. While the price tag may deter some, the solid construction and durability make up for it. This rack will last years, far longer than we will be living in a van (maybe), and then we will transfer it onto another vehicle. The unique features make this rack an awesome addition to our winter van set up.
Shop the Küat Grip 6 Clamshell Ski Rack on Outdoor Prolink. Not a member? Apply today!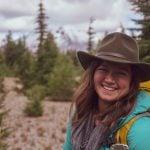 Roxy Dawson lives in a van full time and travels around the country working as an adventure journalist, searching for backcountry adventure, and using her dog as a pillow. Like most adventurers, she loves coffee, hot springs, and getting pretend lost. She works for Outdoor Prolink as the Content Marketer. She is trying to make a small positive impact on the world, and a larger one in her community. Follow her on Instagram at @roxyjan_