ProView – Mountain Hardwear Men's Mtn. Tech/2 Jacket
The Mountain Hardwear Mtn. Tech/2 Hoody is a mid-layer for active cold-weather sports or a stand-alone piece for calmer fall and shoulder season outdoor pursuits. A testament to GORE-TEX inside and out, the jacket will hold off moderate moisture and the stiffest of gusts long-enough to don your next layer or heavier insulation—or four hard walls and a roof. It's light, comfortable, and designed to fit true to size.  
Mountain Hardwear Men's Mtn. Tech/2 Jacket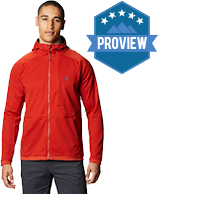 Product Description: A nasty headwind or sudden cold surge can make you want to skip your morning jaunt, reach for the car keys over your commuter bike, or miss an evening meet-up with friends. But with the Mtn. Tech/2™ Hoody, you get a midlayer that's as comfortable as a fleece with the protection of a softshell backed with GORE-TEX Windstopper®.
Offer price: $200 MSRP
Quality

Features

Fit

Durability
Summary
With an ideal fit for being worn over and under other layers and built with GORE-TEX Infinium Windstopper, this jacket was clearly designed for the outdoorist who doesn't update his weather apps very often. It has two handwarmer pockets, a left breast zip pocket, hood, and hemline cinch. It looks best in a solid color, and the black stands out for those needing a lifestyle jacket for journeys into the urban wild.
Pros
Fit over and under other layers
General comfort/stretch
Wind resistance
Range of uses
Cost
Cons
No hood cinch
Zipper durability
This jacket's wind-stopping power opens up its use cases, making it a great option for the skin track (without heavy precipitation), winter running, backpacking, and snowshoeing. And of course, it'll do for outdoor, covid-safe patio beers.
As has been reported nationwide for the last half of 2020, the pandemic hasn't *really* prevented people from traveling. Heck, not only are we still traveling, we're relocating. As it turns out, Lake Tahoe has become a popular section in the economic development collateral of El Dorado and Placer counties, which make up the southern and northern borders of the lake, respectively. Both counties are two of the fastest-growing in the country.
Thus, to escape the escapees, locals from around the Basin have spent late summer and fall darting off to secret trailheads and weekend stealth camps.
I was fortunate enough, before the most recent viral spike, to have a couple of opportunities to lead commercial trips. And because it's shoulder season, Mountain Hardwear's Mtn. Tech/2 Hoody was tops on the packing list.
My testing ground is largely the Lake Tahoe area, Yosemite, and the sacred "east side" of the Sierra; and I sometimes take 395 south all the way down to desert country. In one such instance, Red Rock National Conservation Area outside Las Vegas became a week-long case study for how to layer when faced with erratic shoulder-season weather.
Cold, windy mornings and warm, sun-drenched afternoons are the norm for late autumn in the Mojave, and when paired with a lightweight base layer or flannel, the Mtn. Tech 2/Hoody handled it all quite well. I found it regulated in unison with what I paired beneath it, demonstrating versatility and a pretty broad comfort range. The sleeves never bunched and the shoulder and armpits never restricted—key for an active midlayer.
Features
The pockets are plenty big to hold chapped hands or the gloves you'll need later. The left-chest zip pocket is also plenty for snacks and cell phones. The hood has plenty of volume, but I found it cinches in place nicely when the zipper is closed to the chin.
On a wet winter snowshoe sojourn along Donner Summit, the Mtn. Tech/2 Hoody started and ended the day as the only exterior layer to see action. The sun would shine intermittently, just enough to burn off the cloud-cover inspired cold and damp forest shade. It moderated well, allowing only a modicum of sweat to build. That said, a more prolonged outing may challenge the coat's breathability. For the most part, feel secure in its ability to keep your temperature balanced during moderately cold activities.
Room for Improvement
The jacket lacks a rear hood cinch, a feature I expected to be found on a piece in this category. It's not overly packable, either. However, we should remember that not everything has to be made to "pack to the size of a soda can" to be a sound piece of technical apparel. We're getting a tad obsessed with crushing things into bags and hanging them off of harnesses.
The Final Word
While I haven't tested other mid-layers in Mountain Hardwear's lineup, I'd like to think this one is a standout. It's versatile, looks good, and they didn't overthink it.  
Shop the Mountain Hardwear Men's Mtn. Tech/2 Jacket on Outdoor Prolink. Not a member? Apply today!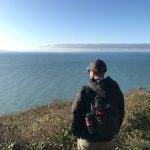 Craig is a full-time writer and backpacking/hiking guide living in Truckee, CA. He guides for Wildland Trekking in the Sierra and desert southwest and co-owns Pika Odysseys, a fledging wilderness wellness and experiences company. He's a fan of craft beer, good and bad coffee, and a not-so-mini Australian Shepherd named Ranger.