ProView – Mountain Hardwear Women's Chockstone Rock Tight
Spring! It has finally stopped snowing (…I hope) on the Colorado Front Range and it's time to get outside and play on the rocks. One of my favorite crags is a small wall with sweeping views of Golden, Colorado. It makes for a great after-work climbing area, especially as the days get longer and the weather gets warmer. I went there for my first test of the Chockstone rock tights.
Mountain Hardwear Women's Chockstone Rock Tight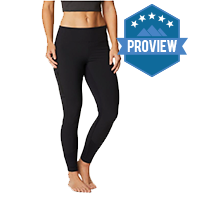 Product Description: You don't have to look over-the-top technical to climb technical, rugged routes: the Chockstone™ Rock Tight is the perfect balance. With flexible CORDURA® fabric in crucial areas where a harness or the rock has the most contact, it's sure to get you to the anchors of plenty projects. Between its high-pitch back panel; smooth, flat waistband; and our proprietary interior elastic waist grip, it's anything but basic.
Offer price: $80 MSRP
Quality

Features

Fit

Durability

Eco-Friendly
Summary
These leggings allow for a full range of motion and don't hold me back on the wall. The added features like durable CORDURA fabric and a harness-compatible pocket are nice bonuses. Great for springtime cragging!
Pros
Gusseted thighs, ankles, and waist
Harness-compatible pocket that fits a phone
Flat waistband that stays in place
Flattering fit
Cons
Some pilling in high-abrasion areas
Waistband has a little less stretch than other leggings when pulling them on
I headed to Lookout Mountain with my crew to try these out climbing, rappelling, and belaying. It was a lovely spring evening: warm but not hot, breezy but not windy. The leggings were comfortable and worked well with both a climbing pack and with a harness. I felt a little rusty after a long bout of spring snow had kept me off the rock, but these leggings never stood in the way as I moved up the wall (if only I could say the same of my head game!). As I warmed up, my hips moved more easily into high steps, rock overs, and heel hooks without ever once feeling limited by the flexibility of these leggings. I've worn a lot of leggings over the years; these balance durability and flexibility well. I went for the heel hook on last season's project and my fingers gave out, but the pants kept on going! After a few laps, we watched the sunset over Golden, brushed the dirt off ourselves, and headed home for a well-earned rest. I find myself reaching for these for outdoor crag days, gym sessions, and as all-around outdoor pants.
Performance, Fit, and Features
Overall, I am impressed with these leggings. The thighs, sides of the waist, and ankles are constructed from super stretchy material. The gusseted fit makes even the highest high steps easy.
The CORDURA fabric is overall a plus, in my opinion. It feels more solid and less prone to snags, pulls, and the dreaded see-through-butt problems that plague other leggings. It does pill in high-wear areas (like the knees), but even after about half a dozen climbing days with machine washing and air drying, it isn't all that noticeable. In my experience, it pills about the same as any other outdoor clothing. It is a slightly heavier-weight fabric, which makes them feel more durable, but the black color was a little warm on a full-sun day at the crag. They would be warm enough for winter running and comfortable for spring and fall climbing, camping, and hiking.
The flat waistband stays in place and works well underneath my harness. The waistband doesn't fall down, chafe, or roll over like other leggings I've climbed in. It is made of a grippier, less-stretchy material, so it doesn't pull on over wide hips as easily as other leggings. I generally wear either a small- or medium-sized pant because I'm short but I have a big booty. The medium size works well to fit my curves without the legs bunching at the ankle. I'm only 5'2", but the inseam length fits me well. The tights would have a nice tapered ankle look for someone taller. I found the fit to be flattering and functional.
The pocket is one of the biggest perks for these pants. Leggings without pockets are just not practical for a lot of outdoor pursuits (outdoorsy women and femmes, I know you hear me on this!). This pocket is a stretchy zippered pocket located on the outside of the right thigh. I can get into it with no problem while wearing a harness. It stretches, albeit a bit awkwardly, to fit my phone and it easily fits credit cards or lip balm.
Friendliness to the Earth
The DWR coating on the rock tights is PFC-free, making for a more eco-friendly manufacturing process. Mountain Hardwear as a whole appears to be committed to manufacturing its gear sustainably and creating long-lasting, functional pieces that will stay out of the landfill.
The Final Word
The Chockstone rock tights balance durability and flexibility. I love the gusseted climbing seat design that allows me to move comfortably in any direction. The pocket is essential and functionally sized. The CORDURA fabric feels durable against the rock, though is somewhat prone to pilling. The flat, grippy waistband has a flattering and harness-compatible fit, though is a little tough to pull on over wide hips. Overall, I'd recommend these leggings as a solid wardrobe workhorse for spring and fall climbing days.
Shop Mountain Hardwear on Outdoor Prolink. Not a member? Apply today!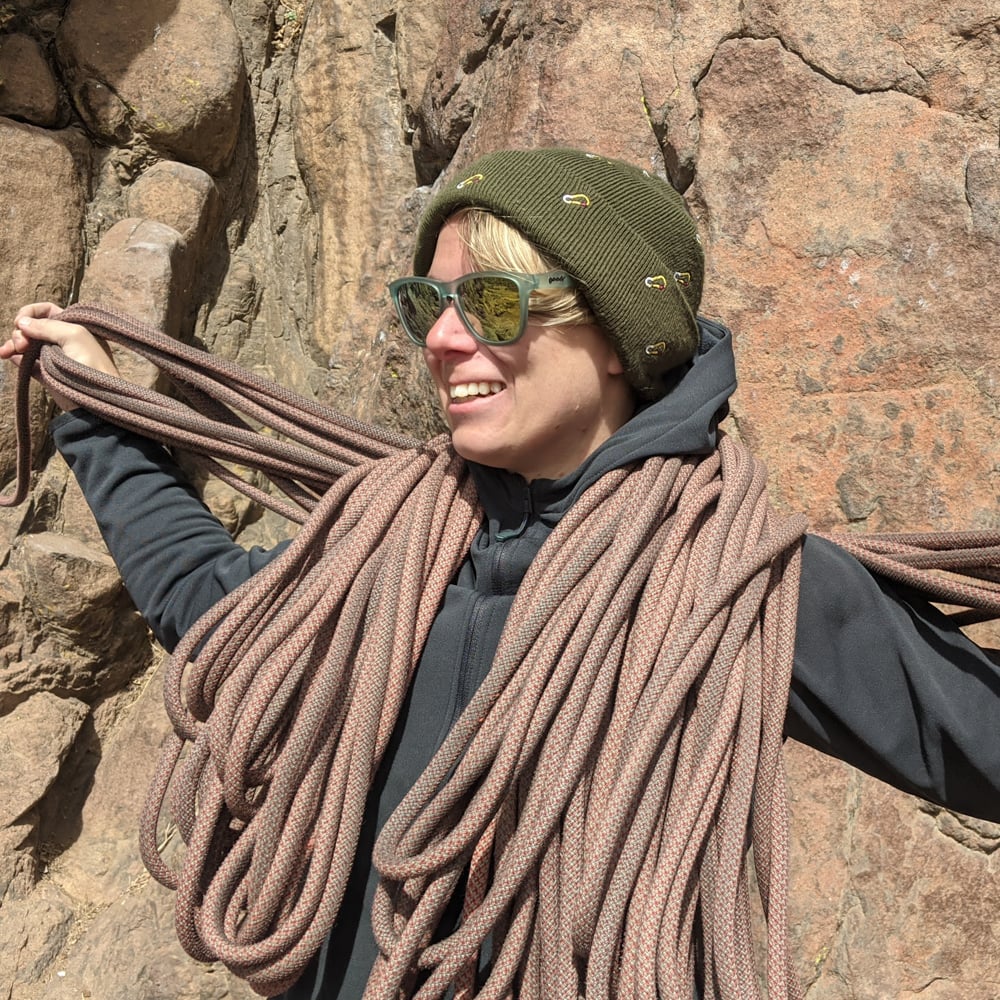 Allison is a rock climber who has competed for Team USA in the Paraclimbing World Championships. When the heat of summer precludes climbing, you can probably find her relaxing on a raft or cooking elaborate camp meals. She lives in Colorado and loves to explore with her husband, Nik, and her dog, Cheat.