ProView – Mountain Hardwear Women's Ghee Long Sleeve Crew
The Mountain Hardwear Women's Ghee Long-sleeve Crew is an amazing base-layer that is made for activity. I was able to test out this phenomenal product while backpacking and climbing in the Southeast (North Carolina, Tennessee, and Virginia), and it blew me away
Mountain Hardwear Women's Ghee Long Sleeve Crew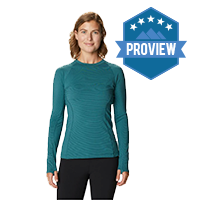 Product Description: Not much can compete with your basic baselayer—which is why this sweat-wicking, lightweight shirt is back. A jacquard panel across the back and beneath the arms pulls up moisture and releases built-up steam. Thumbholes protect your hands from chilly air while pedaling the around-town cruiser or skinning up tracks at the local hill.
Offer price: $60 MSRP
Quality

Features

Fit

Durability

Eco-Friendly
Summary
This product is relatively true to size. It seems to have gotten several ratings that say it runs large, but I think the fit is almost perfect. Maybe, because it's a base-layer, people expect something slightly tighter, so in that sense I can see how it could be a tiny bit smaller.
Pros
Super stretchy! (fits over a helmet)
Soft and comfortable
Warm but sweat wicking
Thumb loops provide increased warmth
I tested this base-layer in a range of conditions. I wore it on a weekend backpacking trip with women in my family (who had never been backpacking in their lives), and on that trip, it got down to 24 degrees and up to 60 degrees Fahrenheit. Because it was October, the weather in North Carolina and Tennessee was pretty unpredictable, so I needed a layer that could keep me warm at night and also wick away sweat during the day while backpacking. This crew fulfilled both of those purposes really well, and even though it's hard to smell yourself when backpacking with a group of stinky people, I honestly felt like it kept odor at a minimum.
I also tested this layer when climbing in Virginia, and it provided the perfect amount of warmth for fall weather in that area. I love how stretchy it is because it allowed me to slide it off and over my helmet when I was gearing up to climb and slide it back on when cooling off. As an outdoor education major in South Carolina, I learn about the value of good layering systems, and I think this piece is essential to the unpredictable conditions in this area. Also, I was a guide for the past two summers in Washington state, and the temperatures vary drastically there as well depending on what elevation you are at; because of this, having a base-layer that will keep you warm and also wick sweat away when active is extremely valuable.
Fit/Comfort
Although this base-layer might run a tad bit large (especially for a woman with a smaller chest size), it isn't too far off on fit. I would only recommend going down in size if you know you want it skintight. Comfort-wise, this crew is a dream. It is so incredibly soft and stretchy, and I honestly wish all my long sleeves felt that way as the comfort alone makes me want to wear it multiple times a week.
Look/Style
This base-layer is incredibly modest (it almost goes up too high on the neck in my opinion…but I'll take the extra warmth). If I'm being honest, though, I think for a base-layer it is flattering, and I wear it casually throughout the week (which I can't say for a lot of my other outdoor hiking shirts).
Features
This crew has an essential element…thumb loops!! I layer up so much that thumb loops become essential for sleeve-bunch prevention. Also, they provide an extra warmth factor which is nice when using your hands to hike with trekking poles or belaying a friend on a cold climb. It also has extra wicking under the armpits and on the back, which is a helpful bonus.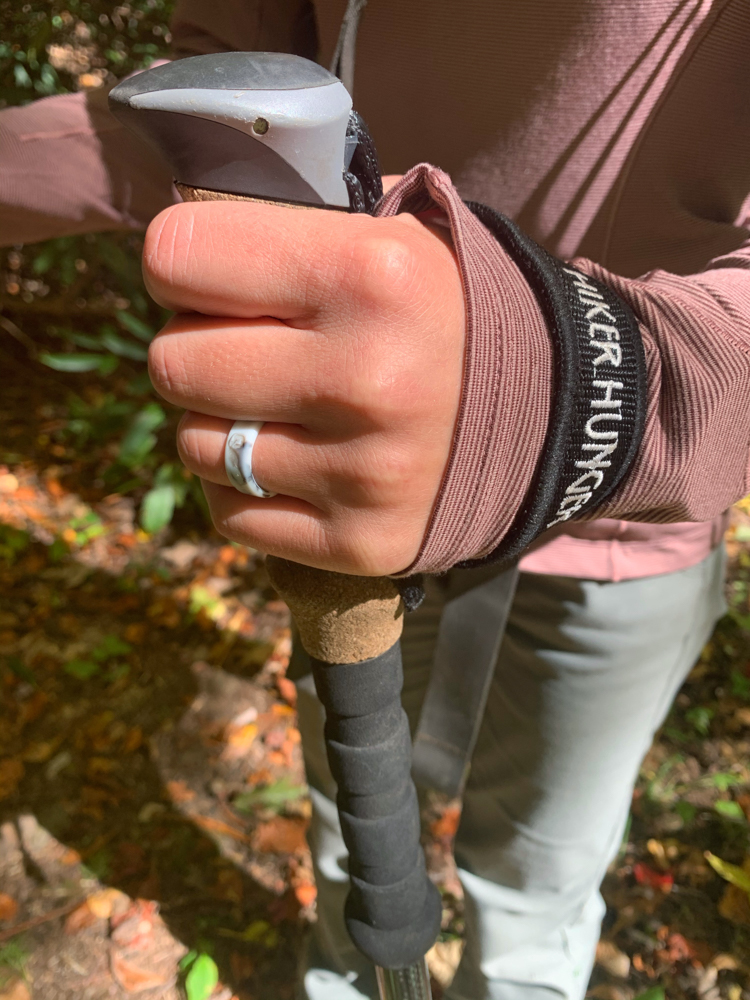 Weight/Packability
The website says this crew weighs 5.8oz which makes it really nice to take backpacking. Made somewhat for warmth, it isn't the most packable shirt I've ever seen, but it is not bulky enough to be a turn-off and definitely more packable than another material would be (like wool).
Function/Performance
After wearing this product multiple days in a row (climbing and backpacking), I can confidently say that the performance is phenomenal. I received many different items from Mountain Hardwear to review, and I chose this base-layer to write about purely because of how simple yet functional it is. I know I'll be wearing this for years to come! For increased performance in cold weather, this base-layer pairs well with a fleece mid-layer (my R1 from Patagonia is always my go-to) and a puffy; as always, add a shell layer on top of that, and you're set to face a multitude of environmental surprise attacks.
Durability/Construction
As stated previously, I believe I will be wearing this item for years to come. I've already washed and dried it multiple times, and it has not changed the quality of the shirt at all. It is very stretchy, but it does not appear that it will stretch out with wear; rather, the stretchiness is like elasticity in that the stretch gives the material more of an ability to snap back into place.
Friendliness to the Earth
I gave this item a 3/5 on "Friendliness to the Earth" because this particular shirt didn't have many sustainable practices associated with it. However, Mountain Hardwear as a company is definitely implementing practices that seek to benefit the environment. Some of these include using recycled materials, encouraging repair over replace with their limited lifetime warranty, and their emphasis on bluesign approved materials (which "guarantees that the products were manufactured with responsible use of resources and the lowest possible impact on people and the environment."). However, no items on this base-layer had a bluesign symbol attached to it, so I could not conclude that this item was sustainably sourced.
The Final Word
The Ghee Crew blew me away in several ways including comfort, durability, versatility, odor control, and wicking power. This will be the active base-layer that I use for backpacking and climbing from now on, and I highly recommend it to anyone who wants to improve or add onto their base-layer collection. I struggled to find cons with this item because of its simplicity and functionality; overall, it is a great layering piece and can be used in a many different environments.
Shop the Mountain Hardwear Women's Ghee Long Sleeve Crew on Outdoor Prolink. Not a member? Apply today!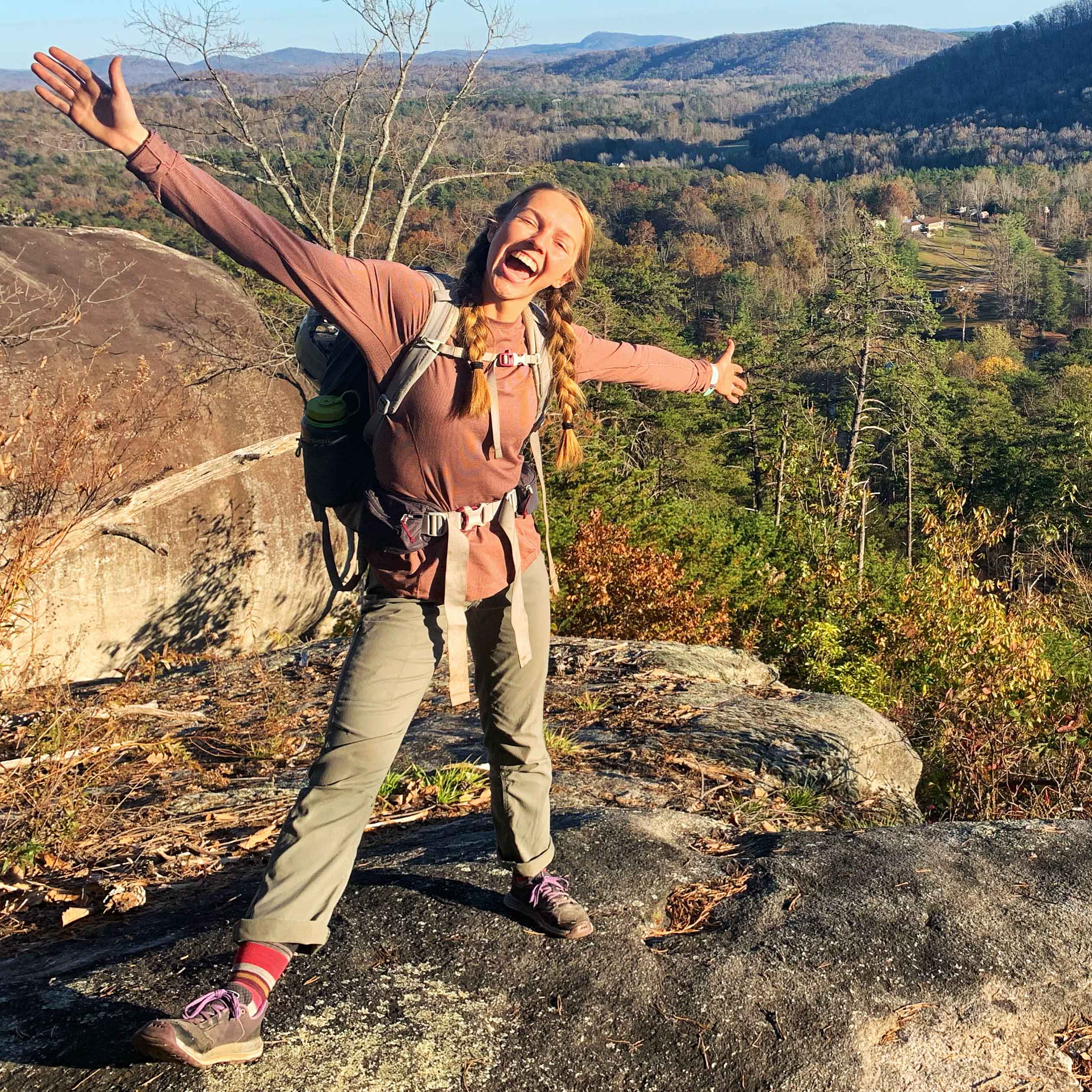 Haley King works as an Adventure Supervisor at a therapeutic boarding school in Northwest Montana. She spends her time there taking students on climbing, hiking, biking, and skiing adventures—a vital aspect of their therapeutic journey. Seeing people grow is Haley's favorite thing; additionally, she loves good conversation, a well-made pour-over, and early mornings.