ProView – Mountainsmith Day
My relationship with this pack started with me wanting to not like it; I mean, isn't it just a glorified fanny pack? The answer to that question might be yes, but it has also become an overstuffed, overbuilt, master of all things, briefcase, trail-running, camera hauling, carry-on, everything-you'll-ever-need-and-some-things-you-don't-pack. Needless to say, I'm now quite fond of this little pack.
Mountainsmith Day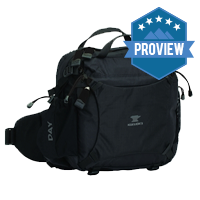 Product Description: One of the industry's first lumbar packs, the Day is known for its function-first design. After 40+ years in our line, we've revamped this classic built with Delta Wing Compression and added more functionality for efficient storage on and off trail.
Offer price: MSRP: $89.95
Quality

Features

Fit

Durability

Eco-Friendly
Summary
A true Jack (or Jill) of all trades pack. Lumbar packs have a new convert after I spent everyday for a few months with this thing. I came in a skeptic, but now I have seen the light that is lumbar and I'm a believer.
Pros
Load-carrying is awesome
LOVE the hip belt storage
Great storage options
Cons
The front compression attachment thing
Shoulder pad slippage
Not for gram-counters
Long hip belt straps.
This Day Lumbar Pack has been to places most lumbar packs only get to see in pictures. It paid its dues assuming the responsibilities of my everyday bag at work – carrying coffee, extra layers, planners, etc. but then it joined my wife and I for a trip out west and that is where it really shined. It went trail running up Yosemite Falls, fell in the pacific ocean, and camped up and down highway 1 all while serving as a camera bag, snack pantry, dirty clothes hamper, and also a lumbar pack.
Fit/Comfort
There are tons of ways to carry this bag. Most of the time I'm grabbing it by the handles or throwing it over my shoulder, and it is fine for that. But the comfort of this bag when you load it up and tighten the hipbelt is genuinely surprising. I don't know what geometry, physics, and black magic is in the suspension system on the Day pack, but it is uncanny! The only issue I had with the fit was that when the hipbelt is riding high and tight then the shoulder strap can't be tightened enough to keep it from slipping around. It's great that the load is kept on my hips, but the shoulder pad wonders up and down the strap, and the strap tends towards falling off my shoulder.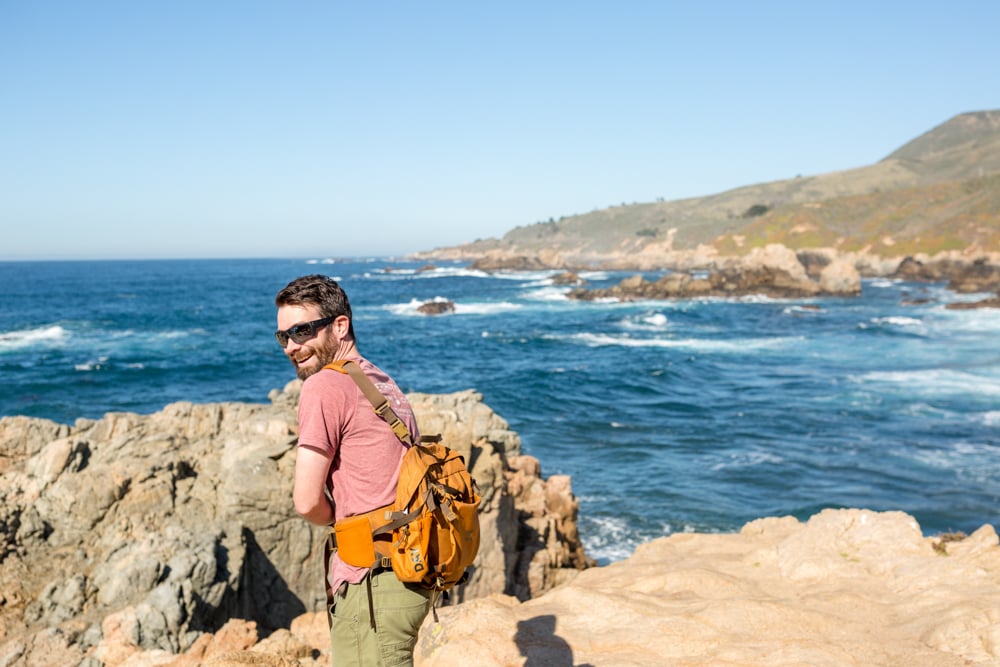 Look/Style
This was the main reason I didn't want to like this bag. I've never thought lumbar packs (glorified fanny packs) looked that cool. But all my worries and misgivings were quickly put to rest with the Day pack. First, it works really well as over the shoulder bag and the hipbelt tucks easily and inconspicuously out of sight. Second, it looks great! Mountainsmith did an awesome job at modernizing a classic. Third, apparently I've just been wrong for my whole life and lumbar packs do look cool!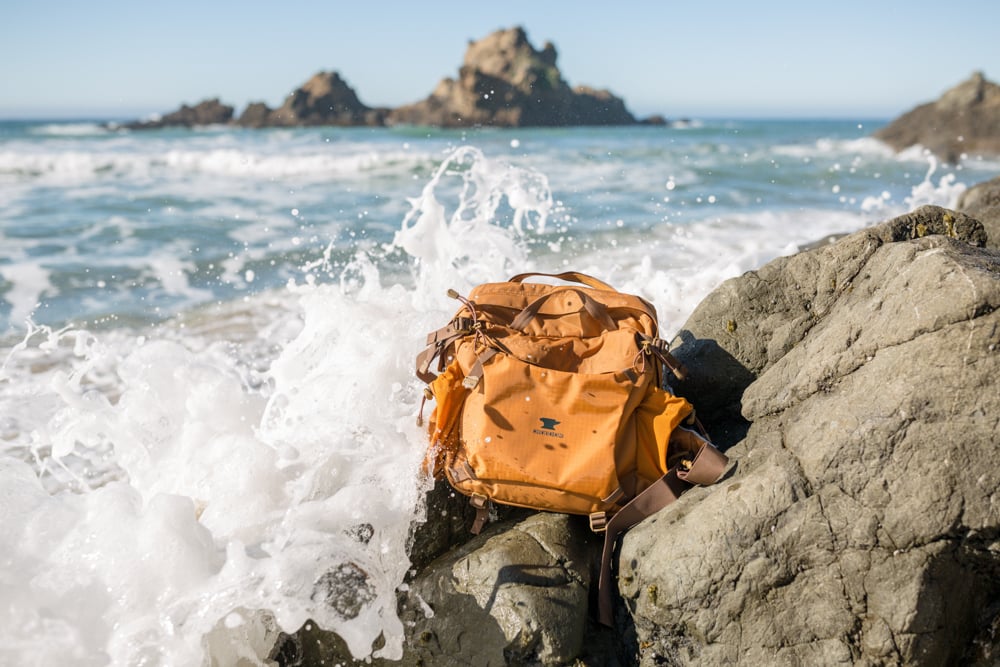 Features
I think Mountainsmith did a great job here on not going bonkers with crazy features. All the best features of the bag serve the purpose of the bag to make it a better pack. It's like the perfect cup of coffee – it's great because the coffee is so good, not because of latte art, or oat milk, or lavender. Good coffee is good coffee because of the coffee and the Day pack is awesome because it is a killer pack that does what it's supposed to do really, really well. It may not have the techiest bits all over it, but the load suspension is amazing, the hipbelt pockets are absolutely perfect, and the fabrics and oversized zippers mean you'll be enjoying this bag, like its predecessor, for many years to come. Great job Mountainsmith, truly great!
Weight/Packability
This pack is not for the gram counters or even ounce counters for that matter. It isn't light and doesn't compress down super well. But it can carry weight well and can be stuffed full and remain comfortable, so I say we still chalk this one up as a win. I know this varies from person to person, but I will choose durable over lightweight 9 times out of 10.
Function/Performance
I love things that serve more than one purpose. I carry a swiss army knife with me everywhere I go; I drink water all day out of my coffee cup from that morning. I think that's why I love this bag. You don't have to transform it or outfit it for your next adventure, day at the office, or family vacation. It is ready for all of those at any moment.
Durability/Construction
It has big zippers, thick fabric, cushy padding, and will survive a small explosion so A+ in this department. I wanted to get a cool picture of this pack with waves from the Pacific crashing around it, and I did, but I also got waves from the Pacific crashing around it. I dried it out quickly, but the salt and sand never caused any problems with the oversized zippers, and I was quite pleased by how fast it dried out. This pack was built with durability in mind.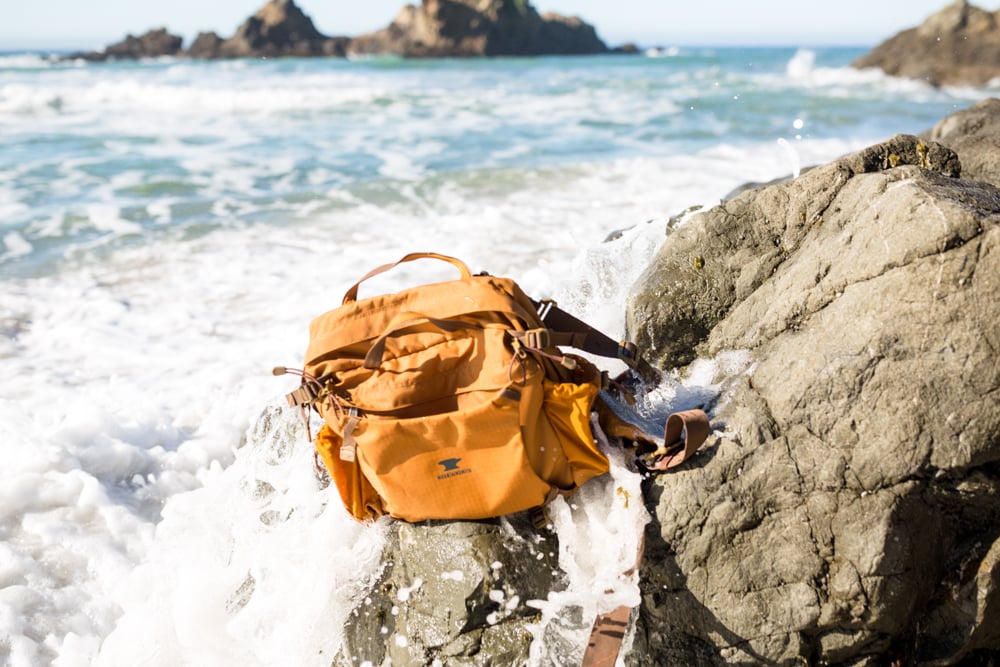 Friendliness to the Earth
Mountainsmith works with recycled fabrics and has even won some awards for their green initiatives, but I think one of their greatest contributions to the earth is building products that won't end up in landfills. I really think this is the type of gear you will be able to pass down to your kids.
The Final Word
For anyone out there who is a doubter, a skeptic, or just thinks that Mountainsmith is making fanny packs for gearheads – I've been in your shoes and I'm telling you the hype is real (but the fanny pack thing is still kind of true, but it's worth it). This is the bag I grab to go to work every day; this is the bag I grab when I'm hitting the trail; this is the bag I grab when I'm doing photo and video work; this is the bag I grab for everything, and there's always room for snacks in those awesome hipbelt pockets!
Shop the Mountainsmith Day on Outdoor Prolink. Not a member? Apply today!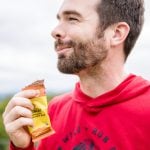 Harry is a father of 3 knee-high, ankle-biters, and the husband of one beautiful lady. He is currently mastering the zen art of balancing family, work, and making himself intentionally uncomfortable. He's also an AMGA SPI, W-EMT, LNT Master Educator, and lover of people and places. Learn more @harrymcsween.