ProView – Ortovox Pordoi Jacket
This skiing jacket is made for the backcountry. It blends performance, comfort, and style. Ortovox brings its history of intelligently designed gear all while using industry-leading lightweight and sustainable materials.
Backcountry skiing demands a lot from your gear. Rarely will outerwear be exposed to such an array of temperatures, moisture, or general wear and tear. As a result, I have gone through an array of clothing in my time backcountry skiing and am still in the search for the perfect skiing jacket. So far, the Ortovox Pordoi Softshell Jacket has come the closest to meeting my ski touring needs and will have a permanent spot in my ski touring kit for the foreseeable seasons to come.
Ortovox Pordoi Jacket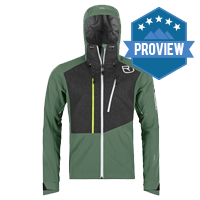 Product Description: Made for powder slopes that want to be conquered after a hard ascent! For our premium softshell PORDOI JACKET from the MERINO NATURETEC PLUS line, we use only the best performance materials. Inside is the finest merino wool to form a foundation in comfort, whilst on the outside the new c_changeTM membrane by schoeller is used. It is an active membrane that reacts immediately to the build-up of sweat with special damp and temperature management. When it's cold, the membrane on the PORDOI JACKET closes itself – as soon as the body becomes too hot, it opens the pores in order to regulate the temperature and sweat production. The shell made from polyamide and elastane keeps the outside world...outside. This ensemble of fibers will impress with its elasticity and robustness; it keeps the wind outside and is water-resistant. Our wool DNA is apparent in the loden material, which is partially-inserted and underlain with membrane. ORTOVOX is wool!
Offer price: $550.00 MSRP
Quality

Features

Fit

Durability

Friendliness to the Earth
Summary
The Ortovox Pordoi Jacket is the ski jacket specifically designed for the demands of backcountry skiing. This jacket will not only get you into the backcountry environments that we cherish, but the durability of this jacket combined with the use of sustainably sourced materials will contribute to the protection of those special places.
Pros
Vented chest pockets
Innovative materials
Good airflow
Cons
Lack of interior pockets (for stashing skins or gloves)
In this review, I want to address an issue that has plagued my closet of skiing jackets. In the past, I have had issues with jackets that do not provide a suitable amount of moisture control. This has especially been the case with softshell jackets. Moisture in backcountry skiing will come from two different places. From the exterior in the form of precipitation and ambient humidity, and from interior body sweat. Both are inevitable in a ski tour but different jackets will take different approaches in how they address this issue.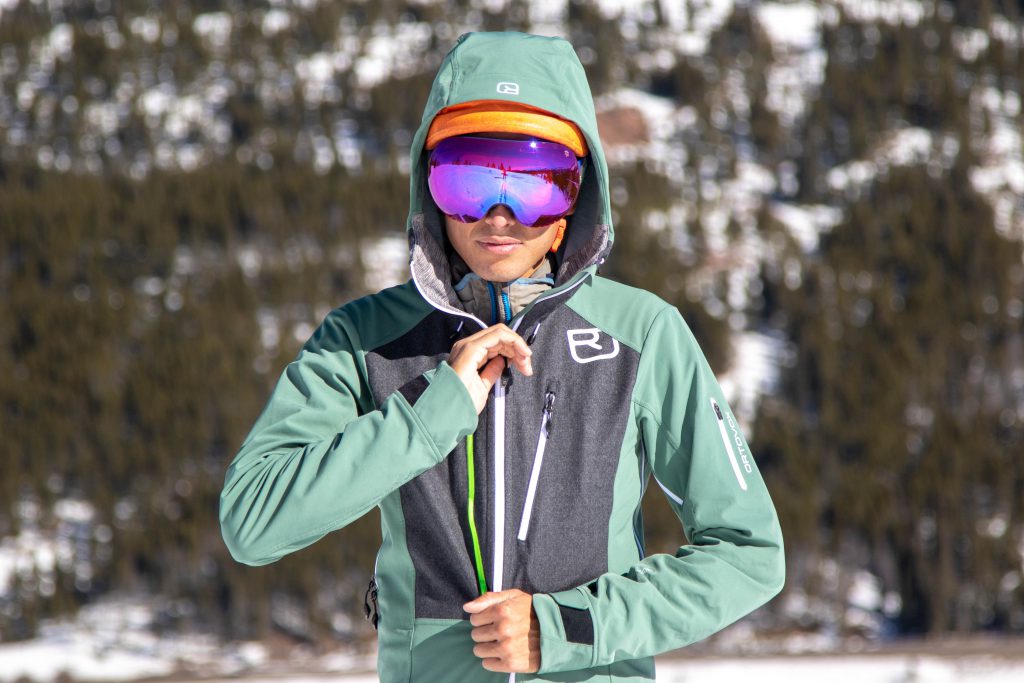 In testing this jacket, I wanted to place it in an extreme situation that would exemplify the importance of performing well in order to keep the user as safe as possible. There are only a handful of situations in backcountry skiing where the skier will need to give a high athletic effort, followed by a period of inactivity. This can be particularly dangerous because the skier will have a period of sweating followed by a period where that sweat will rapidly cool off the skier in freezing ambient temperatures. A dangerous combination that could lead to hypothermia. One of these extreme situations where I will be testing this jacket is the avalanche rescue.
During an avalanche rescue, the rescuer will assess scene safety and then get to work finding a buried partner. This is a race against the clock that demands that the rescuer works quickly and efficiently. It is important for backcountry skiers to practice their rescues so that they can dial in the process so that it becomes second-nature in a real high-pressure situation. I took the Ortovox Pordoi Softshell Jacket during one of my season-opening avalanche rescue practices to see how it would perform in extreme conditions.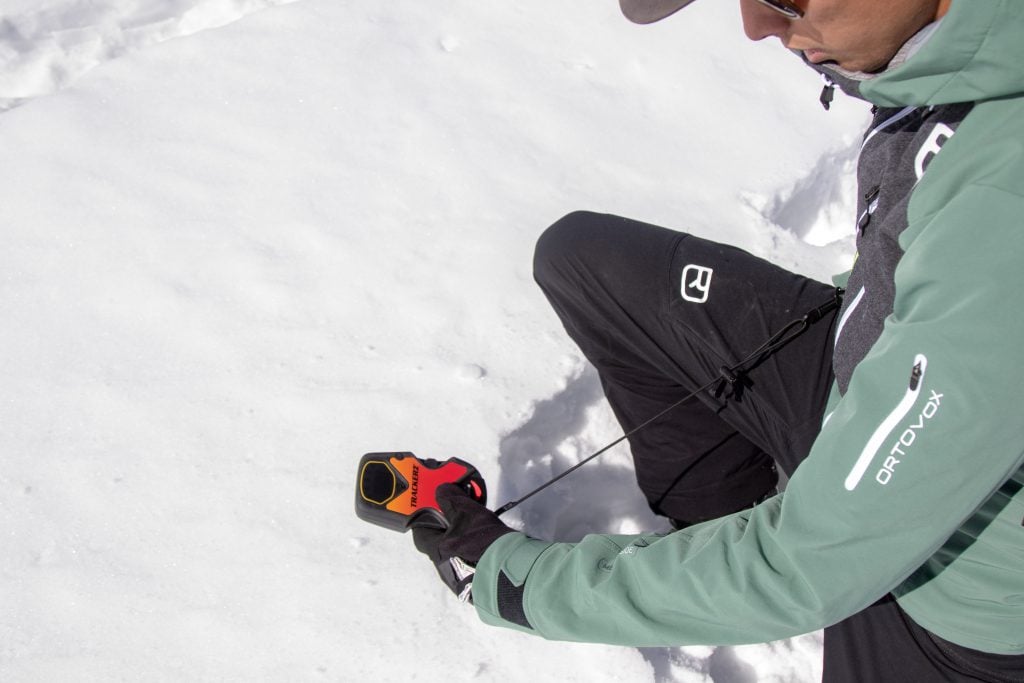 Performance
On a snowy day in Colorado, this jacket had to keep the moisture from the snow out, while managing the moisture of my body sweat as I was working to perform a multiple burial rescue in under 5 minutes. First, I was blown away by the way the jacket responded to the external storm snow. Ortovox claims a water resistance of > 10,000 mm. This would make this jacket waterproof on this scale. After testing this jacket, I can certainly believe that claim as the outer material was able to wick away wet snow and never became saturated as other softshell jackets have before.
Features
Internally, my body sweat seemed to just disappear. The secret comes in the materials Ortovox used in constructing this jacket. The interior is lined with merino wool, a sustainable and ethically sourced textile that wicks moisture and acts as an insulator. Not only is it soft to the touch, but it is critically important in the design of this jacket to keep sweat away from my body. This moisture is then managed by the exterior layer of the jacket. Ortovox uses a special membrane that reacts to temperature. When it's cold, the membrane will close, keeping body heat inside. But as soon as the body becomes too hot, the pores open to regulate the temperature. It is a smart design that works.
Despite these amazing features, I still felt the onset of overheating as I was desperately trying to dig out my second victim in the practice rescue scenario. At this point, I opened up the two front, vented chest pockets. I will say that these are really a game-changer. Never have I had this feature in a multipurpose ski jacket, only seen it in the lycra skin-suits used in randonee ski racing. Keeping these two large pockets open, you can feel the airflow pulsing throughout the jacket, instantly cooling you down. This was the point where I finished the practice rescue and was able to take a moment of respite. I closed my two front chest pockets and collected by rescue gear, admiring the Ortovox Pordoi Jacket as it also passed the rescue with flying colors.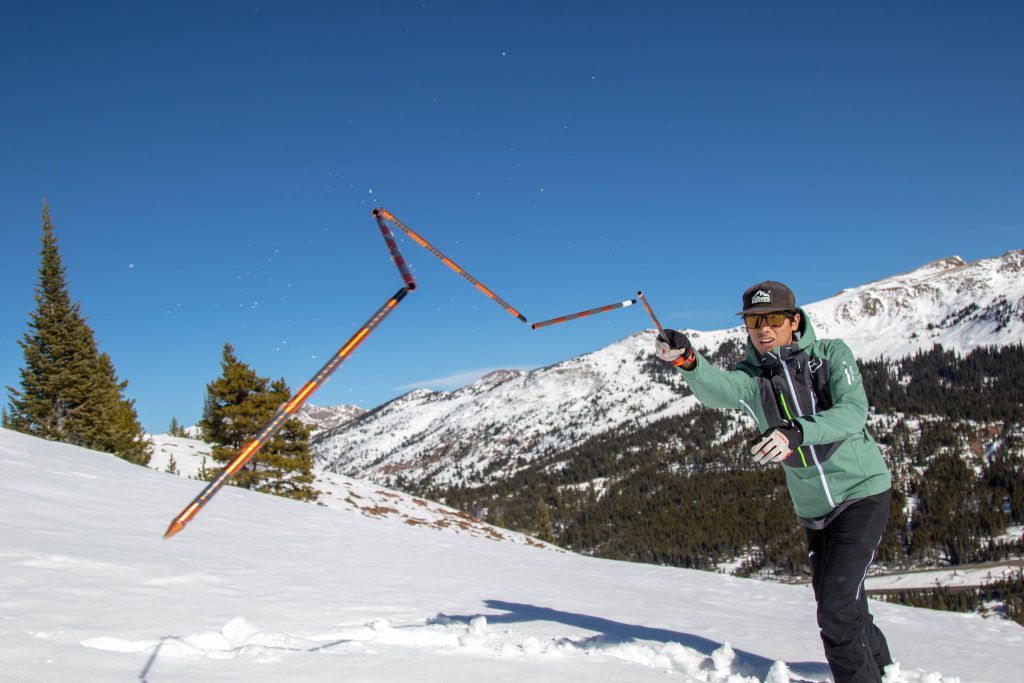 Fit/Comfort
This jacket seems as if it is tailor-made, perfectly fitting around an array of baselayers and always fitting close to your body. The secret is a material that is stretchy, accommodating a variety of layering systems. The sleeves are long, a feature that is nice to avoid snow in your sleeves and provides a large range of motion. Overall, this jacket is dynamic, made for the moving athlete. I paired this jacket with a wool baselayer, and a light synthetic jacket. I carried a larger puffy jacket that could fit over everything in my pack in case temperatures dropped.
Look/Style
This jacket is modern and sleek. This jacket has an athletic fit that not only looks good but will improve performance while in motion.
Features
Apart from the innovative materials that this jacket employs, the design really sets this jacket apart. Long sleeves and a hood that can accommodate a helmet are appreciated. The long back pannel keeps snow from entering through the bottom. The zippered arm vents zip from both directions, a feature that is necessary for temperature regulation.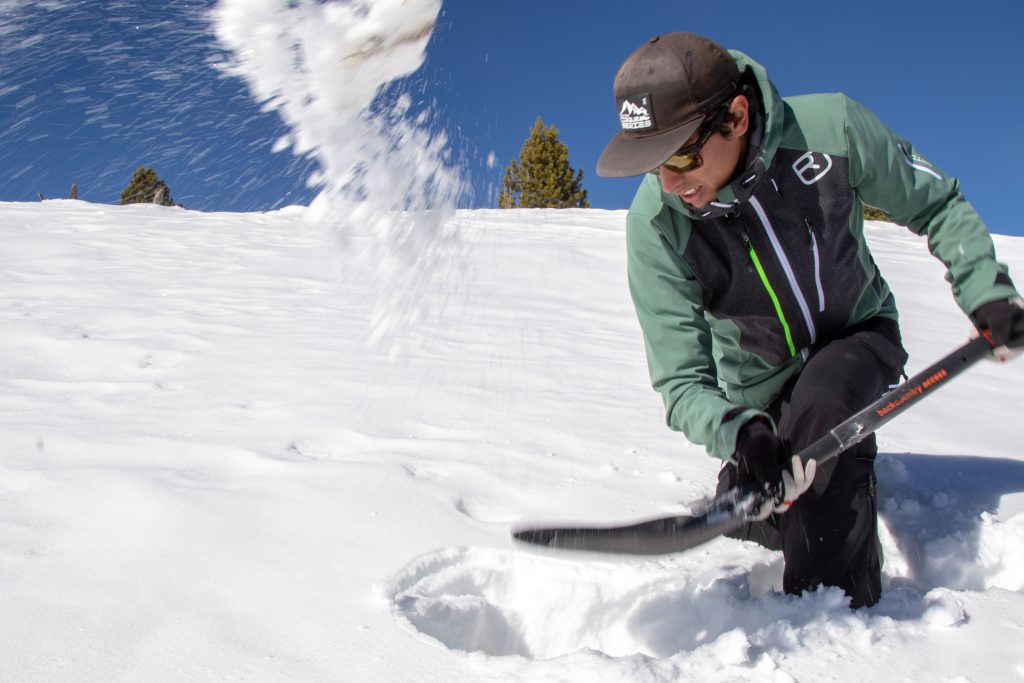 Weight/Packability
This jacket is deceptively light, the minimalist nature of the jacket puts it at about 590 grams. This is an easy jacket to stow away and forget about. This is especially true for the softshell jacket category that can be notoriously bulky.
Function
This jacket performs so well for all of the reasons I have mentioned. It really is a jacket that is made for the athletic nature of ski touring. However, for a ski-specific jacket, there isn't a snow skirt feature on this jacket. This is a downhill performance feature that is lacking. For this reason, this is a jacket that I may want to pair with bibs.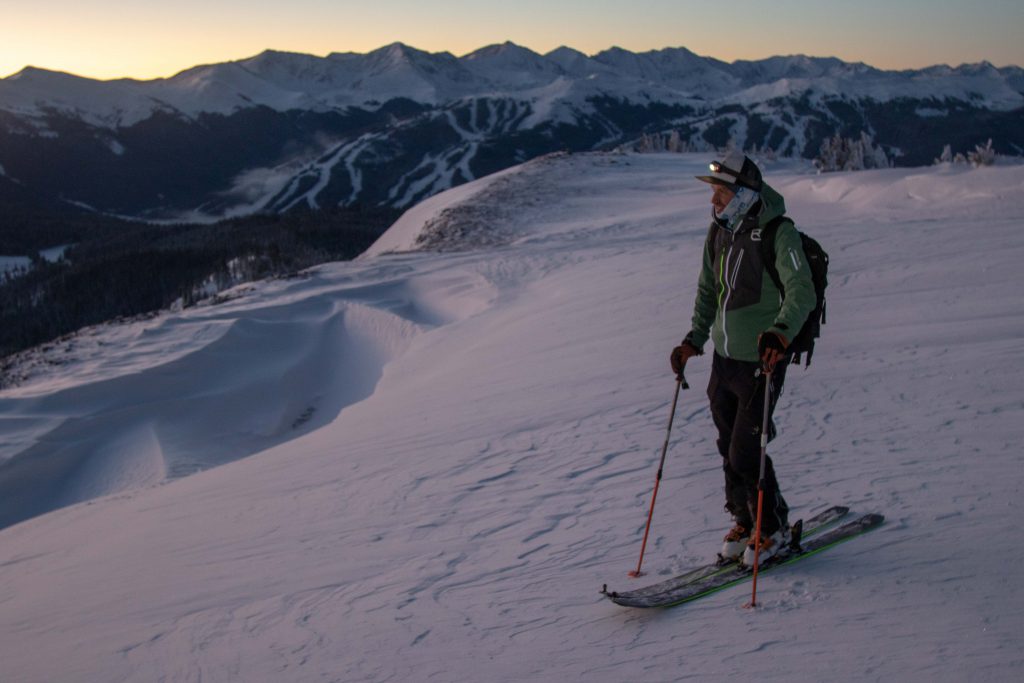 Durability/Construction
Tested on the Martindale scale, the shell material on this jacket tested to 40,000 abrasion cycles. This translates to a more durable material that will easily hold up to the abuse of backcountry skiing.
Friendliness to the Earth
Jackets are only as good as the material it is made of. This jacket exemplifies the importance of sourcing good materials and how that translates into careful manufacturing. Ortovox uses merino wool that comes from sheep reared on monitored, ethical sheep farms. The wool is sourced so that it does not hurt the sheep, is naturally available, and an important part of the Tasmanian ecology. The permaculture model of this material sourcing takes into account the critically important land management techniques that are necessary for a sustainable earth. Sustainably sourced materials paired with the durability of the construction will ensure that you are supporting a company with ethical responsibilities towards the environment.
Shop the Ortovox Pordoi Jacket on Outdoor Prolink. Not a member? Apply today!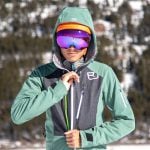 Aidan Goldie is a ski mountaineer based out of Colorado. When he is not climbing and descending peaks in the American West, he is an outdoor educator, working with schools and nonprofits guiding groups through the Colorado wilderness. Connect with him on instagram @agoldie94.