ProView – Outdoor Research Men's Skyward II Jacket and Pants
With a very dry winter thus far in Colorado I can't say I was able to get ample face shots testing the Skyward II Jacket and Pants. Instead I was able to do one better, I took the Skyward II setup out to scratch around in heinous winds, spindrift, and brutal cold. There's no better testing for gear than the high alpine of Colorado in winter, right…right?
Outdoor Research Men's Skyward II Jacket and Pants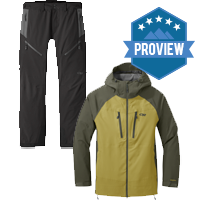 Product Description: Totally waterproof, super breathable, and incredibly lightweight, AscentShell™ technology is the surefire way to provide high-exertion alpine athletes with complete protection against ice, snow, wind, and however else the weather tries to thwart a perfectly planned ski tour. The Skyward Jacket and Pants have earned awards and #1 spots on athlete-favorited gear lists, but we still saw room for improvement. An updated, trimmed-down aesthetic adds versatility suitable for other alpine sports, and we've injected even more stretch into the Skyward's face fabric to enhance your range of motion during dynamic activities. Backcountry-specific features and movement-enhancing fabric performance combine for the softest pair of hard shells you've ever trusted.
Offer price: MSRP: $300.00-$350.00
Quality

Features

Durability

Fit

Eco-Friendly
Summary
After having used many different models of ski jackets and pants over the years from Outdoor Research, the new and improved Skyward II Jacket and Pants stand out with unrivaled comfort and breathability.  I found the Skyward II Jacket, in particular, to be somewhat heavy and baggy compared to the lightweight and comfortable cut of the Skyward II Pants. In the end, the Skyward II Jacket and Pants provided bombproof protection from the outside and breathable comfort inside.
Pros
Breathable
Flexible
Feature Rich
After having extensive experience using the original OR Skyward series of outerwear, the OR Trailbreakers, and the OR Cirque II pants, I was able to intensely test the new Skyward II Jacket and Pants with prior knowledge of what features I have come to love and hate from other OR models. No matter what clique of snow sports you belong to, be it ski mountaineering, ski touring, or others the Skyward II Jacket and Pants are a robust option for your winter kit.
Performance
Prior to owning the original Skyward Jacket, I would purchase the thickest GORE-TEX jacket I could find. Predictably, these jackets often left me sweating profusely from the slightest activity and had a terrible range of motion. The Skyward II Jacket and Pants are a far cry from my jackets of old. The thing I have loved about the Skyward II series over all else is the amazing breathability and stretch of the Ascent Shell fabric. I generally run warm and sweat easily as soon as I begin skinning uphill. The Skyward II's have kept me unbelievably dry and comfortable even at high output. I often only open the pit zips or the thigh zips to dump some excess heat. This brings me to the sheer comfort of the Skyward II Jacket and Pants. The Ascent Shell fabric feels good on the skin if you choose to wear it as an outer layer with just a t-shirt below on a warmer day. Not only is it comfortable in that regard, but it is extremely flexible which allows for your full range of motion without impediment.
When you put these characteristics together, I am much more frequently using my shell as an active part of my layering system rather than keeping the sweaty, crinkly shells of old in my pack until the very last minute. Throughout testing the temperatures were around -10 F with 20-30 mph winds and yet the entire time I was comfortable within my Skyward II gear with only a mid-layer below my jacket and long underwear below my pants.
Fit/Comfort
I am 6'1" tall and 185 lbs with thicker thighs and generally wear a 33 or 34Wx32L in mens pants. I went with the Skyward II Jacket in size Large and the Skyward II Pants in size Medium. The jacket has some excess fabric in the belly region, leading to a pseudo-beer belly look before you pull the jacket down under your backpack waist belt or a harness unfortunately. It isn't really a problem as the excess material definitely makes it easier to layer underneath. It is just a gripe of mine that most OR jackets I have ever owned are trimmed down everywhere except the stomach for some reason. The pants on the other hand fit great! The only thing I need to note is that I fill out the size Medium pants pretty well, yet if I use the included velcro adjustable waist without a belt I find that the velcro tabs still don't synch down enough to keep my pants up. This is especially true if I have gear in my pockets. I recommend wearing a belt if you aren't in a harness.
Look/Style
The new Skyward II series has beautiful lines and striking colors for all tastes. I went with the Cascade/Twilight jacket and the black pants for a classic look. OR has bold colors like the Lichen/Fatigue (mustard yellow/ forest green) jacket and Umber (burnt orange) pants or other subdued colors like the black jacket and pants. The two-tone jacket looks great and makes it easy to pick out in a group which is always a bonus when looking for your buddy.
Features
The Skyward II Jacket and Pants are jam-packed with features! You'll just have to check out the wide array of features for yourself on Outdoor Research's website since listing them here would be a paragraph in and of itself. Some of my favorites though are the ample amount of pockets (two chest, two hip, and two internal mesh), the hood (large enough to fit over a helmet), and the pit zips on the jacket. The pants on the other hand come adorned with two hip pockets, two thigh pockets, thigh vents, reinforced cuffs, fixed "bell bottom" cuffs with a fixed powder cuff, and an avalanche beacon pocket in the right hip pocket. The only thing I have to get used to is having the thigh pockets on the front of the thigh rather than the sides. It feels a little odd to have gear in your pockets press against you when you lift your leg.
Durability/Construction
Of all the testing and general abuse I have dished out to my Outdoor Research gear I have never been able to destroy them fully other than a random crampon hole here or there. The Skyward II series is no different. The fabric is light and breathable, yet stout enough to take anything you throw at it with ease. The durability of Outdoor Research gear is one of the biggest selling points as to why I keep coming back for their gear time and time again.
Friendliness to the Earth
As a professional biologist I always love to see outdoor companies holding themselves to high environmental and ethical standards. I can proudly report that after researching, Outdoor Research has a collection of certifications it adheres to for its products as well as mutually beneficial partnerships with many organizations that give back to local communities, boost research for future innovations, or take active roles in conservation. This can all be found on their site under the "Culture" tab at the top of the screen. Some of the certifications Outdoor Research follows are the Responsible Down Standard (RDS), the Global Recycled Standard (GRS), and the Supplier Code of Conduct to name a few.
The Final Word
In the grand scheme of winter outdoor sports, I don't think there is a single one that the the new Skyward II Jacket and Pants wouldn't serve admirably. I love the breathability and stretch of the Ascent Shell coupled with its bomber protection. In terms of minutia I would say the Skyward II series excels as a ski touring setup with its large thigh vents and breathability. Unlike the Trailbreakers, the Skyward II pants have a non-removable powder cuff and no zipper on the cuff. Both pants have large thigh vents, avalanche beacon pockets, and reinforced cuffs. The only reason I mention this is because the Trailbreakers will still be my first choice for ski mountaineering because I like to be able to remove the powder cuff and zip the cuffs closed tight so that I can get to my boot straps and socks quicker for adjustment as well as having less cuff flopping around to catch on crampons. If these minor details haven't occurred to you or you have no idea what I am talking about, then the Skyward II Jacket and Pants are the tools for the job. Overall, the Skyward II Jacket and Pants provided a rugged ski setup for comfort on the uphill and protection on the downhill no matter the conditions!
Shop the Outdoor Research on Outdoor Prolink. Not a member? Apply today!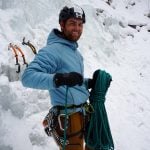 Zach is an aspiring alpinist, ski mountaineer, climber, and photographer. He is a Wilderness First Responder and frequently volunteers with the Colorado Mountain Club to help train future mountaineers. Zach works part-time as a marine biologist in Alaska and a wildlife biologist here in Colorado. You can catch him climbing around Golden where he lives today.