ProView – Outdoor Research Men's Helium Down Hoodie
We have all been there: we were a bit too confident about the goals of the day despite the forecast being less than ideal. Inevitably, the sun starts to set, and the snow begins to fall. It is an ethereal feeling, for sure, but you are not too sure your decade old, duct tape covered puffy is going to perform all too well as the snow starts to pile on. If you had Outdoor Research's new Helium Down Hoody you would not have to worry.
Outdoor Research Men's Helium Down Hoodie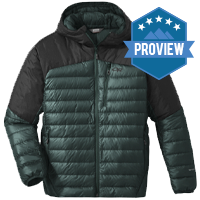 Product Description: Durable and lightweight Diamond Fuse down enhanced for weather protection with our exclusive waterproof Pertex Shield Diamond Fuse fabric on hood and shoulders.
Offer price: MSRP: $279.00
Quality

Features

Fit

Durability

Eco-Friendly
Summary
A true to size down jacket that will hang with you no matter what the terrain or weather throws at you.
Pros
Durable fabric
Waterproof upper arms and hood
Cons
Sleeves seemed a bit short for activity
I stopped buying puffies. They were the piece of outdoor clothing that I have always felt were overrated and ultimately underperformed. They are made of super lightweight material that is neither durable nor waterproof; then they are stuffed with down feathers that cannot get wet. Get them wet and you lose a lot of the insulation capabilities of the down. My down puffies always ended up torn up, beat up, and flat and I was sick and tired of paying the price for it.
The Helium Down Hoodie has helped repair my broken relationship with puffies. I am a climbing guide and desert dweller which means I spend a lot of time scumming around, over, and under sandstone boulders in a harsh environment with wildly changing temperatures. I almost always have a puffy stuffed in the bottom of my pack, which is probably why it gets so beat up. It is a good layer to always have on hand, but the durability makes it tough to be comfortable with taking it out into any terrain. Have you ever bushwacked through scrub oak in a puffy? Your jacket ends up looking like it was mauled by an unhappy house cat.
Features
Outdoor Research's big thing with this Helium Down Hoody is the Diamond Fuse technology.  It sounds pretty techy so I will let Outdoor Research speak for itself:
Diamond Fuse fabrics use yarns with unique diamond-shaped filaments that actually lock together to create a durable and highly abrasion-resistant fabric. This engineered structure allows these fabrics to remain very stable over extended wear and washing.
Functionally speaking, they are not kidding. I do not normally pay attention to what I am about to walk through with my jacket on (again, probably why they get so beat up) but I paid even less attention with this hoody because it never showed a scratch. I have had this jacket for the last few months and I have packed it in and out of bag after bag from the sandstone floors of Utah to the alpine peaks of Colorado and it barely shows any wear from its abuse.
Weight/Packability
The Diamond Fuse durability is a big plus, but what I appreciated more was the ingenuity of putting waterproof Diamond Fuse fabric on the upper arms, shoulders, and hood of the jacket. I hate getting stuck out in a surprise sprinkle or snow shower with nothing but a down puffy. The waterproof fabric does a great job at protecting the down during those light weather events where not much of your torso is getting wet. All this and the jacket is still "helium" light at just under a pound. Plus, the inside of the pockets are lined with soft fleece – I know that this concept is not new but it is the only down jacket I have ever owned that has put that perk into the jacket and it kept me from wanting to wear any other jacket – even when I had a choice.
Fit
I found the jacket to fit quite true to size. The cuffs have an elastic band which helps them pull tight over long gloves. I thought the sleeves seemed a bit short whenever I was being active; the sleeves would slide up the forearms and sometimes would stay up due to the elastic cuffs. I do have longer than average arms so this might not be a problem for you if you are closer to a 0-ape index. I would buy a Large Tall if they offered it.
Friendliness to the Earth
I think it is relatively difficult to be a manufacturer of clothing and textiles and be 100% eco-friendly. Some companies do it better than others and some are more transparent than others. Outdoor Research has always been a company that has been quite forward about its stance on recycled material, responsibly sourced down and standards of workplace safety and conditions. Although the Helium Hoody does not have any recycled materials in it, the down is sourced from suppliers that have passed Outdoor Research's rigorous standards. Plus, starting in Fall 2020, you can start tracking your down to help make their procurement of down more visible and transparent. Find more information here.
Shop the Outdoor Research Men's Helium Down Hoodie on Outdoor Prolink. Not a member? Apply today!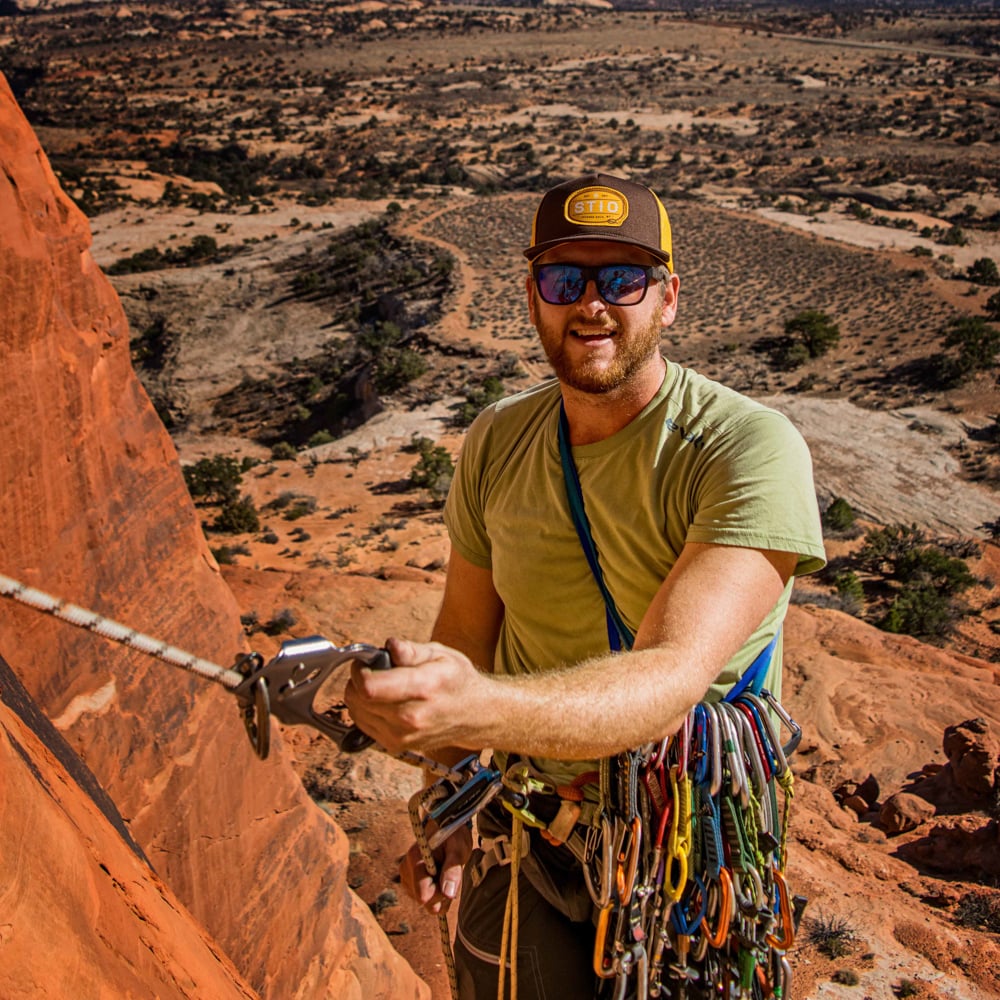 Patrick Betts is the Technical Director at Front Range Climbing Company and is based in Moab, Utah. He has been in the Outdoor Industry since 2009 and guides year-round in Colorado, Utah, and beyond. When he is not guiding, you will find him traveling to climbing destinations around the world. Patrick is an experienced adventure photographer who enjoys taking photos of people pushing their own limits and capturing the landscapes of the areas that rock climbing takes you. Follow along @adventurethrulens