ProView – ZOLEO Global Satellite Communicator Review
There is no doubt that adventure sports are often seen as synonymous with 'remote'. Even in today's world, it's not uncommon to find yourself without cell service. And if you are like me, you go out of your way to find those shrinking pockets of "off grid". As a climber and canyoneer in Moab, Utah, I find myself without service almost every time I recreate; add in the fact that many times I am taking folks into unconnected terrain as a guide, and you quickly find yourself wanting ways to be connected. I spent the last month taking the satellite communicator from ZOLEO along with me while I guided in the desert and navigated the backcountry of the PNW on an off-road motorcycle trip.
ZOLEO Global Satellite Communicator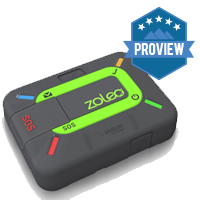 Product Name: ZOLEO Global Satellite Communicator
Product Description: The ZOLEO satellite communicator connects with your smartphone or tablet to provide messaging that follows you in and out of cell coverage, plus safety features you can count on worldwide (subscription required). When you're outside cell coverage, your ZOLEO device uses the Iridium satellite network to send or receive messages. Iridium is the only satellite network to cover everywhere on Earth, including landmasses, oceans, and Polar Regions. If you have a clear view of the sky, you can message and communicate with the outside world. When within cell coverage, it delivers messages over cellular and Wi-Fi. Safety features include the ability to send SOS alerts, unlimited free check-ins, receive weather forecasts and even share your GPS location. The ZOLEO device can handle 200+ hours of battery life on a single charge while checking for messages every 12 minutes so you can plan a long trip without worrying about staying in touch.
Offer price: $199 MSRP
Currency: USD
East of Use

Features

Battery Life

Affordability
Summary
The dedicated SMS number, the ease of texting via your phone, and the ease of sharing the device with others are the three things that helped me decide the ZOLEO device is my preferred satellite communication set up. If you want to stay connected all the time or you know that when your s*** hits the fan you're going to really need some help, then the ZOLEO device is a no brainer.
Pros
Had more satellite connection success with ZOLEO than other devices in odd places (inside backpacks, vehicles, and slot canyons)
Easily shared with friends or coworkers
Dedicated SMS number
IP68 Rated (Dust tight and Protected against being continuously immersed in water for a longer period)
Cons
Device does not have reverse charging (i.e. cannot charge your phone from the device)
Ease of Use
A big positive of the ZOLEO device is that you use it much more as a satellite hotspot; then you use your phone to do all the communication. This makes its ease of use quite simple and natural: use the ZOLEO phone app to connect the device to your phone via Bluetooth and use the in-app messenger to do your texting. If you are familiar with other forms of app-to-app communication, this will feel no different. At first thought I was not going to like this set up as I did not want to rely on having to carry, and power, two separate devices to maintain emergency contact. Previously, I had only used devices that you typed on to communicate which meant my phone was not necessary in an emergency. However, over time I found typing on one device be quite tedious, especially when messages were more involved than a simple check-in.
The more I used the ZOLEO device, the more I enjoyed the fact that messaging was easy and simple on my phone. Message threads are saved and are clearly organized and contacts from your phone are preloaded into the app. Plus, the weather forecasts were easier to read, view and save for later compared to using a small-screen satellite communicator.
A big perk for the cost-conscious users is that with ZOLEO, if both people are using the app, then messages are given a limit 900+ characters, instead of the standard 160 characters. This means, if you are using one of your limited number of satellite messages on your plan, you can say way more in that one message through ZOLEO than you could through an alternative device. If you find yourself paying for the unlimited messaging plan, though, this perk is a bit lost.
The best feature is that ZOLEO provides your device with a dedicated 10-digit SMS number. Comparatively, other similar products on the market provide an SMS number based on your location. It can often stay the same until you travel a bigger distance, then it's likely to change. This means your contacts might have an outdated text thread in their phone and no way of communicating with your device. With ZOLEO, as long as your service stays active, that number belongs to your device. Your friends, family and coworkers can save it in their phone and are able to text confidently knowing their message will get to you. Want to suspend your service for some time but want to keep your SMS number? You have the option to pay $4 each month to keep your number.
Purpose and Features
The ZOLEO satellite communicator serves one obvious purpose: stay connected. Staying connected, on the other hand, can mean many different things.
While guiding daily half day or full day trips, my ZOLEO device solely serves as a trip start/stop check in device and as an emergency system activator. I turn it on, press the Checkmark button on the device to send an automatic "I'm ok. My location is [GPS COORDINATES]" message to my predetermined check-in contacts and that's it. When the trip is over and we are back to the vehicle, I send it again. With this function, the ZOLEO works flawlessly, and the battery lasts a very long time.
When I am guiding multi day trips where I am camping with clients, I need the device to work a bit harder. I still do the above check-in but if the trip's plan should change as clients get more tired or more competent, then I need to let the important people back in the office know what our new plan or objectives are going to be. This is where the ease of texting via my phone really shines. The ZOLEO app will also pull a weather forecast for your location for the next 4 days, along with hourly forecasts for today. This is an imperative function for guiding slot canyons in Southern Utah. These forecasts are easily saved to your phone by taking a screenshot for future viewing or to spot weather trends.
One big feature that really sets the ZOLEO device apart from others is how easy it is to share. Any phone can connect to the ZOLEO device, but only 1 at a time. When I get back to camp with clients, I can check in with the office as normal and then allow the device to be used by others. They must have the ZOLEO app downloaded ahead of time but once they do, connecting to the device is a simple process. They now have their contacts available via their phone and previous message threads are stored locally on the phone so no worries to be had about others seeing your messages. Keep in mind that any message being sent to your device's dedicated SMS phone number, or email address, will go to whatever phone is currently connected. Being able to allow clients to communicate with their family back home easily at the end of their amazing day is a huge perk.
When I am recreating on my own, though, I am often on some sort of open-ended adventure: backcountry moto-camping trips that cover thousands of miles, solo canyoneering in remote places or first ascent desert towers. This means that my plans are likely to change, and I am unlikely to come home just because something did not go quite as planned. The ZOLEO device allows me to evolve with the ever-changing situation and be able to make decisions based on the objective information in front of me without fear that someone, somewhere is expecting a check in phone call. Got a flat miles and miles from cell service and you have to camp there for the night? No problem. Slot canyon was a bit more water-filled than expected so your pace slowed? No need to worry about missing that check in. ZOLEO offers a Location Share+ feature that tracks the device on an interval you set and will automatically send location updates to your chosen contacts.
I was able to test out the SOS feature and the Medical Assist (on-call, non-emergency medical support). I thankfully have never needed to use the SOS feature on a satellite device, so it was nice to test it out. I was able to initiate the SOS either from the device directly or through my phone. They reached out via text to try and communicate with me then they called my emergency contacts that I had set up ahead of time. The Medical Assist feature is unique to ZOLEO. Think of it as non-emergency Google. I was able to get medical advice from an on-call professional but also could ask for information about the closest medical clinic or how to get more medical supplies. This was interesting to test out and I see it could be more beneficial for international travelers who might not have a mobile cell phone data plan in order to look up this information themselves. 
Who is this product for?
A satellite communicator is quickly becoming a staple piece of gear for those that recreate outdoors. Although I do not feel it is 100% required by everyone, every time they go outside, it does provide an unmatched service. The ZOLEO satellite communicator is perfect for people that often recreate in remote places alone or for long periods of time. If your decision-making tree often leads you to continue onwards versus turning around, then a ZOLEO satellite device should be a part of your gear. You might not feel the need for it, but your loved ones would probably rest easier knowing you have one.
If you are an outdoor guide and you must, or want to, carry a satellite communicator for work, then the ZOLEO should be of interest. Its ease of use alone should be enough, but it is quite a bit cheaper than alternatives. Monthly plans are decently affordable but due require a $20 activation fee; they can be suspended/paused any time after the first 3 months.  If you are guiding multiday trips, then the ZOLEO will be leaps and bounds more beneficial to you and your clients than other options. Allowing your clients to contact home while they are in remote places or even speak with someone about medical advice in a more private way is quite the benefit to provide your paying clients.
Final Word
The dedicated SMS number, the ease of texting via your phone, and the ease of sharing the device with others are the three things that helped me decide the ZOLEO device is my preferred satellite communication set up. If you want to stay connected all the time or you know that when your s*** hits the fan you're going to really need some help, then the ZOLEO device is a no brainer.
---
Shop the Zoleo Global Satellite Communicator on Outdoor Prolink. Not a member? Apply today!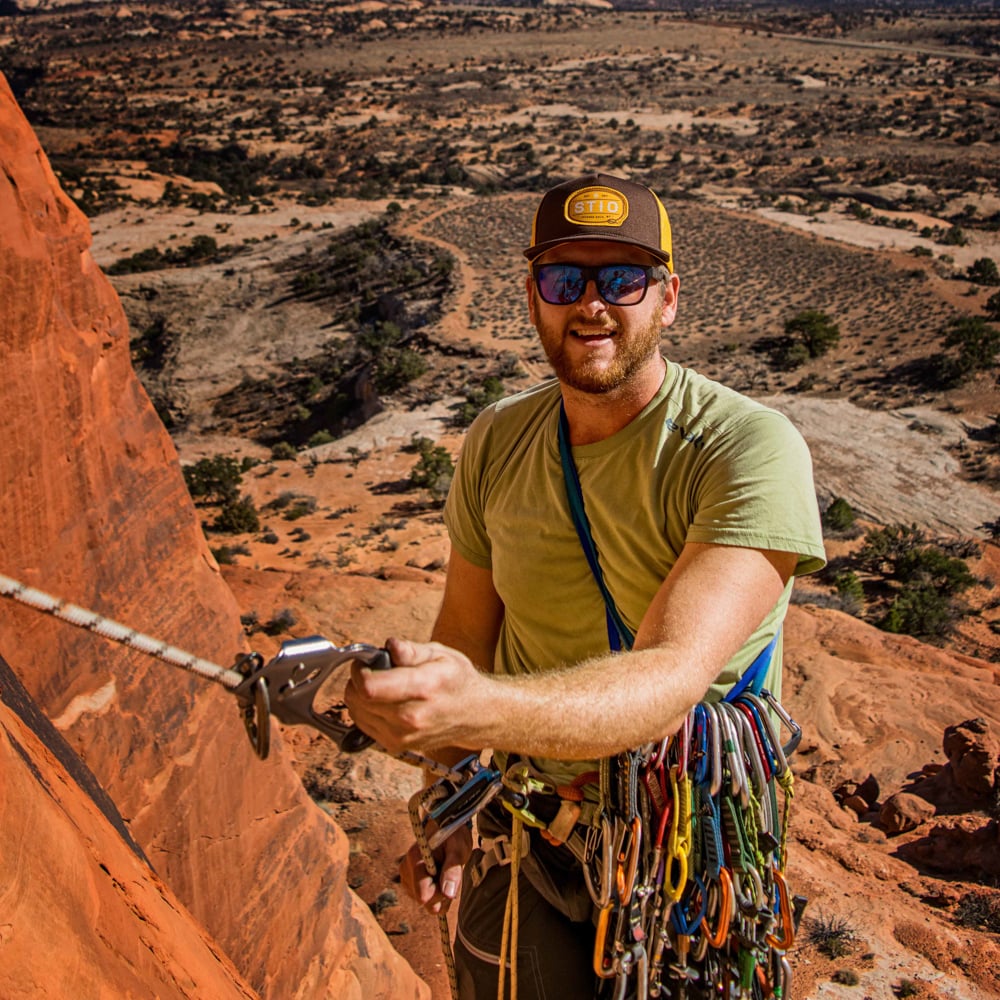 Patrick Betts is the Technical Director at Front Range Climbing Company and is based in Moab, Utah. He has been in the Outdoor Industry since 2009 and guides year-round in Colorado, Utah, and beyond. When he is not guiding, you will find him traveling to climbing destinations around the world. Patrick is an experienced adventure photographer who enjoys taking photos of people pushing their own limits and capturing the landscapes of the areas that rock climbing takes you. Follow along @adventurethrulens