ProView – Solo Stove Bonfire + Stand & Shelter Bundle 2.0 Review
Campfires are synonymous with camping and not many people go without. As a guide in Southern Utah who regularly runs multi day trips, I can assure you that a campfire is a wonderful tool. Not only does it help take the edge off of those early evenings in the fall and spring but it is a useful hub for communicating important information to clients about the next day's objectives and plan. As great as a campfire is, it is not without its own issues. You already are out getting after it every day: squeezing, stemming, climbing, and hiking. Your legs really could use the break by the time you plop down around the campfire in the evening. The last thing your quads need is the constant squatting up and down that is required by the smoke-caused musical chairs that happen all too often around a campfire. Solo Stove is working hard to keep the spirit of the campfire alive all while giving your legs the rest they have earned.
Solo Stove Bonfire + Stand & Shelter Bundle 2.0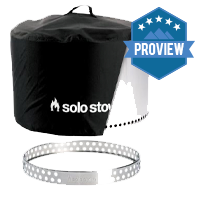 Product Name: Solo Stove Bonfire + Stand & Shelter Bundle 2.0
Product Description: Fire pit built for the backyard and beyond. Easily light up smokeless fires anywhere life takes you. This bundle also includes the Bonfire Stand & Shelter.
Offer price: $539.99 MSRP
Currency: USD
Performance

Features

Benefit vs Cost

Eco-Friendly
Summary
The Bonfire 2.0 from Solo Stove is an excellent way to continue to enjoy the comforts of a campfire while limiting the harsh impact of our time honored activity. If you camp often and especially if you are an outfitter that offers overnight trips, a Bonfire from Solo Stove is exactly what you need!
Pros
Makes it super easy to have a campfire nearly anywhere with much less natural impact
Despite its near 24lb weight, it is quite portable and functional with its included carrying case
High efficiency decreases smoke and firewood used
Cons
Making having a fire super obtainable does come at a natural resource cost
Purpose and Performance
I had multiple guided canyoneering trips this spring with clients where we spent a few nights camping out in the North Wash of the greater Hanksville, Utah region. I do not think I have ever unpacked a piece of equipment that has elicited such an inquisitive response from clients. For those unfamiliar, Solo Stove makes stainless steel fire pits that are designed with increased airflow that helps make your campfire experience smokeless, efficient, and easy.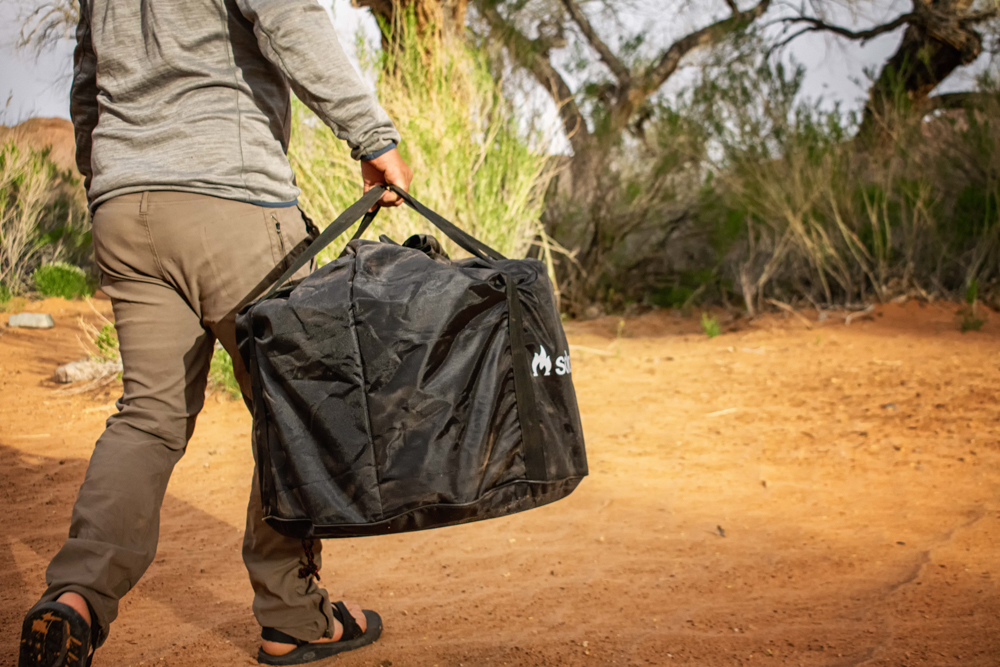 It really does perform exactly as advertised and everyone that enjoyed the warmth of the fire could not help but comment on the fact that it truly was smokeless. I personally felt that it being "smokeless" is a bit misleading as there would be smoke at times, but it was a passing thing that never really elicited a response besides the slight ribbing of a "I thought this thing was supposed to be smokeless?!" By the time your joke was over the smoke was gone and you were back to enjoying the good clean warmth of the Bonfire. This really does make the campfire experience so much more enjoyable.
Another benefit of the increased airflow is it helps the firepit burn a lot more efficiently and easily. You should always strive to pack in all your fire material and in many places, it is against the law to gather firewood and kindling materials. This can often make the financial and space cost of a fire-every-evening expectation quite noticeable. On the guided trips that I run, firewood and appropriate materials can be a large cost and warrants its own line item in the budget. It is not uncommon to burn two or more bundles of gas station firewood a night with clients. I was absolutely blown away with the amount of firewood I brought home after the trips while using the Bonfire firepit. Its efficiency meant you could socialize for an hour or two around the fire and only burn through 1-2 bundles of wood.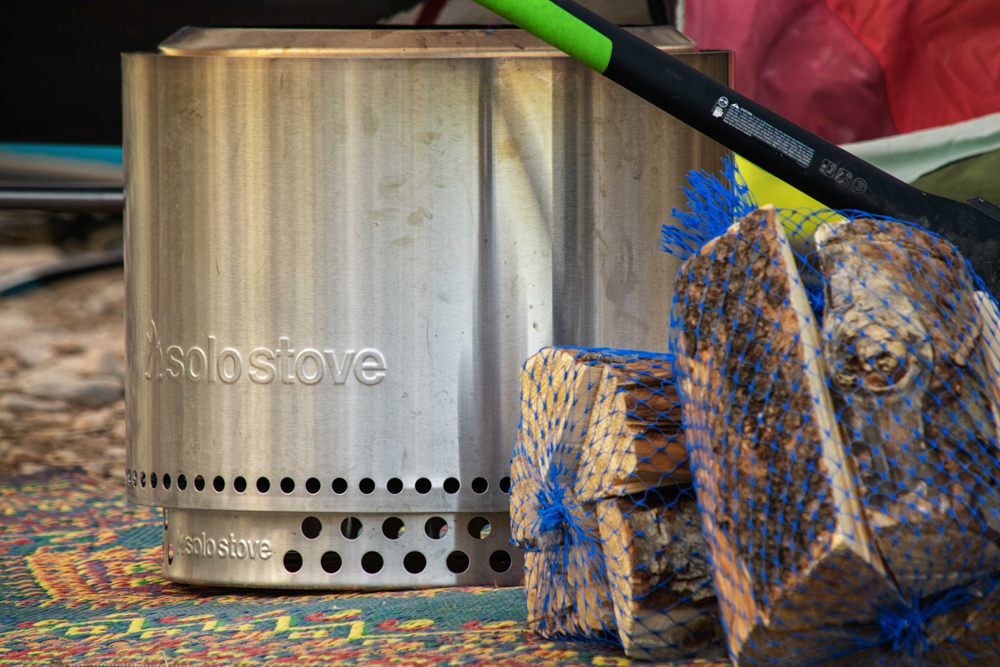 The Bonfire 2.0 has a removable ash tray at the bottom which makes dumping the ash into the trash can super easy and because of the high efficiency design, the ash was such a small amount that there was no issue in packing it out after two or three nights of campfires. After my most recent trip where we burned three bundles of firewood, I measured out the ash and tossed less than two cups of ash into the trash can! This is important as packing out your ash is an excellent and easy to do step we all can do to help reduce the impact of recreational fires.
Who is this product for and what are its benefits?
Although Solo Stove really seems to market their products for the backyard of your home (which it is fantastic for!) I think that it should be much more heavily marketed towards all car campers and outfitters, especially those that spend their time in heavily visited areas with dispersed camping (i.e. not in established campgrounds). Campfires, despite all their wonderful benefits, cause a lot of damage to the environment both directly and indirectly. The burning of a fire directly on the ground can create a permanently damaged area where nothing will grow again; this is why we are still finding evidence of firepits and hearths from Indigenous Peoples from hundreds and thousands of years ago. Not to mention the trampling of small vegetation that surrounds a fire ring. The other more noticeable impact of a campfire ring is it is a symbol that just screams, "CAMP HERE!!" This causes people to congregate in the same places night after night after night never giving the natural space a chance to recover. This is especially of concern in very popular, very fragile areas, like the desert of Southern Utah. Vegetation, biological soil crusts and local fauna all get damaged, eradicated, and pushed out by the growing size of dispersed campsites.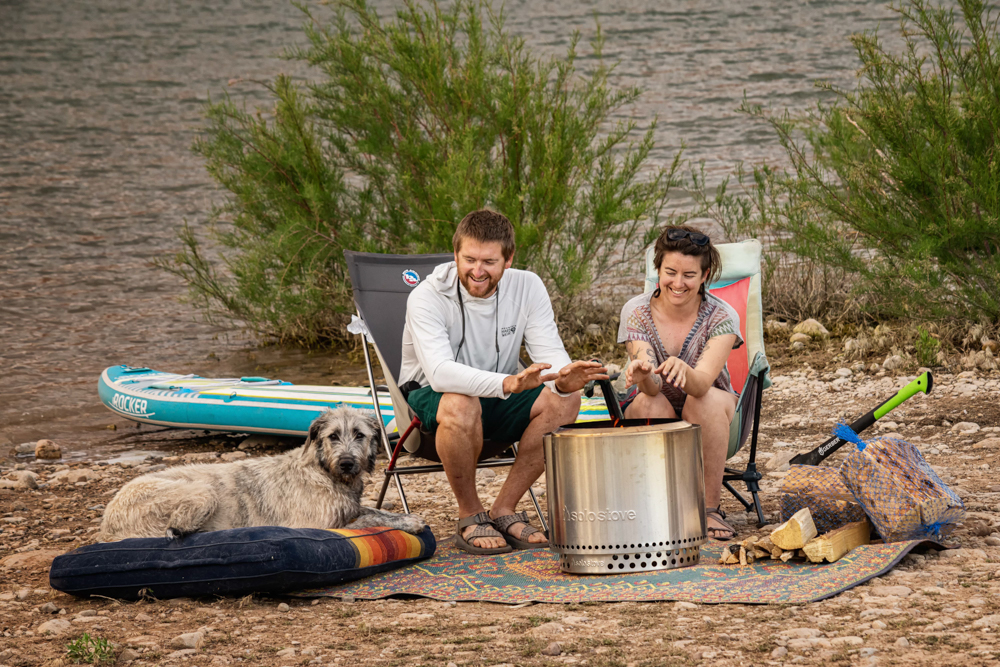 Whether you are required to or not, one of the best things you can do when you are out camping is "re-naturalize" the space. This often means trying to uncompress the soil at your tent sight, scatter brush and loose vegetation over your kitchen/cooking area and pack out your ash and/or scatter your fire ring rocks. A lot of these steps are made incredibly easy by the Bonfire firepit.
You will find yourself being able to camp, and more importantly, have a fire in places that would have been more difficult, more damaging, or just not functional. Camping on a large section of slickrock? The Bonfire keeps from permanently discoloring and marring the sandstone. Camping in a place without a lot of open space for a kitchen, tent, and a fire ring? The Bonfire lets you put your campfire in the driveway to your spot thus utilizing a space that could not have held a permanent fire ring. The best part is that when you pack up and drive away you get to look in the rearview mirror and (hopefully) see no permanent evidence that you were even there.  They also sell, separately, a stainless steel lid that can be used to help smother and contain your fire at the end of the evening. I wish this lid was sold with every firepit as I think it would help decrease the chance that the firepit is left to smolder unattended and open.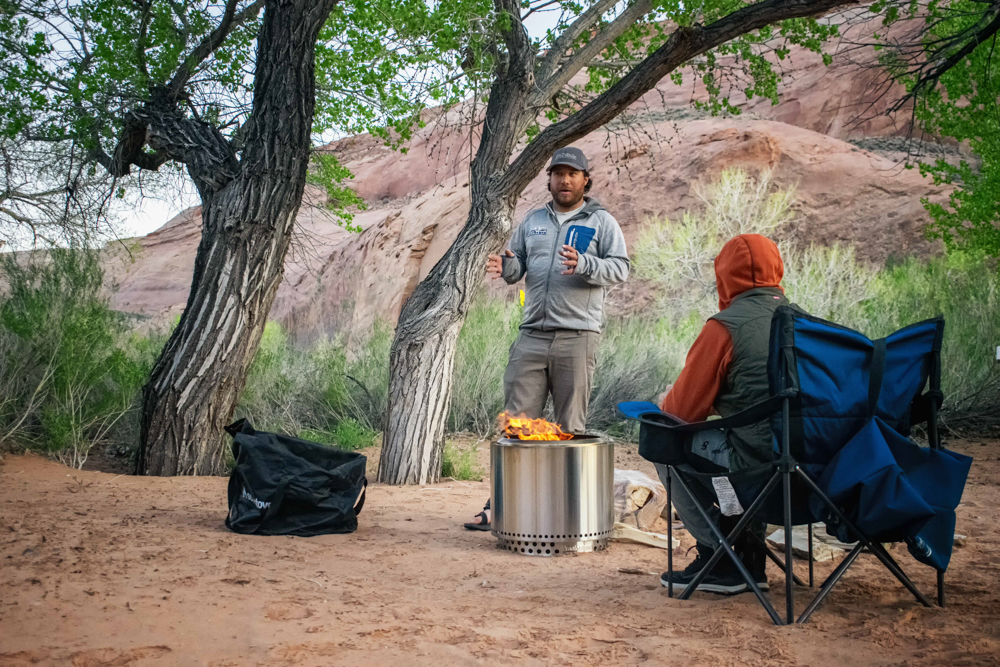 All these things help make a portable fire pit incredibly friendly to the earth. Obviously, the best way to make campfires totally environmentally friendly is just not to have one. But, for many people, they must have one when they go camping and that is ok. I challenge those people to find the most sustainable way to enjoy their campfire in order  to help preserve the camping location for generations to come. One of the easiest ways to accomplish this is a portable firepit.
Friendliness to the Earth
But what about Solo Stove? Selling a way that makes campfires more possible must have an impact? Of course, it does. But Solo Stove strives to donate back to organizations that help grow and sustain forests like One Tree Planted and the National Forest Foundation. They also donate to the National Park Foundation with the tagline that their donations "helps not only keep wildfires under control, but to also spread awareness around fire safety." Although I do not doubt that the National Park Foundation does something that is related to wildfire mitigation it is not obvious in their literature. I would love to see a company like Solo Stove that creates, sells, and promotes a product that can cause near-irreparable damage for decades to come donate to some of the more obvious organizations (often small or local) that exist for wildfire prevention and repair.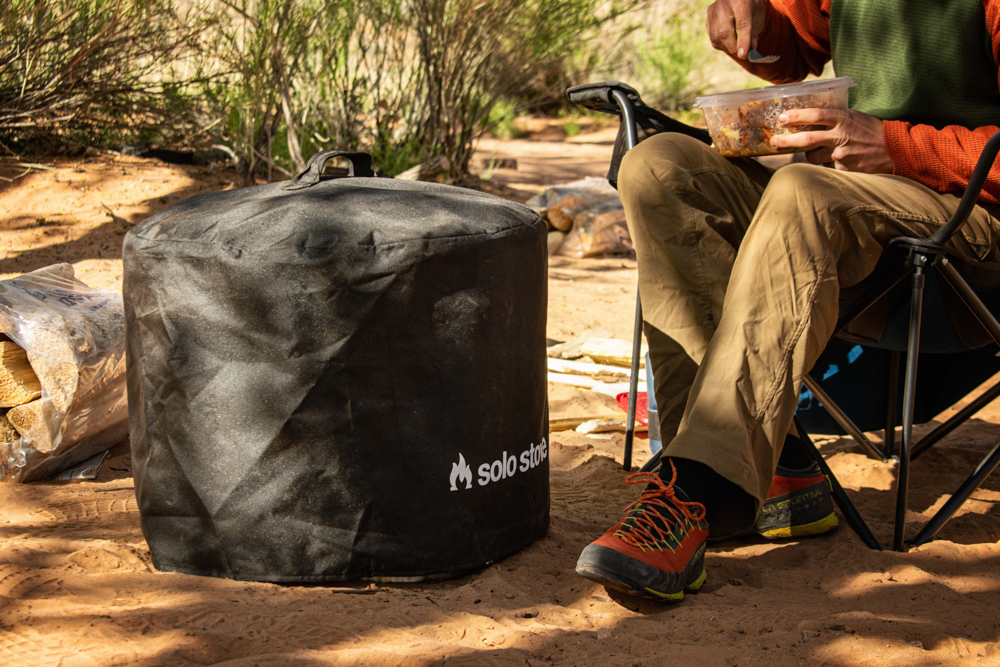 Final Word
The Bonfire 2.0 from Solo Stove is an excellent way to continue to enjoy the comforts of a campfire while limiting the harsh impact of our time honored activity. If you camp often and especially if you are an outfitter that offers overnight trips, a Bonfire from Solo Stove is exactly what you need!
Shop the Solo Stove Bonfire + Stand & Shelter Bundle 2.0 on Outdoor Prolink. Not a member? Apply today!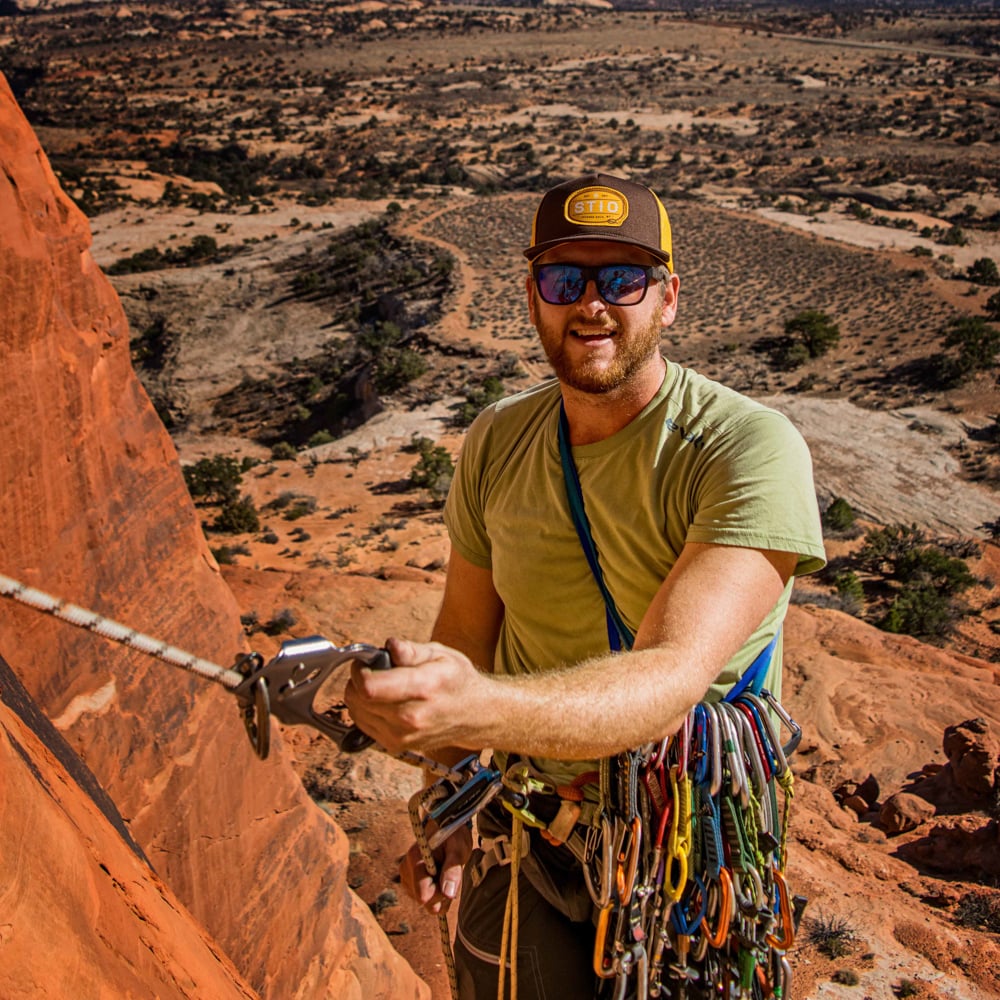 Patrick Betts is the Technical Director at Front Range Climbing Company and is based in Moab, Utah. He has been in the Outdoor Industry since 2009 and guides year-round in Colorado, Utah, and beyond. When he is not guiding, you will find him traveling to climbing destinations around the world. Patrick is an experienced adventure photographer who enjoys taking photos of people pushing their own limits and capturing the landscapes of the areas that rock climbing takes you. Follow along @adventurethrulens