ProView – Outdoor Research Optimizer Jacket
From climbing around the Rocky Mountains and San Juans to hiking around local bouldering areas, Outdoor Research's Women's Optimizer Jacket kept me DRY this Spring. This jacket is so incredibly (and surprisingly) lightweight that it has replaced my other hardshells because it's much easier to pack. If you are on the go in the alpine, then this is the jacket for you! This has seriously become a staple in my climbing pack.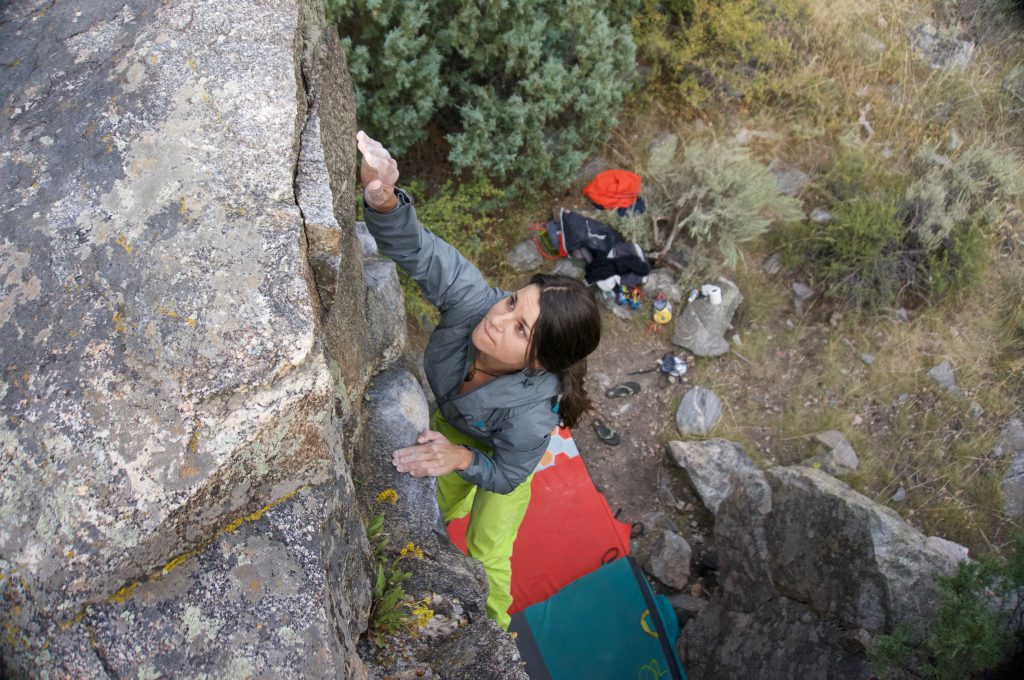 I really can't explain how awful it is when you get sweaty in a shell- it can ruin your trip and ultimately make you too cold to continue. That has been my experience with EVERY OTHER hardshell that I have owned, and it has been a constant struggle to keep myself at the right temperature while being active outside. The Optimizer kept me dry on the outside as well as in the inside of the jacket, and I was fully impressed by its breathability.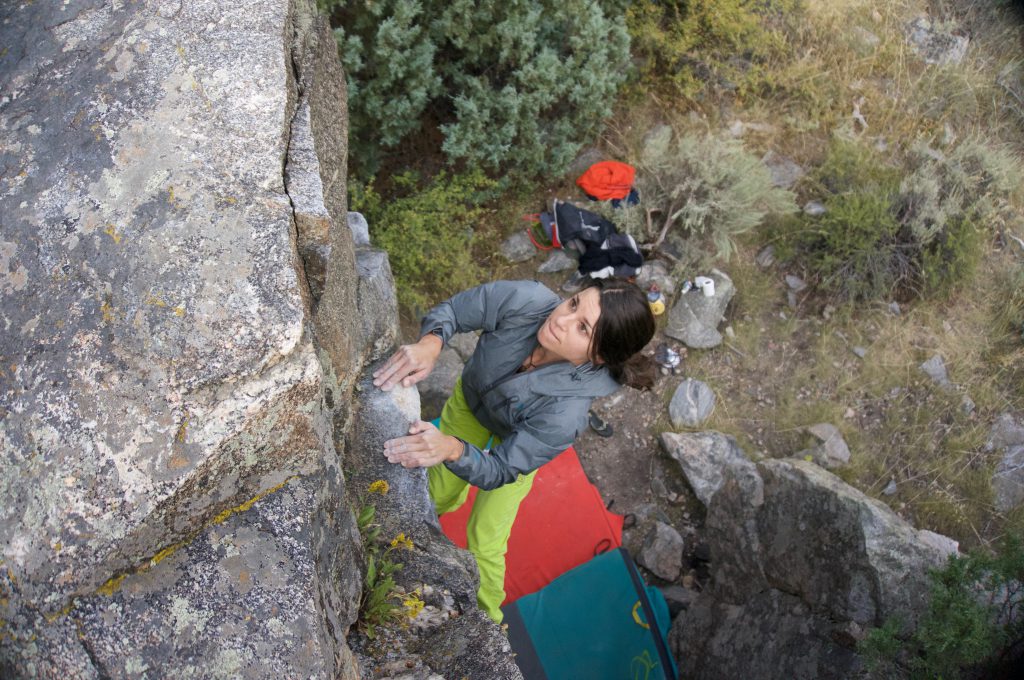 You really don't even need a midlayer to keep that 'sticky' feeling off of you, because it breathes THAT well. The activities I usually am pursuing in the outdoors in cold or wet weather are pretty stop-and-go, like climbing, mountaineering, or backcountry skiing. I also do a lot of alpine training sessions in bad weather to prepare me for my guiding seasons on Denali- where I am performing at an anaerobic state for periods of time in bad weather. This jacket was perfect for those training sessions as it was much more breathable than the other Gore-tex jackets I had been using up to this point.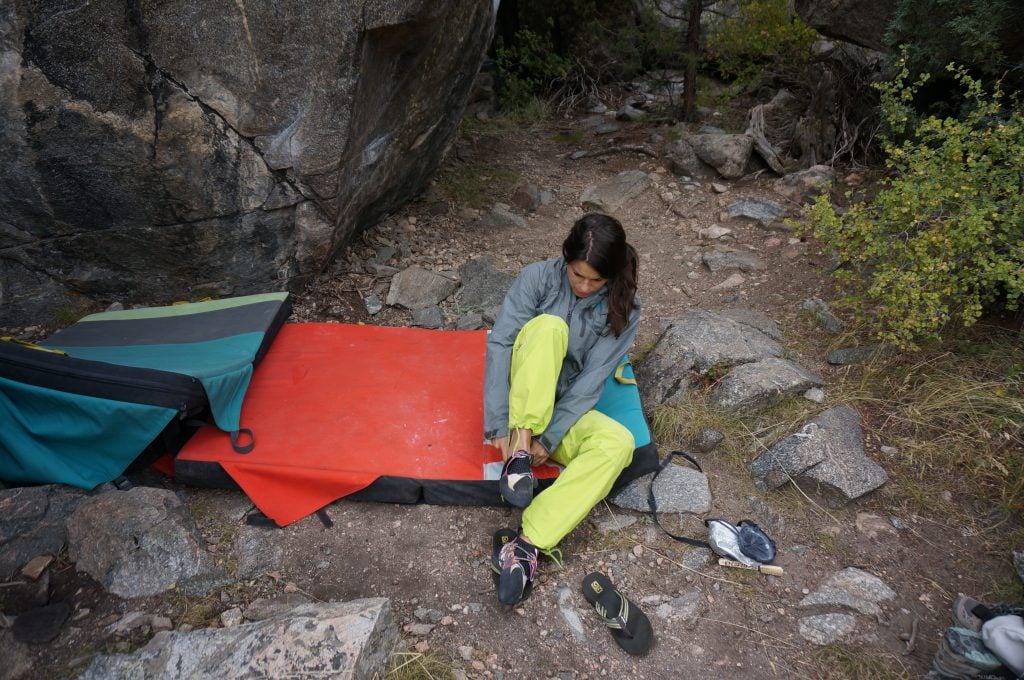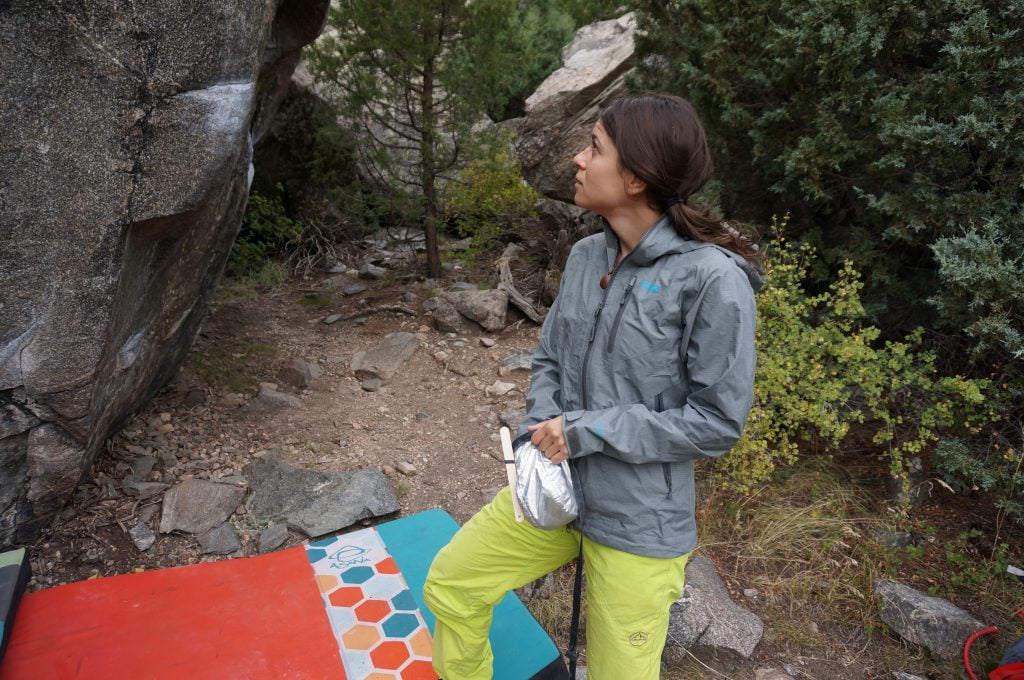 If it's not wet out, I wouldn't use this jacket strictly for wind resistance, however, if you are trying to save space in your alpine pack, you could bring this jacket for either rain or wind instead of bringing two separate jackets. It's a little stiffer than a softshell but shockingly light and I didn't feel restricted at all in my arms for mobility while climbing. And I did climb in this jacket, a lot! Have I mentioned that the pockets are perfectly placed so a harness can fit over top and you can still access them? This is one of my favorite and necessary features that I look for in a jacket for alpine climbing, helloooo – who doesn't need to have chapstick readily available in the alpine?! And yeah you can put your cold mits in there as well, although the pockets aren't super wide or lined with anything fuzzy so don't expect too much warmth there.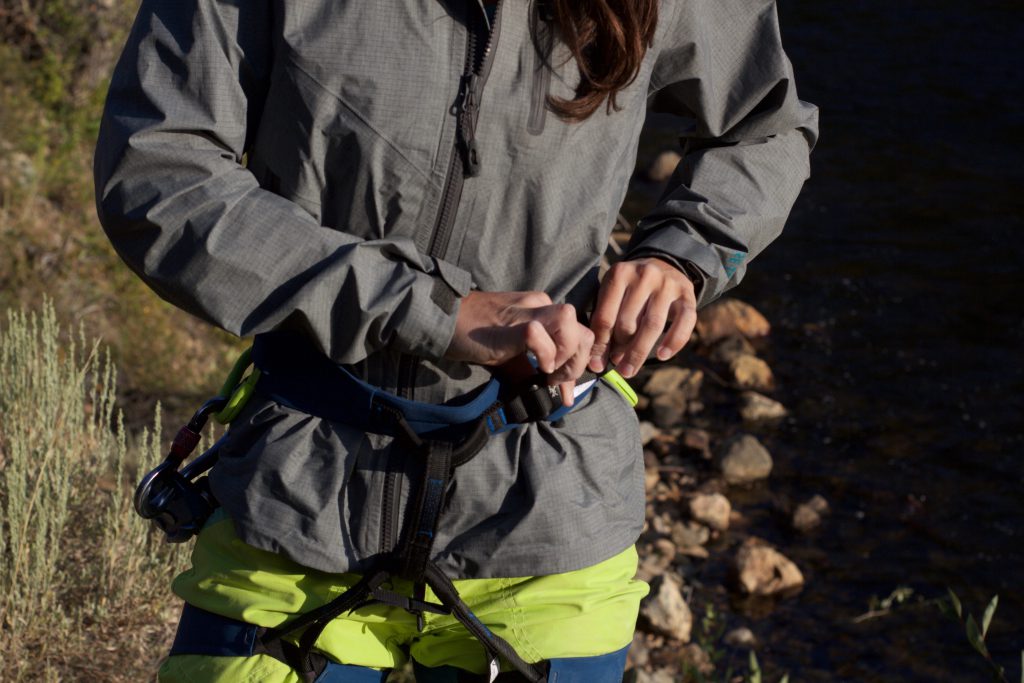 I also skinned-up for some backcountry lines in this jacket and felt that it was perfect for that. If I was just resort skiing, I would probably bring my thicker shell as the Optimizer didn't feel quite as warm, but it was perfect for the backcountry, where you're constantly earning your turns! The hood on this jacket also fit perfectly over my ski helmet, and its rigid brim is a nice touch that kept rain/sleet off of my face. It's also not one of those jackets that has a hood that looks 'weird' without a helmet on, it definitely looks and feels fine over your head/hat.
Look/Style
Other than the Optimizer being lightweight, breathable, and extremely packable, it also has pockets that are above your harness or your backpack waist belt! This was one of the best features to me, and I had no idea that something so simple would make my life in the alpine so much easier! Also, the brim is stiff, which is awesome for keeping rain and sleet out of your eyes.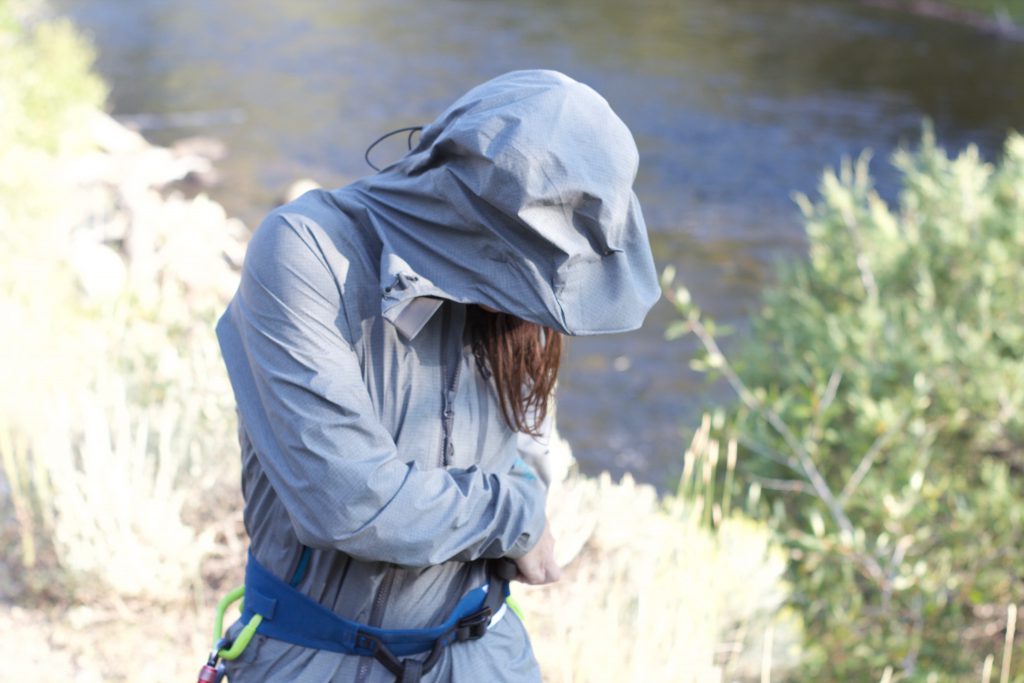 This jacket also looks good. I am used to a 'boxier' fit with the jackets I have owned, and this one is actually flattering! Also, this may not matter to many, but I really love how quiet this jacket is compared to other shells that crinkle when you move. It's a bit difficult to layer too much under it, but it's also not very warm, so consider that with the activities you choose, as I said, being 'on the go' I think is its best use – as well as being stuck in the rain. This fit true to size, I am 5'3, 110 lbs, and I got a small so I could fit some layers under there.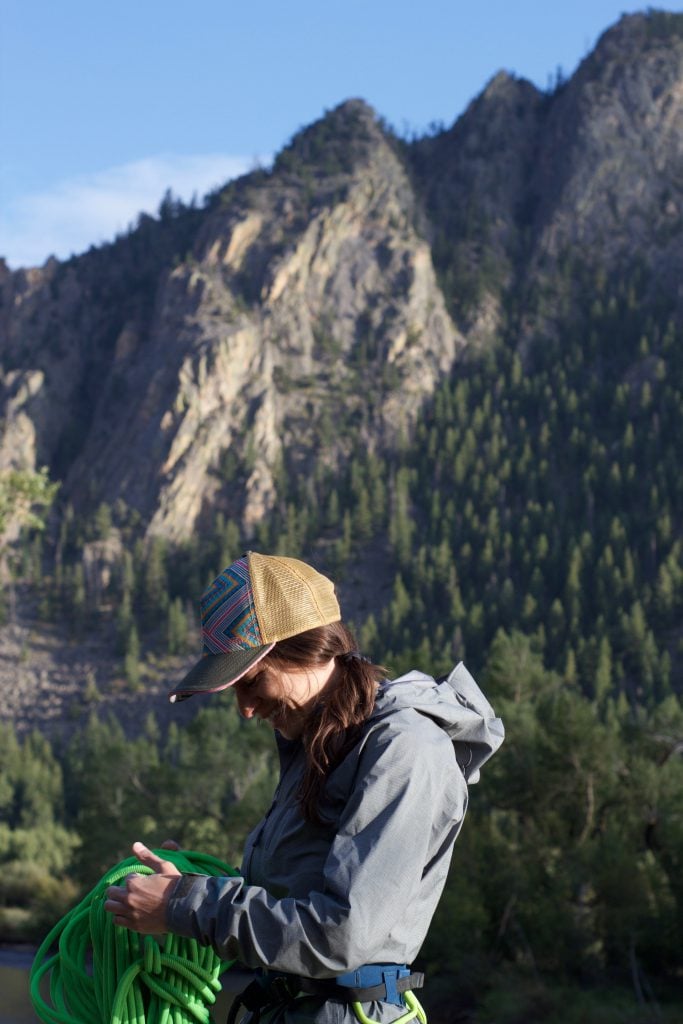 Pros
Incredibly comfortable
Great tapered fit, less 'boxy' than most hardshells
Full dynamic panels for full mobility when climbing
Amazing breathability!
Great pockets you can access when you have a climbing harness on
Hood is perfect for keeping rain and sleet out of eyes and fits over a helmet, or adjusts down if not wearing a helmet
Lightweight and packable
Uses Gortex- Active, more breathable
Water-proof zippers
Two-way slider on front zipper, so you can access your belay loop quickly
Super quiet and doesn't 'crunch' when moving
Great jacket for rainy weather anytime of the year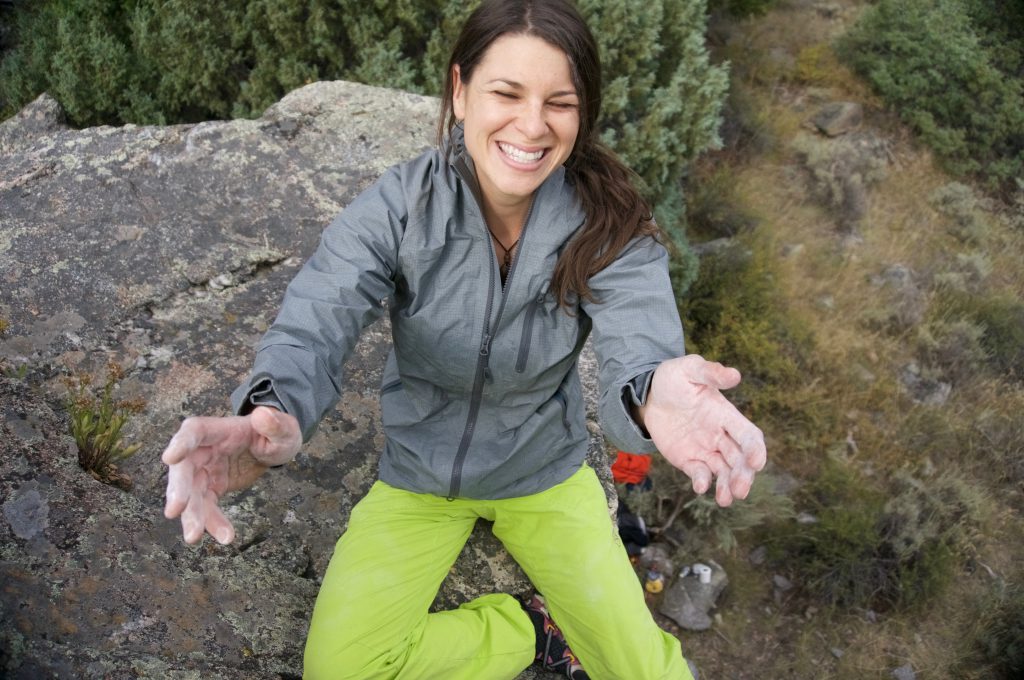 Room for Improvement
Not as warm as other hard shells (wouldn't wear it strictly for resort skiing), but works best when doing an anaerobic activity
Pockets could be a bit bigger
Not a lot of room for layering underneath
Final Word
I would give this 4 out of 5 stars. This jacket now lives in my climbing pack, because it's so lightweight it takes up no space and it's now there "just in case" the weather turns. Living and playing in the Colorado Rockies, you just never know what the weather will do! I really, really love this jacket, but it is not an all-around use jacket. I would not use this for super cold endeavors or ones that I would be standing around too much since you really can't layer too thick under it, however, for any high-output activity like climbing, mountaineering or backcountry skiing – this jacket is perfect.
Update: I recently took this jacket on a relentlessly rainy climbing trip in Spain and was so pleased with how dry I stayed!
Shop Outdoor Research's Women's Optimizer Jacket on Outdoor Prolink. Not a member? Apply today!
Carly is an avid climber, rock and mountain guide. She is currently working as an AMGA Rock apprentice and guides expeditions on Denali in Alaska, as well as other big mountains all over the world. Whether it's trad, sport, alpine bouldering, ice or mountaineering, she spends her time year-round outside playing or working in the climbing industry. She also owns an outdoor climbing mentorship company for young climbers in Colorado called Next Move Climbing Academy. Connect with her on instagram @CarlyCain7.