ProView – Primus Primetech Stove Set
If you are in need of a nice compact sized stove system for mountaineering to backpacking to car camping alike that's able to support multiple people then the Primus PrimeTech Stove Kit may be the answer. This stove system comes packed with thoughtful features and accessories that will make cooking in the backcountry a breeze on your next adventure.
Primus Primetech Stove Set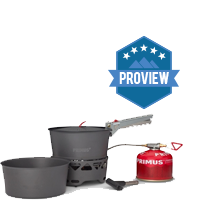 Product Description: PrimeTech Stove Set is the ultimate camping stove for performance minded hikers. A gas stove with low fuel consumption and consistent effect, but with full performance. A compact cooking set with integrated burner that makes it very easy to use and transport. Thanks to the pot's integrated heat exchanger, together with the effective wind guard and the optimized burner, this stove has a fuel consumption of approximately half that of traditional camping stoves. The valve of the gas also has a regulator improves the performance when the gas container is starting to run out or when outside temperatures drop. When you are packing up camp you should pack all the parts together in the pot and it will become a compact, rattle-free unit. PrimeTech Stove Set 1.3L comes with two 1.3 liter pots, one of which has a heat exchanger. Lid in transparent Tritan reg; with integrated strainer and heat-resistant silicone handle. The clever tongs are as steady as a fixed handle and as flexible as traditional tongs; they can lock to the pot for easy and secure handling.
Offer price: MSRP: $169.95
Quality

Features

Durability
Summary
If you are in need of a nice compact sized stove system for mountaineering to backpacking to car camping alike that's able to support multiple people then the Primus PrimeTech Stove Kit may be the answer.  This stove system comes packed with thoughtful features and accessories that will make cooking in the backcountry a breeze on your next adventure. 
Pros
Compact and Lightweight for its size

Thoughtful design

Useful accessories to compliment the stove
Cons
No adapter for white gas

Some canisters can't fit inside kit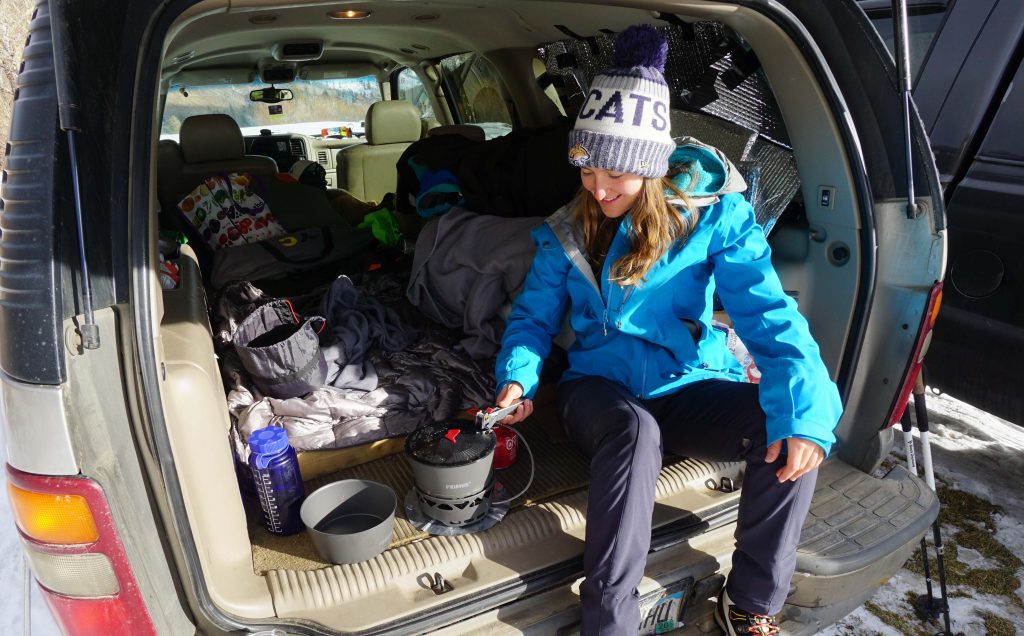 The Primus PrimeTech Stove Kit is the top of the line stove kit from Primus and it definitely shows with the level of craftsmanship. The kit comes in two different sizes: 2.3L and 1.3L variations. I tested out the 2.3L version of the stove system. I brewed up hot chocolate in the back of my Chevy Suburban after days of cragging ice in Vail to cooking up soup in the high alpine and everything in-between.
With a healthy resume of backpacking under my belt including a thru-hike of the Colorado Trail, I have become very familiar with different styles of stove systems over the years. I have come to understand where some stove systems excel and others falter by learning the hard way in the field. Stoves, like all other gear, have strengths and weaknesses depending on where you take them or how you intend to use them so I tried to test the PrimeTech Stove in a variety of different uses as well as different weather to see if I could push the stove past the limit. For some stoves, cold weather can prove to be an Achilles heel. Fortunately, I never found a point where the PrimeTech began to experience trouble. I tested the PrimeTech Stove on warm, sunny days and days with high winds and blowing snow to get a good spread of data.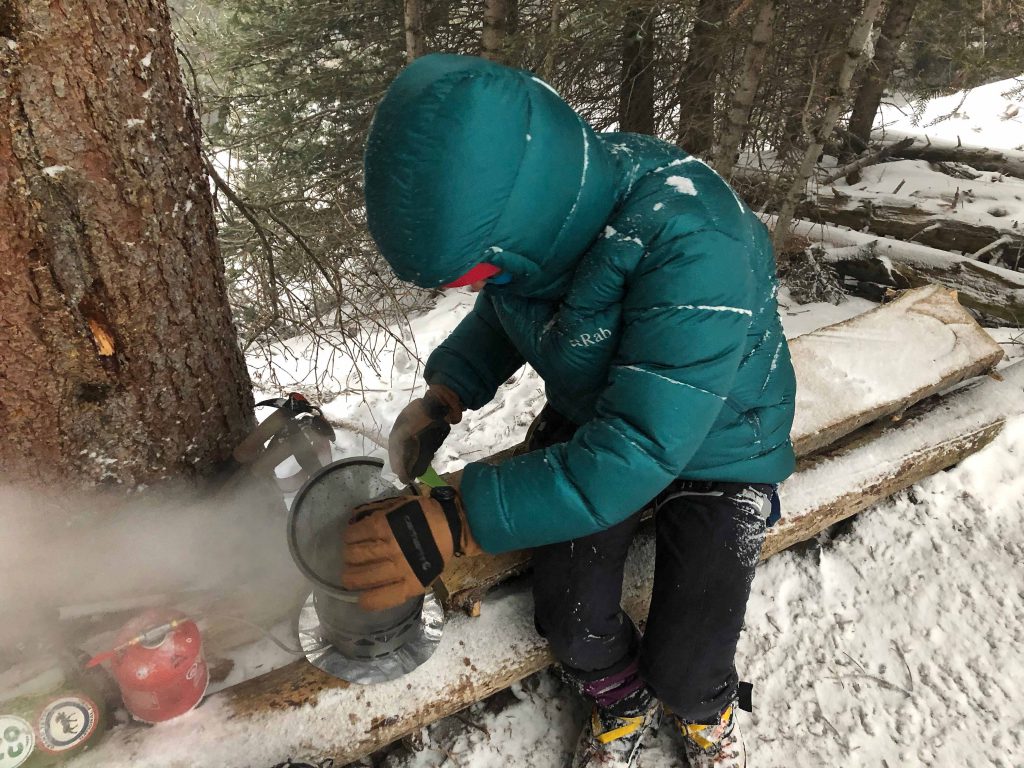 Performance
Upon receiving the PrimeTech Stove from Primus I was immediately impressed with how compact the stove system came. The PrimeTech Stove Kit comes with a transparent lid with a built-in colander, burner with a built-in wind guard, ground shield, non-stick pan with built-in heat exchanger, anodized aluminum pan, detachable pot handle, and a piezo lighter all within a padded storage bag. It is an impressive amount of gear in a compact package.
Most stove systems I have used in the past similar to the PrimeTech have usually been somewhat bulky and not necessarily easy to pack. Those stoves were generally intended for multiple people on backpacking trips where it was easy to break down the stove system between multiple people in the group. What is really nice about the PrimeTech is that with its intelligent packaging, not only can it serve multiple people in a large group, but it can also very easily be taken by a single person or team of two on a more stripped-down adventure unlike the similar stoves of the past. For this reason, the PrimeTech Stove Kit can be a competent mountaineering stove system where space in your pack and weight count. One pitfall to mountaineering use though is that the PrimeTech is only compatible with gas canisters and in cold conditions the canisters can have trouble keeping a flame. For this reason, I am not sure if I'd recommend the PrimeTech Stove Kit to someone specifically looking for a mountaineering stove. The PrimeTech is definitely adequate for mountaineering in most settings but functions much better in the realm of backpacking and camping.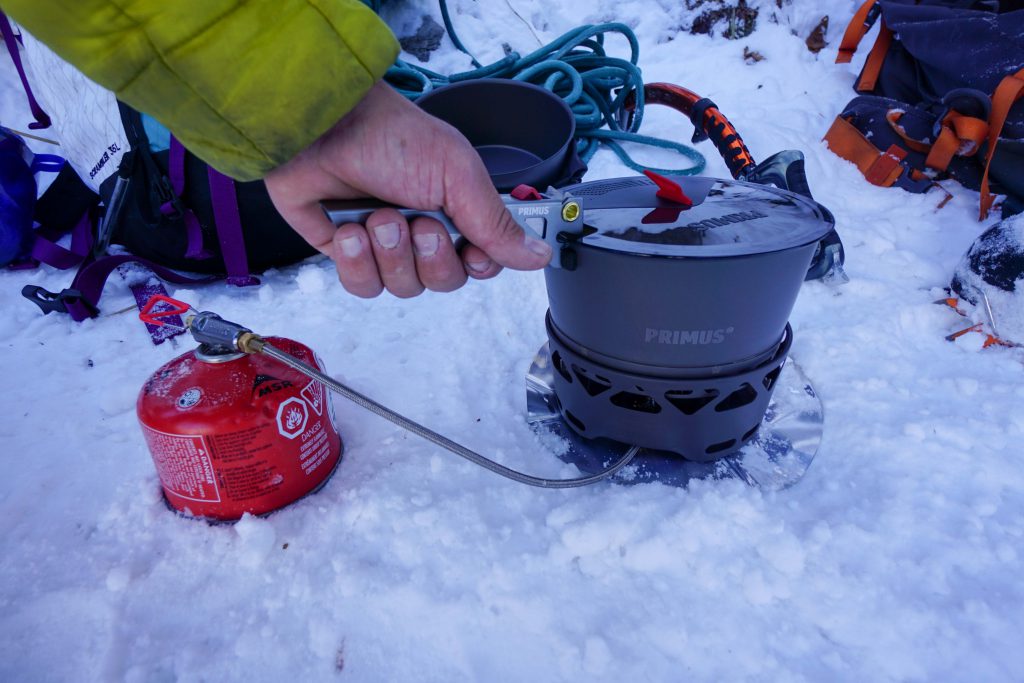 Aside from its compact and lightweight design, the stove is remarkably high quality. The ceramic non-stick coating on the PrimeTech pan is still as good as the day I received it and the stove itself is nice and sturdy. The PrimeTech pan with the built-in heat exchanger and the integrated wind guard on the burner significantly increase efficiency. Using these two pieces together allows you to bring water to a boil extremely fast. The detachable handle makes it easy to move the pan around without fear of burning you or your tent mate. The gas regulator allows you to fine-tune the heat output of the burner so you have a wide range of cooking options. This is very nice to have when you are sick of eating dehydrated meals for the hundredth time and you rather cook something that doesn't just involve boiling water. The PrimeTech Stove did everything I expected of a stove kit, but in a new and improved system from stoves of the past.
Room for Improvement
The only thing I wish I could change about the PrimeTech kit would be to include an adapter for the burner to accept white gas. Primus does have winter gas that performs well all the way down to -7 degrees Fahrenheit, but the PrimeTech could be more competitive with some of the other stove systems on the market and allow users to get more efficient use of their stoves in cold weather climates where white gas excels. The only other thing that needs to be noted is that due to the PrimeTech's compact design you cannot fit a canister of any size within the kit so make sure to account for that when packing.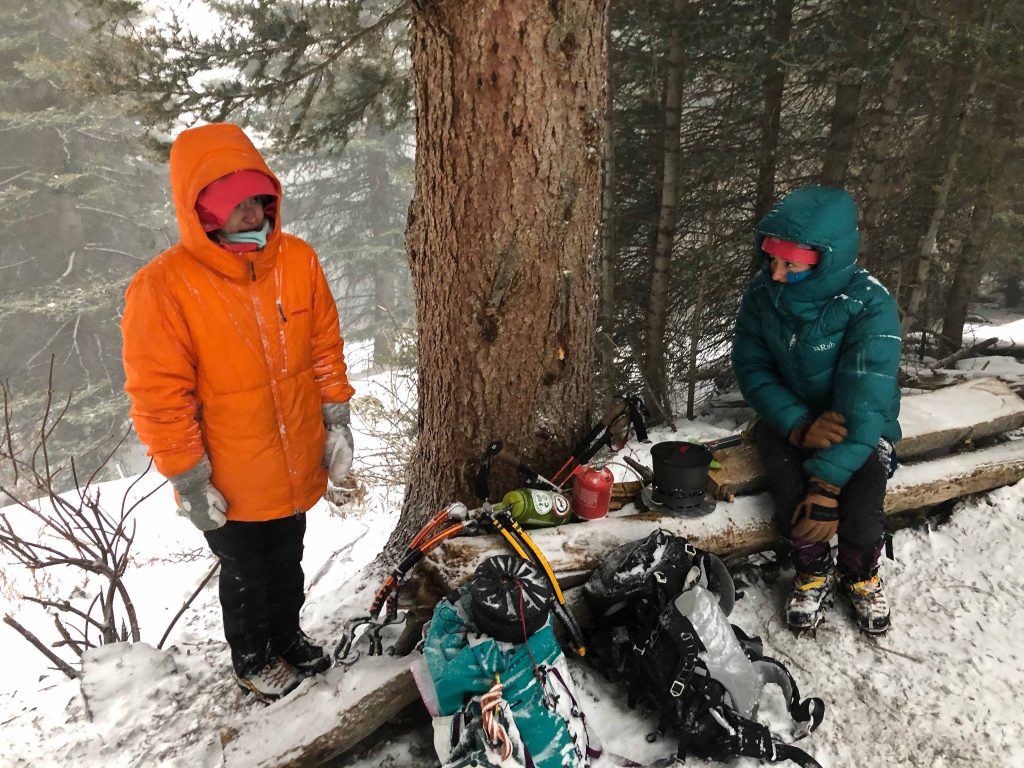 The Final Word
Primus has delivered a workhorse of a stove system that is well designed for a wide range of uses. I really love how modular the PrimeTech kit is that I can pair it down and remove pieces to lighten it up for somewhat fast and light trips or I can keep it in its original form for extended trips in the backcountry. The built-in heat exchanger on the ceramic non-stick PrimeTech pan was a very nice touch to increase speed and efficiency with the limited gas you can carry.
Shop the Primus Primetech Stove Set on Outdoor Prolink. Not a member? Apply today!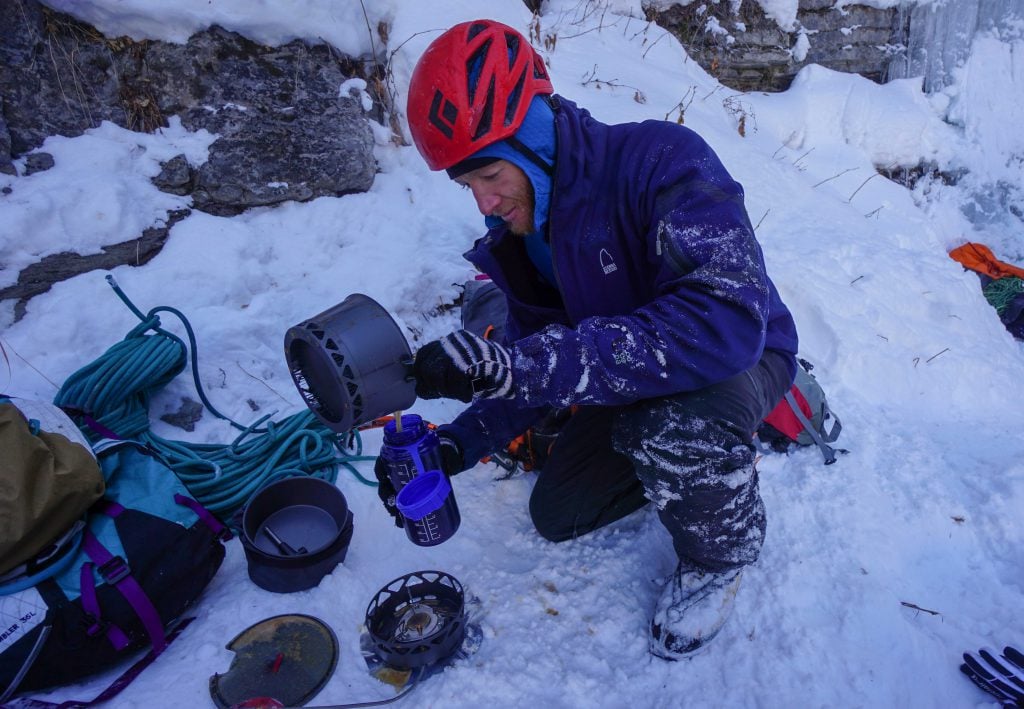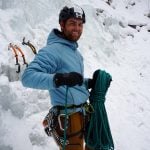 Zach is an aspiring alpinist, ski mountaineer, climber, and photographer. He is a Wilderness First Responder and frequently volunteers with the Colorado Mountain Club to help train future mountaineers. Zach works part-time as a marine biologist in Alaska and a wildlife biologist here in Colorado. You can catch him climbing around Golden where he lives today.