ProView – Rhamani Classic Adventure Sandal Review
The sandal market is a tough one to break into. Chaco, Teva, KEEN, Birkenstock, HOKA, Xero … Some of these are stalwart brands while others are new to the industry. Regardless, each brand has its own niche and best use case, and Rhamani is no exception. This exceptionally light and comfortable sandal makes for an ideal crag or multipitch sandal, but their durability is still an open question.
Rhamani Men's Sandal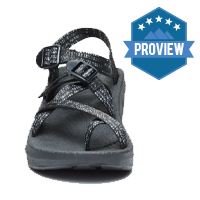 Product Name: Rhamani Men's Sandal
Product Description: A versatile, multi-funable, light-weight camp sandal, ideal for backcountry excursions. Rhamanis easliy adjust for your foot shape, with and without socks, and have removeable ankle straps so you can wear them as slides or with full ankle control. The footbed is thick, soft, and contoured for support and control. All this at a fraction of the weight of most outdoor sandals.
Offer price: MSRP: $79.95
Quality

Fit

Durability

Features

Eco-Friendly
Summary
The Rhamani Classic Adventure Sandals are a jack-of-all-trades shoe. They're wicked light, extremely customizable, and awesomely comfortable. If they can stand up to the elements after a year of wearing them, they'll be my new favorite sandal. 
Pros
Comfortable
Extremely light
Customizable configurations
Easy strap & sole replacements

 
Cons
Likely less durable than other sandals
Less support for scrambling on rocks
Performance
I wear sandals about 300 days a year. Unless it's raining or I'm climbing, I'm probably wearing a pair of Chacos or Tevas. As I write this, I'm back home in Minneapolis (where it is currently -13), and the only change needed is socks.
That said, I think that one should approach a pair of sandals with a use case in mind. Some will be better than others in certain categories, and like all outdoor gear, certain pros are always exchanged for certain cons.
I tested these Rhamani sandals as if they were replacement Chacos. I wore them around town and to the climbing gym. I wore them on approaches in Indian Creek. I used them as crag sandals, and I put them on my harness to use as multipitch walk-off shoes.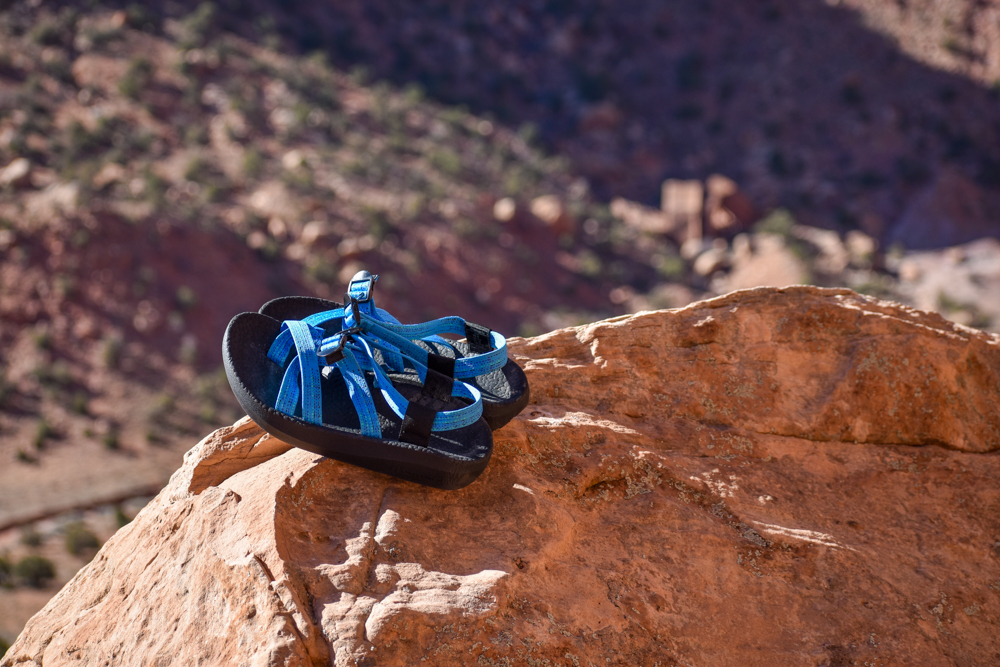 They excelled at applications where "beefy" was best exchanged for packability and weight savings. Around town, they performed like any other pair of sandals. But, they get a boost in usability for "around town" applications because of how comfortable they are. Compared to a Chaco (see photo), the Rhamani has a much, much "cuvier" toe. At first, this was off-putting. But, I've found that it really helps to improve the comfort when wearing them for extended periods of time.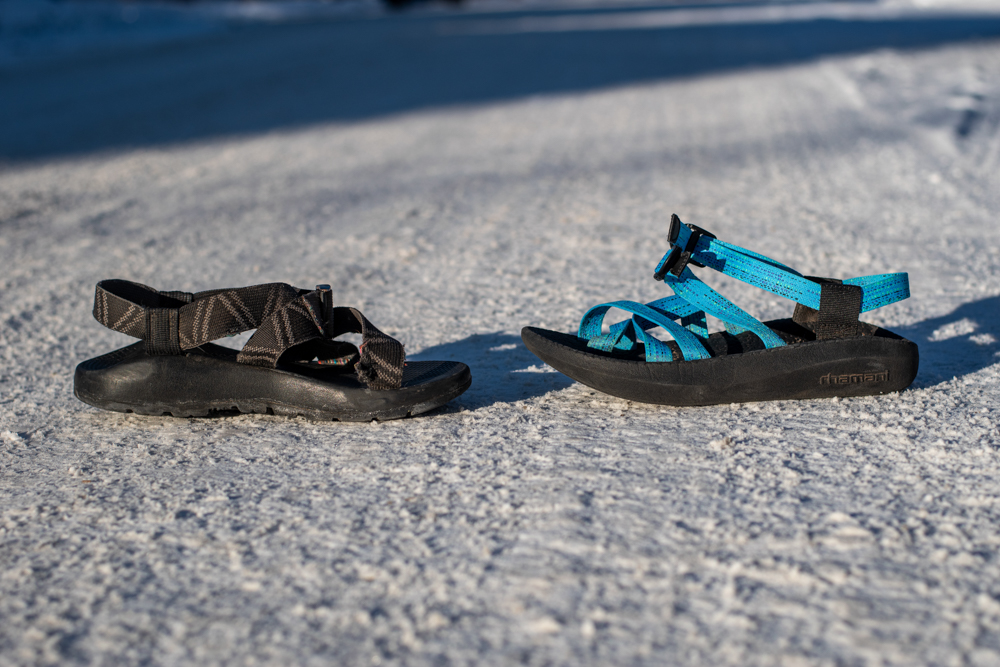 As an approach shoe, they are somewhat less capable. I found myself stubbing my toes more and having to treat them a little more delicately than Chacos. I sometimes foot jam in Chacos, but I would never do that in Rhamanis (or Tevas).
As a crag shoe, they rocked. The sandal is extremely modular (more on that later), making it easy to slip into and out of. At first, I was a little annoyed at how difficult they were to get on due to the smaller buckles and straps, but once I figured out how to adjust them properly, the problem disappeared.
Lastly, for the right type of descent, the Rhamanis would excel as a multipitch shoe. They are comparable in weight to some models of Xero shoes, albeit they lack some functionality of a fully closed-toe shoe. But, for an objective like Castleton – easy, well-maintained approach, a few rappels to descend – the Rhamani would excel because you won't notice them on your harness.
Fit/Comfort
I have to admit, I was skeptical about the Rhamanis when I first pulled them out of the box. They looked relatively small, even though I had checked the size guide. When I first put them on, the straps felt tight and difficult to work with. But, the straps are fully adjustable, so, after some tinkering, I was able to get them to fit my feet like a glove (more on that later).
A real bright spot with the Rhamani sandals is their long-term comfort. On some days, I would wear them while I ran errands for several hours, and, surprisingly, my feet never felt fatigued or sore! The foam is much softer than a Chaco, comparable to a Teva. The "bounce" or "spring" that this soft foam adds takes a minute to get used to, but it's more than worth it.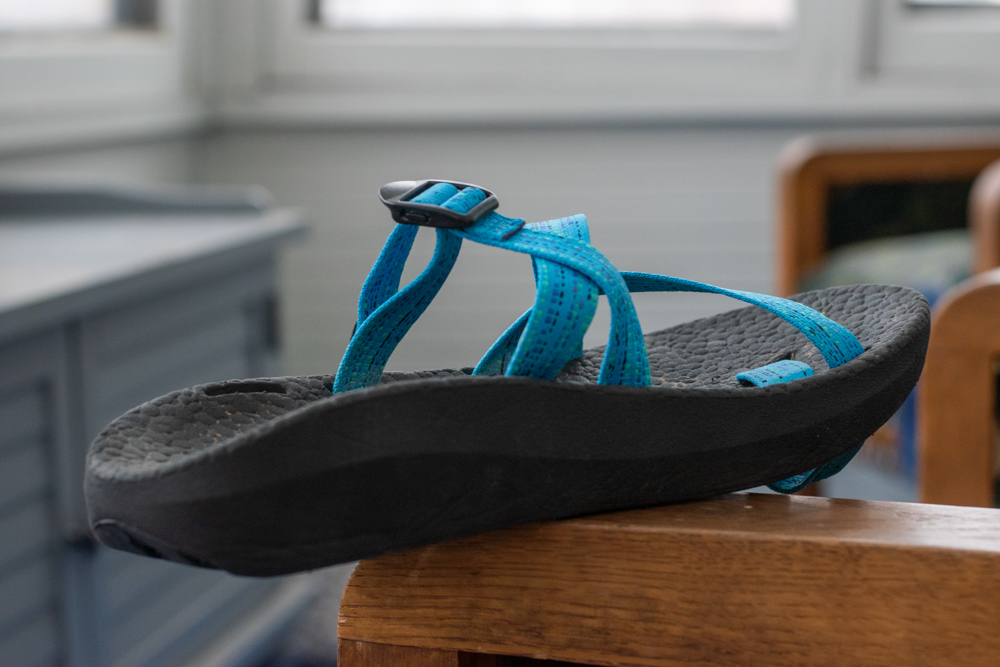 Look/Style
I'm not necessarily drawn to footwear for their looks; I really think that form follows function in the shoe category. That said, I do think the Rhamanis are the best-looking sandal I own. The straps are attractively bright and the buckles don't appear too overbearing. The men's come in six different colors, and my only gripe is that they don't offer pink as a men's option.
Features
Finally, the part I've been referencing! When I first received the Rhamanis, I hadn't done any research into them. Once I did, I was amazed at quite how versatile and modular they are.
The sandals come with a small, flat, thin tool – a "strap tool." I don't have a photo because I thought it was just a totem of sorts and promptly threw it away (oops). The tool is used to push the straps in and out of the sandals for ultimate customization.
When you look at the bottom of the sandals, you immediately notice that they look … funny. Unlike a Chaco or Teva that has enclosed straps, the Rhamani straps are clearly visible on the bottom of the shoe. The reason for this is it allows you to remove and adjust straps as you see fit!
By Rhamani's accounting, there are four iterations of the sandal, produced by changing two different features between one of two different states. First, the heel strap can be completely removed. Second, the toe strap can be flattened. After a little bit of math – voila! We can see the four iterations: heel/toe, no heel/toe, no heel/no toe, heel/no toe (what I like). All in all, this means you can wear them how you see fit: like slides, without the toe loop, or adjusted however you want.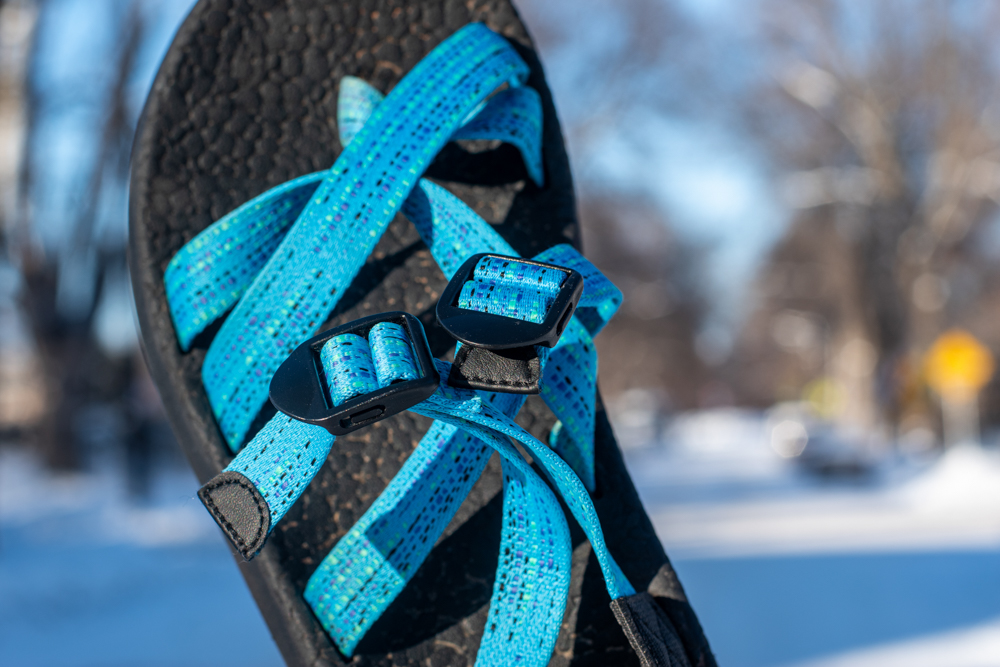 The process of actually adjusting the sandals is very simple. That said, it's difficult to conceptualize without actually seeing it yourself, so I'll defer to Rhamani's strap adjustment page, complete with about 17 minutes of videos showing you how to adjust each and every part of the sandal.
Lastly, a cool part about the adjustability of the sandals is that this means they can also be easily replaced. At present, Rhamani does not seemingly sell extra straps or footbeds, but I imagine a heel strap could be quickly replaced with webbing in a pinch.
Weight/Packability
The best feature of these sandals, hands down, is their weight. My size 9 Rhamanis measure 6.3 oz. My Chacos weigh over three times that: 21.1 ounces! Out of the four pairs of "adventure sandals" I own, the Rhamanis are by far the lightest and most packable.
Durability/Construction
This is the area in which I have the most concern for the Rhamanis. I have worn them for about 25 days on concrete, in dirt, and through snow; I have yet to see any real signs of wear and tear. That said, I have owned the same pair of Chacos since 2018 and have had them re-strapped only once in that time.
I only have concerns about the durability because of the Rhamanis featherlight weight. Generally, the tradeoff is between weight and durability – when you buy ultralight cams, you buy them with the understanding that they are going to wear out faster. This is a compromise (if true) that I'm willing to make with the Rhamanis because of their performance and ability to be repaired.
Lastly, I do have a tiny complaint about the design of the footbed on these sandals. As you can see in a few photos, the "bubbly" design (which I assume is resultant from their manufacturing process, see "friendliness to the Earth") does a fantastic job of trapping grime and dirt. I don't wash my sandals awfully often (usually rain takes care of that), and I haven't seen (or smelled) any issues, but it will be interesting to see how bad this grime buildup gets.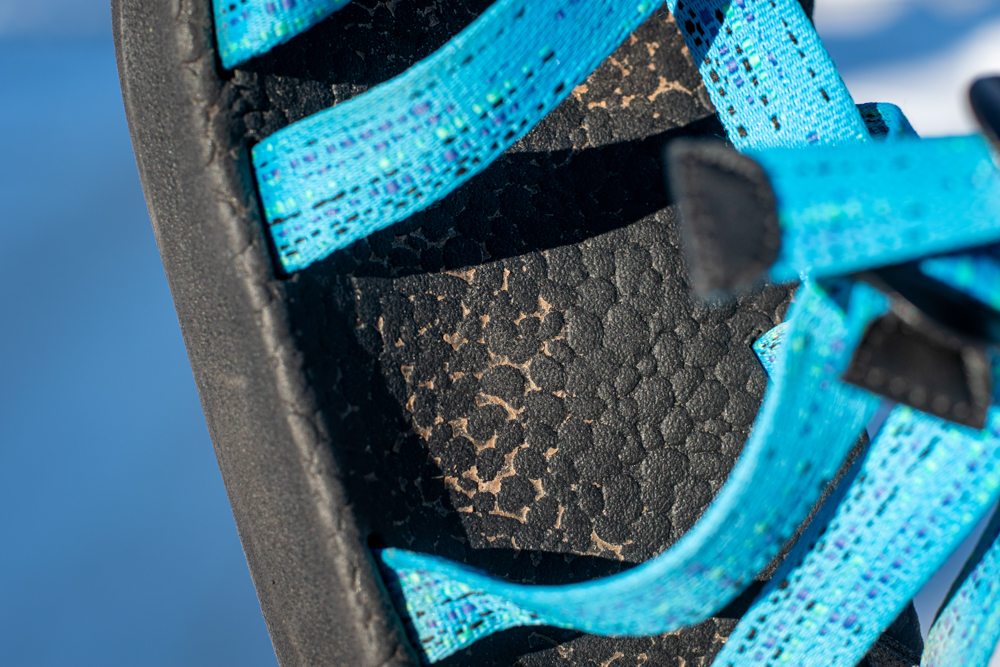 Friendliness to the Earth
I've been testing gear for several years, and Rhamani is probably the most eco-friendly brand I've had the pleasure of reviewing. Rhamani has a fairly robust accounting of their eco-friendly policies on their Kickstarter page. I'll include some highlights here:
The foam is algae-infused, created by a company called Bloom. Rhamani doesn't go into detail, but they appear to be injection foamed, which (as Rhamani does state) means they don't require the gluing or adhering or multiple layers – eliminating the need for glue or solvents
Shipping-ready boxes: when my sandals arrived, they arrived in the actual shoe box, with no wasted outer box
The Final Word
The Rhamani Classic Adventure Sandals are a jack-of-all-trades shoe. They're wicked light, extremely customizable, and awesomely comfortable. If they can stand up to the elements after a year of wearing them, they'll be my new favorite sandal.
---
Read more Rhamani sandal reviews here.
Shop the Rhamani Men's Sandal on Outdoor Prolink. Not a member? Apply today!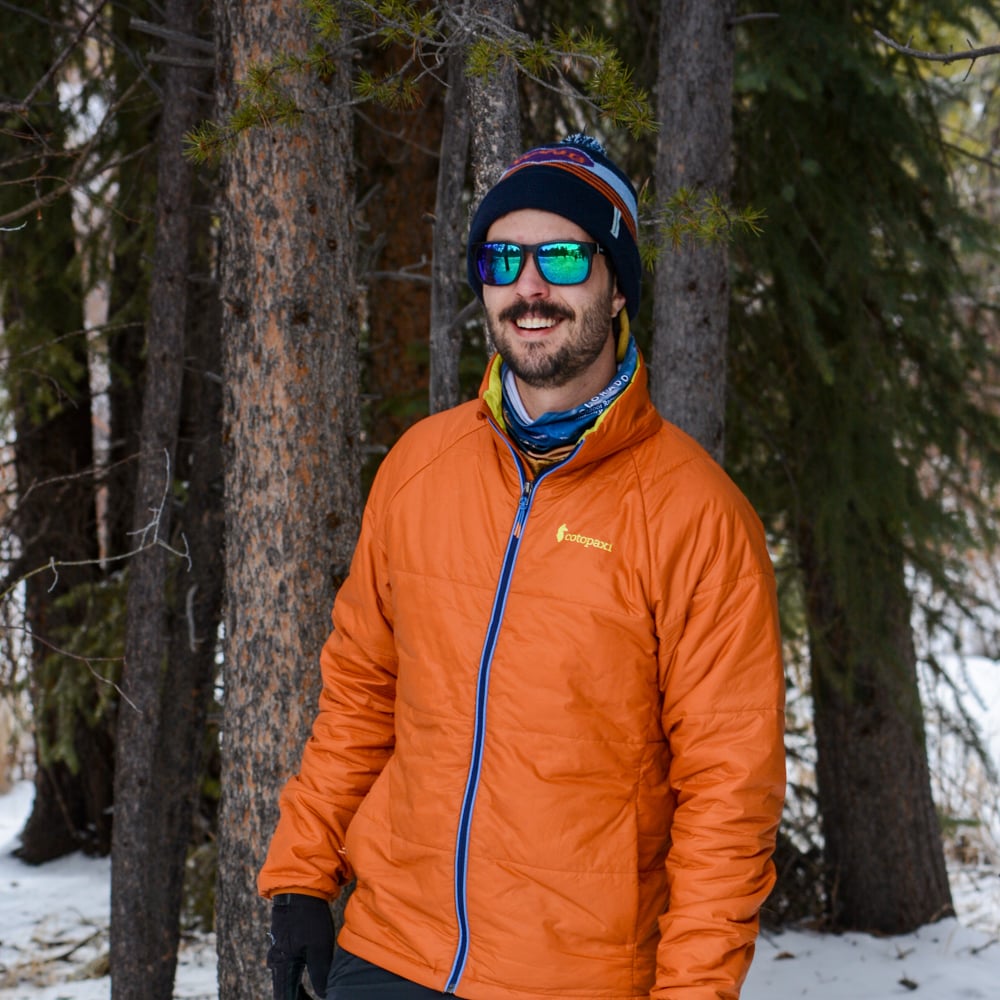 Patrick O'Hare is a Senior Climbing Guide at Front Range Climbing Company. He has been working in outdoor education for eight years and loves helping individuals progress in their climbing careers. You can keep up with his climbing and photography @pjophoto.