Read This Before Buying a Watercraft
Owning a watercraft is the best. And so are you for wanting one! But as you know, it's extremely easy to spend too much and use it too little. Well, friends don't let friends make that misstep. And I hope it's not presumptuous, but I consider us friends.
My own fascination with water sports is what drove me from Nowhere, Illinois to the gorgeous Pacific Northwest. Upon arrival, I jumped in any way that I could – by kayak, surfboard, water tube, my skivvies, you name it. It rocked. When it finally came time to invest in my own vessel, the options were daunting. And so were the price tags. It was that fateful moment that I made the best decision of my life (sorry wife!) and bought an inflatable SUP board.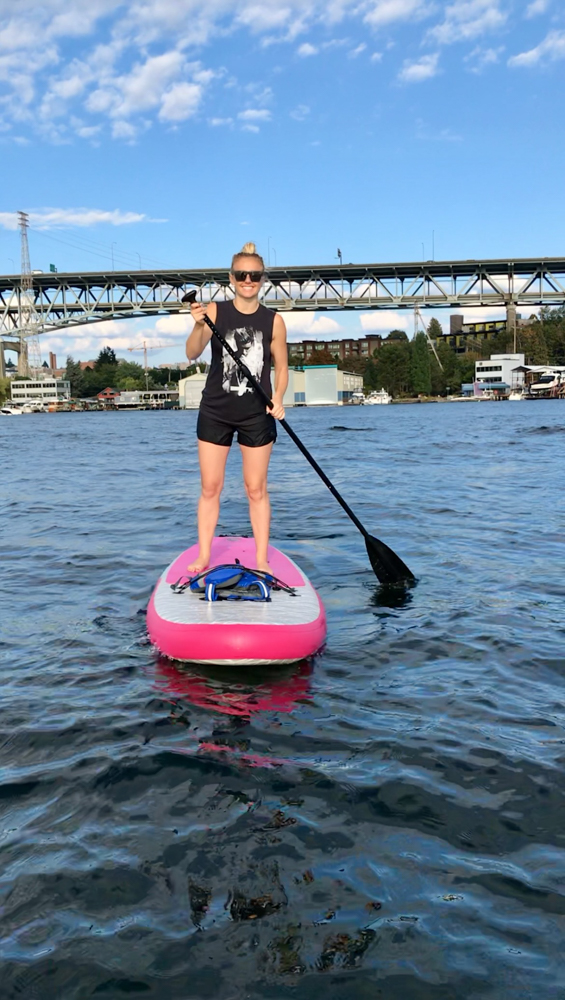 Before I explain… No, I'm not sponsored by Paddleboards Inc or Big SUP. Unlike the perfect ski boot, authentic product loyalty actually exists in real life. I fell in love with the inflatable SUP because it's the ultimate "one-quiver" watercraft. I didn't want to be confined to one sport, one position, or one body of water. I wanted it all. And boy did I get it.
To demonstrate the outrageous versatility of this vessel, join me for a short list of Washington State adventures you can do with your inflatable SUP that would otherwise be unmanageable without a garage full of expensive equipment. And in today's economy, we could all stand to save on inflation…I promise my jokes get better.
Okay, let's dive in. Here's why the inflatable SUP should be your first watercraft.
Convenience
Paddle Like A Dock Star on South Lake Union
This was one of my first PNW paddle adventures and still an all-time favorite. Despite the numerous rental spots along the iconic city lake front, this trip isn't just for tourists. With your new SUP in tow, you can skip the rentals and head straight for Gas Works Park. If you live nearby, you won't even need a car. Just wheel that neatly packed board bag right down Stone Ave to one of the several "unofficial" launch points on the West edges of the park.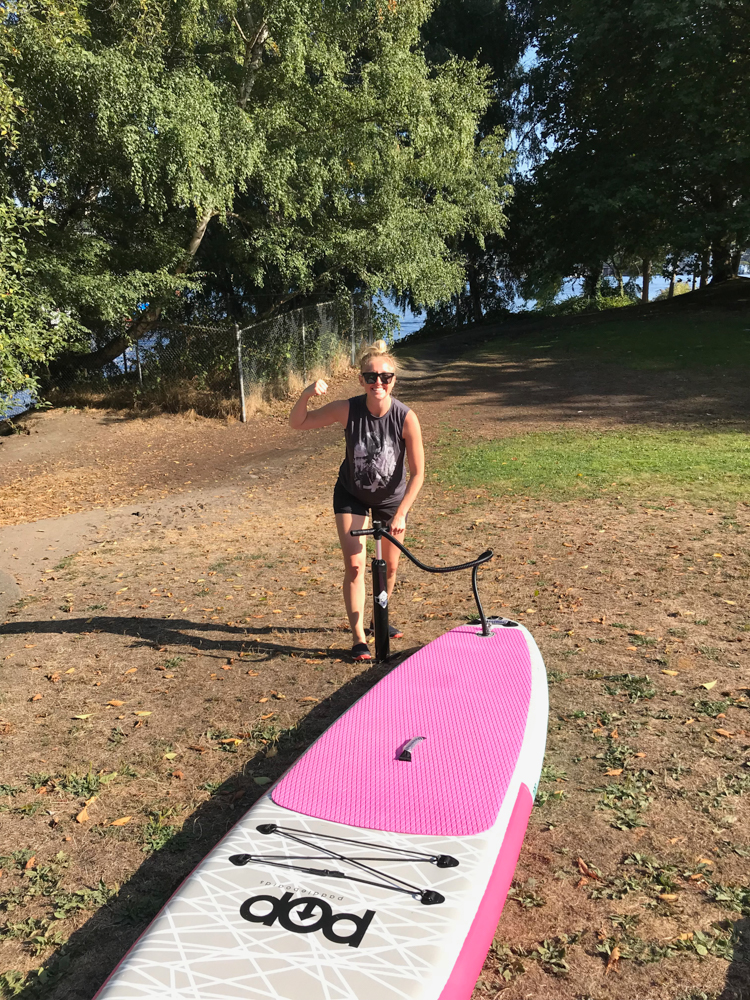 Now, there's a few fun games you can play on this unique body of water positioned in the heart of Seattle. Race across the lake dodging cargo ships as they navigate to Ballard Locks. Jump in and see who can get back on their board the quickest. Go on a little real estate tour of adorably rad houseboats that none of us can reasonably afford. Fourth of July coming up? Ditch the crowds and watch the fireworks from the best seat in the house – on the water with your trusty SUP.
Pro Tip: Got a friend or a date with you? It's an awesome idea to stop by Ivar's waterfront patio for a few oysters before heading back. Their dock space is by reservation, but there's typically land to belly up on if you're feeling froggy. Maybe it's me, but there's just something cool about grabbing lunch in the city with nothing but your paddle board to get you there.
Durability
Cruising for Crab on Camano
Now that we've tackled the tourist trap, it's time to go a little deeper.
Camano Island, for the uninitiated, is accessible by land and yet surrounded by salt water offering a number of unique paddling opportunities you won't find further inland.
My favorite? Crabs!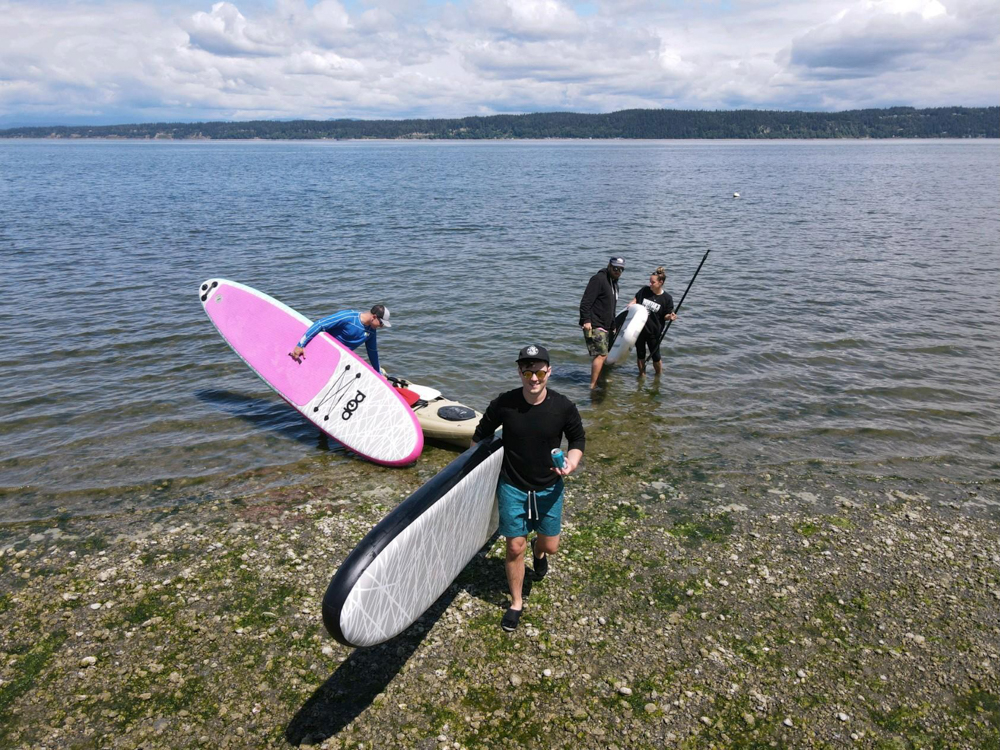 Here's where you might have some questions about durability. Can the board withstand angry crab claws? Sharp rocks and heavy metal fishing pots? Will salt water degrade the seams or materials? It's important to research your particular board, but most modern inflatable SUPs are made with the same materials as Zodiac boats. They will weather whatever you throw at them and then laugh in your face. You can even catch some waves if you're surf savvy.
Your board is impervious to the elements, but remember that your body is not. Watch out for wildlife like sea lions, porpoises, and especially Lion's Mane Jellies, who like to make surprise cameos around the island.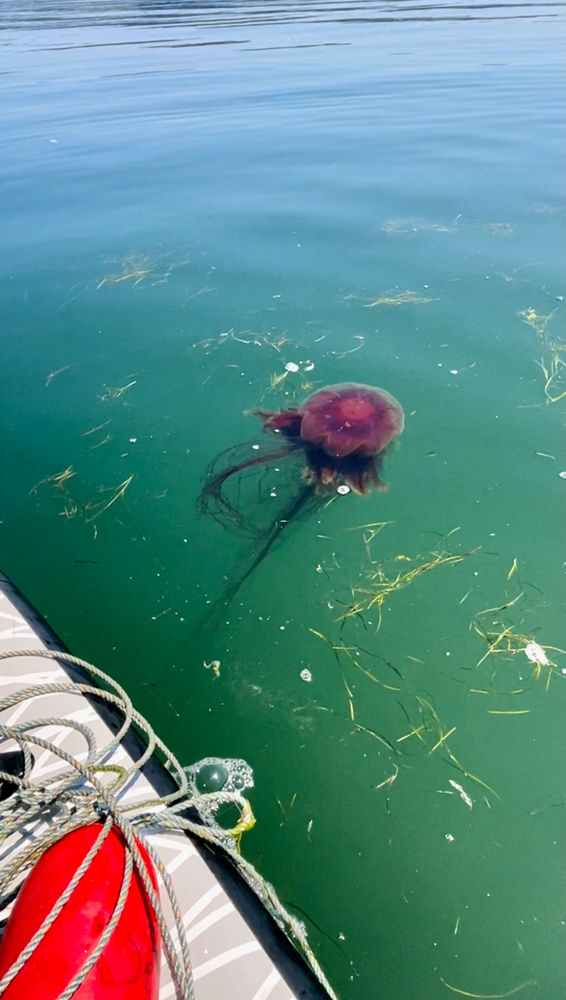 Versatility
Down the Snoho in a Storm
Like a phoenix from the ashes, our best adventures arise from plans gone wrong…right? At least that's what some friends and I told ourselves when it started storming on us mid-pump at the Snohomish River launch. Sure, we could have packed it all in, but we're not quitters. And neither are you or you wouldn't have read this far. After a hectic half-hour of pump up and deliberation, the storm lightened enough to be deemed safe to proceed.
The lovely part of a river adventure is, of course, the current. Don't feel like paddling? You don't really have to. You want to stand up? Sit down? Lay on your back? Do some yoga? You can do it all because you made the shrewd decision to buy an inflatable SUP. Now finish your Warrior 2 and pat yourself on the back because we've got rocks and rapids approaching! Don't panic, your board will handle them all like a pro; you just worry about staying on top of it.
On that note, do watch out for branches and roots near the surface. You may think you'll clear them, but your back fin has other ideas. It'll grab those suckers and toss you over the front, handlebar-style, if you don't brace for impact. When that happens, you'll probably find yourself fishing some accessories (and dignity) out of the river. On a completely unrelated note, let me know if you happen to find a black K2 trucker hat somewhere downstream… asking for a friend.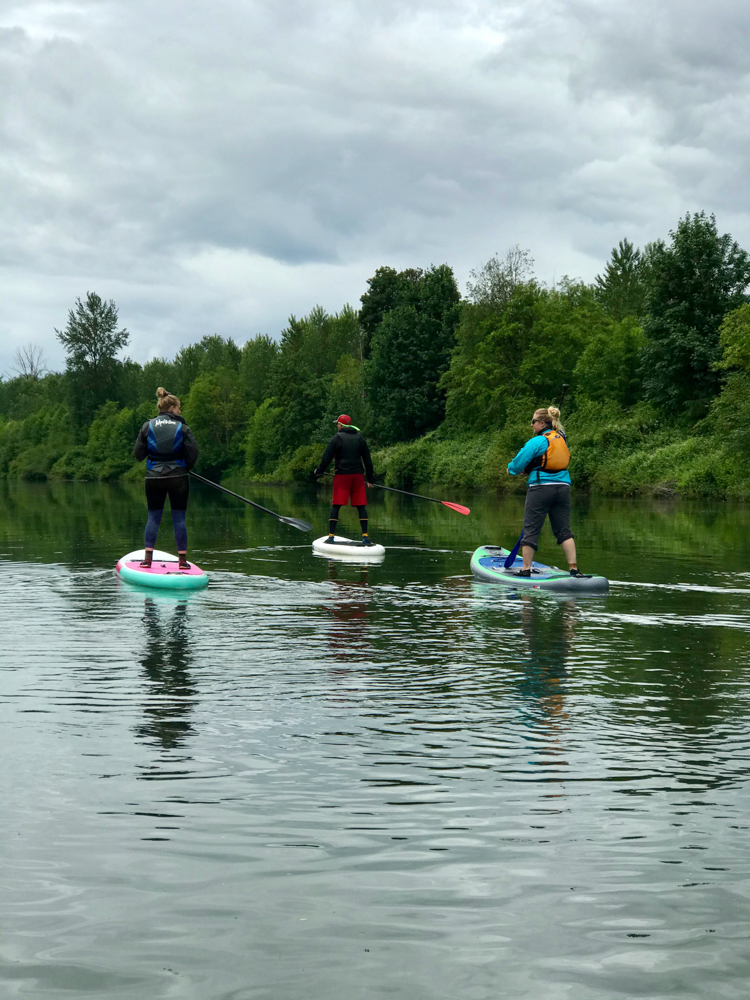 Freedom
Bucket List Bonanza at Colchuck Lake
Yep, that Colchuck Lake. Eight miles roundtrip and 2,280ft elevation gain with a 35lb SUP on your back, are you nuts?! Well sure, but let's not get distracted by minor details. Start training yesterday.
Here's the thing about Colchuck, you'll never regret leaving earlier. Camp out the night before and beat the sunrise to the trail. There's a tough journey ahead and you won't want to be in a hurry.
About halfway up, you'll want to kill me. Upon arrival, you'll want to kiss me (please don't). And while the hike itself is more than worth the trip, the real payoff comes with your SUP. Pump up, launch into the electric blue alpine water, and enjoy one of the most surreal experiences of your life. Relax those tired muscles and don't forget to take a dip.
When you're all done basking in the glory of your achievement and the jealousy of passers-by, lay out on the sun-soaked rocks and dry off amongst the ancient peaks of the Enchantments. Then pack it all up and get ready for Aasgard Pass! Totally kidding…
Value
The Big Takeaway
Inflatable SUPs will broaden your world and bolster your confidence on the water. They practically beg you to use them all the time.
Keep an ear to the ground for offseason deals or warehouse sales; inflatable SUPs are among the most affordable of watercrafts and can last a heck of a long time. If you're lucky enough to attend Outdoor Retailer or any of the other numerous trade shows, stop by the booths and ask about pro deals or show specials.
Still not convinced? Well, then I'm afraid we can't be friends anymore. DISCLAIMER: I'm lying; we're still friends. Find me on IG, Twitter, or LinkedIn with any follow up questions and I'll make an inflatable SUPer of you yet.
Extra Credit
Sufferfest in Methow Valley
Oh, you're still here? You flatter me! Okay, here's another for kicks and paddles. Now admittedly, I did not do this one on my beloved SUP, but on its next of kin, the inflatable tube.
I also did it in late September, which is inadvisable, but in my defense… It was a balmy 71 degrees that afternoon, the sun was shining, and my friends and I had just finished hauling wood for the winter at the cabin of a close relative. We were sweaty and ready for a refreshing beer float down the Methow River.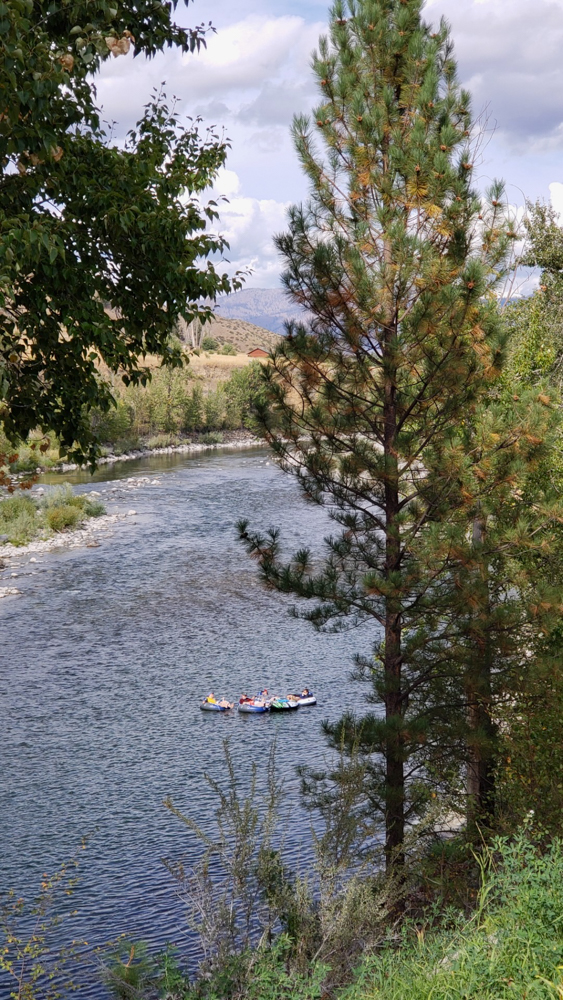 What we failed to account for, was what if some clouds happen to roll in? Well, what happened was…some clouds rolled in, and it got chilly. The late season low flow didn't help either. Between the relentless shivering and getting out to un-beach ourselves from bedrocks, we were begging to find our exit point around each and every bend.
But when we finally arrived back at the cabin, those feelings soon melted into fondness as we grabbed a bottle of whiskey and jumped into the hot tub to recount our harrowing tale of type two fun. I highly recommend it, but do yourself a favor and use an inflatable SUP. And make it August. And be prepared with whiskey.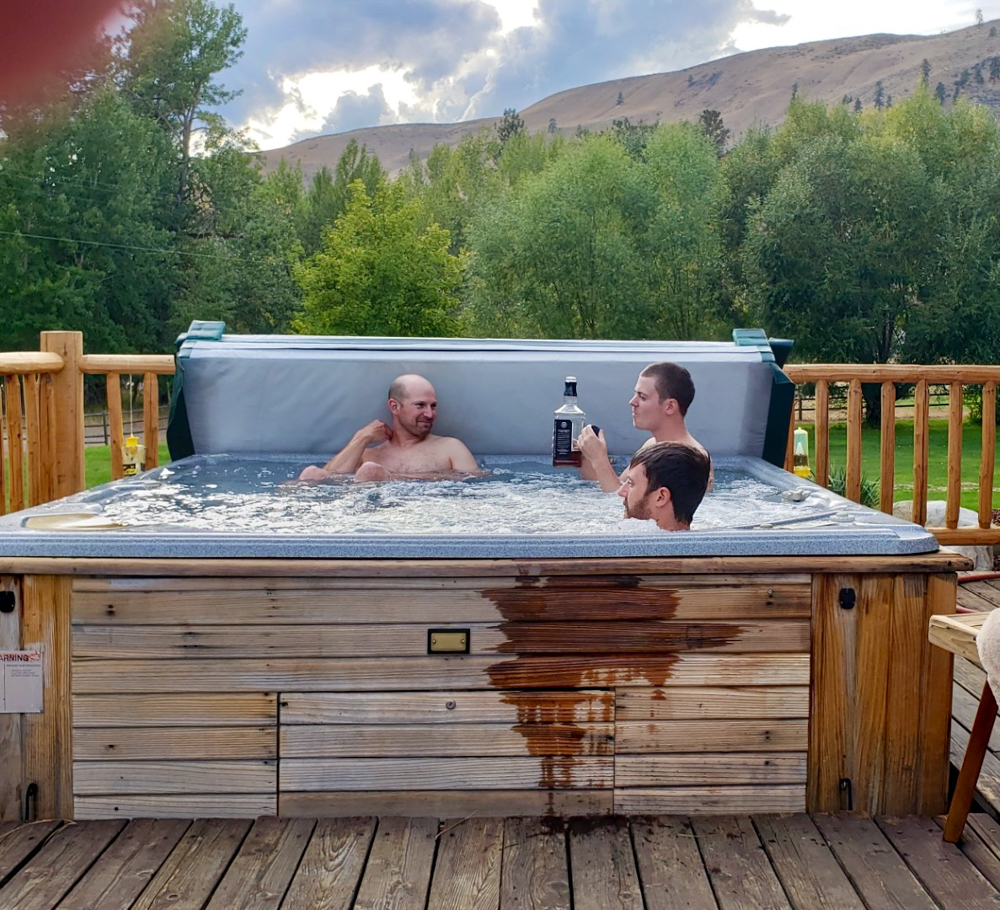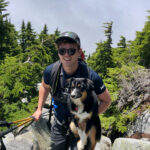 Cam Rizzardini is a Sports Marketing Consultant from Seattle, WA. He's bad at pretty much all sports, but does them in excess anyway. Follow along on his website or IG and be inspired to also do sports poorly. Because if Cam can do them, so can you.