ProView – Rhamani Men's Sandal
A pair of adventure sandals are common amongst outdoor enthusiasts. We love to throw on a pair of comfy sandals for the drive home, for around camp, or for our daily errands regardless of the weather. There is no surprise then that there are a few options out there for a quality pair of adventure sandals. Rhamani is out there vying for the holy grail: the lightest, most comfortable sandals with the ultimate all-around function.
Rhamani Men's Sandal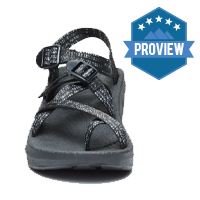 Product Name: Rhamani Men's Sandal
Product Description: A versatile, multi-funable, light-weight camp sandal, ideal for backcountry excursions. Rhamanis easily adjust for your foot shape, with and without socks, and have removable ankle straps so you can wear them as slides or with full ankle control. The footbed is thick, soft, and contoured for support and control. All this is at a fraction of the weight of most outdoor sandals.
Offer price: MSRP: $79.95
Performance

Fit

Durability

Features

Earth Friendly
Summary
If you are looking for a super comfy pair of light-to-medium-adventure sandals, then Rhamani Sandals are right for you. The pillow top footbeds will make the miles drift away and their versatility will help you leave other shoes behind.
Pros
Incredibly light – fit great on the harness or summit pack for those pesky walk-off multipitch routes
Easy strap adjustment
Cons
I experienced one too many fit issues
No current or obvious way to purchase new straps or footbeds
Comfort
I have been wearing these sandals every day since they arrived on my doorstep a month ago. To be honest, when I pulled them out of the box, I was not too sure about them. They seemed bulky and heavy; clunky, even. I tossed my feet into them, and all those misconceptions were thrown out the window. The first thing you will notice is how thick the footbeds are and you will instinctively assume that there would be some added weight. These things are feather light. Typically, you would expect a thin footbed from a sandal that only weights 6.5oz but Rhamani was able to make a fat footbed without all the extra bulk. This addition in footbed thickness makes these sandals incredible comfortable. Whether you wear them around town, camp, or at the crag your feet have a ton of cushion to absorb the weight of the day.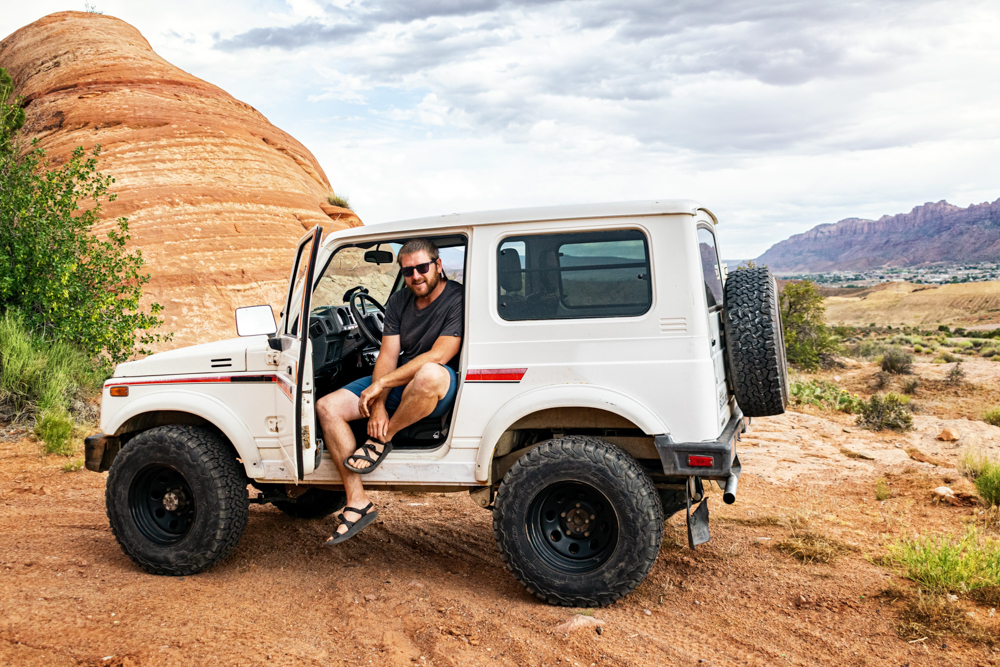 Fit and Performance
Sizing was straightforward: I typically wear a size 11.5 shoe so a Rhamani sandal in size 11 fit great. The sandal straps all adjust, and it takes some time to get it dialed in just right for your foot and toes, but the Rhamani system makes it easy. The straps are not hidden on the inside of the foot bed but exposed on the sole of the shoe in little troughs. These troughs fold the strap hot dog style and creates tension to hold the strap in place. I was a bit skeptical at first that the straps would wear prematurely due to them existing on the bottom of the sole, but they held up over this past month's use and I do not expect them to wear any quicker than any other brand. Once I was able to adjust my straps to my foot, I noticed that there really was not any more strap available at the mid-foot buckle. This meant that I was at my biggest and it made it tough to wear these sandals around camp with any socks on my foot without making drastic strap adjustments. This was not a huge concern, but I generally consider my feet to be on the thin and narrow side of things. If you have wide or rounder feet and plan on utilizing the toe loop, you might find these a bit snug.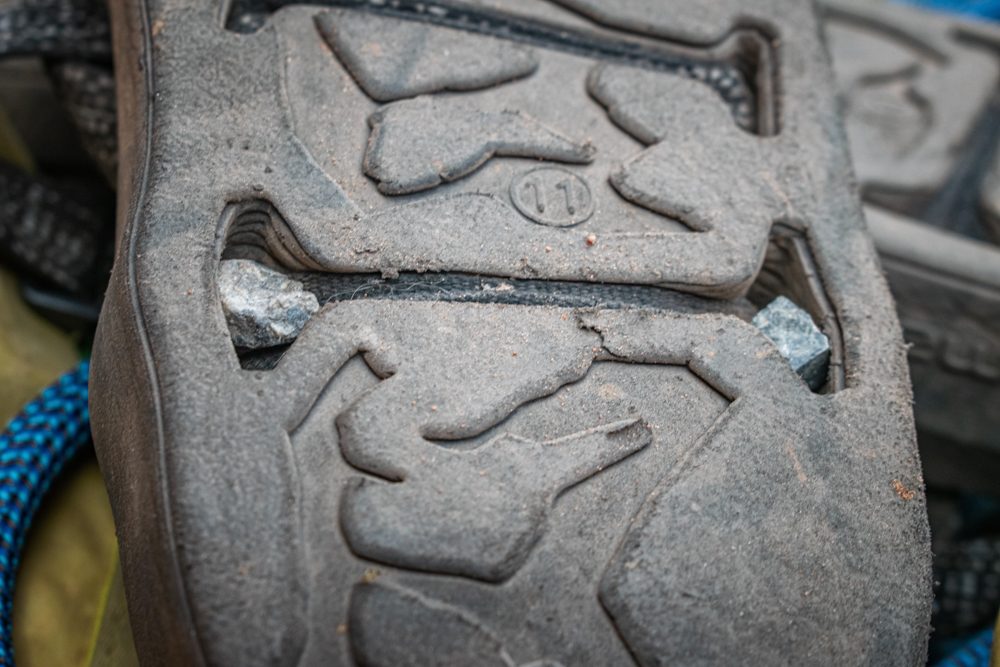 A big selling point for Rhamani's sandals is its versatility. Because the straps are easily adjusted, this means you can re-configure them to your liking. It is possible to remove the entire ankle strap and turn these into slides. Don't like the big toe loop? Get rid of it. You really can make these sandals the way you want them.
Performance
Let's talk about performance: a quality pair of adventure sandals must be able to do it all seamlessly. Again, out of the box I was skeptical in the function of these sandals due to the 1-piece sole/footbed made from EVA foam. I am used to sandals that tote the Vibram logo so I was a bit unsure on how these would perform. Over the past month I have traveled, climbed, scrambled, and hiked in these sandals and even wore them around Camp Muir on Mt. Rainier. I was constantly shocked out how well they gripped while I smeared and scrambled up 3rd and 4th class terrain. They are not the stiffest of soles, but they did the job of Approach Sandals just fine. They absorbed the impact of big steps down onto rocky terrain marvelously. The only issue I ran into is the troughs on the sole that hold the straps also tend to attract pebbles. This means that a few of those pebbles will be felt by your foot and you have to clean them out; mildly annoying.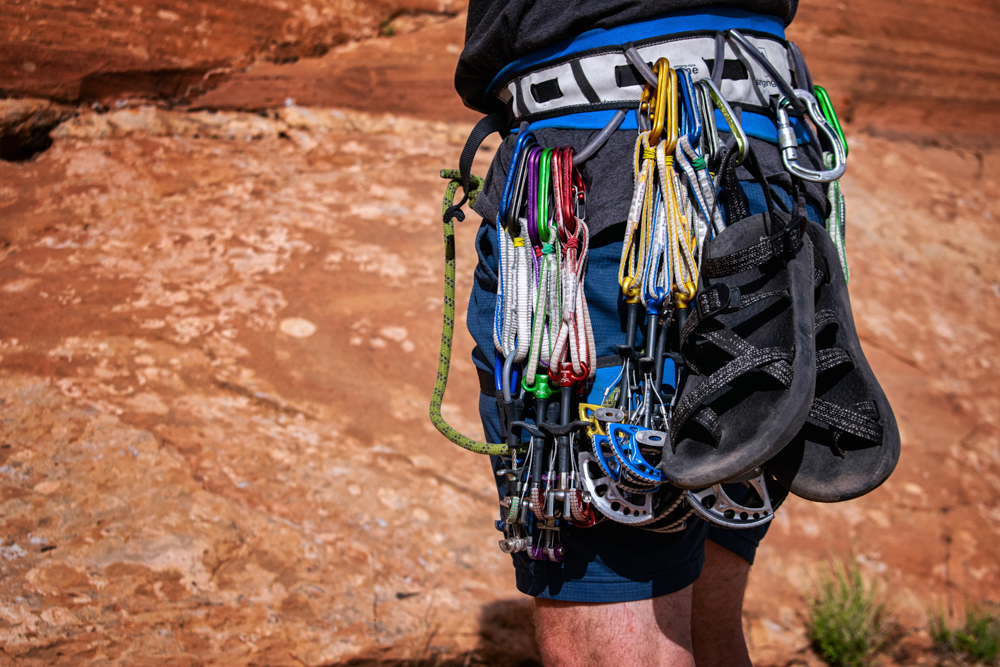 Room For Improvement
The biggest complaint I had was how the ankle strap works. Because the straps are 100% removable from the footbed, the ankle strap is independent from the mid-foot strap and is not sewn into place but instead it floats (so you can undo the strap and remove it from the sandal for Sandal Slides mode). I was never able to set my sandals up in a way that kept my heel from sliding off the back of the sandal in uphill hiking (see photo). The only way to mitigate this was to really tighten down the ankle strap which made it incredibly uncomfortable. I was able to mitigate this issue slightly by tightening all the other straps a bit more but again, this made the sandals hard to get on and a little snug for "everyday use".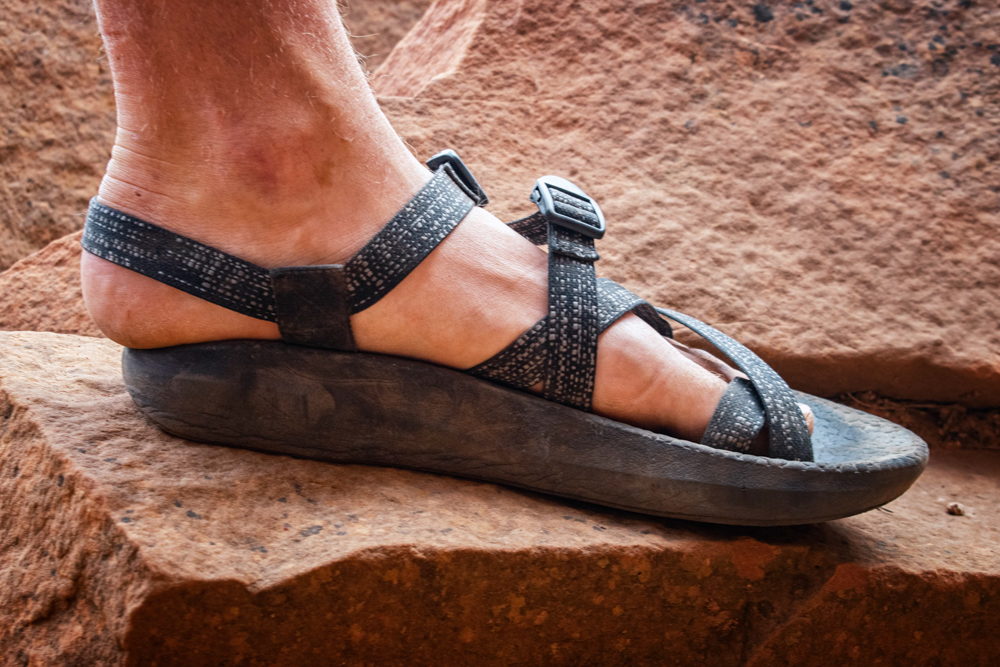 Friendliness to the Earth
There is not much to stay about Rhamani and their friendliness to the earth as their website is basic. I am ok with that; it is refreshing to have a "get to the point" website. The big pro I see is that the straps are 100% removeable which makes them, or the footbeds, easily replaced. No more shipping both your sandals in to get re-strapped when only one really needs it. Instead, get yourself some replacement straps mailed to you and do it yourself when you need it done.
Currently, though, Rhamani does not have replacement straps or footbeds available for purchase. I hope this changes soon as I would like to see more products designed for easy at-home repair and these Rhamani Sandals are one step away from helping reduce unnecessary shipping and consumer waste.
The Final Word
If you are looking for a super comfy pair of light-to-medium-adventure sandals, then Rhamani Sandals are right for you. The pillow top footbeds will make the miles drift away and their versatility will help you leave other shoes behind.
Shop the Rhamani Men's Sandal on Outdoor Prolink. Not a member? Apply today!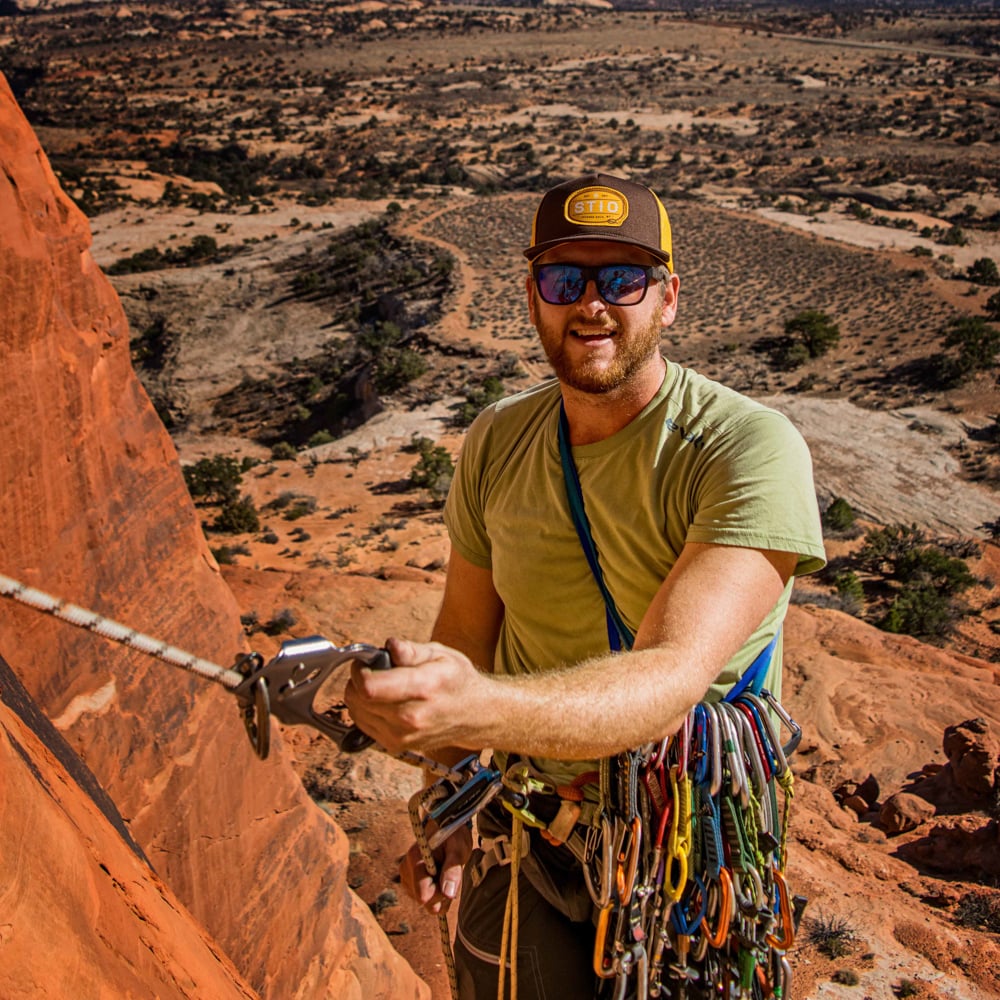 Patrick Betts is the Technical Director at Front Range Climbing Company and is based in Moab, Utah. He has been in the Outdoor Industry since 2009 and guides year-round in Colorado, Utah, and beyond. When he is not guiding, you will find him traveling to climbing destinations around the world. Patrick is an experienced adventure photographer who enjoys taking photos of people pushing their own limits and capturing the landscapes of the areas that rock climbing takes you. Follow along @adventurethrulens