ProView- Salewa Wildfire Edge
Slabby approaches in the desert heat, snowy approaches in the alpine and everything in between, I put the Salewa Wildfire Edge MS through the wringer. Over the last month, I was fortunate enough to test this approach shoe on various types of terrain throughout New Mexico. I tested its durability in the infamous and rugged Organ Mountains, I tested its waterproofness on snowy winter approaches in the Sandia Mountains and tested how well it climbed on hard, technical face climbs. Ladies and gentlemen, I think it's safe to say we have a winner.
Salewa Wildfire Edge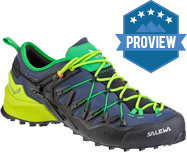 Product Description: Men's tech approach shoe with innovative Switchfit system and Pomoca sole for both greater climbing precision and more comfort.
Offer price: $169.95 MSRP
Quality

Features

Fit

Durability
Summary
The shoe fits very true to size, especially when using Salewa's size calculator. The shoe strikes the perfect balance between walking comfort and climbing performance.
Pros
Phenomenal climbing performance

Incredibly comfortable.
Cons
Slightly bulky

Not a minimalist shoe.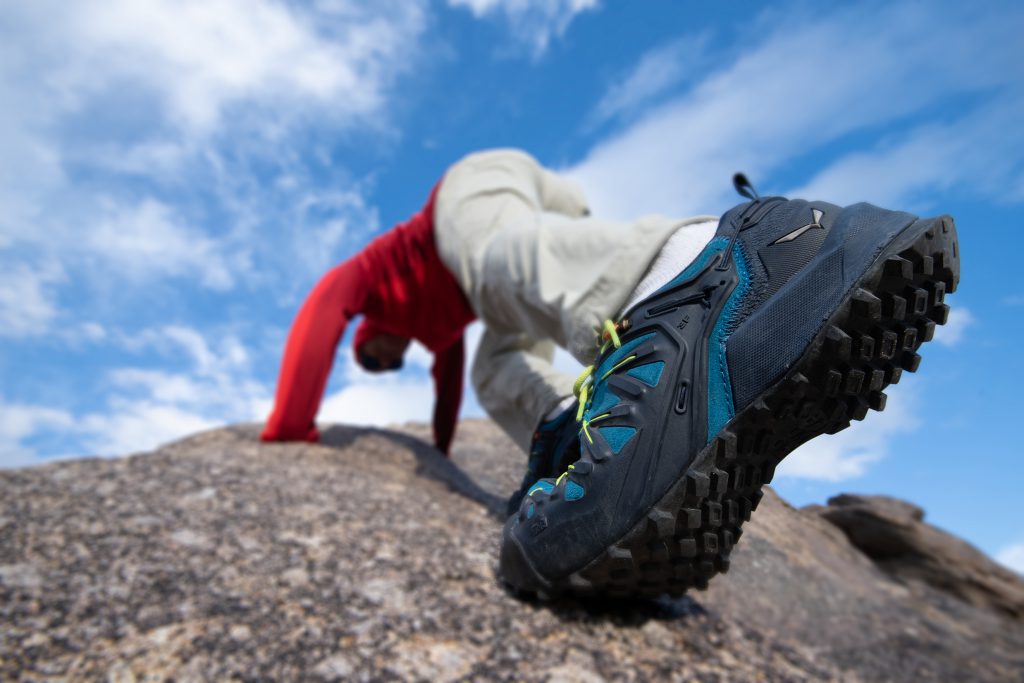 Fit/Comfort
You know people say things "fit like a glove" but they never actually fit like glove? More like a saggy glove that's one size too big? Yeah, me too.
This is not the case with this shoe. Seriously. The second I put this shoe on it felt like I had just put on a sock. The shoe sucked around my heel and was snug but not constrictive throughout my foot. There was just the right amount of room in the toe box to provide a little movement, yet still snug enough to allow for adequate climbing ability when the going gets vertical.
I don't exactly have the most normal foot. Well okay, my foot isn't that bad, it's my toes. Or more appropriately, my talons. Many people have commented that I could probably catch a fish out of the river with those things if I tried. While I haven't actually tried, I wouldn't be surprised if they were right.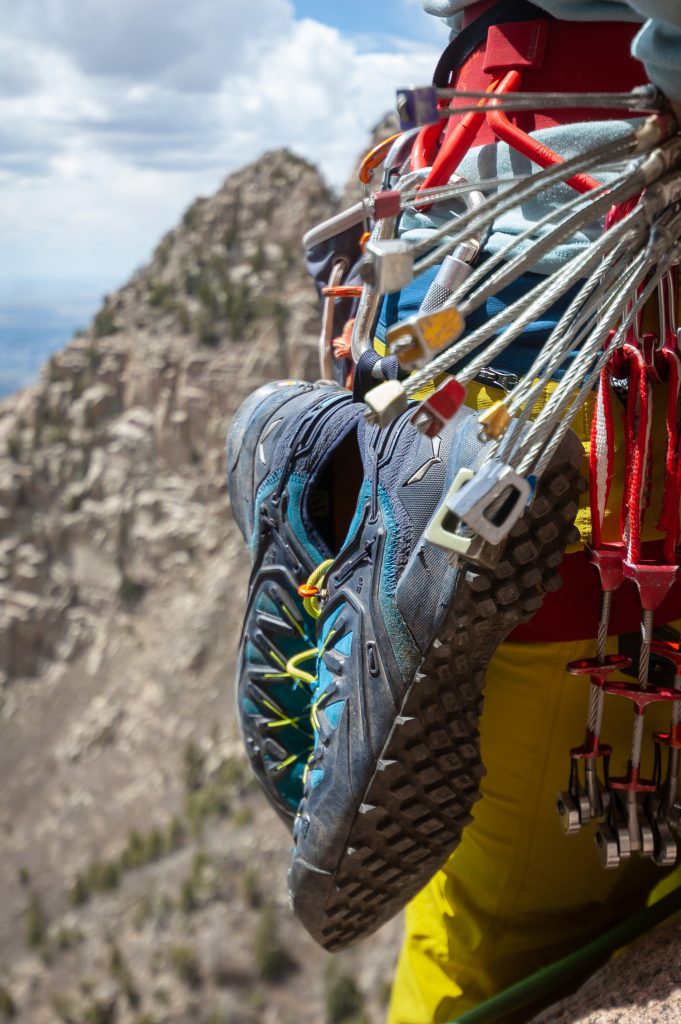 It is a struggle for me to find shoes, rock or approach (when intended for climbing), that accommodates the front of my foot. I rarely find a toebox with a short enough height to help lock my toes into place. To my surprise, these do the trick. They truly are a balance of performance and comfort.
Curious about what size to get? Salewa has this very accurate sizing calculator on their website and base sizing recommendations on approach shoes you already own. I spent an extended amount of time inputting the various models of approach shoes I own in various sizes to see which size was recommended. After eight different manufacturer and model references, each final suggestion was a 10.5 and I couldn't be more happy with that size.
Comfort is comparable to my all day alpine rock climbing shoe. With a sock. A very thick sock. Long approaches over rocky and uneven terrain in the Organ Mountains resulted in no discomfort.
Salewa has done something very unique in this shoe that I have yet to be seen done before that increases the adjustability in both the fit and the comfort. They have incorporated a modular footbed. Yes, a modular footbed. What the heck is that? I'm glad you asked. In a nutshell, you can remove certain parts of the footbed such as the heel, arch or forefoot as needed to fit your own foot. To be perfectly clear, it is still not as supportive as an aftermarket footbed but its a significant improvement as far as stock footbeds are concerned and do actually provide a significant increase in the level of comfort on the long approaches. If you do decide to replace the stock footbeds with an aftermarket product, be sure and bring the shoe and sock you intend to use with you. This is a fairly low volume shoe and any higher volume footbed placed in the shoe could potentially result in an over-crammed foot. I would highly recommend looking into a lower volume footbed if you choose to go that route.
Performance
"I never thought I would climb 5.11 in an approach shoe." I also never thought those words would come out of my mouth. But they did. Twice.
Performance is where these shoes really shine. And in the testing, these chose to shine the first time being a victim of an inaccurate rating in the Organ Mountains in southern New Mexico. The range has a reputation on old school rating and heinous approaches. In my opinion, the reputation is accurate. It is the only place I have had to pull cactus out of my head on the approach. I'll save that story for another day.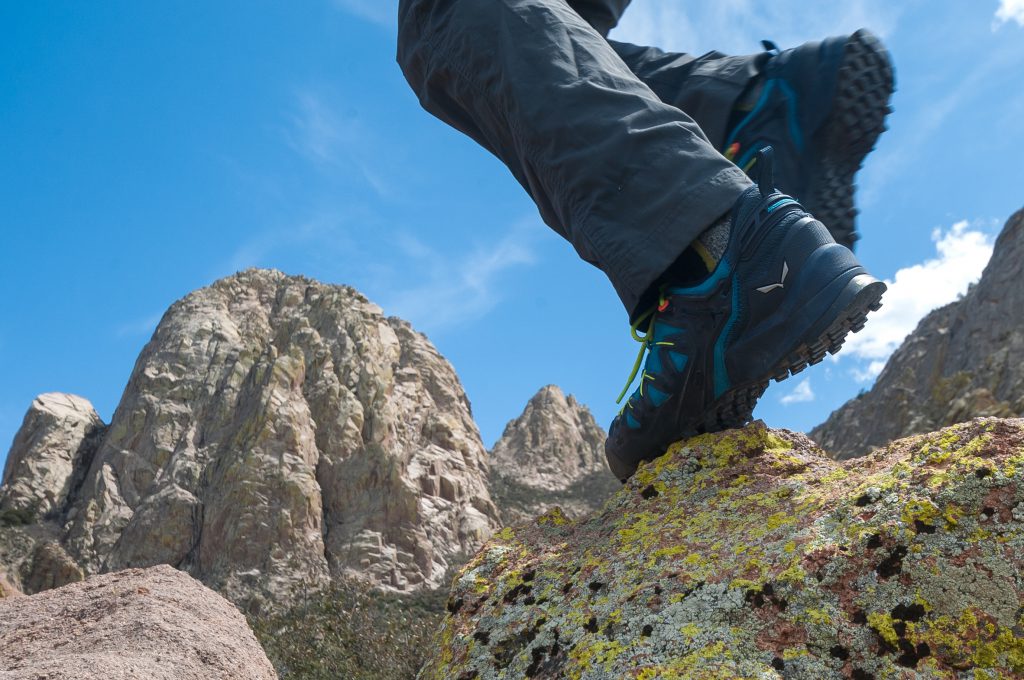 On my first outing with the shoes, I quickly found myself in a less than ideal situation on the Citadel, a feature in the northern part of the range. What was supposed to be a 4th class approach pitch or scramble to the base of the harder climbing quickly became harder, reaching the harder 5.8 range. Considering that the guidebook gave it a 4th class rating, my standard practice would be to climb this section ropeless in approach shoes as to not waste time. Perched in a precarious position, I managed to just get the rope on, but no time for shoes. I would have to climb the 5.8 terrain on lead in the approaches shoes. At the time, the grade was unknown to me, it could be anything. To my surprise, the shoes performed phenomenally well. I was able to edge and smear with ease. More so than any other approach shoe I have climbed the technical rock in before. Heck, I even did some jamming just for the fun of it. The gear was good so I figured I would play around.
I imagine this is due to Salewa's Switch Fit feature on the shoe. Essentially, as you tighten the shoe, the lacing tightens on both the top and sides of the shoe providing an even more snug fit and driving your toes forward, taking it from a walking-oriented shoe to a more climbing specific shoe. When I was first introduced to this feature without actually having seen the shoe I freaked. Have you ever used Salewa's mountaineering boots that feature the same concept? If you haven't, it's terrible. The extra engineering makes the boot extremely heavy. Needless to say, I was very relieved when the show arrived sans hex key.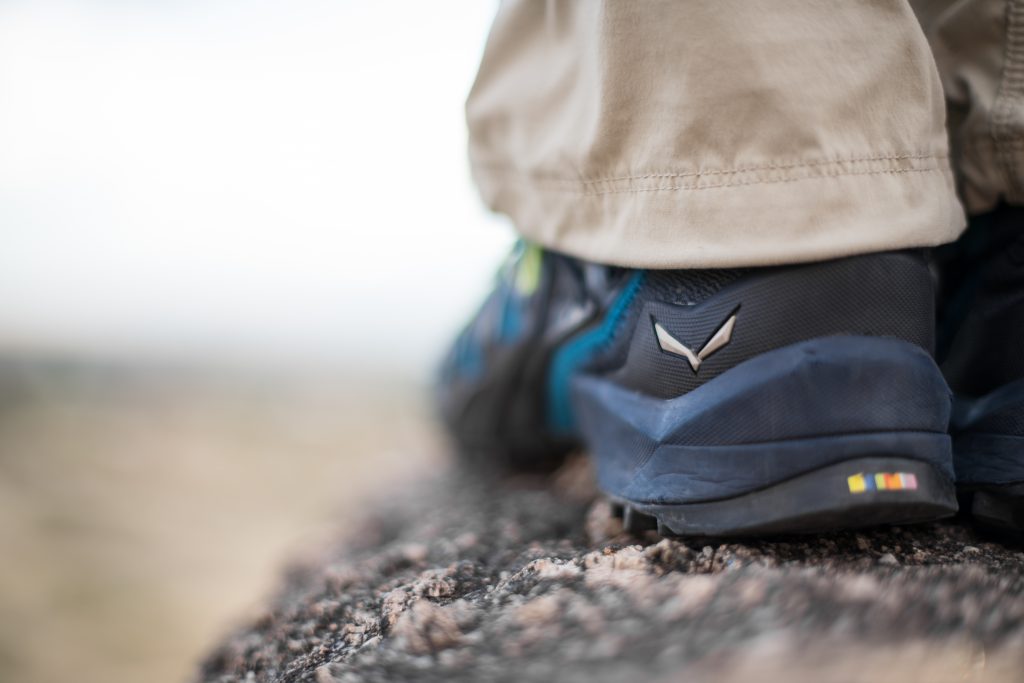 After my incident in the Organs, I continued to test the shoe in both approach and technical climbing situations. On longer, easier climbs I prefer to climb in approach shoes if it's appropriate. So, it is extremely important to me to have a shoe that can perform when I need it to. This shoe does the trick.
Besides my off route ordeal, I took some time to test these shoes in a more intentional manner on traditional climbs up to 5.8. While I was able to climb 5.11 in the shoe, I spent most of my time in the moderate range as this is what I would use the shoe for in the real world. I can honestly say that the only shoe that I have found that rival this shoe is the La Sportiva Ganda. I don't think they make it anymore and I glad. While that shoe climbed well. For me, it was a nightmare to walk in for more than an hour and had a detached tongue so everything that hit the top of the shell fell inside of the shoe. With that in mind, Salewa wins. I was shocked at how well these shoes performed while standing on granite edges placing gear and even more shocked at how easily I was able to dance my way up friction slabs.
The Final Word
I have used a lot of approach shoes in my 12 years as a climber. In all honesty, I have lost track. If I had to guess, I would say at least 15 different pairs of shoes. Some I have loved, some I have thrown away after one use.
The Salewa Wildfire Edge MS ranks up there with the best. I have owned shoes that are more comfortable to walk in. However, that's what they were designed for. Walking. Given that the MS Edge is designed for more technical applications like climbing or scrambling, I am actually a little surprised just how comfortable they are to walk in. Easily a 9/10 in that category.
Whether you're scrambling up 3rd class terrain to the crag or making your way up to alpine ridges, there really isn't much these shoes can't handle. Go Salewa!
Shop the Salewa Wildfire Edge on Outdoor Prolink. Not a member? Apply today!
So who the heck am I? My name is Kerr Adams. I have been living in Albuquerque, New Mexico since 2008. What do I do? A lot. Currently, I split my time as a communications manager for a nonprofit, Youth Development Inc. and as a mountain guide and climbing instructor in the great state of New Mexico. Yeah, the land of entrapment. Occasionally I make my way up to Colorado for personal and professional outings. I spent close to eight years traveling around the globe as a full-time climber and professional instructor in amazing and inspiring places. I was fortunate enough to sample everything from the steep granite faces of the Fitzroy massif to 8000-meter peaks in Pakistan. One of the learning outcomes of my full-time vertical pursuits is that there is no room for sub-par equipment. More often than not success boils down to the little details you never thought might matter.