ProView – SHRED. Amazify Goggles
Over the past few weeks, I've had the opportunity to test out the SHRED. Amazify Black CBL Sky Mirror goggles.  Their CBL (contrast boosting lens) technology helps you to see features in the terrain that might otherwise be missed during a flat light event.  With a VLT (visual light transmission) rating of 45%, these goggles are in the middle of the spectrum, giving your vision a boost during low light, but also provide some protection on sunny days.  Additionally, the mirrored lenses help reflect harmful rays away from your eyes.
SHRED. Amazify Goggles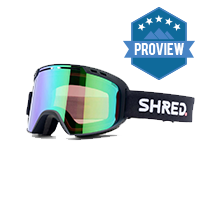 Product Description: Are you searching for the sleekest-looking ski and snowboard goggle that features a cylindrical lens, uncompromised fit and comfort, and a field of view unlike anything you've experienced before? If so, the SHRED. Amazify is the clear choice. Its CONTRAST BOOSTING LENS™ (CBL) and NODISTORTION™ technology enhance contrast and image definition while SHRED.wide™ maximizes field of view, enabling you to feel strong, confident, stoked, and in control. The SHRED. Amazify is compatible with prescription glasses (OTG).
Offer price: MSRP: $159.95
Quality

Features

Fit

Durability

Eco-Friendly
Summary
The SHRED. Amazify goggles are a great tool to improve your vision during flat light events.  Who wouldn't want a low visibility day turned into a high fun day? The detail and technology applied to these goggles make them a great piece of gear to add to your collection.  Better vision means increased time, safety, and fun in the outdoors no matter the conditions.  I will not be heading out without these goggles this winter!
Pros
Improve vision during flat light events
Wider range of vision than standard goggles
Stay in place
Cons
Lenses do fog during high activity
Pricier, but in line with other high end goggles
During this time of year in south-central Alaska, daylight is sparse. With just over five hours between sunrise and sunset, the sun does not get very high above the horizon. Growing up skiing on the east coast, I never really understood flat light. Sure, there were times when it was harder to see than others, but these conditions never lasted long. Here, any obstruction to the little light we have creates a flat light situation. It is quite unsettling to be just a few feet away from tracks you know that you just made and not be able to make them out.
The majority of my skiing takes place in the backcountry, which also means I look for gear to enhance my safety at any chance possible. The claims of flat light reduction and wider field of vision drew me to these goggles. More than once, I have bumped into a feature I could not see due to flat light. While running into other skiers is not much of a concern, I like the idea of a wider field of vision for the rare occasion I do see other groups and also to help prevent wildlife encounters. (It's not uncommon to see moose out on the ski trails.) I have been using these goggles for both alpine touring and cross country skiing around town several times a week for the past few weeks. We have been stuck in an overcast and snowy weather pattern, so I had ample opportunity for testing these out in flat light situations.
Fit/Comfort
These goggles are one size fits all and did fit my face just fine. The foam around the inside is soft to the touch and provides even pressure. Though I do not wear prescription glasses, they did provide ample room inside to accommodate a pair of glasses. My favorite feature here is how well they stay in place! There are two thick bands of rubber along the inside of the head strap. The goggles never once budged on my helmet. I do recommend wearing them over a headband if you are wearing a helmet because they will grip onto your hair.
Look/Style
These are very sleek goggles that earned me compliments almost daily at the trailhead. They contour nicely to your face and sit tightly against your helmet. The mirrored lenses give you a professional, polished appearance. It's also worth mentioning how nicely packaged they are upon arrival. They come with a crisp, white carrying bag that doubles as a lens cleaner and includes some cool SHRED. decals to further decorate your gear. The protective sticker over the lenses reads, "This is a SHRED. Contrast Boosting Lens ™. Prepare to go from VHS to HD. See More." How can this not get you stoked to take some laps? SHRED. was also kind enough to include a nice gaiter for me as well, which was greatly appreciated and is currently being sported all over Alaska.
Features
In addition to the SHRED.wide ™ (wider field of vision), SHRED. Contrast Boosting Lens ™, and the SHRED. OTG ™ (compatibility with prescription glasses), these goggles also include SHRED. Nodistortion ™ and SHRED. Noclog ™. The Nodistortion offers valve technology to provide clear vision during altitude changes and the Noclog is a hydrophobic treatment on the vents to reduce clogging from rain/snow and help prevent fogging. There are currently 11 different lenses in the Amazify line with VLT ranging from 14% to 45%, so it's worth reading up on each one to find the fit best for you.
Function/Performance
These goggles did improve my vision during the many flat light days as of late. I made many other skiers envious at the trailheads when I mentioned this increased vision. These particular lenses do rely on a certain amount of daylight to be available, however, so as at the twilight hour approached or during heavy fog, I had to switch over to a goggle with a lower VLT rating. That being said, the flat light here is much more extreme than you will generally find in the lower 48, so these should be more than adequate for most to use as an all-around goggle. These goggles definitely afforded me a wider range of vision than any of my other goggles. It was hard to part with that extra bit of peripheral vision when switching back to a different pair. As far as the Nodistortion feature, I used these goggles in terrain ranging from just above sea level to just over 5,000' without an issue. I expect they will perform well at higher terrain also.
I felt performance could be improved when it came to clogged vents and general goggle fogging. I had to be careful to not wear the goggles when exerting enough energy to sweat (skinning up or hard cross country runs) and to make sure the goggles were covered during heavy snow events.
Pro tip: keep the carrying bag in your pocket. They worked better for cleaning and defogging the goggles than any other material I tried!
Durability/Construction
The goggles are well built, the headband sturdy and grippy, but of course care must be taken to preserve the lens. I was careful to always put the goggles back in the carrying bag, but still managed to get a scratch on the inside of the lens likely from the buckle. Luckily, it is in an area that does not hinder my vision, but I will be investing in a more firm carrying case to prevent additional damage.
Additional Uses
Living in Alaska, gear is often more of a necessity than a luxury. Like any proper dirtbag, I try to use my gear for multiple sports. I also found these goggles great for skating on wild ice. When skating on lakes and rivers where ice thickness can be highly variable, it's important to be able to identify not only tripping hazards but also subtle differences like the depth of cracks and bubbles to prevent going for an unintentional swim. The contrast boosting abilities of these lenses helped tremendously. I also look forward to using these for snow machining and hiking during unexpected blizzard conditions above tree line.
Friendliness to the Earth
Aside from their partnerships with organizations like POW and 1% for the planet, there was little mention of steps taken to reduce waste or their carbon footprint. The entire packaging is made from recycled material and can be recycled. Also, I like that their goggle frames allow for change out lenses, reducing the need to toss the entire pair out if you damage the lens and the need to purchase a second pair for different conditions.  A google search does reveal a past line of goggles produced with recycled materials, but it seems this is an area where there is room for improvement.
The Final Word
The detail and technology applied to these goggles make them a great piece of gear to add to your collection. Better vision means increased time, safety, and fun in the outdoors no matter the conditions. I will not be heading out without these goggles this winter!
Shop the SHRED. Amazify Goggles on Outdoor Prolink. Not a member? Apply today!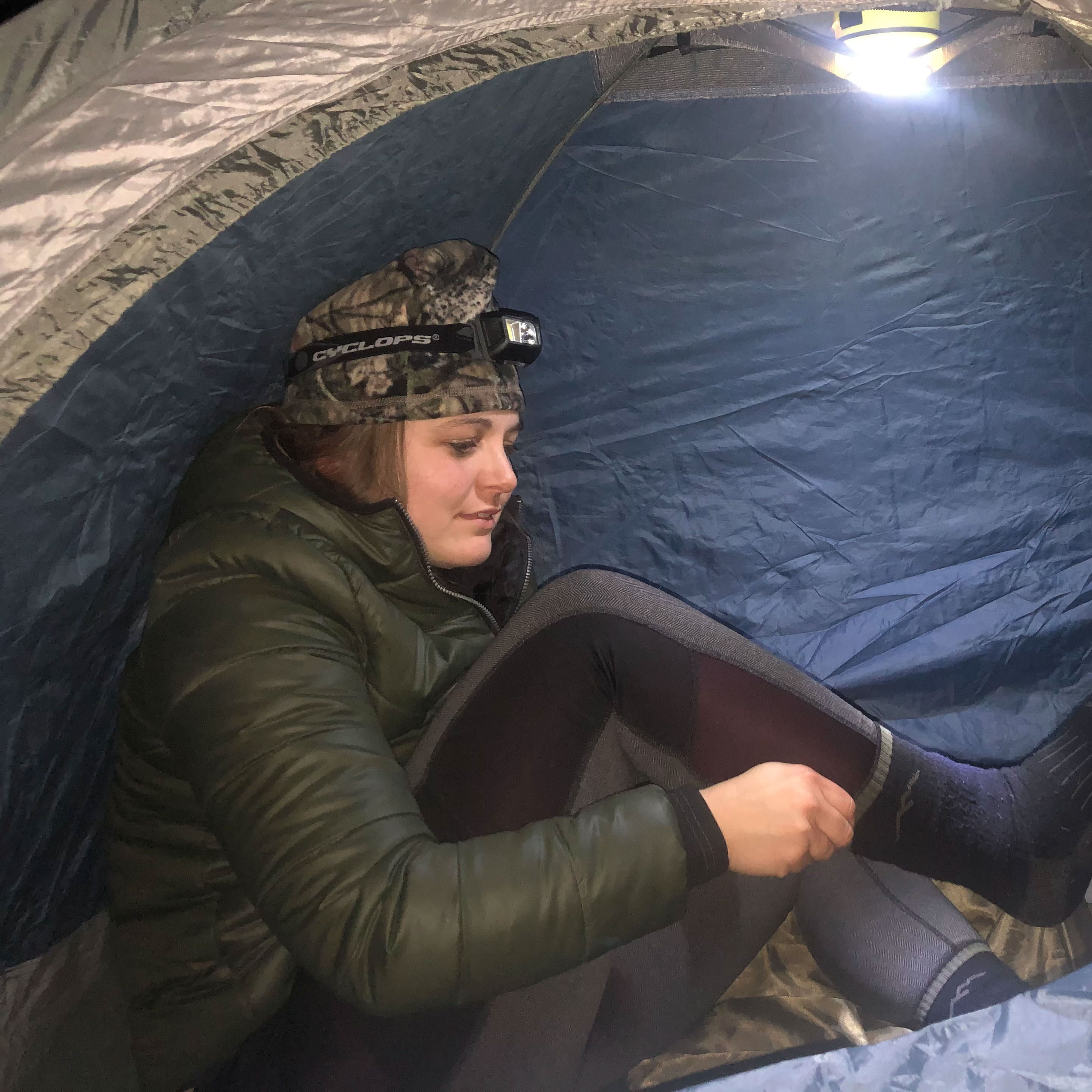 Michelle currently resides in South Central Alaska and works as an environmental technician for the Native Village of Eklutna performing fish, wildlife, and habitat surveys in an effort to restore their historic lands to their traditional bounty. When not at work, you can fine her hiking, skiing, climbing, horseback riding, running, biking, hunting, fishing, or trying out new ways to explore the outdoors. She can be found on Instagram under michelle_ventures. To learn more about the river restoration project, visit eklutnariver.org.