ProView – Sierra Designs Borrego Hybrid Jacket
The Sierra Designs Borrego Hybrid jacket blocks the wind and keeps your core warm while remaining breathable and mobile. The Borrego jacket excelled on windy alpine ridges in Colorado this fall.
Sierra Designs Borrego Hybrid Jacket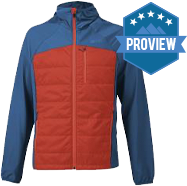 Product Description: With 4-way stretch panels in key areas and a Primaloft™ Eco Silver insulated core, the Borrego Hybrid Jacket provides warmth and stretch for active endeavors. Seamless shoulders also increase comfort under a pack. When it's time to pack up, the Borrego fits nicely into its own pocket with carabiner loop for easy carry.
Offer price: MSRP: $174.95
Quality

Features

Fit

Durability

Eco-Friendly
Summary
The Borrego Hybrid Jacket is an excellent jacket when you need active warmth and wind protection, but the jacket fits significantly smaller than typical.    
Pros
It blocks wind  while still being breathable
It is lightweight and packable
The fabric on the sleeves is stretchy and makes the jacket extremely mobile
Cons
The jacket fit too tightly
It could be improved with a more functional hood
Fit
I originally ordered the men's small Borrego jacket, but it was too small. The jacket was too narrow around the chest and shoulders, and I could feel it tugging under my arms. The length of the sleeves and torso felt right, but it was too tight. For reference: I am 5'10", 145 lbs, I have a thin frame, and I wear men's small jackets in every other brand I own (Patagonia, Black Diamond, Outdoor Research, and more). I exchanged the size small for a medium. The medium feels much better around the chest and shoulders, the sleeves are a good length, but the torso is a bit long for me.
Functionality
I had my sights set on an alpine ridge traverse in Colorado's Tenmile Range, but the forecast called for strong winds. Accepting the risk (and the mental challenge of getting battered by wind), I reinforced my hiking kit with an extra layer: the Borrego Hybrid Jacket. There was barely a breeze at the trailhead, but as I made my way above treeline, the winds were steady around 25 mph. As an outer layer over my microgrid fleece inner layer, the Borrego jacket provided a great combination of wind protection, warmth, and breathability while I was on the move. The arms and hood did a great job at blocking wind but also remained breathable to prevent overheating.
A modest amount of Primaloft insulation on the torso provided enough warmth to keep my core warm, but not too much to cause overheating. The jacket was not very warm when I stopped, but it excelled at higher intensities with temperatures in the 30s. Additionally, the jacket was very mobile and a joy to scramble/climb in due to the stretchy fabric on the arms, hood, and sides. As I descended back into the forest, there was less wind and I packed the Borrego jacket away in my pack. The jacket is very lightweight, easily packable, and can be stuffed into one of its own pockets which includes a carabiner loop. Because the jacket is very lightweight, I barely noticed it in my pack and was happy that I brought it. I knew this jacket would be a staple in my kit in the future.
Style
As for the style, I love the split color scheme, and I think that the blue and orange go well together. For a more subtle look, the Borrego also comes in black and grey. I didn't buy this jacket to wear casually, but I find myself grabbing it for social occasions and professional settings often.
Features
Thumb loops on the sleeves.
An elastic drawcord at the hem.
A zippered chest pocket.
Zippered hand pockets.
Recycled polyester taffeta fabric on the body and a nylon/spandex blend fabric on the sleeves and hood. The fabrics are both fairly durable and stood up well to scuffs on sharp rock while climbing.
Room for Improvement
The small fit was the biggest flaw. I haven't owned any other Sierra Designs jackets, but I wear a men's small for 90% of my tops and the size small Borrego was too tight around the chest and shoulders. Consider sizing up.

Although this jacket is not marketed for rock climbing, I used it for climbing and would love to see this jacket redesigned with climbers in mind. First, I would like the hand pockets to be higher so that I could still warm my hands while wearing a harness. Second, I would like the hood to be either a bit tighter or a bit bigger and more adjustable. The hood was an awkward volume, it did not fit tightly over my head and it was not adjustable. This caused the hood to balloon up on my head while hiking into a headwind. Additionally, it wasn't quite big enough to completely cover my climbing helmet. If it were a bit bigger and sinch-able, it would fit over a helmet if needed, but also fit snugly.

Just after taking a photo of the jacket stuffed into its own pocket, I ran into a huge issue: the zipper was stuck with the jacket packed inside out. After trying to free the zipper for nearly 15 minutes on a hike, I was unable to move the zipper. Since the jacket was completely unusable while stuffed into itself, I had to rip the seam on the pocket and was able to turn the jacket right side out. Still, the zipper was immobile. I cut the zipper and re-sewed the seam and zipper ends. (There are many advantages to owning a sewing machine.)
The Final Word
In conclusion, the Borrego Hybrid Jacket is an excellent jacket when you need active warmth and wind protection, but the jacket fits significantly smaller than typical.
Find Sierra Designs Borrego Hybrid Jacket on Outdoor Prolink. Not a member? Apply today!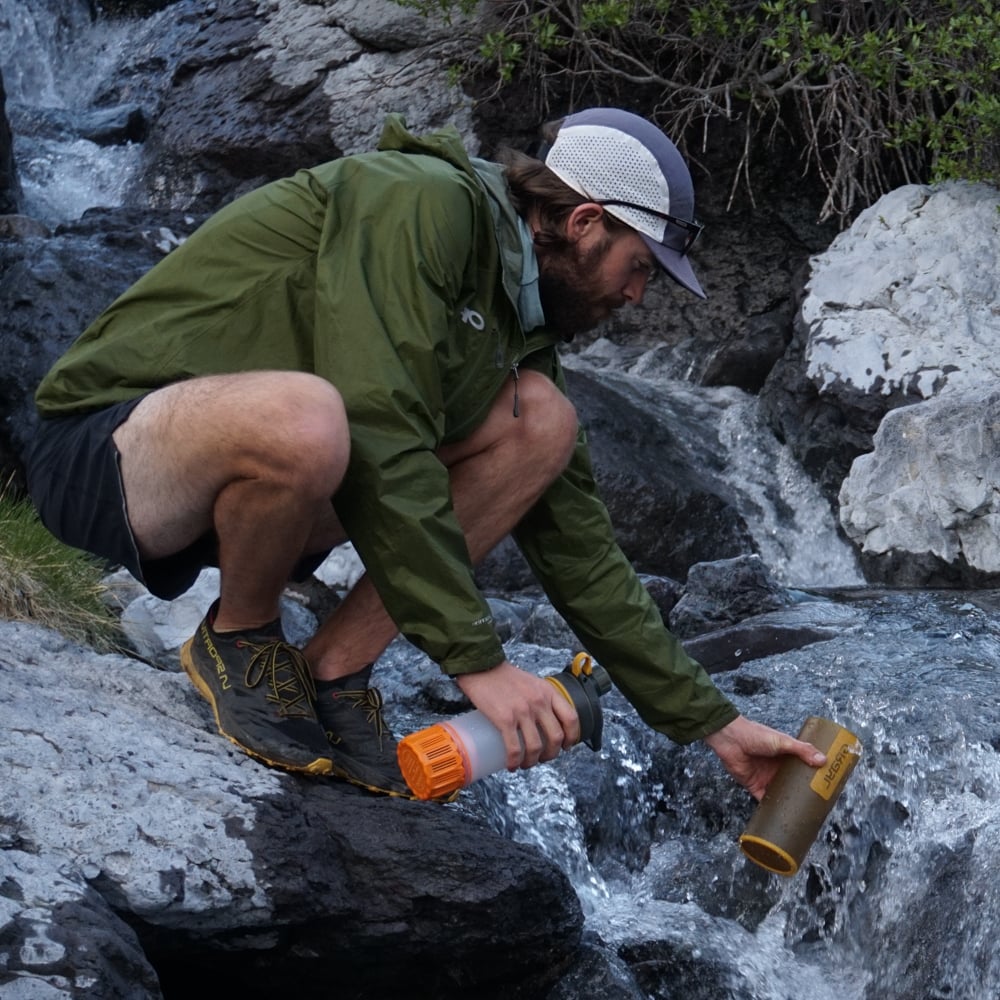 Brent is an outdoor educator who has led trips in Colorado, Wyoming, Alaska, and China, and is currently a Program Coordinator for Keystone Science School in Keystone, Colorado. Brent is a mountain and endurance enthusiast who loves backcountry skiing, mountain biking, and mountain scrambling. When he isn't outside, Brent loves to cook and to sew his own gear.