ProView – GRAYL Geopress Water Purifier
In a sea of hundreds of available options, the Grayl Geopress filter floats to the top with high-quality water through a simple filtration process. After experimenting with many purification systems in the past, I decided to give the Grayl Geopress a try on a backpacking trip in the San Juan Mountains. in Colorado
GRAYL Geopress Water Purifier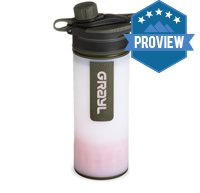 Product Description: 8 Seconds. Unrivaled Ease, Speed & Convenience. No other portable purifier rivals the speed, simplicity and effectiveness of GEOPRESS. In eight seconds, it makes 24 ounces (710 ml) of safe, clean drinking water – anywhere in the world. Effective on all seven continents, you can tap into the world's water sources and safely drink from sketchy spigots, hotel sinks, murky rivers, wells or lakes. GEOPRESS protects from global waterborne pathogens (virus, bacteria, protozoan cysts), pesticides, chemicals, heavy metals, and even microplastics.
Offer price: MSRP $89.95
Quality

Features

Packability

Durabilitty

Eco-Friendly

Cost
Summary
The Grayl Geopress filter is an easy-to-use purification system that produces high-quality water in situations when weight is not a priority.
Pros
High quality purification

Simplicity
Cons
Weight

Low treatable volume of water
Ever since my first backpacking trip, I have felt overwhelmed with water purification options. When should I use a filter? When should I chemically purify? What is "protozoa"? As I have gained experience in my outdoor career, I have started to understand the pros and cons of different filtration systems. For information on how to choose a water purification system, check out REI's Expert Advice. While guiding backpacking trips and on personal adventures, I have used pump filters, gravity filters, in-line bladder filters, and a variety of chemical treatments. Personally, I have tended to become more weight conscious and carry lightweight chemical treatments at the expense of water quality. Because of its bulky size and weight, I was reluctant to carry the Grayl Geopress on a recent backpacking trip in the San Juan Range. However, I was pleasantly surprised at the user-friendliness of the Grayl Geopress.
Packability
Before testing the Geopress out in the backcountry, I decided to give it a try indoors. To familiarize myself, I took all of the pieces apart and put them back together. The Geopress has an outer cup that you scoop unpurified water into, an inner bottle with a cap and seal around the outer cup, and a replaceable filter cartridge. Grayl says the cartridge lasts for 350 cycles, and you can send back your used cartridge to be recycled to save it from the landfill. The bottle has thought-out features such as soft pressing pads where you press down on the top of the bottle, a rubber section with the Grayl logo to ensure a sticky grip, and highly durable construction. Pressing down the Geopress took a bit more force than I anticipated — a significant amount more than a coffee french press. Now that I was familiar with the filter, it was time to pack. Admittedly, I was not very excited about the size or weight of the Geopress for backpacking. I typically backpack with a smaller pack and use either chemical purification or a Sawyer Mini. In this case, I decided to use the Geopress in place of one of the water bottles that I usually carry, so it did not take up much extra space. However, it would be tough to pack into a smaller bag without large bottle pockets (it is bigger than a Nalgene). Having the Geopress instead of a bottle decreased my water carrying capacity, but I knew that water sources would be abundant on my trip and I would not need to carry more than ~24oz at a time if I stopped occasionally to filter with the Geopress.
Ease of Use
I set out on trail eager to find water sources to test out the Geopress. I filtered water from lakes, waterfalls, streams, and murky ponds. Each time, the Geopress gave me high-quality, great-tasting water. In terms of purification, Grayl filters excel at the top end of the market. Grayl filters eliminate particulate matter, viruses, bacteria, protozoa, and even heavy metals and odors. Grayl filters could be used at any water source and still give you good tasting and clean water (provided there isn't too much particulate matter). In addition to excellent water quality, the Geopress was simple and efficient to use. Just fill, press, and drink.
After my backpacking trip, I gave the Geopress a try in my bikepacking kit as well, and I mounted the Geopress to my bike's downtube. The Geopress fit nicely in my cargo cage, but I still had the same reservations about the size and weight of the Geopress. For bikepacking routes with reliable water sources, I might opt for something more lightweight. However, the superior filtration would make the Geopress a top choice on bike touring routes with unknown or sketchy water sources, such as desert routes or international tours. Additionally, Grayl also makes a smaller and lighter 16oz filter called the Ultralight Compact Purifier that reportedly fits into a normal bike bottle cage. The Ultralight would be a great tool for long day rides that require a water refill as well as bikepacking trips. 
Room for Improvement
Even though the Geopress is simple and effective, it still won't be my first choice as a backpacking filter for a few reasons: First, the Geopress is heavy. It weighs nearly a pound, as opposed to 4oz for a Sawyer Squeeze. At a similar weight penalty, you could carry a pump-style water filter (which brings me to my next point). Second, you cannot filter large amounts of water at once. I found myself going back and forth between the stream and the kitchen while cooking meals that required a lot of water. A pump filter or gravity filter would be better for filtering water for anyone other than yourself. And third, the Geopress is more expensive ($89.95 MSRP) than most other filters. The weight, simplicity, and price are what you pay for top-tier filtration with a simple process. For a more lightweight and compact version, consider the Grayl Ultralight Compact Filter. The Geopress would be fantastic for traveling or as an emergency item for outdoor activities where weight is not a factor.  
Shop the Grayl Geopress on Outdoor Prolink. Not a member? Apply today!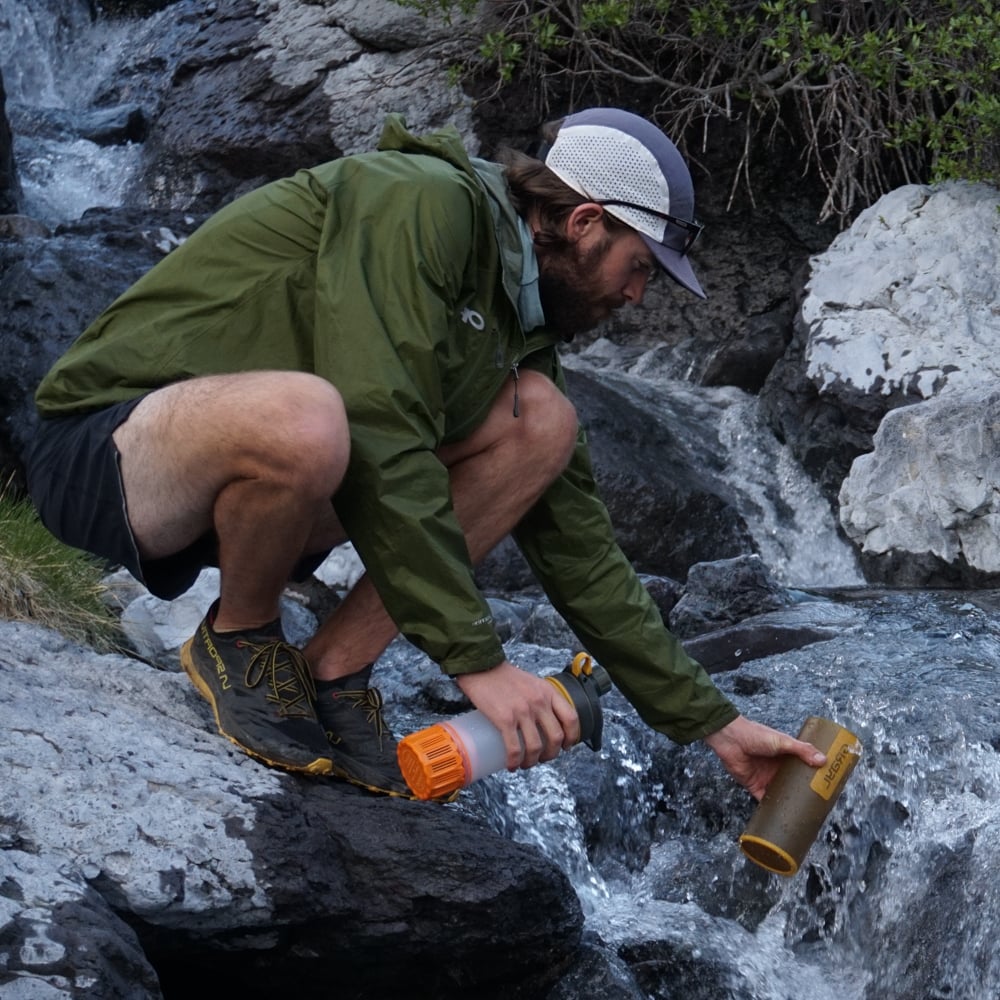 Brent is an outdoor educator who has led trips in Colorado, Wyoming, Alaska, and China, and is currently a Program Coordinator for Keystone Science School in Keystone, Colorado. Brent is a mountain and endurance enthusiast who loves backcountry skiing, mountain biking, and mountain scrambling. When he isn't outside, Brent loves to cook and to sew his own gear.