ProView – Ultimate Direction Race Vesta 5.0
Covid might have canceled all of my races but it hasn't stopped me from searching for the perfect running vest. If I'm headed for a long run I like to take a more substantial pack but I haven't found a good vest to take for shorter (<20 miles) runs/races.
Ultimate Direction Race Vesta 5.0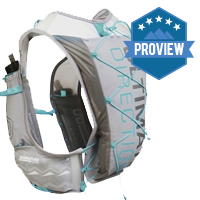 Product Description: The Classic Belt, With a Form-Fitting Body Bottle™ II 500
Offer price: $124.95
Quality

Fit

Durability

Features

Eco-Friendly
Summary
This pack works well for running but also biking/brick workouts and can easily hold a tube, pump, tool, snacks, and a windbreaker. The bottles didn't have a yucky taste and have been fine even sitting for days in the car with water in them. They feel substantial and I don't worry about having to be gentle with them or them leaking. The mouthpiece is great for sipping and it even locks down in place when not in use to prevent dripping. I really liked these soft flasks.
Pros
Love the lighter color

Bottles don't taste gross

Sizing is spot on for shorter runs/races.
Cons
I normally run with a 7L vest and the volume of this pack (8L) felt way smaller than that.

The cut on the vest means that one bottle doesn't fit quite right and sticks up a tad but it's minor and not a design flaw per se.
While my training has dwindled and I've all but hung up my running shoes, I've been putting lots of miles on the mountain bike. I used this pack for day hikes, 30+ mile rides, and long runs. I love the light grey and its definitely my first choice on hot summer days (though it does show the dirt more) and the mesh backing is awesome to avoid a super sweaty back. The two 500 ml body bottles carried enough water for most of my short runs and I could throw a 2L bladder, windbreaker, and snacks in for my 20+ mile days.
Fit/Comfort
The vest doesn't bounce at all and I don't have to cinch it tight to get a good fit. I'm 5'3, 130 lbs and small chested and it worked great. A larger chest might not fit quite as well. The sternum straps are adjustable up and down to get a really custom fit and there are side cinch straps to micro-adjust as snacks and water are depleted or gear is used. There is also a full elastic cord that runs the length of the pack to hold a helmet or layers of clothes. There is a tiny whistle that is built-in as well which is a nice safety feature.
This pack is almost ⅓ of the weight of my regular pack. It is advertised as feather-light and I would certainly agree with that.
Durability/Construction
I noticed after a month of use that some of the reflective tape/letters on the pack started to come off the stretch pockets.
Function/Performance
This pack has one large opening on the back to hold a water bladder and any gear/clothing plus a small zippered pocket for little items. On the front is an open large pocket, a zippered pocket, and two small snack pockets. These small pockets were perfect for an immediate snack and my inhaler. The zip pocket was big enough to fit things into, unlike some other vest pockets that will barely hold chapstick. I was skeptical about the open pocket securely holding my phone but after some sketchy river crossings and lots of bumpy trails I had no issues. While the mesh is nice against a shirt, I'm not sure I'd want it against bare skin with a tank top or just a sports bra. With other packs, I sometimes get chaffing near my biceps if I have a phone or snacks in the side pockets and that didn't happen with this vest. There's even a place for my poles when I want to stash them and I don't have to take the pack off to do so.
Eco-friendly
UD doesn't toot their own horn much in the eco-friendly area, at least about their manufacturing process, though they are part of the Conservation Alliance which is a group of outdoor companies that collectively work to protect threatened wildlands and waterways for their habitat and recreational values.
The Final Word
Overall I don't see much room for improvement on this vest and think that UD really nailed this design. Looking at the website this vest doesn't really stand out as a snazzy do-anything pack. It doesn't have the flashy colors or tons of pockets or anything unnecessary. However, being the owner of six different running vests and countless numbers of handhelds, flasks, and bladders, this will be my new go-to. While this Ultimate Direction Race vest won't be seeing any races this year, I'll still be using it for all my training.
Shop Ultimate Direction Race Vesta 5.0 on Outdoor Prolink. Not a member? Apply today!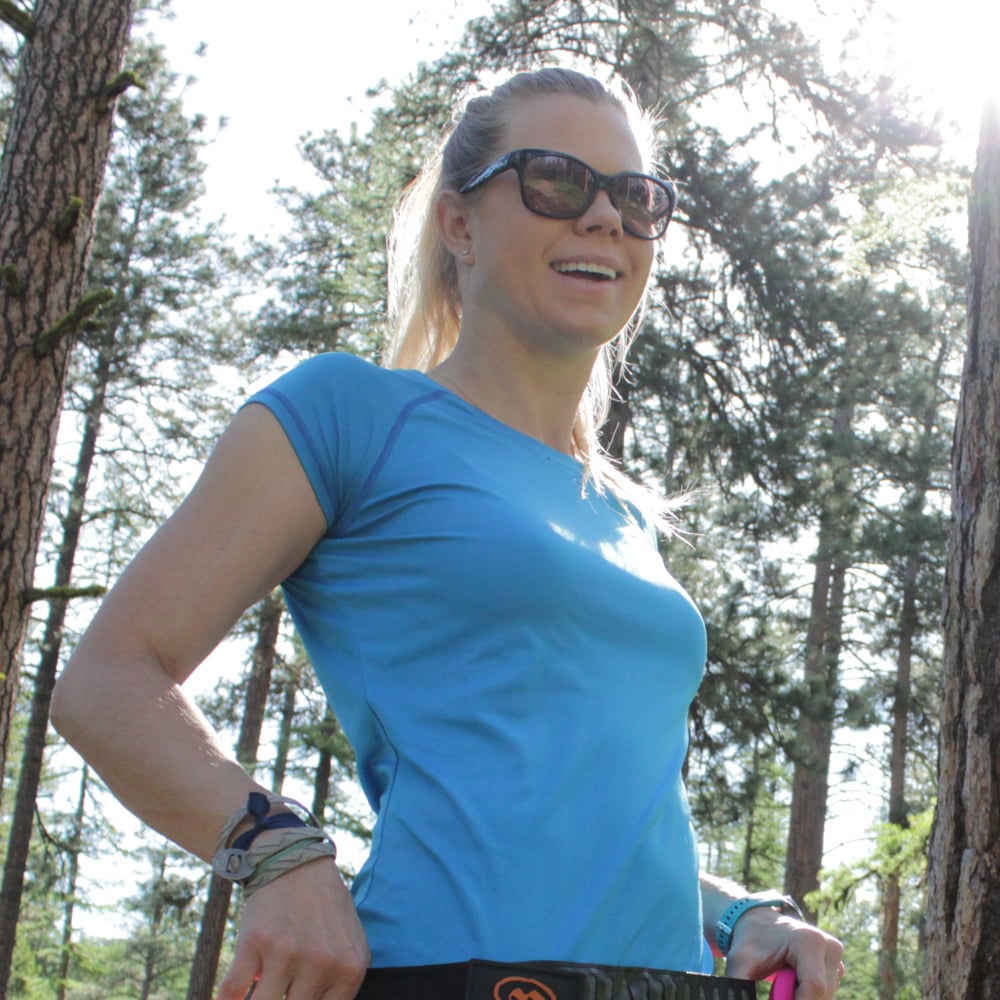 Amberleigh spends her 9-5 working for national conservation organizations in operational risk management, outdoor education, and training. She is an EMT, Outdoor Emergency Care instructor, ski patroller, Leave No Trace master educator, and Mental Health First Aid instructor. Mornings, evenings, and weekends she can be found playing ultimate, fastpacking, ski mountaineering, mountain biking, and training for ultras in the Last Best Place. You can connect with her on Instagram at @LeaveNoTraceMontana.