ProView – RaidLight Women's Responsiv Vest 6L
I started running with a vest last April when I was dumb enough to sign up for my first ultra. I had gotten a vest years before, the last time I decided I was going to pretend to be a runner. It hung lonely in the closet while I used practically every piece of gear besides that running vest. Then I got into skate skiing and realized I couldn't really skate ski with a backpack but I need just one or two layers. I remembered that abandoned vest and started using it weekly for a new sport that it wasn't really intended for. It worked perfectly and I never left home without it, no matter how short the ski.
RaidLight Women's Responsiv Vest 6L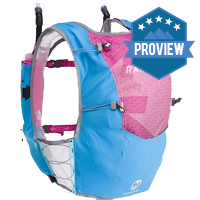 Product Description: The Women's Responsiv 6L is a highly versatile trail running and racing hydration vest. At 6.8 ounces this pack weighs as much as a jacket and carries what you need as you hit the trails. The two lateral micro adjustment ratchets allow you to dial in to your perfect fit on the go. Sip easy with the included 600ml EazyFlasks.
Offer price: $130 MSRP
Quality

Features

Fit

Durability
Summary
I wanted to love this pack but I only liked it. Maybe it was the volume/features of this pack in particular but there was no room for snacks or my phone that were in reaching distance while wearing the pack. It was impossible to get a water bottle in the vest while wearing it. The tiny zip pocket upfront couldn't hold more than a chapstick.
Pros
Cool bottles

Nice fabric

Neat custom fit dials

Fun colors

Front pole holders

Lightweight

Nice for summer running
Cons
Bottles had a horrible plastic taste at first but went away with some baking soda and water

The back panel of this pack makes my shirt more sweaty than other packs

The mesh looks like it will work really well for venting but it didn't

Lack of pockets that close/zip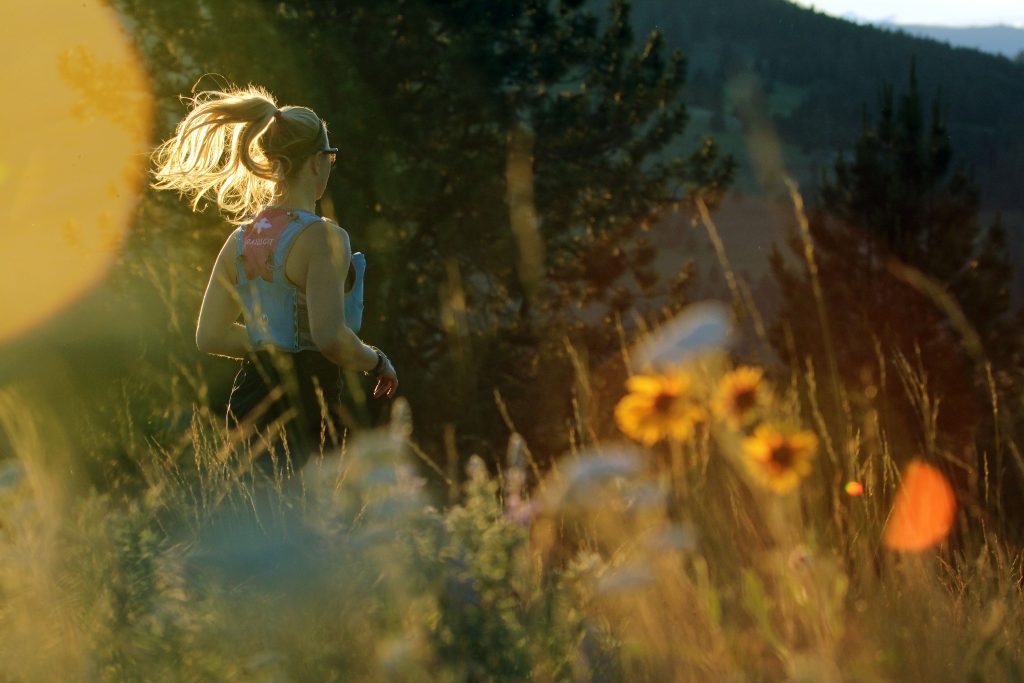 As the weather warmed and I transitioned to running, now I had to figure out how to wear it in the heat, on short runs, long runs, with a crap-ton of water or empty. I needed to make sure the pockets worked perfectly for my snacks, my phone, my InReach, my medical supplies, my layers, and my water. People would laugh at me when I had a vest for my short 3-5 mile runs, even my 5-15 mile runs when all you really need is a granola bar and a handheld, but I was determined to get acclimated to this pack.
Fast forward a bit and I now have four running vests (outdoor gear junkies, amirite) and was excited to add the RaidLight Responsiv 6L to my quiver and put it to the test.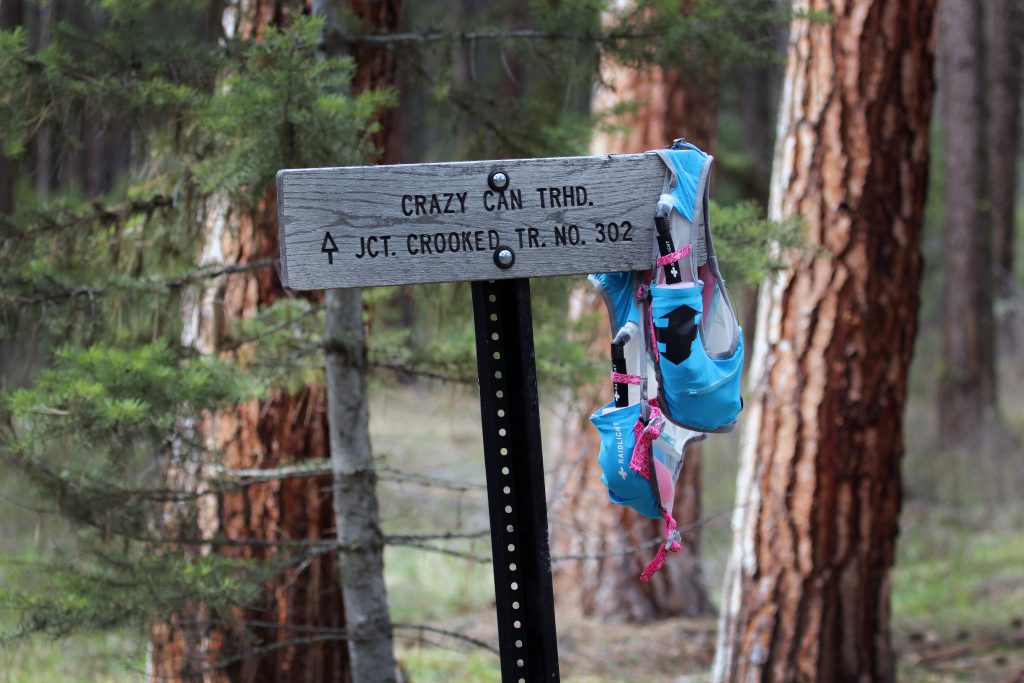 Fit/Comfort
The super cool adjustment dial (technically called the Lateral Micro Adjust System) lets you customize the fit of the vest when you have different layers on or as you fill/empty your water. The spout of the water bottles kind of poked me in the face or stuck out awkwardly- they didn't quite nestle in their "garage" the way I imagined they should when not in use.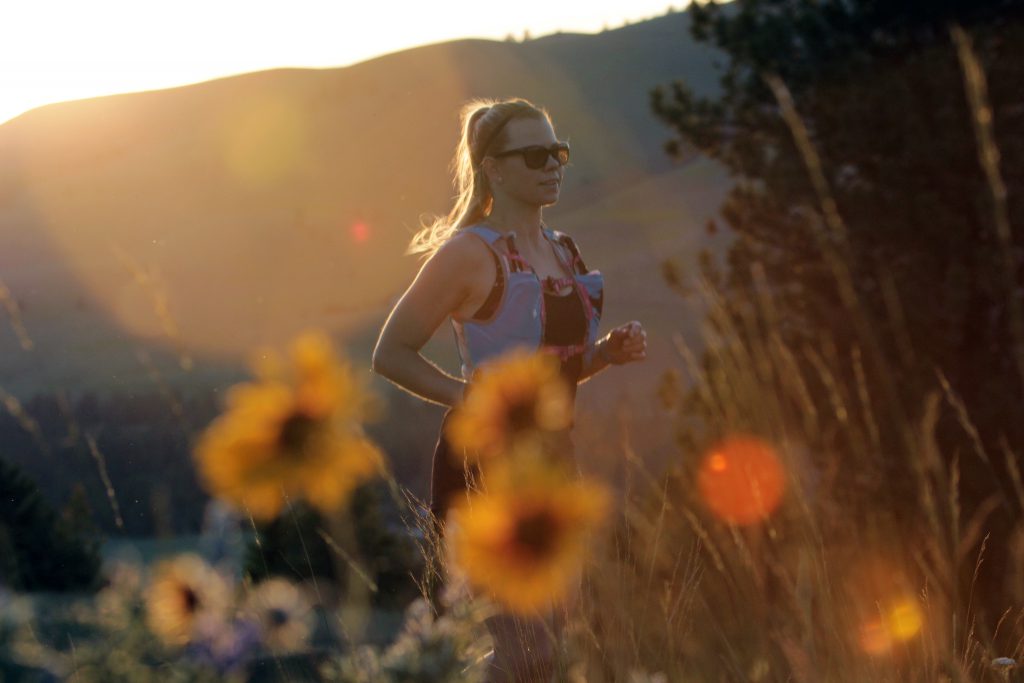 Look/Style
I loved the blue/pink contrast and the general look of this pack. The fabric feels great and stretches nicely.
Features
Lateral Micro Adjust System, EazyFlasks, chest pole and back of pack pole storage, daisy-chain in front to adjust chest strap.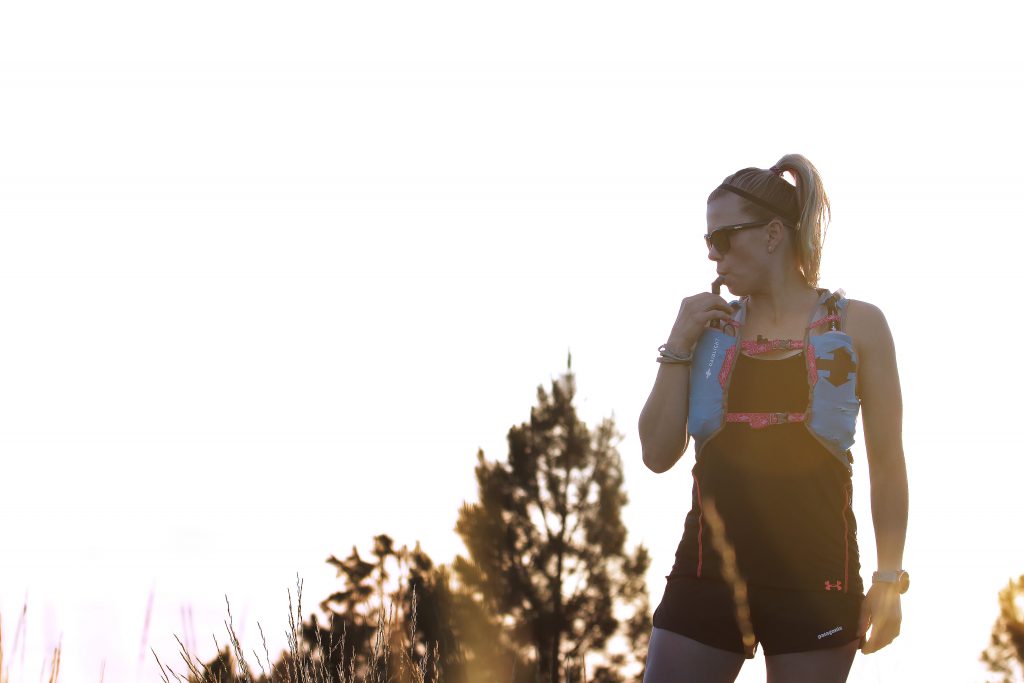 Function/Performance
I was always afraid to put things in the outermost pockets because I thought I might lose them. There is only one zippered pocket that barely fits my iphone and no zip pockets on the back to ensure stuff didn't fall out. Perhaps on the larger volume packs there are more options. I really liked the water bottles that have a pull-to-drink valve on them. The neoprene on the neck of the bottles was a nice touch but unnecessary. The 600ml flasks were perfect for most of my runs.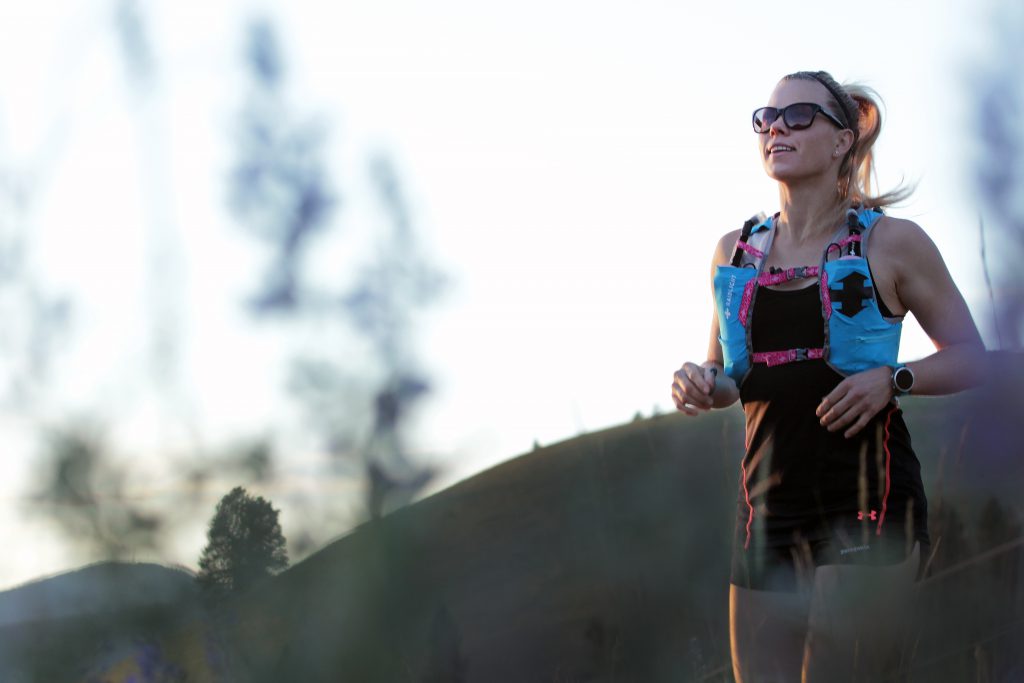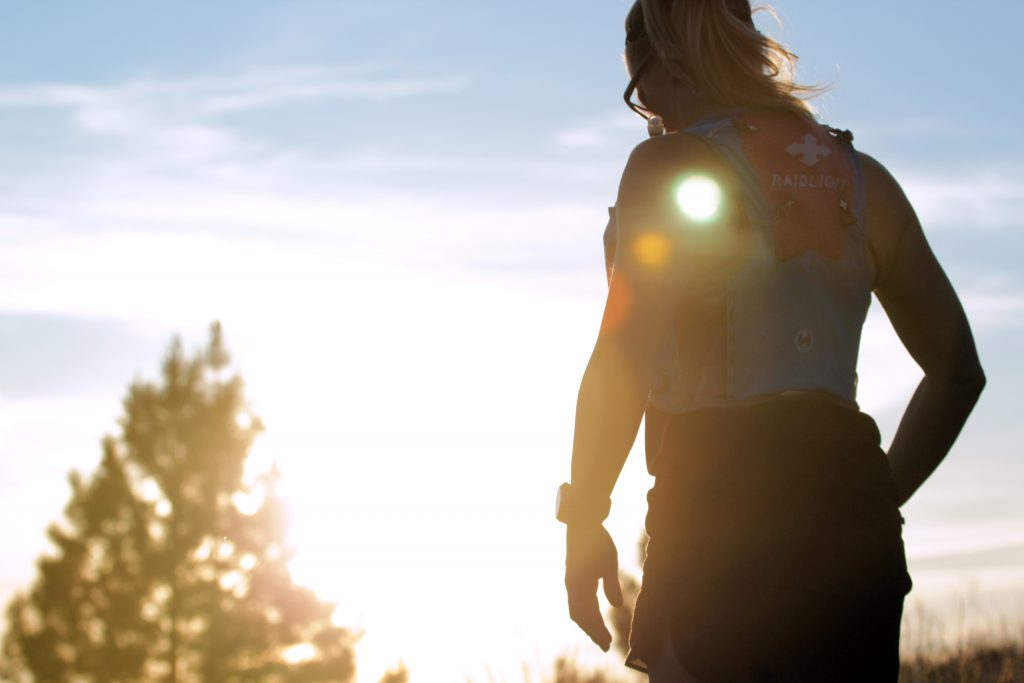 Durability/Construction
The zipper pull on the front pocket disappeared after my first two runs, otherwise the pack seems durable. I wasn't afraid that it might rip or snag even. The adjustment cables are very thin but durable.
Final Word
I really had wanted to try a running vest with the soft EazyFlasks in front as opposed to the camelbak/hydropak type bladder in the back. I liked the flasks but I do prefer the bladder to the sloshy sound and weird fit when the bottles are full and also when they are empty. I found the spouts sticking out are a tad uncomfortable and thought they looked weird. The little "garages" that they are supposed to tuck into didn't really contain them. The lack of snack pockets and a place for my phone on the front of the vest made this irritating to wear for anything but the shortest of runs.
Raidlight is one of the few companies that offer a larger volume running vest for those self-supported ultras or fast packing adventures. I'm still eyeing the 24L pack for skimo training this winter, because, you guessed it… I have another ultra coming up in March.
Shop the RaidLight products on Outdoor Prolink. Not a member? Apply today!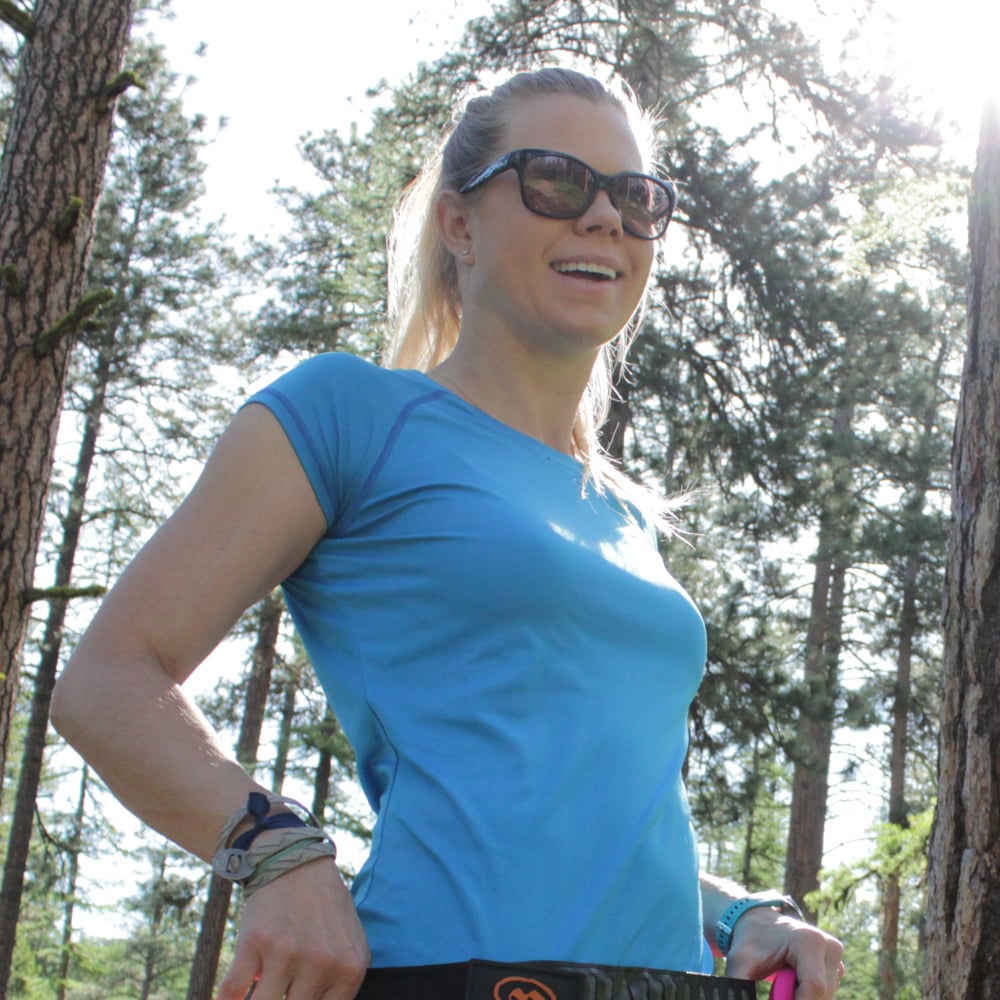 Amberleigh spends her 9-5 working for national conservation organizations in operational risk management, outdoor education, and training. She is an EMT, Outdoor Emergency Care instructor, ski patroller, Leave No Trace master educator, and Mental Health First Aid instructor. Mornings, evenings, and weekends she can be found playing ultimate, fastpacking, ski mountaineering, mountain biking, and training for ultras in the Last Best Place. You can connect with her on Instagram at @LeaveNoTraceMontana.