ProView – SHRED. Notion Noshock Helmet
A helmet is an essential piece of safety gear that you want to forget you are wearing until the moment you put it on. The SHRED. Notion Noshock helmet is exactly that: protective in the event of a collision and comfortable enough to forget about it.
SHRED. Notion Noshock Helmet
Product Description: Are you searching for the sleekest-looking ski and snowboard goggle that features a cylindrical lens, uncompromised fit and comfort, and a field of view unlike anything you've experienced before? If so, the SHRED. Amazify is the clear choice. Its CONTRAST BOOSTING LENS™ (CBL) and NODISTORTION™ technology enhance contrast and image definition while SHRED.wide™ maximizes field of view, enabling you to feel strong, confident, stoked, and in control. The SHRED. Amazify is compatible with prescription glasses (OTG).
Offer price: MSRP: $159.95
Quality

Features

Fit

Durability

Eco-Friendly
Summary
The SHRED. Notion Noshock helmet is a top choice for skiers and boarders who want advanced protection technology, all-day comfort, and all the necessary features of a high-end helmet.  
Pros
Comfort
Innovative protection technology
Glove-friendly features
Cons
Doesn't fit perfectly with all goggles
I wanted more ventilation
Although I typically spend my winter time on skis, it has been fun to go back to square one and learn how to snowboard. However, it has NOT been fun to do a lot of falling again. Regardless, I felt a little better knowing that I had the SHRED. Notion Noshock helmet to protect my head and reduce the impact of a fall. After I (happily) switched out my snowboard for my skis, I skied full days at Arapahoe Basin and in the Summit County Colorado backcountry with no complaints and high remarks about my new helmet. I even took out the ear pads and buckled up the Notion Noshock for a fat bike ride. After a dozen or so days riding in the helmet, I am very pleased with the comfort and functionality in a wide range of conditions.
Fit/Comfort
I usually have a hard time choosing between helmets that are only S/M or M/L because my head size is right in the middle. I was happy to find out that the SHRED. Notion Noshock came in small, medium, and large, so I went for the medium and it fits perfectly. The medium is designed for heads 55cm-59cm, so I also have some adjustment room if I need to wear something underneath the helmet on very cold days.
The helmet is one of the most comfortable helmets I have ever worn. The liner is soft and warm and the ear pads fit snugly. The liner is made out of SHRED.'s XT2 fabric that is antimicrobial and odor resistant. The dial in the back makes it easy to ensure a secure fit and make small adjustments as needed. The retention system sits lower on the back of the head, which cradles the curve of the skull better than other helmets I have worn, and helps the helmet stay put. Weighing in at 17.5 oz (size small), the Notion Noshock is lightweight for a fully featured alpine helmet, which increases comfort and carry-ability for backcountry missions. I have never felt any pressure points, and after full days of use I forget it is on my head – the best sign of a truly comfortable helmet.
Look/Style
The SHRED. Notion No Shock has a similar sleek look to other high-end hybrid shell ski helmets on the market. If you want a helmet with all of SHRED.'s protection technology but a little more steezy look, check out the SHRED.'s Totality Noshock and Slam-Cap Noshock helmets.
Features
SHRED.'s FIDLOCK magnetic buckle on the chinstrap makes buckling and unbuckling easy with bulky gloves on. The buckle easily locks in place magnetically, and slides sideways to unlock.
The helmet has several vents on the top and sides that are controlled using a sliding toggle with 3 positions: open, partly closed, and closed. I did not notice a huge difference in the ventilation or my temperature with the vents open or closed, so I ended up riding with the vents open 95% of the time. If you intend on using this helmet when it is really warm out or like to keep your helmet on while skiing uphill, there are other helmets on the market with much better ventilation worth checking out.
The ear pads and rear part of the liner are removable (see photo above) for warmer weather or higher output activities like spring skiing or even fat-biking.
The goggle retention strap on the back has a large tab that is easy to find with bulky gloves.
Function/Performance
SHRED. helmets have unique and innovative protection technologies that reduce the potential impact on your head and brain. There is plenty to read on their website but I will try to boil it down. The SHRED. Rotational Energy System helps mitigate the effects of rotational forces to your head by letting the helmet liner move inside the helmet (similar to MIPS, but more comfortable). Additionally, the SHRED. Slytech Shock Absorption foam technology helps mitigate the effects of direct forces to your head by dissipating the energy through a honeycomb structure. SHRED. helmets all meet US and European testing standards. There is no doubt that the SHRED. Notion Noshock helmet will help protect your head when you need it the most.
As seen in the photos, the SHRED. Simplify+ goggles fit seamlessly with the Notion Noshock helmet. However, the SHRED. goggles are significantly larger than my Smith I/O and Squad goggles, which fit okay on the forehead but leave a noticeable gap on the sides between the straps and the ear pads.
Eco-Friendly
SHRED. is a member of 1% for the Planet, which means they donate 1% of all their website sales to environmental initiatives, namely, Protect Our Winters. Also, all their packaging is recyclable.
The Final Word
The SHRED. Notion Noshock is a comfortable, fully-featured, innovatively protective helmet for anyone who wants to shred the slopes with confidence.
Shop the SHRED. Notion Noshock Helmet on Outdoor Prolink. Not a member? Apply today!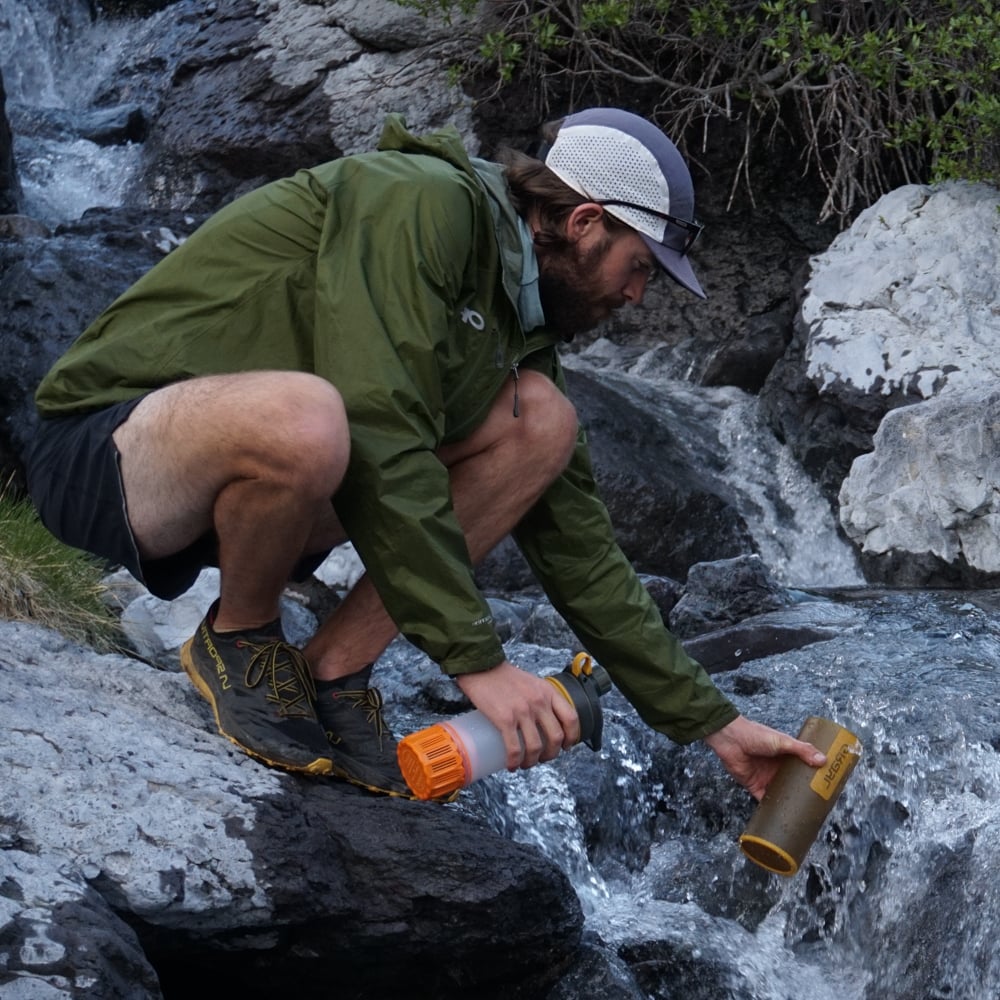 Brent is an outdoor educator who has led trips in Colorado, Wyoming, Alaska, and China, and is currently a Program Coordinator for Keystone Science School in Keystone, Colorado. Brent is a mountain and endurance enthusiast who loves backcountry skiing, mountain biking, and mountain scrambling. When he isn't outside, Brent loves to cook and to sew his own gear.