We Completed the Pacific Crest Trail: Our Tips and Advice
Tim and Vee completed a thru-hike of the Pacific Crest Trail during the summer of 2022. Below is their final thoughts and recollections from the long adventure. See the end of the post for links to the rest of their series!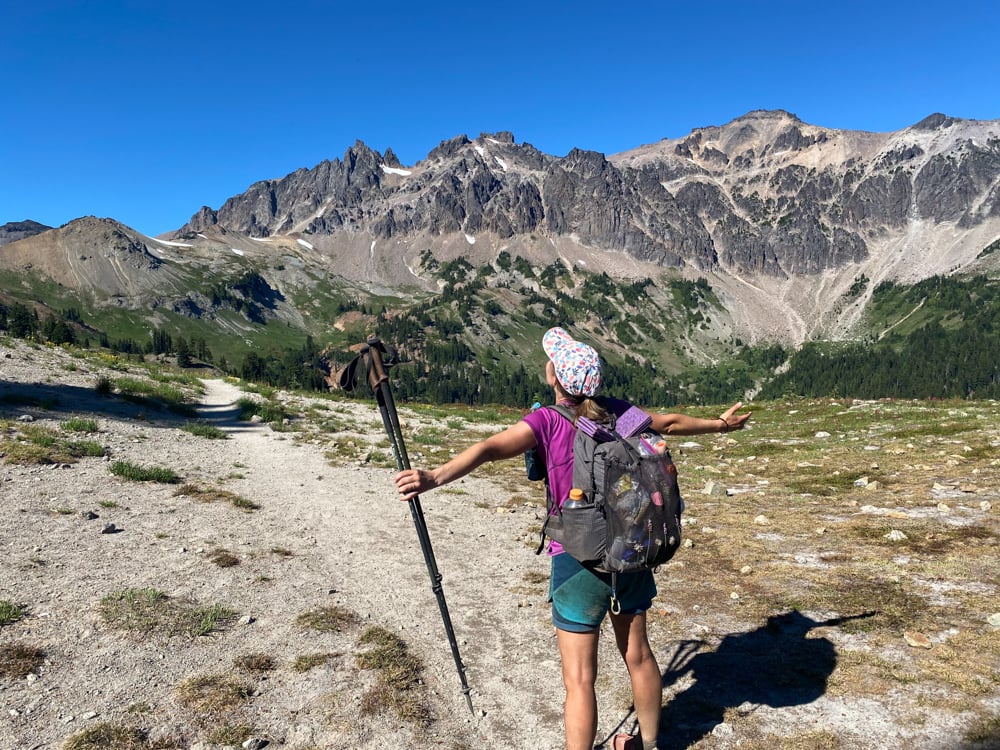 Appetites and Recipes for Disaster
Food cravings on a thru-hike can provide some interesting predicaments and solutions. On one hand, you're constantly racking up the number of calories burned while your hiker hunger grows. On the other hand, after being on the trail for over 2,000 miles, the food that once gave you joy and excitement now brings on feelings of dread. The result for us was an increase in candy and trashy meals that only needed to meet three requirements — easy, palatable, and high in calories. In our search for dependable meals, we found some winners and some losers (ie. peanut butter, spam sandwich). Here are a few hiker-trash-certified meals to get you to Canada:
Would we have done anything differently?
All in all, we are very happy with our thru-hike and considering we successfully made it from the southern terminus at the Mexico border to the northern terminus at the Canadian border, there aren't many large changes we would make. However, if we could hike it all over again there are some slight changes that could have minimized some of our challenges:
Less resupply prep: With only sending 4 of our pre-prepared resupply packages to ourselves along the trail, we were already below the norm. And yet, we still felt like we needed less. This is mostly due to our appetites changing and not desiring much of the food we packed. However, an additional issue was after one month on the trail, Vee changed from cooking meals to cold soaking meals due to some envy in regards to how quick and easy post-meal clean up was for me (just add water and shake). This created an issue for the resupply packages with meals that required hot water.
Even lighter: Despite having a base weight around 7.5 lbs, I still felt that more items could be cut or altered to create a lighter load. This would include dropping items that I didn't get much use out of:
An earlier starting date: While we seriously wouldn't trade our personal experience for any other hike, having an earlier start date would have provided us with more peace of mind. We were just barely staying ahead of trail closing fires all the way from Oregon until the end of the trail. With climate change constantly changing the trail experience, in order to have a safer window to actually hike the entire trail, folks will want to consider aiming for early April or late march to mitigate the risk.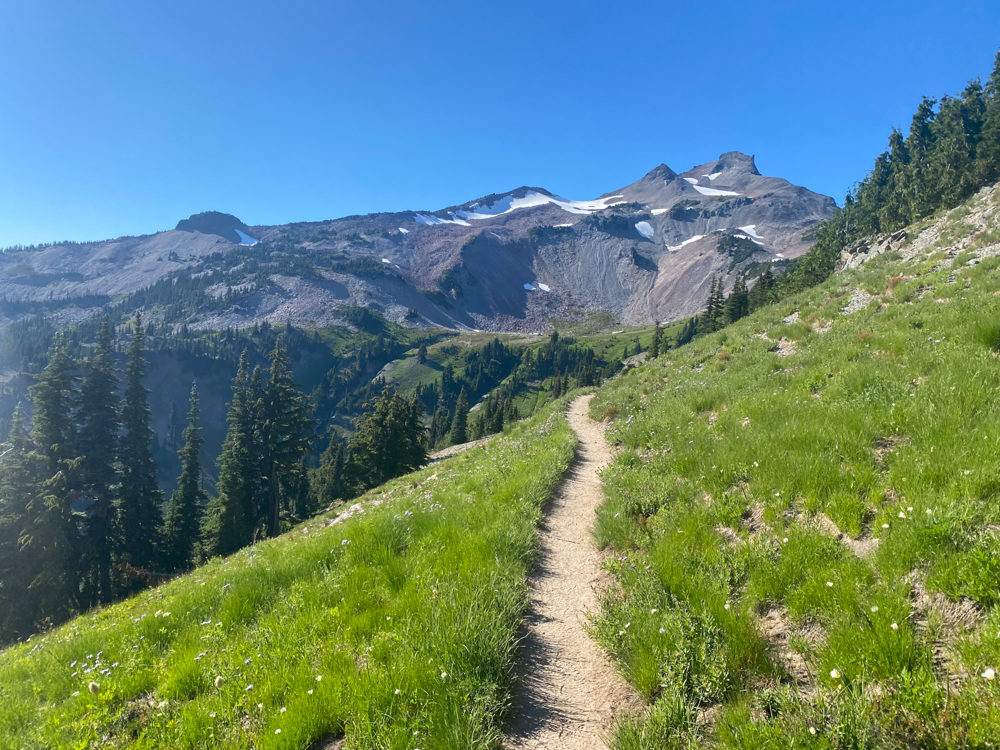 What we learned and our advice
One of the biggest learning experiences for us throughout the entire trail came at its final moments, which were quite climactic. As we neared the Canadian border on our final day, the smoke around us began to grow thicker while distant plumes increased in size. About 11 miles from the terminus, we sat down for a snack at the top of Woody Pass, one of the final northbound passes After 10 minutes of rest, we began to see visible flames coming over a nearby ridge. Two park rangers made their way up to us to get a better view of the developing fire and informed us that if we wanted to reach the northern terminus that now was the time to hustle there and back before they likely had to shut down the trail. Sure enough, upon our arrival at the terminus, messages came into hikers' satellite devices from friends and family informing us that the trail was closed which also made our southbound return questionable. A group of hikers that had doubled back to the terminus then confirmed our fears, that the fire was growing at a rate that made it unsafe to exit the trail south. Thankfully, a BC Wildfire Helicopter Pilot soon landed nearby and gave us permission to exit through Canada, regardless of passports/ID. We had then just become the last hikers to actually touch the official monument marking the northern terminus of the Pacific Crest Trail.
It was during and after these moments that we and many other hikers had to utilize one of the most important attributes that one can have on trail, versatility. There is no way that you can predict just what will be thrown at you, and how you react will determine your experience. Despite the trail around the northern terminus closing, hikers persevered and made the absolute best out of the situation; creating a monument at trail closure, hiking an alternative route to a different part of the border, hiking more miles on another trail, and being satisfied with miles they accomplished. So, if we can impart one piece of advice for a future hiker, it would be to keep in mind that thru-hiking isn't just about starting at point A and ending at point B, it always has been, and always will be about the journey.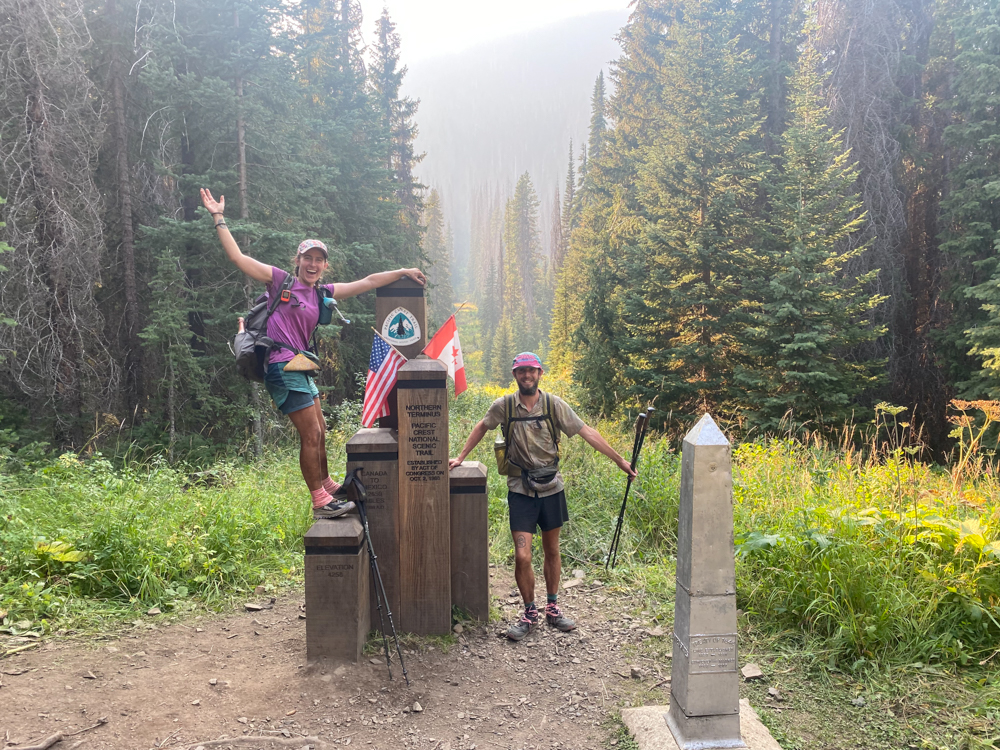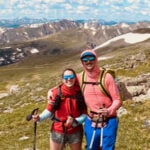 Tim is thru-hiking the Pacific Crest Trail with his wife Vee. When he's not hiking, he's likely eating or sleeping, but off the trail you can find him running through the mountains, backcountry skiing or spectacularly failing at disc golf.