ProView – Deuter Freerider Lite 20
There's a lot of gear out there that's pretty good at a bunch of things, but really not awesome at any of them in particular. The leatherman tool approach; it'll do, but given the option, I'd grab a dedicated singular tool first when presented with a specific chore.
Deuter Freerider Lite 20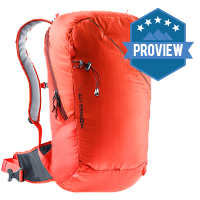 Product Description: If you spend your winters in the mountains – skinning and skiing – then the ultra-lightweight Deuter Freerider Lite touring pack is just what you're looking for. Featuring our Lite carry system and made from a new fabric that's hard wearing, breathable and snow resistant, the Freerider Lite is extremely comfortable to carry. Sweaty, wet equipment and clothing can be stashed in the front pocket, leaving contents in the main compartment dry. We've also equipped it with our new modular attachment set-up. You can strap your skis, snowboard or snowshoes onto the outside of the pack using two dedicated stowable straps attached to the gear loops on the pack: skis diagonally, snowboards and snowshoes in an upright position. And with the weight of this pack pared down to a minimum, you'll make light work of the ascent.
Offer price: $130 MSRP
Quality

Features

Durability

Fit

Eco-Friendly
Summary
This fast and light pack is engineered for a specific kind of person.  And if it turns out you're the kind of person Deuter was building this pack for, it will likely become your new favorite.  
Pros
Comfortable, ergonomic, and close to body fit
Intuitive layout with a very efficient design
Material is very lightweight
Cons
No built-in helmet storage system
Diagonal ski carry only, sorry A-Framers!
So what do leatherman tools have to do with the Deuter Freerider 20? Not much. That's the thing, this pack is a specialist, not a generalist. It's that singular tool that you'd go for if the correct situation presented itself. Which begs the question; what's the scenario that this pack, this singular tool, is built for?
I'd argue this pack is built for three types of skiers.
The sidecountry/slackcountry ninja who relies on lifts to do the uphill work, quickly escaping through a gate to the riches that lay beyond with no need to store a helmet since they're busy getting rad the whole time.
The mountain professional that requires a pack with avalanche tool storage in a no-nonsense, super-efficient design. These skiers also don't need to store a helmet, since, again, they're wearing theirs most of the time.
The BC skier that skis without a helmet. Tisk, tisk.
Features
I mentioned helmets three times just now. More specifically I mentioned helmet storage. Cause this pack doesn't have any. And at first, it pissed me off. I was like, "who builds a ski pack without integrated helmet storage these days?" It just seems like an automatic inclusion in the design process. But, once I was done being pissed off, I transitioned my energy towards pondering who Deuter was aiming for with this pack. Because it's got a ton of good things going for it…and just that one nagging other thing.
This pack is incredibly lightweight. It fits like a glove thanks to Deuter's attention to detail and a highly adjustable set of shoulder, waist, and sternum straps. Its design is intuitive; it's the kind of pack that simply disappears on your back after the first 10 minutes on the skin track. The zippers are right where you need them to be and they're easy to use. The second storage zone intended for a sweaty base layer is an awesome addition, and I immediately saw it being really helpful for storing skins. It has well-placed avalanche gear storage and at 20 liters, it's just big enough to fit everything you need for a day's outing but super efficient in it's volume distribution. If I were one of the three types of people listed above, I'd buy one in a heartbeat. This pack's a specialist. And it does what it's intended to do really well.
In terms of features, the Freerider 20 ticks a lot of boxes. Cozy top mounted goggle pocket, check. Ice axe carry system, check. Internal personal items pocket in a super convenient spot, check. Diagonal ski and vertical snowboard carry, check. Hydration bladder compatible, check.
A quick word on the ski carry system. It employs two straps that are independent of the pack itself. When not in use, the straps detach from their anchor points and store wherever you want them to. In the pack presumably, but this aspect of the pack did make me curious how long it would take me to lose one or both of them.
Back to helmets for a second; in Deuter's defense, they sell a separate helmet sling that hooks to loops that are built into the backpack. The same loops that the ski/snowboard carry system uses. I'm sure it's really easy to use. But it's not integrated, does not have a dedicated storage sleeve, and isn't part of the OEM build, so this review assumes that it wasn't just an oversight…it was an intentional move.
But remember, we're not talking about a leatherman tool here, a generalist if you will. We're talking about a specialist. And if you'll remember, those tools tend to be better suited for the purpose that they're built for.
Environmental Friendliness
Deuter deserves praise for incorporating an eco-friendly PCF free DWR treatment on the exterior of their packs. Two thumbs up from this reviewer.
The Final Word
Bottom line…this is a fast and light pack. What it lacks in applicability in a multitude of settings is made up for in its precise and worthy accomplishments for its target audience.
If I were looking for a patrol pack, this one would be near the top of my list.
If I were a sidecountry slayer I'd give this pack a serious look.
And lastly, if I were just a plain old BC skier that chooses not to wear a helmet, I'd buy this pack.
Shop the Deuter Freerider Lite 20 on Outdoor Prolink. Not a member? Apply today!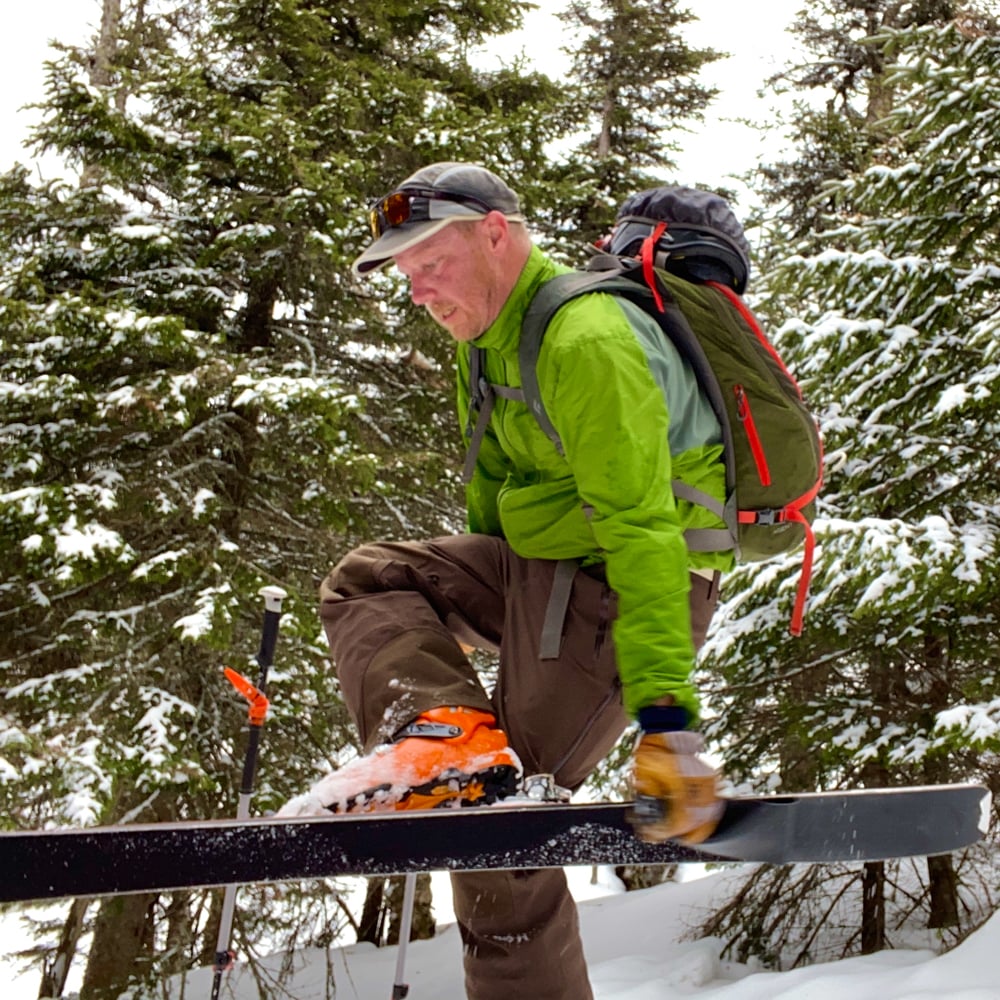 Quinn Keating calls the Green Mountains of Northern Vermont home and spends over 250 days a year on his skis and mountain bike.  Having worked various jobs in the ski industry starting back in 2001 doing everything from selling bagels at the base of the tram in Jackson to directing the ski patrol at his local hill in Vermont, he's seen his share of trends come and go.  He now balances his outdoor pursuits with a career as a middle school teacher, father, and husband and is stoked to be sharing his passions with his daughter and students.  Like any self-respecting Vermonter, he likes maple syrup and IPA's.