ProView – Julbo Edge Sunglasses Review
Vermont is home to some incredible forests. And being a mountain biker here means riding in highly variable light conditions which in turn means sunglasses are often either too dark, too light, or simply more of a hindrance than an aid.
The Julbo Edge says otherwise.
Julbo Edge Sunglasses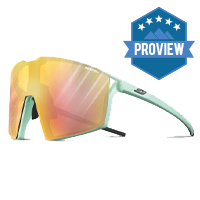 Product Name: Julbo Edge Sunglasses
Product Description: Uncompromising sunglasses that are as serious about their performance as you are. Specifically designed with two-wheeled exploits in mind, the Julbo EDGE is stacked in highend features. With a light and streamlined frame design EDGE ensures maximized field of vision and panoramic views. Our exclusive MagneFix technology ensures quick and easy lens change if your session gets muddier than planned. Vented lenses help you keep a cool head and the slightly curved and enveloping frame will make sure your shades stay put, even at warp speed.
Offer price: MSRP: $185.00 - $290.00
Quality

Features

Fit

Durability

Helmet Compatibility
Summary
The Julbo Edge sunglasses are a top shelf, well thought out, and incredibly effective sunglass offering. The Reactiv photochromic lenses offer a tint that's "always right" and the fit is near flawless.
Pros
Super lightweight
Superb optics
Cycling specific lens shape

 

Outstanding venting / fog mitigation
Cons
Oblique angled sun and/or visors can cause streaking in tint
May not fit smaller helmets
Expensive
The Lens
Central to Julbo's latest offering are its Reactiv High Contrast lenses. I tested the 1-3 lenses which modulate fluidly between 13% and 72% light transmission; they're essentially clear in low light settings and darken to a nice rich tint when exposed to maximum UV light. And unlike counting clicks on your suspension's compression settings, there's zero indication of a stepped transition between light and dark. Put simply, they're always the right tint, doing their work quietly and undetectably, leaving the wearer free to ride their bike and worry about more important things…like staying on the trail.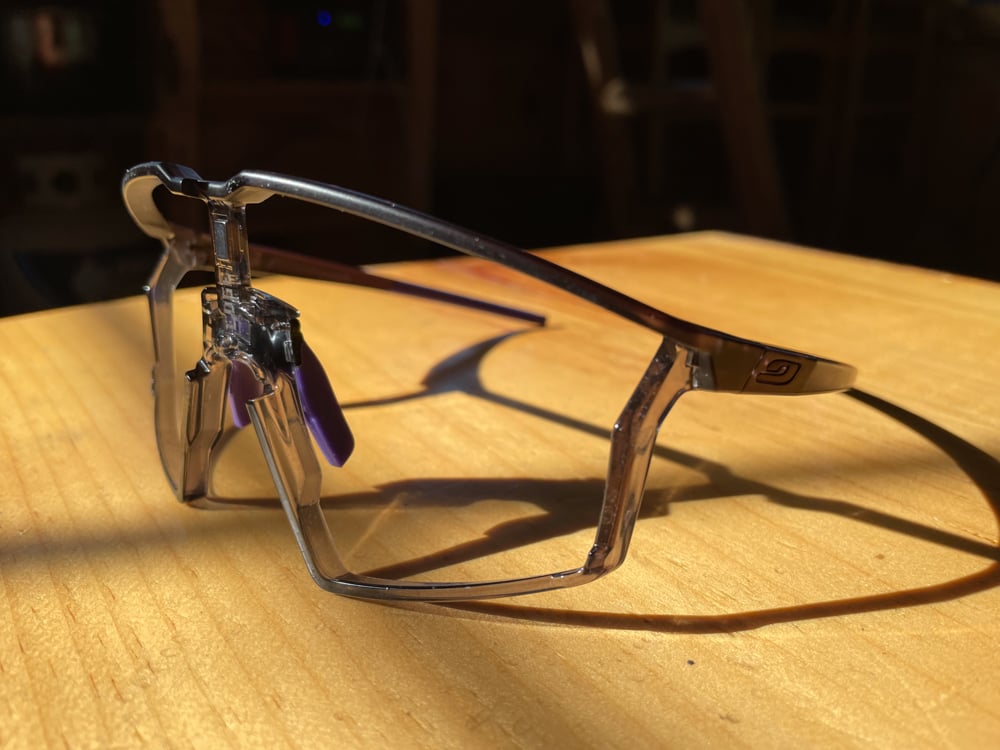 The Julbo Edge lens extends the viewing window down lower than their previous offerings, providing a much larger pan with your eye before seeing the frame.
They're like a large format TV, they offer an immersive viewing experience.  The clear lens is a great addition and feels like a nice value added move from Julbo.
The MagneFix interface allows for simple and super efficient lens swaps. Though to be honest, the aspect of the removable lens I've most appreciated so far is how easy they are to clean. Simply pop them out, run under some water, and wipe. 
Unfortunately, the MagneFix interface proved to be problematic as both sides of the system came unattached from the frame and lens rendering them dead in the water after three months of regular use. Because of the failure the frames couldn't accept another lens, so even the clear lens couldn't be used. The issue, specifically, was that both sides of the interface were fastened in place with a thin strip of double stick tape. It's good stuff and very neatly installed, but I think a couple thousands of miles of sweat may have done it in.
To their credit, Julbo was outstanding about quickly getting me a fresh pair. We'll see if the second set holds up better.
Frame and Fit
The Edge's frame is impossibly lightweight. The fit is near perfect for my very average shaped face and with the adjustable ear and nose pieces, customization is a cinch. The fog mitigation is superb with abundant venting around the entire lens and the optics are simply unreal. They're durable and stay put even through the roughest terrain.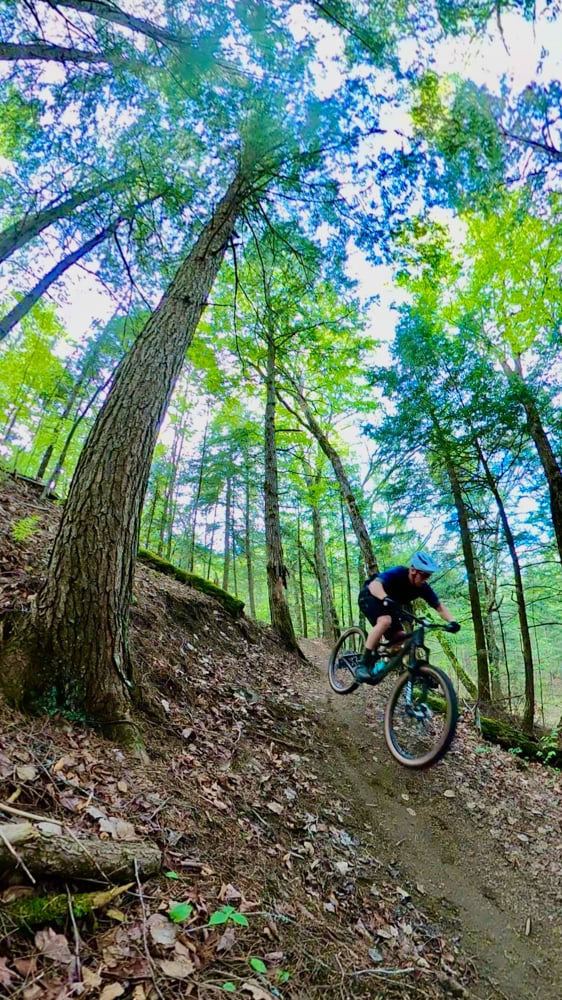 With their straight earpieces, the Edge's mounted on my helmet neatly and securely.
The Edge glasses integrated just fine with my medium helmet and face, but if your face and helmet size are smaller than average, I'd recommend trying a set on with your own helmet first before plunking down for a set.
Venting
Julbo's internal anti-fog and external oil-repellent coatings do what they should and do it well. The venting is incredibly effective due to the fact that the lens rests almost completely independently of the frame, making contact only at the MagneFix interface and at a few small rests in the lower corners. This means that air is able to easily circulate in and around the entire perimeter of the lens at all times.
Based on the internal coating and the air gaps at the bottom of the lenses, sweat drops tend to streak downwards and essentially disappear after a few minutes.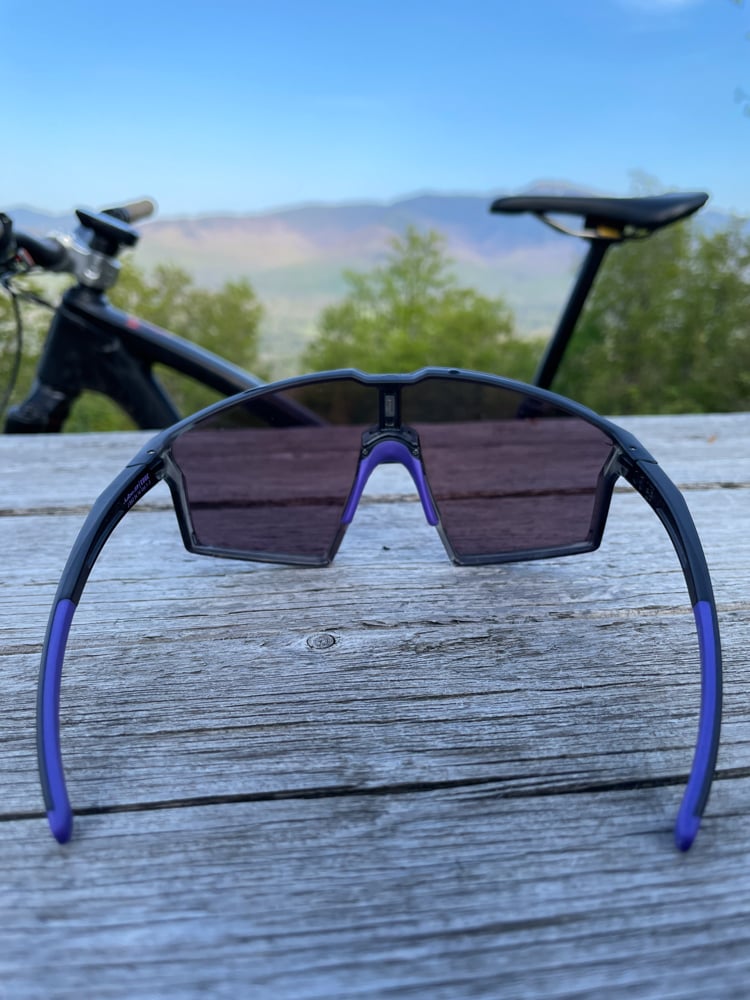 Also…
The Edge's ship with a bomber case that stores the second lens as well. It's pretty bulky and certainly isn't going to fit into your hip pack while riding, but in terms of safe and secure storage, Julbo's case is essentially a vault.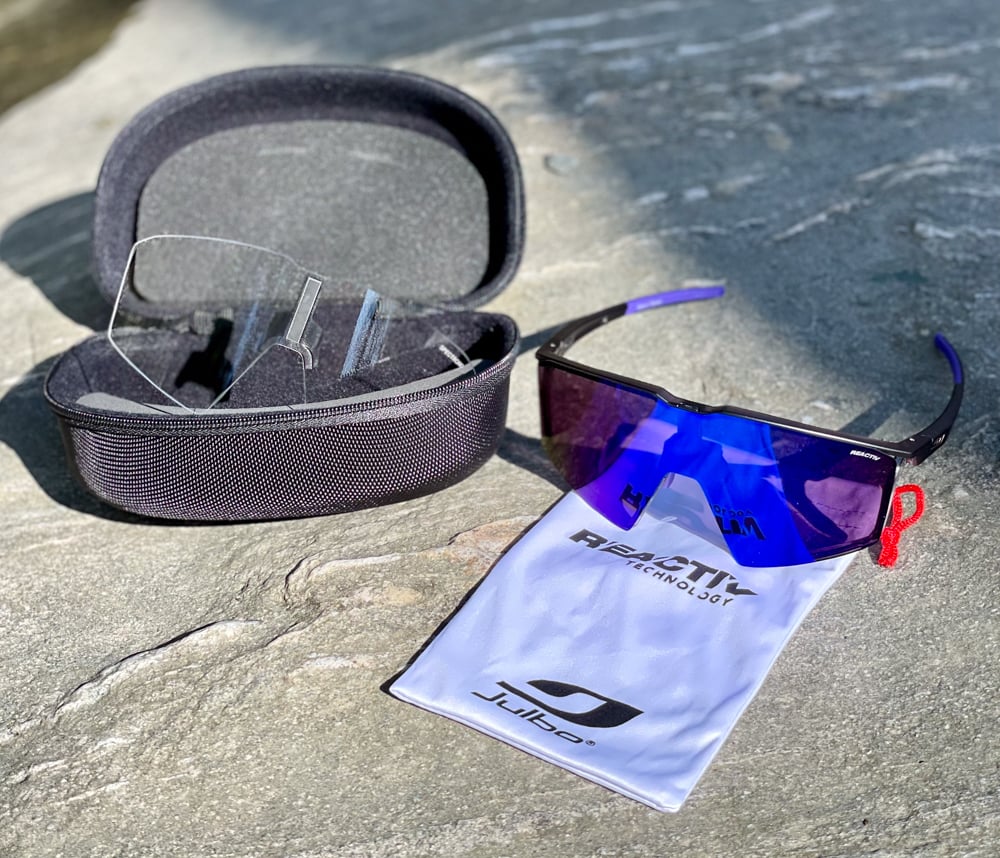 Room for Improvement
If I had to pinpoint one gripe it would have to do with how visors and very low angle sun can affect the Reactiv lenses, causing them to darken at inconsistent rates from side to side, usually showing up as streaks. I found this interesting but not disruptive.
The Final Word
Julbo's Reactiv photochromic tech is thoroughly impressive providing the "just right" light level 100% of the time. They're crazy lightweight, fit like a charm, and integrate seamlessly with helmets. The hiccup with the MagneFix interface is hopefully just my bad luck, though as is true with any first generation product, it's worth keeping an eye on.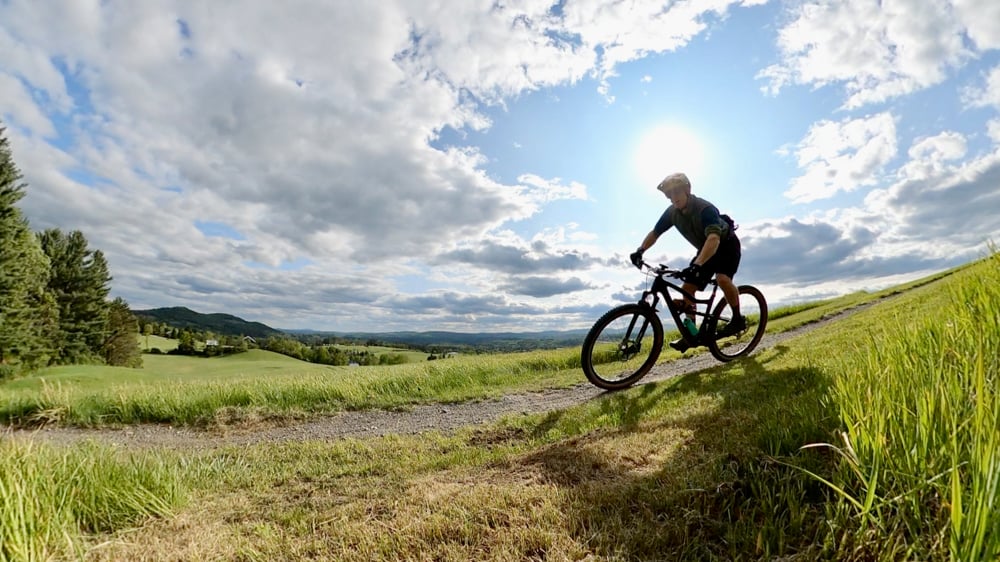 ---
Shop the Julbo Edge Sunglasses on Outdoor Prolink. Not a member? Apply today!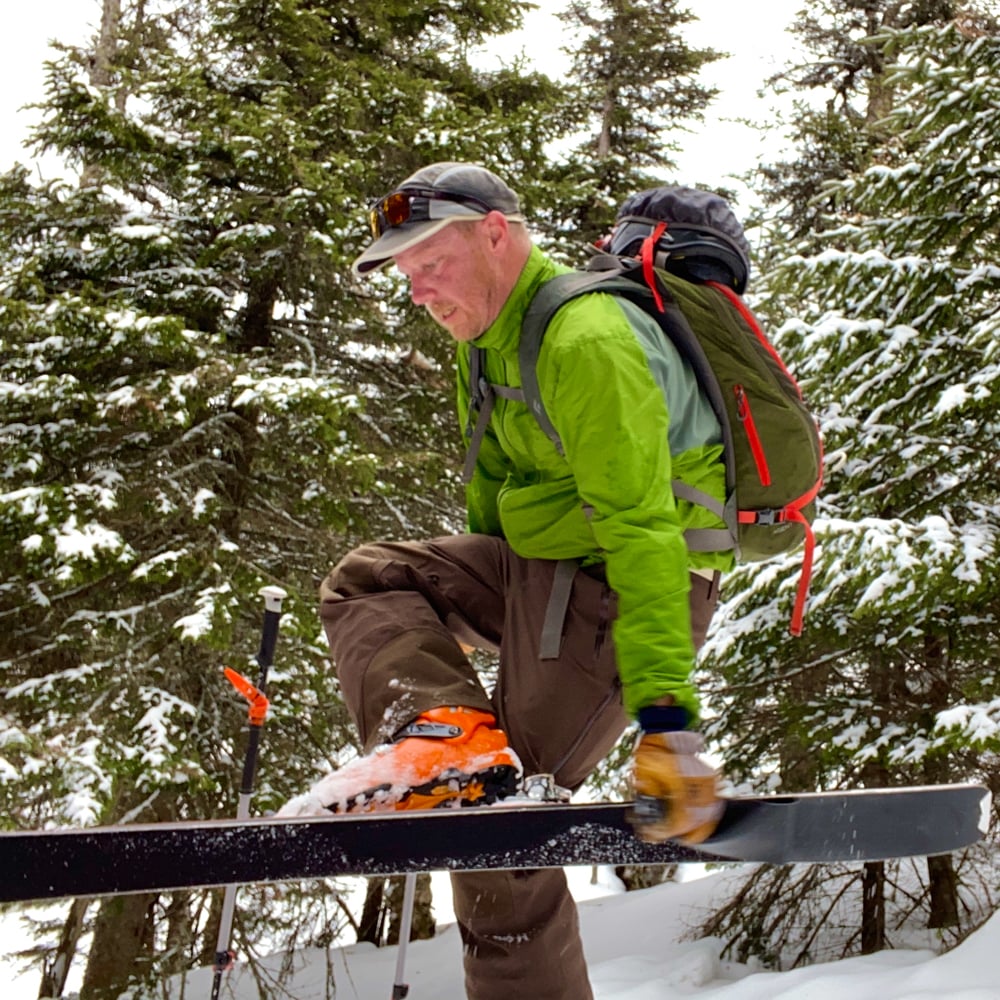 Quinn Keating calls the Green Mountains of Northern Vermont home and spends over 250 days a year on his skis and mountain bike.  Having worked various jobs in the ski industry starting back in 2001 doing everything from selling bagels at the base of the tram in Jackson to directing the ski patrol at his local hill in Vermont, he's seen his share of trends come and go.  He now balances his outdoor pursuits with a career as a middle school teacher, father, and husband and is stoked to be sharing his passions with his daughter and students.  Like any self-respecting Vermonter, he likes maple syrup and IPA's.