ProView – GOREWEAR Drive Jacket + Fernflow Pants
It's like GOREWEAR was reading my mind as I tried, yet again, to solve the shoulder season layering puzzle this spring. You know what I mean? It's not cold enough to justify your winter kit and it's definitely not warm enough for your shorts and jersey. And so the choice often becomes the lesser of two evils; get hot or be cold. I've made that call countless times simply because I've lacked gear that's truly aimed at solving this annual in-between seasons issue. And then GOREWEAR came along with the Fernflow pant and Drive jacket and said, "hold my beer".
Drive Jacket + Fernflow Pants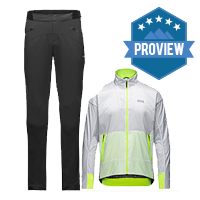 Product Name: Drive Jacket + Fernflow Pants
Product Description: Drive Jacket -- An innovative and incredibly lightweight jacket styled with advanced wind protection and insulation. Fernflow Pants -- Lightweight, very breathable, and robust pants to serve all your trail riding needs in cool to cold weather.
Offer price: $220/$170 MSRP
Quality

Features

Fit

Durability

Eco-Friendly
Summary
GORE has crushed it with these two shoulder season staples. The Drive jacket is a clever mashup of your favorite vest and ultralight wind shell and the Fernflow pants offer a technical, great fitting solution for those less than ideal days in the saddle. And while the Fernflow pants are designated as a cycling piece and the Drive jacket is designated as a running piece, neither should be considered strictly limited to those uses as they're both super versatile.  
Pros
Jacket – Incredibly light and packable
Jacket – Smart and effective blend of warmth and wind protection
Jacket – Great athletic fit

 

Pants – Excellent cycling specific fit
Pants – Zippers at heel help with fitting over shoe covers
Pants – Surprisingly durable given their weight
Cons
Jacket – The main zipper is setup opposite from what you're likely used to
Pants – Waist runs a bit high but well within reason for cycling pants
I live in Vermont. Our weather is often fickle, unpredictable, and most definitely not too tightly tied to what the calendar says it should be. And like anywhere else that has true winter and summer seasons, we also enjoy the in-betweens. Think mid-October through early December and late March through mid-May. And by the time you've done the math, you're looking at about 25% of the calendar year that's hard to plan for in terms of layering.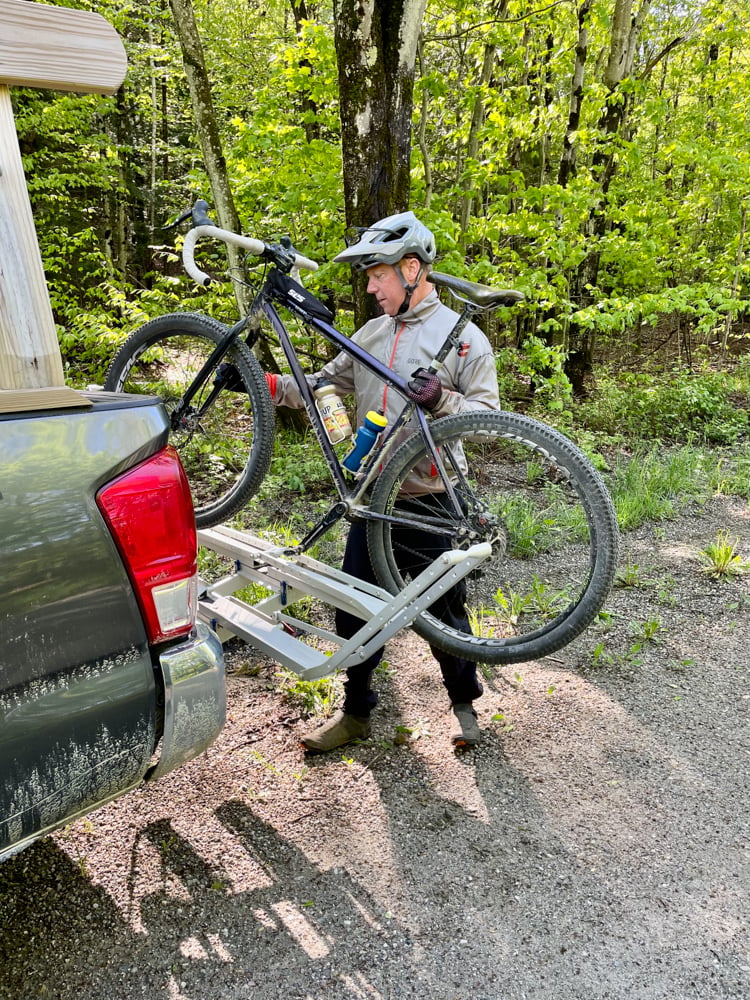 It's in these tricky times that the GOREWEAR Drive jacket and Fernflow pant shine. Both pieces make use of Gore's Infinium fabric, which, as far as fabrics go, is nothing short of a remarkable step ahead for the outdoor garment industry. About as lightweight as any fabric I've ever worn with a performance value that's off the charts.
The Drive jacket is a truly innovative approach to a minimalist wind shell with an ingenious layer of super thin Polartec Alpha insulation tucked in around the chest and back. The sleeves are left uninsulated but well protected from the wind thanks to GOREWEAR's Infinium fabric. Picture a performance mashup of your favorite lightweight vest and favorite ultra-light windshell.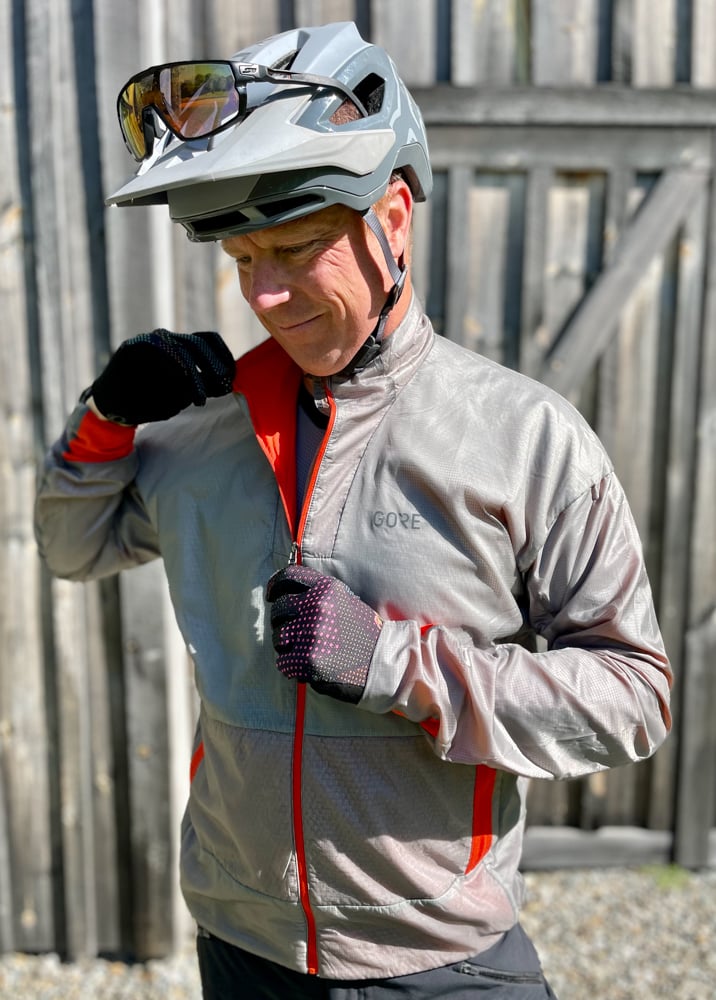 The Ferflow pants have GOREWEAR's Infinium fabric as well, but without the insulation. They feature a well thought out cycling forward fit with tapered legs, gusseted crotch, and a cut that simply comes alive when in the saddle. These pants are super comfortable.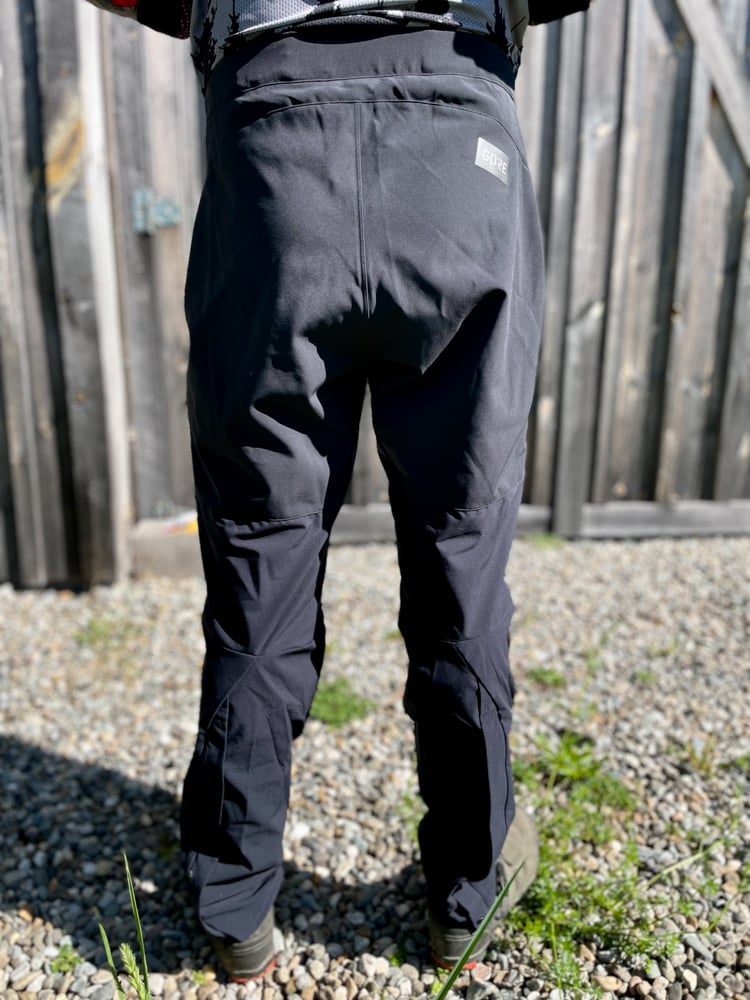 It should be stated that both the Fernflow pants and Drive jacket are marketed to unique groups: the Fernflow's are aimed at cyclists and the Drive jacket is aimed at runners. And while both pieces excel in their intended market sectors, I'd offer that both are far more versatile and shouldn't be considered one trick ponies. I'm wearing the Drive jacket on a daily basis at this point, to and from work, around town, etc just because it's so damn comfortable. I've had the pants out hiking several times and can easily see them being a great XC ski pant next winter for those more aerobic sessions.
But enough of me waxing poetic, you're here for the details, so here you go…
GOREWEAR Drive Jacket
GOREWEAR Drive Jacket Fit
The Drive jacket has a slim fit but not skin tight by any means. Obviously intended to be worn over a base layer, I found its cut to allow for unrestricted freedom of movement in a variety of situations. The Infinium fabric is incredibly lightweight and moves effortlessly with your body. I really enjoyed the elastic details at the cuffs and neck.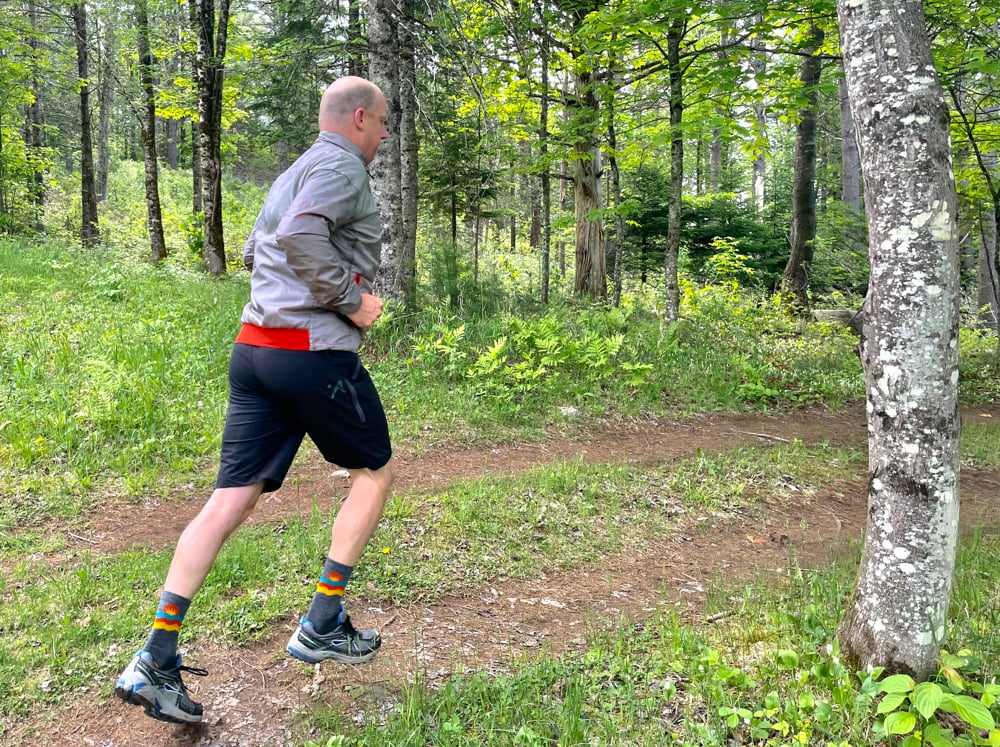 GOREWEAR Drive Jacket Style
While the semi-transparent shell fabric might not be for everyone, it does give the jacket a very unique look. Aside from that, it's styled on par with other shells in this category.
GOREWEAR Drive Jacket Features
Highlights of the Drive jacket include the ingenious insulation layer included around the chest and back, the ultra comfortable elastic details at the cuffs and neck, and its overall minimalist weight. That said, GOREWEAR chose to place the zipper mechanism on the left side of the chest, a departure from the industry standard which, pretty much forever, has placed the zipper mechanism on the right side. It's really neither here nor there, but why? I found myself actually having to stop and think about zipping up my jacket since my hands naturally went to where they always do, except in this case, they were in the wrong spots.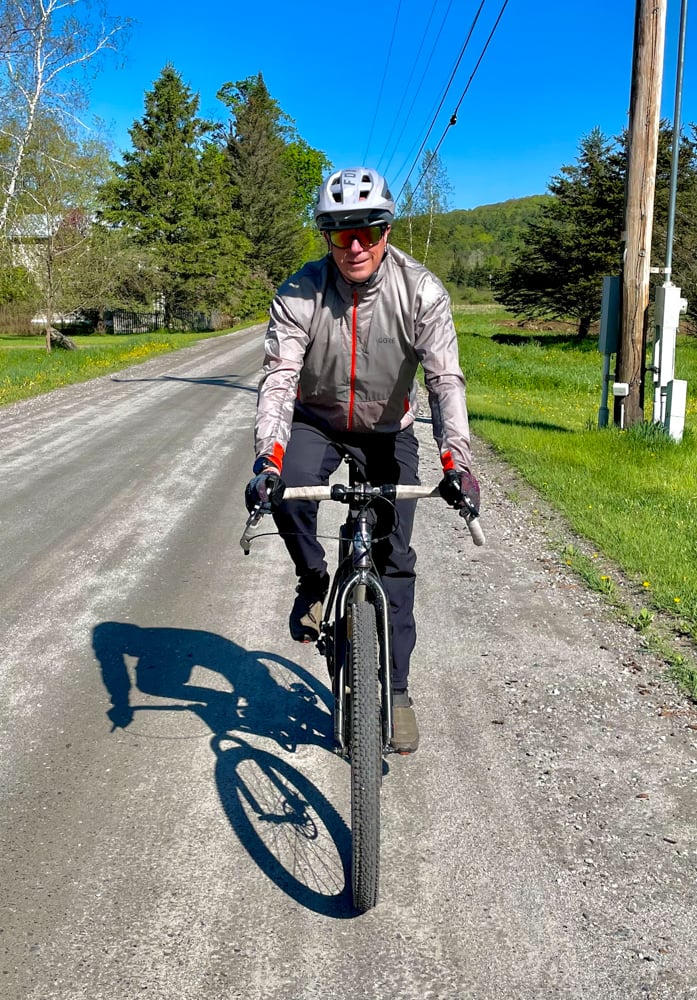 GOREWEAR Drive Jacket Weight/Packability
The Drive jacket scores highly in this department as it packs, literally, into a coffee mug. And although GOREWEAR didn't design the pockets to do so, the jacket can easily be stuffed into one of them too. A simple reversible zipper would complete this feature… you listening GOREWEAR?
GOREWEAR Drive Jacket Durability
If I'm being honest, jackets of this weight make me nervous. They're SO light, and SO thin that even a minor catch on a twig could spell disaster. But, to the Drive's credit, I've not had any issues with it thus far. Just keep in mind that this is definitely not your 3 layer winter shell.
What sets it apart?
The Drive Jacket filled a hole in my shoulder season apparel cache. By combining the benefits of the warmth of a minimalist vest and a long sleeved ultra light windshell, GOREWEAR has struck gold with this one. It's definitely a one of a kind garment that's well worth a look.
Who is it for?
This jacket is for everyone. And I really don't say that often. Runners, hikes, cyclists, climbers, skiers, you name it. I challenge you to not love this jacket!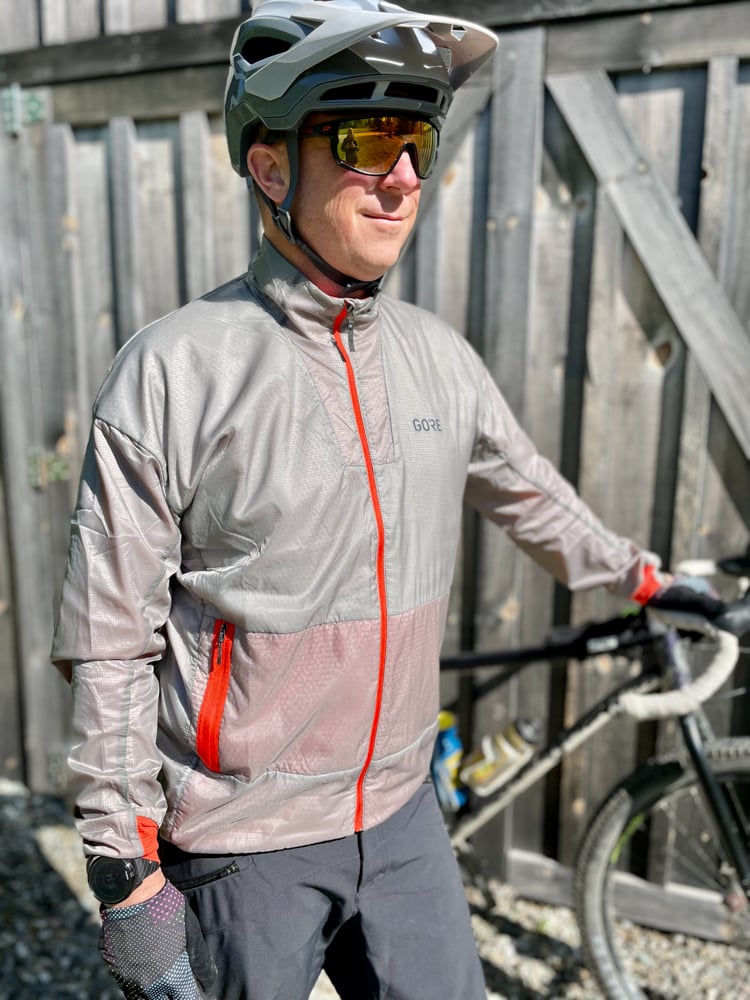 Fernflow Pants
Fernflow Pants Fit
The Fernflow pants are cycling specific pants and fit accordingly. No shockers here, which was a good thing. The legs are tapered to keep them out of trouble at your crankset. The waist runs a bit taller around the back, also a good thing, as they provide just that little bit of extra protection from the elements when in riding position. The overall cut of the pants is in line with the best cycling pants I've worn and really spring to life while pedaling.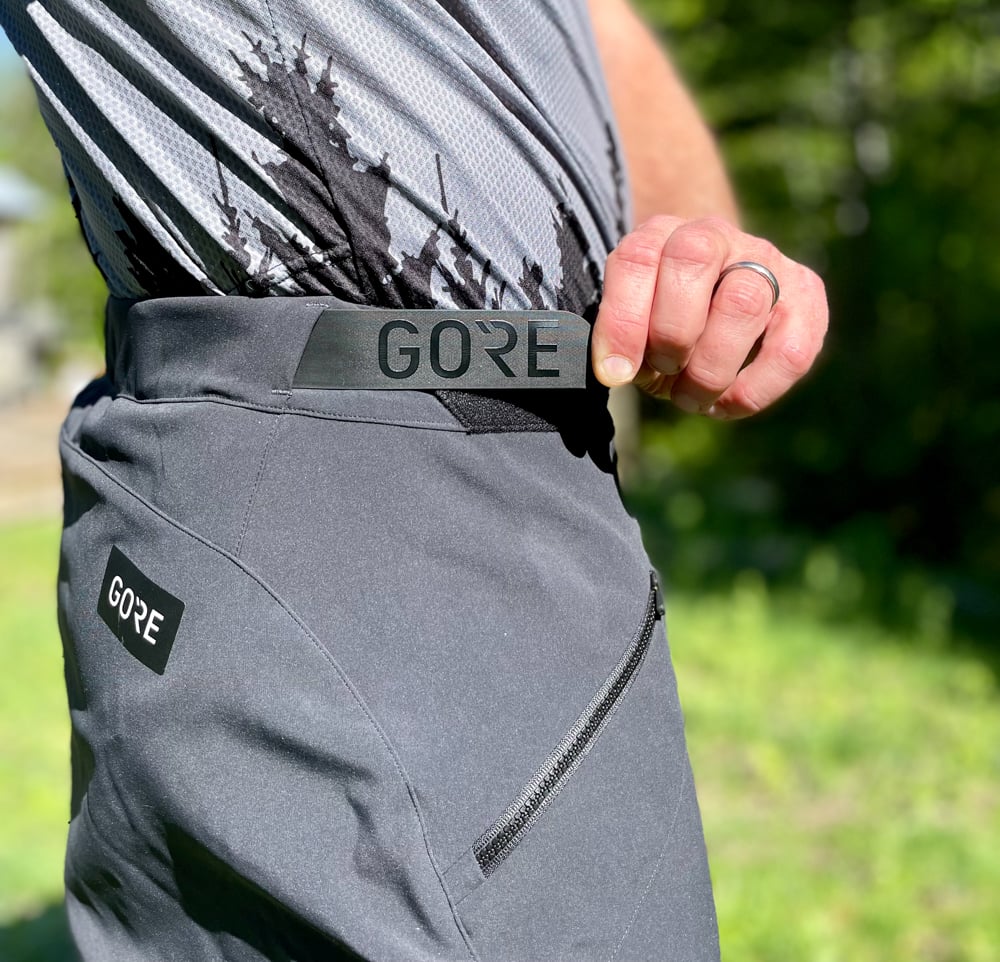 Fernflow Pants Style
The Fernflow pants are understated and feature small logos on the legs. I reviewed the black colorway and felt that they looked great.
Fernflow Pants Features
It's the little things, right? Here's where the Fernflow left the rest of the competition behind in my book. Starting with the waistline design and closure system, it's clear that cyclists made their input clear during the R&D period. Mentioned above, the cut of the waist deviates from regular pants in its height…it's taller. The velcro waist adjusters are a cinch to operate and lay flat and out of the way. The closure system is redundant and uncomplicated. A hook and loop fastener paired with two small buttons gets the job done without creating an uncomfortable pinch point while riding. The legs have integrated vents (like many ski pants) and also feature zippers at the heel to aid in winter cycling shoe/boot fit.
Fernflow Pants Weight/Packability
Nothing really jumped out at me here. The Fernflow pants are on par with the industry standard in terms of weight and packability. The Infinium fabric does allow these pants to pack small, but the more durable face fabric keeps them from passing the "packing into a coffee mug" test.
Fernflow Pants Durability
I mentioned the more robust face fabric above and I'll mention it here again. These pants can take a licken'. I've been very impressed so far with their durability and expect them to last a good long while.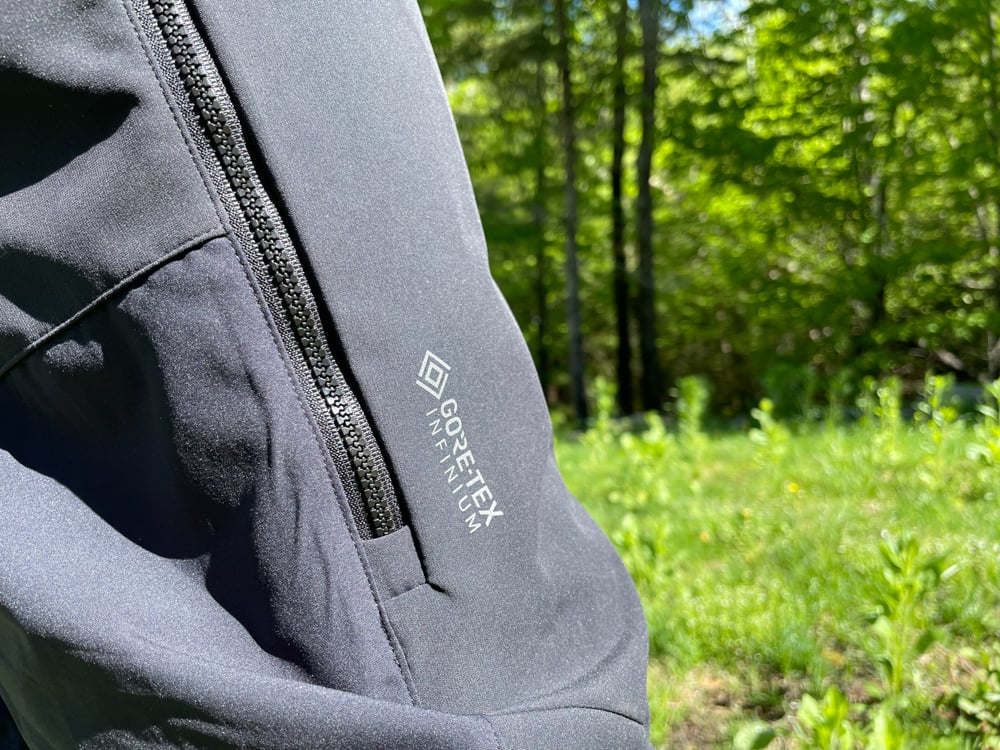 What sets them apart?
GOREWEAR has successfully created a cycling pant that fits great, breathes as advertised, shrugs off impacts and scrapes, and offers far more versatility than one might expect at face value. Sure, they're cycling pants, but I'm definitely taking mine on hikes, XC skis, and plenty of other adventures as well.
Who are they for?
Cyclists looking for a breathable yet windproof pant with a great fit and the versatility to serve them well off of the bike as well.
Friendliness to the Earth
GOREWEAR is up front with their comprehensive and notable Sustainability Approach with their claim that, "We strive to continually improve the social and environmental impact of our products and processes without compromising their performance." GOREWEAR's philosophy is multi-tiered and includes several fabric and production certifications, a social responsibility statement that aims at creating fair and healthy work environments for all of their in-house and contracted employees, and an environmental aim to keep all of their production aligned with the Bluesign objectives.
The Final Word
I guess I'm not surprised to have really enjoyed these two pieces from GOREWEAR given their long and storied history in the industry, but I was particularly surprised with how much I liked the Drive jacket. Not to ding the Fernflow pants, which performed admirably and are certainly worth a look, but the Drive jacket is simply on another level. When a "running" jacket can blur the lines between intended uses as well as it does, it gets my attention. Heck, I'd even consider running it as a mid layer next winter on ski tours.
Shop the GOREWEAR on Outdoor Prolink. Not a member? Apply today!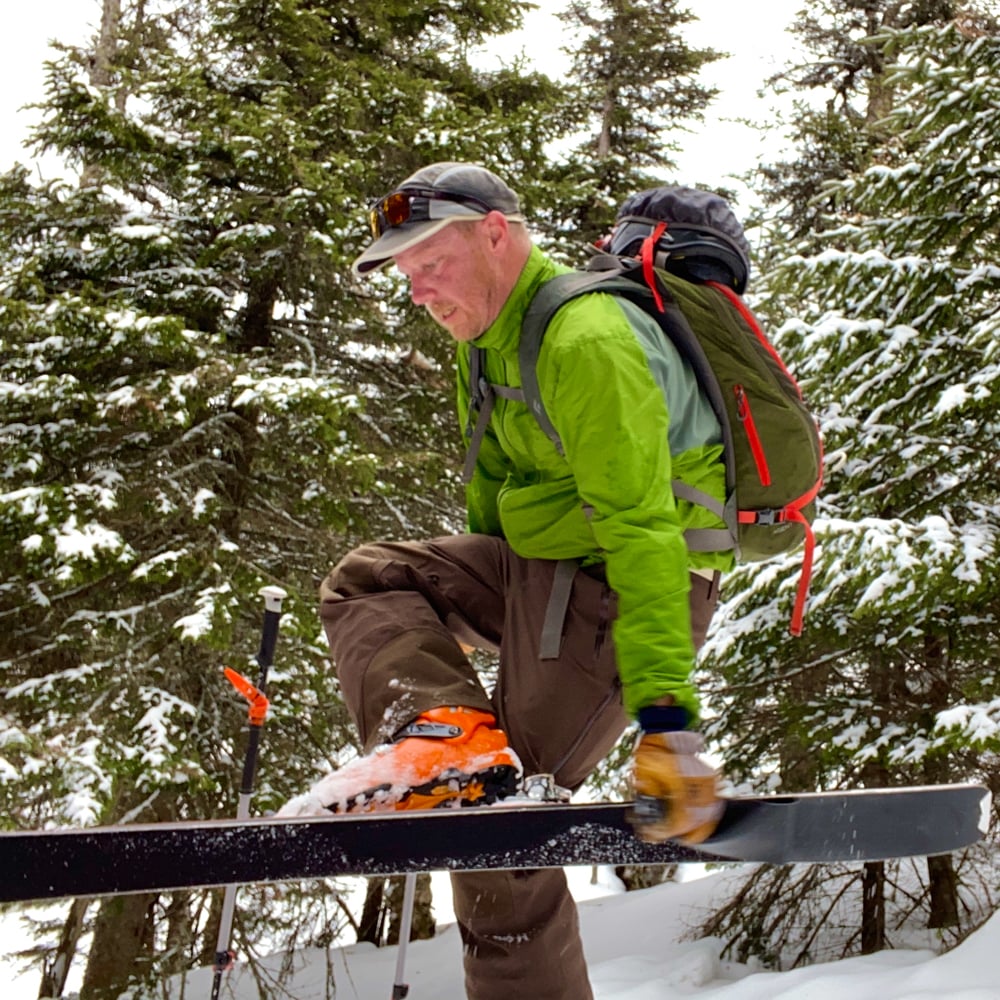 Quinn Keating calls the Green Mountains of Northern Vermont home and spends over 250 days a year on his skis and mountain bike.  Having worked various jobs in the ski industry starting back in 2001 doing everything from selling bagels at the base of the tram in Jackson to directing the ski patrol at his local hill in Vermont, he's seen his share of trends come and go.  He now balances his outdoor pursuits with a career as a middle school teacher, father, and husband and is stoked to be sharing his passions with his daughter and students.  Like any self-respecting Vermonter, he likes maple syrup and IPA's.