ProView – Thermarest Hyperion 20F/-6C
I found the limit of the Therm-a-rest Hyperion 20F Ultralight Sleeping bag and I cannot wait to tell you about my favorite feature! Having carried this bag nearly 300 miles and sleeping over a month in temperatures ranging from 57 degrees Fahrenheit (13C) down to 18 degreed Fahrenheit (-7C), let's just say we got to know each other. As claimed, it is a fastpacking and very light bag that doesn't take up much space. I've slept in Sierra Designs, Marmot, Kelty and TNF 20 degree (-6C) bags and here's my take; the bag is more than comparable.
Thermarest Hyperion 20F/-6C
Product Description: Built to provide a featherlight pack weight and high-performance warmth, the Hyperion 20F/-6C is among the lightest in its class without sacrificing an ounce of performance. The bag uses thermally-efficient box baffled construction in key areas to ensure warmth and comfort in an ultralight package. Designed with high-quality materials and Therm-a-Rest performance features, the Hyperion keeps your pack light, giving you the freedom to move quickly in the backcountry. Storage sack and compression stuff sack included.
Offer price: MSRP: $389.95 - $429.95
Quality

Features

Fit

Durability
Summary
As claimed, it is a fastpacking and very light bag that doesn't take up much space. I've slept in Sierra Designs, Marmot, Kelty and TNF 20 degree (-6C) bags and here's my take; the bag is more than comparable. I'm 6' 170lbs and fit well in the long.
Pros
SynergyLink to connect to a sleeping pad
Packs extremely small
Very Warm
900 Fill
Cons
Tossing and turning may create cold spots on the back
Features
The lower comfort limit of the sleeping bag is in fact around 20 degrees Fahrenheit. Much like the competition you should choose this bag if a couple of your nights will dip down near 20 degrees (-6C). I spent over a week hovering around and below this limit at night and I can tell you it takes its toll. The lofting is noticeably zoned with most of the puff on the top. As temperatures fall this is noticeable with cold spots around the back as you toss and turn This doesn't happen until temps fall below the mid 20's (<3C), but unlike the competition, the Hyperion has a secret weapon, my favorite feature yet to be disclosed! Keep in mind this is a leader in its class for weight so expect a ninja small zipper and the zipper draft tube that guards it is also smaller than most in its class, but again, the comfort is comparable.
Heavy frost laid down on my trip for several nights blanketing the bag with a wet frosty dew. Many times near rivers and high country drainages it is difficult to judge if it will dew or not and I usually sleep under the stars. The hydrophobic down did it's job as I did not notice any difference in its performance with warmth or added cold spots. This was impressive to me and allowed me to continue to push on the limit of this bag without pitching a tent.
Friendliness to the Earth
If you geek out on gear you can find info on the 900+ fill down category and the premium performance associated with it. I can't say no ducks were harmed in the making, but Therm-a-rest ensures through the Responsible Down Standard Certificate that the 900 fill was collected humanely, and I slept easier because of that! With the 900 fill, the Hyperion did its job, and I think better than the class standard of the 800 fill competition. 30 uses later with packing this down to the size of a Nalgene bottle it was still lofting properly throughout its boxed baffle system. I have had issues with the competition not lofting and filling the baffles evenly.
The Final Word
Well, I think it's time to let the cat out of the bag. You see, having slept in several varieties of 20 degree (-6C) class bags I can tell you the cold spots and low temp performance is similar. Hyperion excels in its packability and weight for sure, but what really sets it apart for me is the SynergyLink™ Connectors that integrate the bag to your sleeping pad. They are brilliant! Check this out: with them, you benefit by not falling off your R-value pad which is integral to your cold-weather lightweight success. Beyond that, you get to toss and turn and the bag stays put taking full advantage of the zoned loft feathers holding your heat down! So simple, one of those 'I wish I thought of that' ideas that you are going to love and benefit from when you get a Hyperion 20F!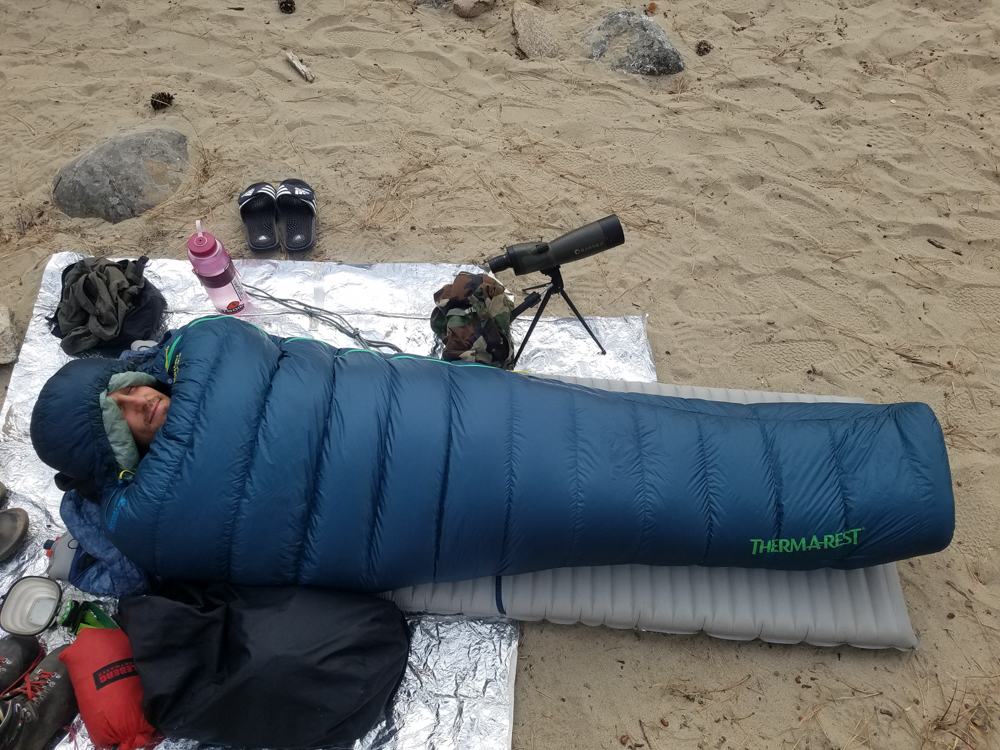 Shop the Thermarest Hyperion 20F/-6C on Outdoor Prolink. Not a member? Apply today!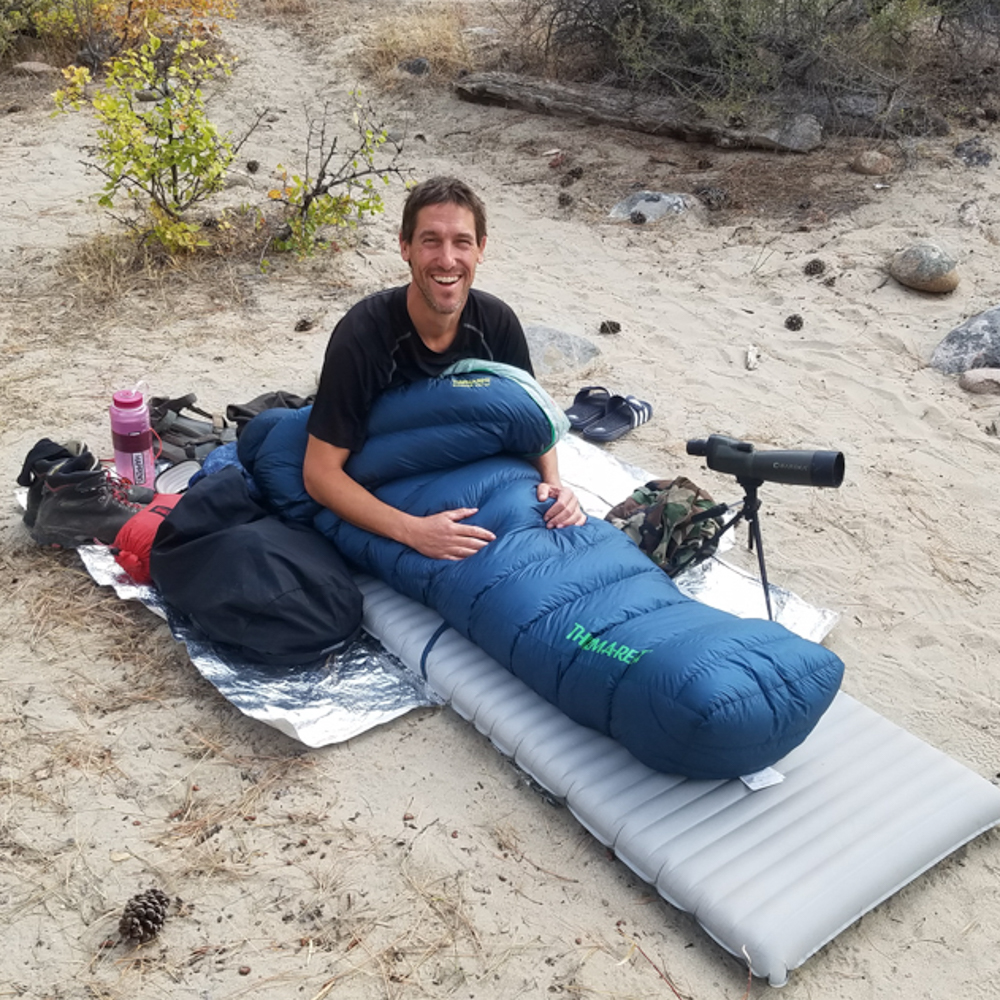 Russ Gartner is a kayaker from Durango, Colorado. Founder and Chief Enthusiast of Adventure, Russ has been on expeditions all over the world. Russ prides himself on being valuable to his teams, going farther than most, being the first to say yes, and last to say it's impossible. Be sure to say hello if you get passed by two young boys (Orin & Rowan) being chased by Russ and Lindsay, his wife!