ProView – Solo Stove Titan + Pot 1800 Review
How about a challenge? Kayak 100 miles in a single day! Last weekend Team 4 Corners Riversports Gnarrow Escape Kayak Crew accepted the challenge and we brought the Solo Stove Titan and Pot 1800 to help us rise to that challenge. I am an expedition kayaker and have traveled throughout the world chasing remote places and living out of my whitewater kayak with self-support reliance, whitewater, logistics, and supply issues to overcome. One of the most remote and rugged places on earth is just minutes from my home in Durango, Colorado right here on the Dolores River. And our crew had a weekend to see it, easy choice!
Solo Stove Titan + Pot 1800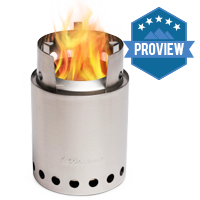 Product Name: Solo Stove Titan + Pot 1800
Product Description: Enjoy a beautiful|primal moment around a flame that's sure to fan a lasting memory. Solo Stove Titan lets you make tasty|hot food in minutes while exploring the world we love. Pot 1800 is the perfect pot designed to use with your Solo Stove Titan.
Offer price: $155.99 MSRP
Currency: USD
Quality

Durability

Features

Packability

Eco- Friendly

Safety

Multi-Use
Summary
Solo Stove is a well known brand that has developed a backcountry cooking system that also offers a campfire which uses wood for fuel. The system is entirely stainless steel and packs into itself to be stowed in the supplied carry sack and should last a lifetime. It weighs less than the competitors 1.5L systems and packs just as small. It is easy to light, quickly boils, and is a smokeless campfire with free fuel and no canister garbage. I put the Solo Stove Titan and Pot 1800 to the test on a 180 mile self support kayak journey
Pros
Light
Requires no fuel canisters
Easy to use
No parts to break
Dual use as a bonfire
Packs up nicely
Saves money
Cons
Takes a minute to gather twigs and get a fire hot,
The 1.8L water pot is very heavy and makes the system prone to spilling
You cannot "turn it off"
We committed to kayaking the entire length of the astoundingly beautiful 179 mile lower Dolores River in Southern Colorado all the way to Utah — in a weekend. There are five sections and most people take 3-4 days in each to descend the Dolores River. Shrinking a 20 day journey into a weekend is a huge feat. We needed to be very serious about what we brought, doing our best to eliminate extra weight, waste, garbage, and being compliant with regulations. Enter the Solo Stove Titan and Pot 1800.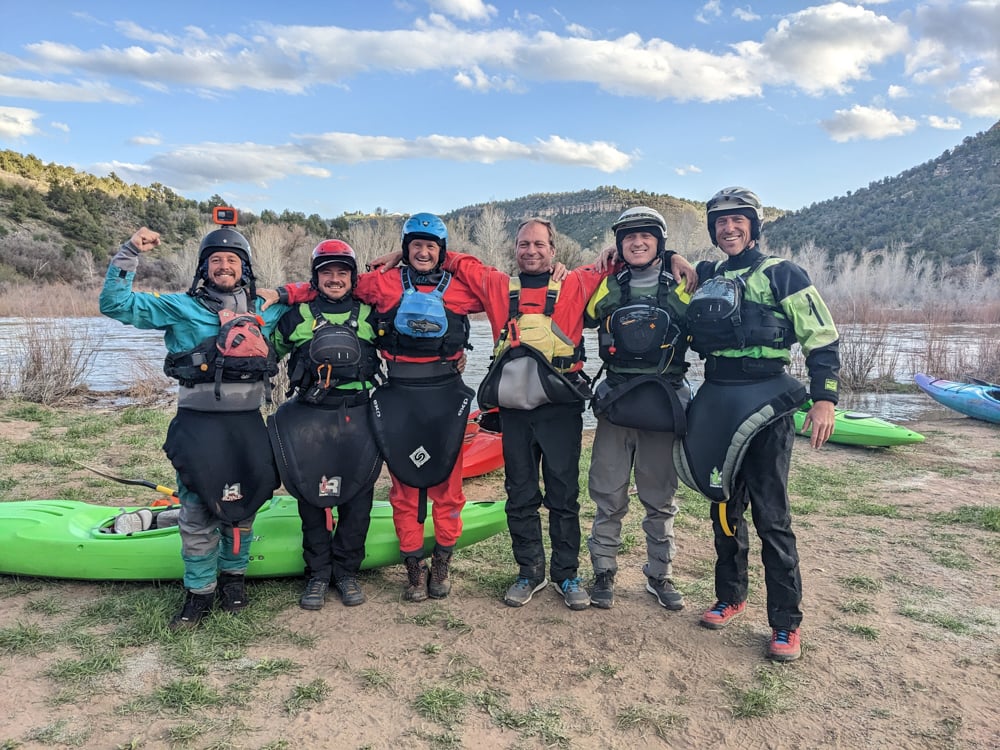 Features
With a little bit of grass and a few pinky finger sized sticks, a spark and poof … FIRE! Once lit, the stove is very easy to add sticks — just tossing them in the top. If you have the boiling pot on there is a portal in the pot stand where you can add sticks easily as well. The boiling pot has convenient and easy to use fold out handles that do not collect heat and can be handled with the boiling water. There is a tight lid with the boiling pot and the pot also has a dimple in it for pouring. This system is not without hardship but the good outweighs the bad! The full 1.8L pot made the system top heavy and unstable thus the pot and water fell over and spilled during the first use.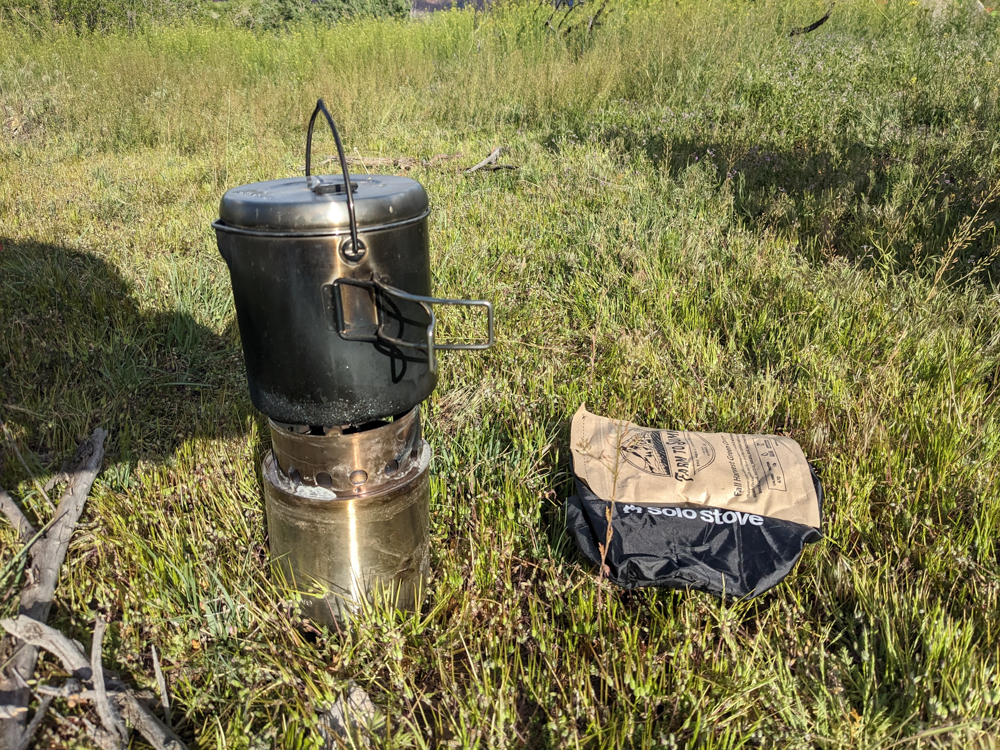 Weight/Packability
The 1.5L system is lighter than the competition and a little bit smaller making it an exceptional alternative to canister systems. By the time you add extra fuel on your longer journey adventures you are saving 750+ grams (1.5lbs) and you don't have to carry useless garbage. The entire system fits into itself and comes with a lightweight carry sack that keeps it together and clean. Perhaps with new versions of the system there will be a dish kit that can also be stowed inside.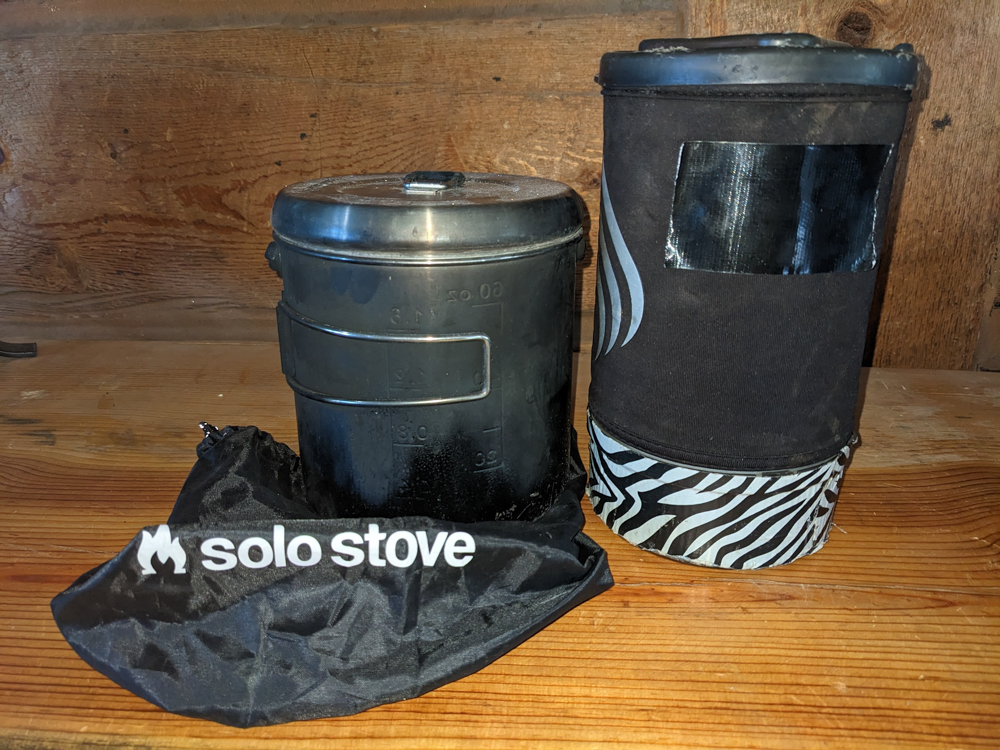 Function/Performance
This system doubles a bonfire — added benefit! I can say that lighting a fire in the system is very easy. The engineered design also creates a very hot and smokeless fire. Under perfect conditions you could boil water in 10 minutes. Things were wet, cold, and windy during our tests and we were able to boil in 12-14 minutes. Since there are no mechanical parts you don't have to adjust anything and there is nothing to break or set wrong. From personal experience the system works better with fewer sticks instead of stuffing it full. After you do your cooking you now have a smokeless bonfire to enjoy with your meal! We lit a bonfire on the ground and one in the solo stove and can say that the conversational light shines brightly. You can snuggle pretty close to the flame without breathing smoke and warm up your soul while you are at it.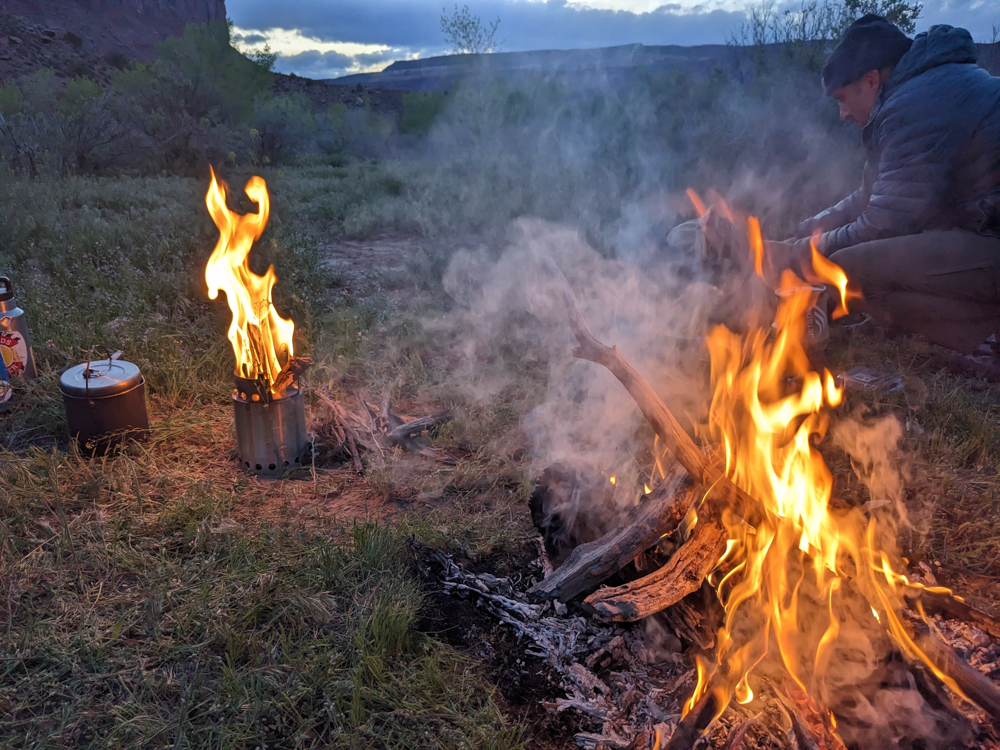 Durability/Construction
Enjoy the super shiny stainless steel out of the box because this unit is coming on an adventure with you and will get dirty! The flame from the stove leaves soot on the pot and the heat discolors the stainless. Battle scars! Join the dirtbag club with gear that shows you use it. This bomber construction wants to be used! It's idiot proof, trust me. I already mentioned there are no mechanical things to break so it is ideal for backcountry adventures where risk of mechanics come into play. There is nothing to break! We also put the stove to the test stuffing it absolutely chock full trying to get the biggest fire we could and it held up fine. In fact, the fewer sticks the better for this fire! When you are all done there is a well made stuff sack to hold the system with a cinch to keep dirty soot and ashes in and your packed gear clean.
What sets the product apart
I am an expedition kayaker and have traveled throughout the world chasing remote places and rising to the challenges of living out of my whitewater kayak with self-support reliance, whitewater, logistics, and supply issues to overcome. I have been concerned with empty fuel canisters for some time having used hundreds of them at this point in my career as this equates to another mountain we must climb, the mountain of garbage! Recycling centers will not accept fuel cans. Another thing that I consider is logistics and availability of getting fuel canisters to my destinations or finding them when I arrive. Airlines will not fly fuel canisters. Rarely can you find fuel canisters, especially in remote places for purchase. Often regulations require an approved firepan and fire blanket which adds more gear and more weight. The Solo Stove – Titan (stove) + Pot 1800 is a solution for all of these issues! Add that this duals as a bonfire, weighs less, and has no mechanical things to break and you have a clear advantage beyond the canister competition.
Who is the product for?
If you are car camping, hiking, picnicking, or looking for an alternative to fuel canisters, consider The Solo Stove Titan and Pot 1800. The only place I would consider an alternative is alpine tundra camping as virtually anywhere (even desert) has small twigs to burn. Even wet and damp wood and conditions were no problem once the stove lit.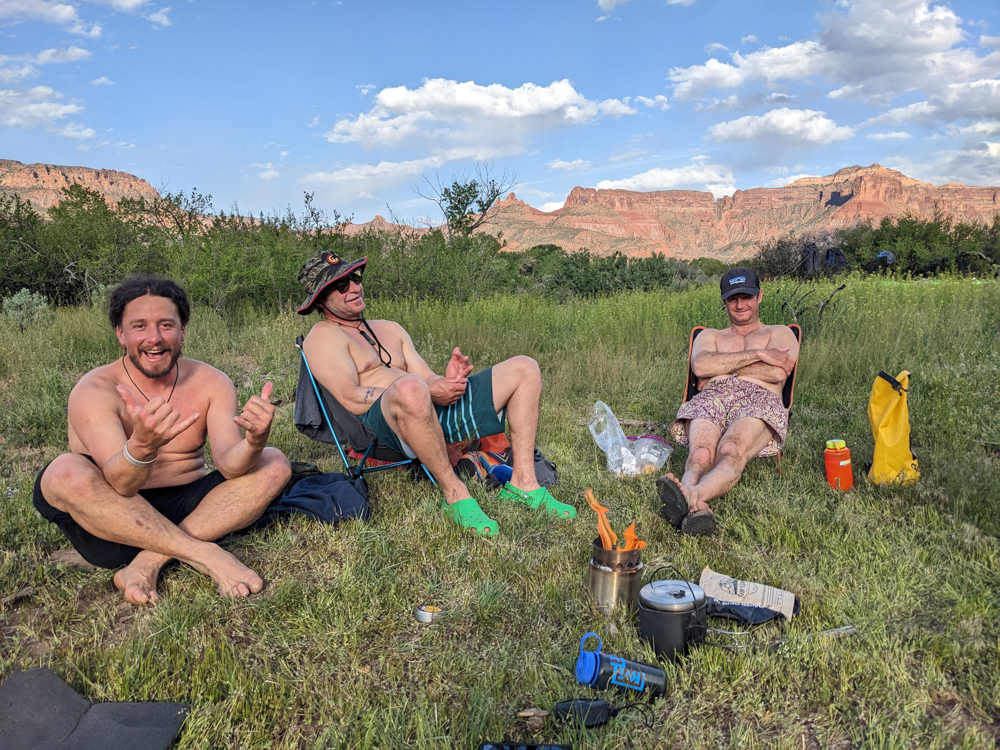 Friendliness to the Earth
NO CANISTER GARBAGE! No rubber gaskets. No machining of bits and pieces that waste resources. No fossil fuel mining. No fossil fuel emissions. Quality lifetime construction. Wildfire fuel reduction. Less calories burned/consumed carrying a lighter product.
The Final Word
FREE STOVE! See below for details! This system is not without hardship but the good outweighs the bad, please let me explain. First, exhausted after 14 hours of paddling Class IV rapids and 82 miles of moving snowmelt whitewater, we arrived to camp at dark and needed a fire to warm up, hot drinks, and food. Busting out the Solo Stove Titan and Pot 1800 for the first time I can say lighting a fire was easy. Going directly to the extreme I stuffed the solo stove with as many thumb sized sticks as possible and found it actually works better with fewer sticks! After arriving at a glowing fire the full 1.8L pot went on and we waited for boil. The fire burned down and we had to add a few more sticks and it was at this point we found the first flaw … the full 1.8L pot made the system top heavy and unstable thus the pot and water fell over and spilled. Yes, the Solo Stove is hot enough to burn your fingers if you touch it. Restart! With some care of our new system 12 minutes later we had boiling water! The whole process with finding and breaking sticks, getting the fire going, and eventually reaching boil was about a 30 minute process. After some practice we got this down to less than 20 minutes and here are some suggestions:
Make sure your surface is solid and flat
You don't need big sticks or too many of them
Take care not to touch the stove anywhere
While adding sticks be careful not to spill the system over.
I take comfort in that there are no mechanical things to fail or adjust. About every 10 uses you save $7 on fuel and create no garbage! It packs nicely, The Solo Stove Titan and Pot 1800 fits together very well and is no bigger than competitor 1.5L systems and It actually weighs 5 ounces less than a competitor's 1.5L system with fuel. That doesn't count extra fuel the alternative needs!
Can we talk about the raging bonfire? Many regulations requiring firepans and fire blankets exclude cooking devices. Solo Stove is a cooking device, there are instructions to clear a 5' area for use, and the no-smoke flame engineering virtually eliminates sparks. Under these guidelines I can say that you can utilize this unit as a source of light, heat, and conversation for 6 people.
Beyond that, I made no waste and I saved money on fuel. 50 uses makes this FREE considering the cost of fuel canisters, and don't argue with me or I will make fun of your canister garbage!
Shop the Solo Stove Titan + Pot 1800 on Outdoor Prolink. Not a member? Apply today!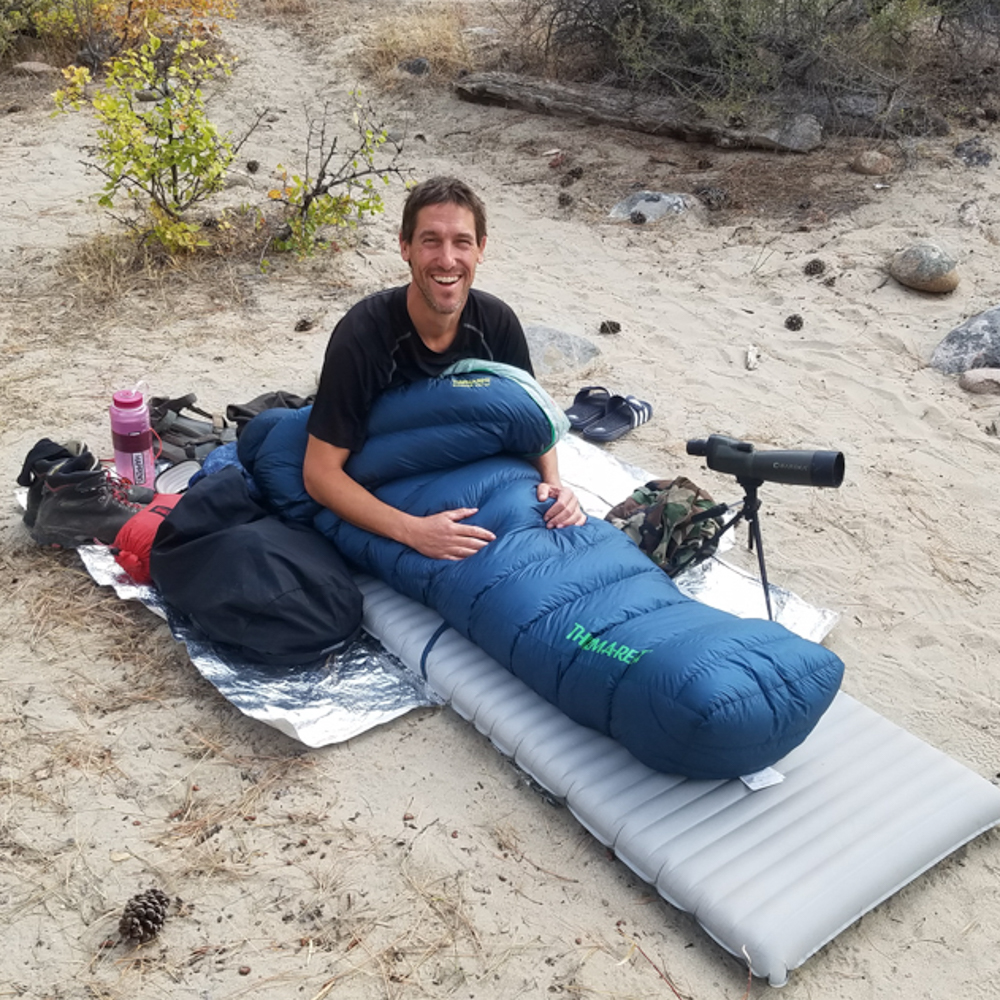 Russ Gartner is a kayaker from Durango, Colorado. Founder and Chief Enthusiast of Adventure, Russ has been on expeditions all over the world. Russ prides himself on being valuable to his teams, going farther than most, being the first to say yes, and last to say it's impossible. Be sure to say hello if you get passed by two young boys (Orin & Rowan) being chased by Russ and Lindsay, his wife!