Five Underrated Arches in Moab
Spring is here! Which means Moab is about to be more beautiful than it is all year long. With the cacti blooming, and the way the desert looks after a fresh rain storm, taking a hike in Moab is a highly recommended activity for folks of all ages and abilities.
And if you're hiking in Moab, why not hike to some cool arches? It takes them millions of years to form and each one is a secret surprise that feels like a little piece of desert treasure when you find it. The best part is, you don't need a National Parks Pass or a reservation at Arches to see any of them!
These are my five favorite and underrated arches in Moab.
Corona Arch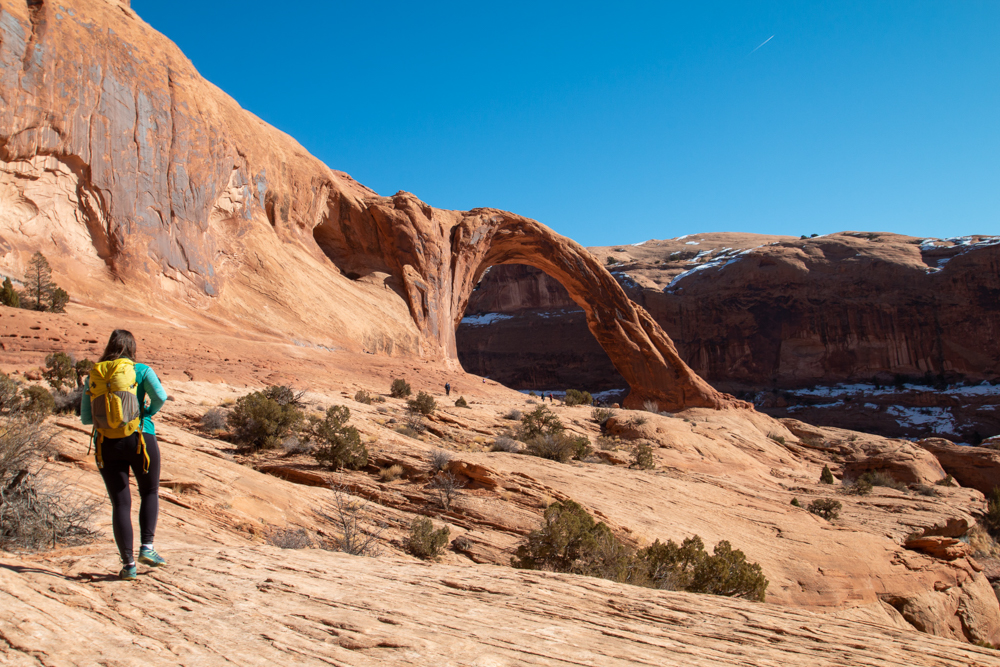 A great hike to do with visiting friends and family members. This is less of an underrated arch, and more of a beautiful scenic hike that is way less crowded than any arch you'll find in Arches National Park a few miles up the road.
Where is it: 38.574460, -109.632408
How long is the hike: ~3 miles total
Are there bathrooms: Yes, at the trailhead
What type of hike: There and back
The hike is mostly flat, but there are a few obstacles that would be a challenge for folks with limited mobility. They are clearly marked with guard railings, but you will still want to bring your hiking shoes! This trail is not for those who like to hike in flip flops.
Bowtie Arch
An arch that begs the question, "Why not?" Bowtie arch is an easy tag if you're already on your way out to Corona Arch. You pass it on your way to Corona Arch, and it adorably resembles a small bowtie!
Where is it: 38.574460, -109.632408
How long is the hike: ~3 miles total
Are there bathrooms: Yes, at the trailhead
What type of hike: There and back
This hike is mostly flat. You will see a collection of cairns that people have stacked up before the entrance to Corona Arch. Please do not add to these, as they are not in line with Leave No Trace Principles.
Pinto Arch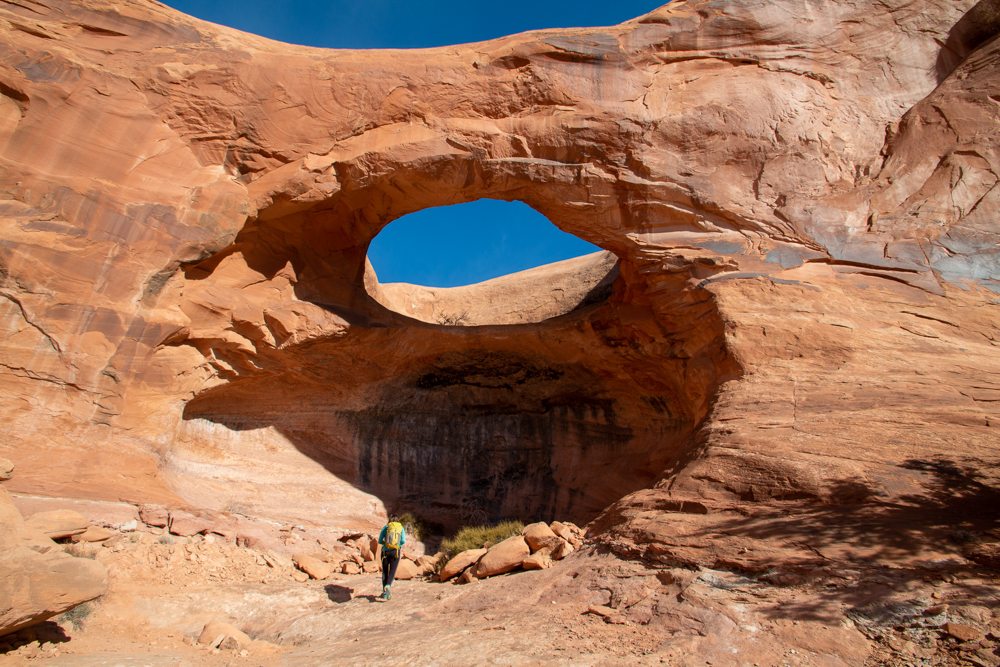 An arch for those who want to tag as many Arches as possible in one day! Pinto Arch is another arch off the Corona Arch trail. Take the Corona Arch trail, but when you get to the fork in the road, turn left across the slick rock, you will come to another fine arch in the line up of fine arches!
Where is it: 38.574460, -109.632408
How long is the hike: ~2 miles total
Are there bathrooms: Yes, at the trailhead
What type of hike: There and back
If the obstacles involved in Corona and Bowtie Arch are too challenging for you and your party, Pinto Arch is perfect for you! It is just a flat slick rock trailhead with plenty of space for folks with strollers, kids, or many dogs to pass around.
Jeep Arch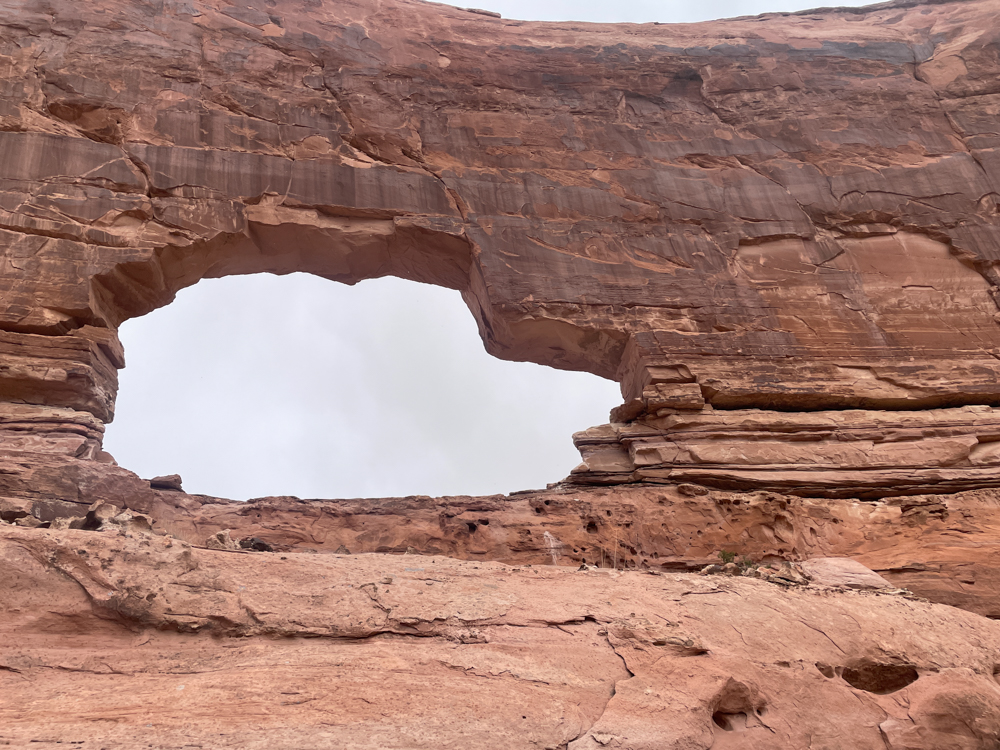 An arch for folks who love offroading.
This is maybe my favorite arch of the bunch, strictly because it's so funny to me! It's a perfect little Jeep! The Jeep Arch hike is located a few hundred yards down the road from the Corona Arch trailhead. The hike is significantly longer, and a bit more involved. It follows the curve of the river bend, but ultimately ends up skirting a mesa formation which leads you past a lovely little tower, and up to Jeep Arch itself.
Where is it: 38.578421, -109.635839
How long is the hike: ~5 miles
Are there bathrooms: No
What type of hike: Loop
You may take the loop in either direction, however I recommend going left at the fork in the trail as the hike is a bit nicer that way. The left fork takes you along a beautiful path through the wash, and has a very slow incline. The right fork however, is steeper and the view is not quite as stunning!
Morning Glory Arch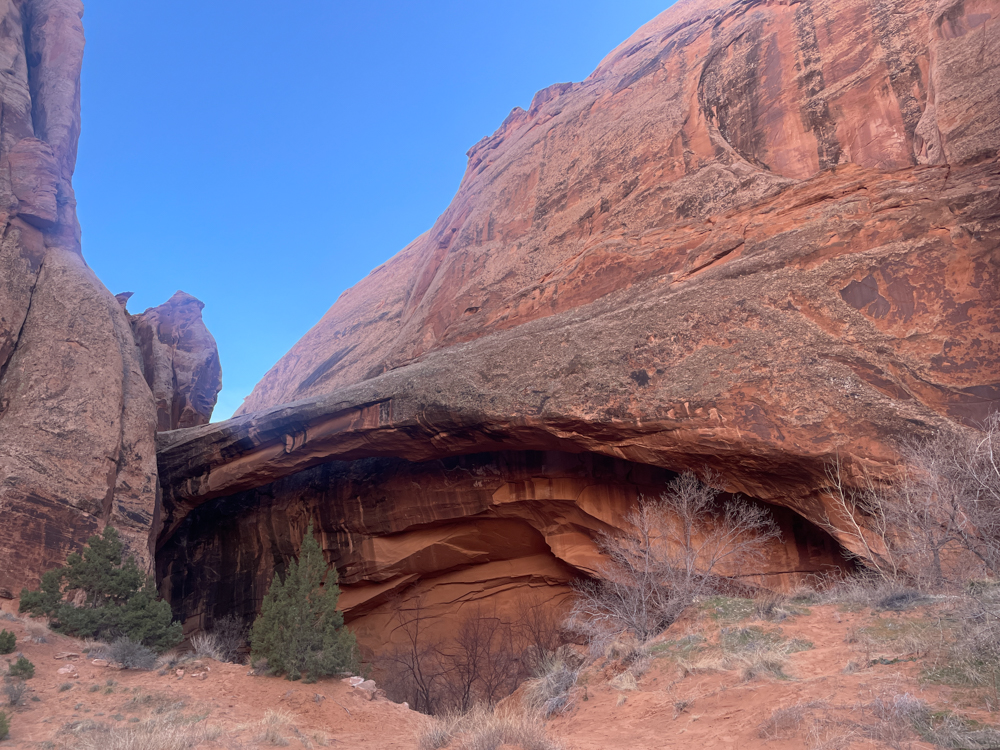 One of the most beautiful arches in Moab, if I do say so myself. This is Morning Glory Arch, located at the end of the Grandstaff Trail. The trail meanders through Grandstaff Canyon, with several stream crossings, and a few places where you need to scramble up onto another layer of mesa. The hike is both sunny and shady, making it a good hike all year long.
Where is it: 38.609862, -109.533689
How long is the hike: ~5 miles total
Are there bathrooms: Yes, at the trailhead
What type of hike: There and back
You can also rappel in from a different trailhead above Morning Glory Arch, by way of a canyoneering adventure known as The Medieval Chamber. The Medieval Chamber's canyon entrance will take you through an adventurous canyon tour, with the grand finale being the rappel through Morning Glory Arch.
Arches!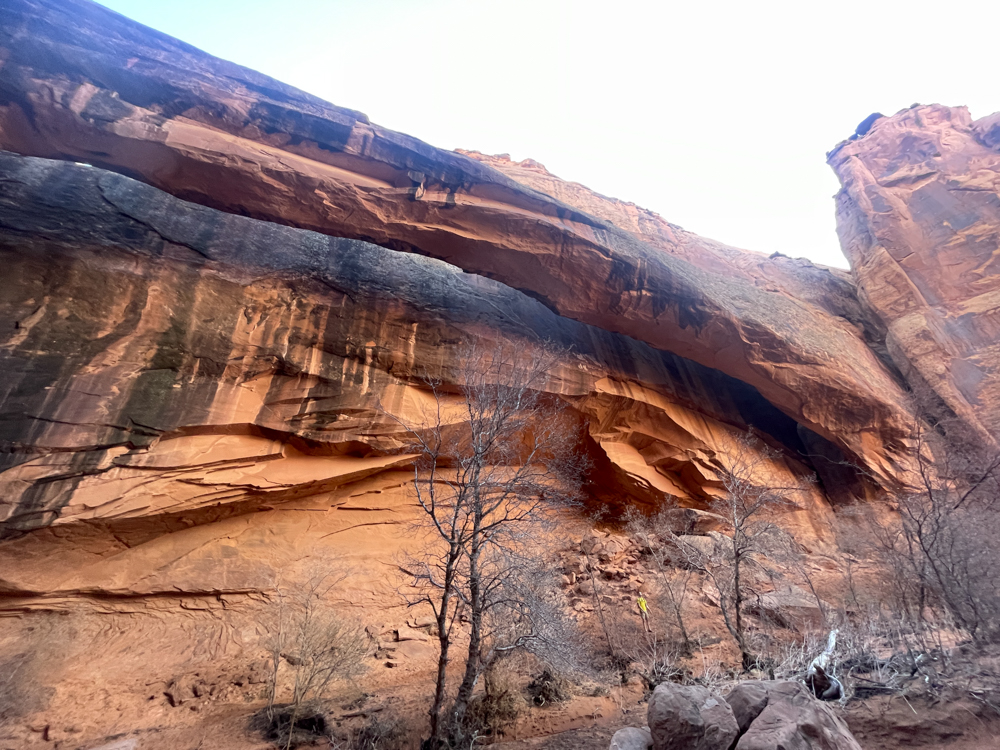 This is just a short list of really fun arches to visit in Moab that are easy to get to, and don't require a National Parks Pass and a reservation to see. Each of these arches are an easy day trip with folks of most ability levels. I recommend taking a picnic, lots of water, a camera, and some sunscreen to each one to fully maximize your day.
Enjoy Moab in the spring, and enjoy these Five Underrated Arches!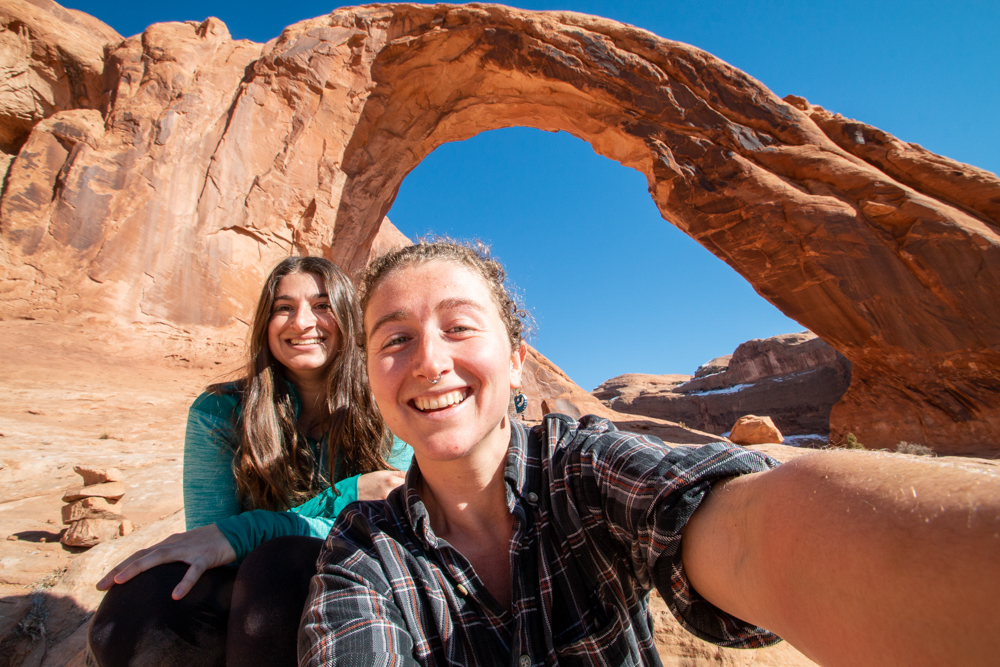 ---
If you're headed to the desert to climb, don't miss reading this important PSA article: Don't Recreate on Wet Sandstone
Cover photo credit: Kaya Lindsay
Kaya Lindsay is a writer, photographer, and filmmaker with a passion for rock climbing and the outdoors.
In 2016 she converted a Sprinter Van into a tiny home and has been traveling around the US & Canada to pursue her passion for rock climbing. Since hitting the road she has begun a career in filmmaking and is currently working on her One Chick Travels series, highlighting solo female travelers who live and work to pursue an adventurous lifestyle. Her films have been highlighted by major brands such as Backcountry and Outside TV. To fulfill her passion for writing, she chronicles her many adventures in her blog. Professionally, she writes for the adventure sports company Outdoor Prolink and The Climbing Zine. Kaya hopes to spend many more years in her tiny home on wheels, Lyra, and is currently living in Moab Utah.