Hut Up! 9 Ways to Rock Your First Hut Trip
When it comes to winter, few things are more magical than spending the weekend off the grid and in a snowy wilderness. Huts and yurts offer a chance to escape into a winter wonderland without the hassle (and cold) of a tent. Before you head out into the wilderness this winter check out these backcountry hut trip tips.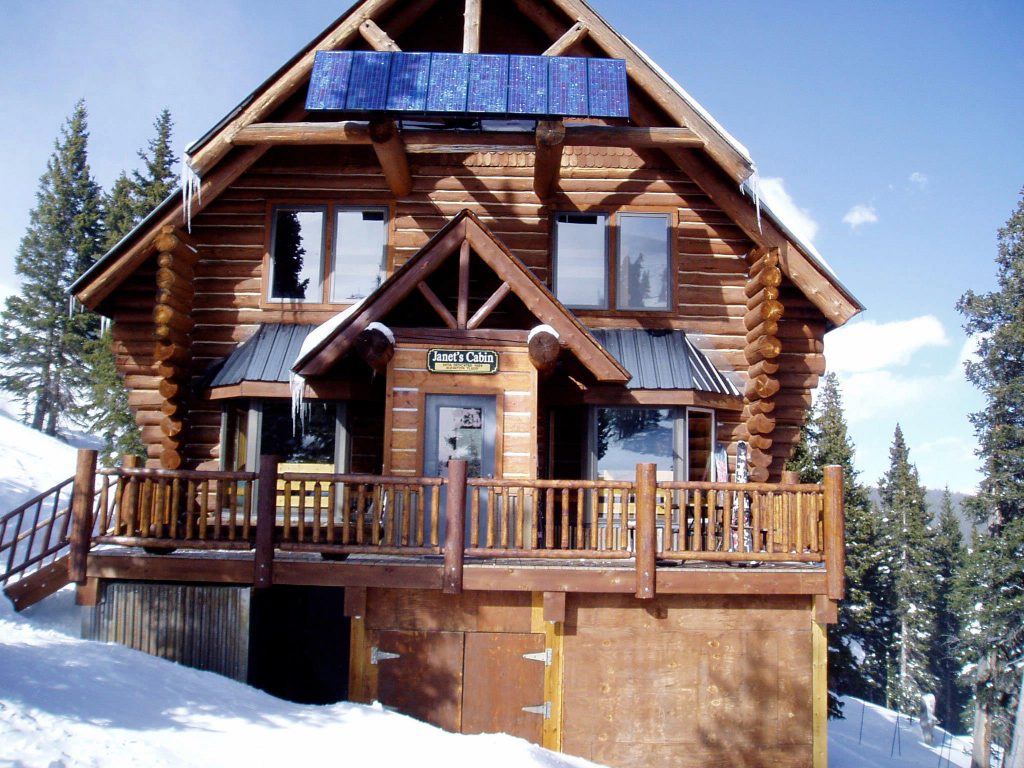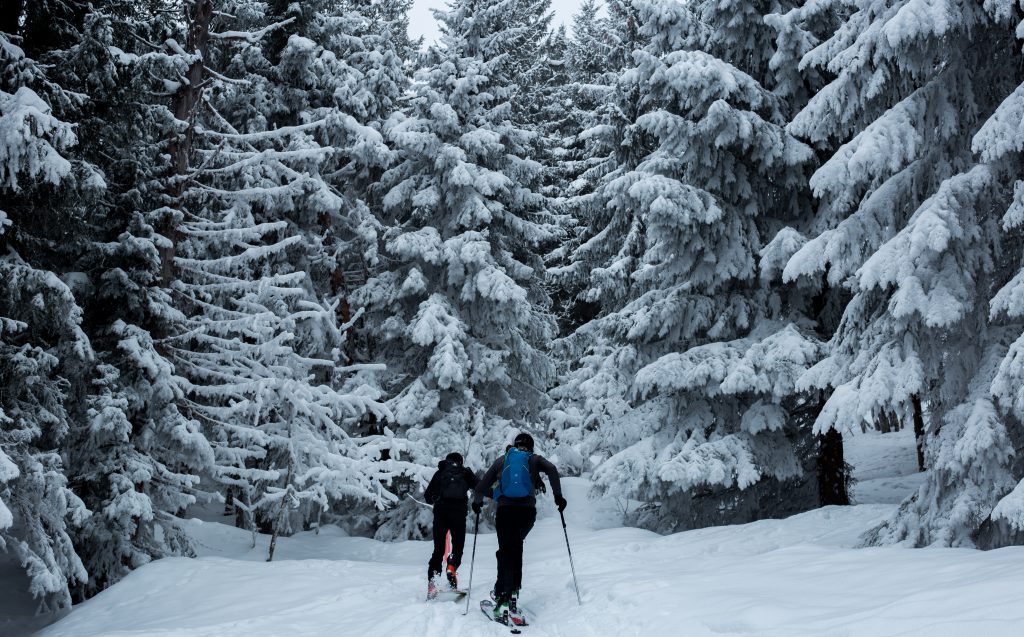 Pack Lightly
There's no need to pack the kitchen sink on a hut trip. Check with the hut operators to see what's included. Due to hygiene reasons, I'll typically pack my own eating utensils, but things like pots, pans, stoves and splitting axes can typically be left at home.
Safe Snow Hygiene
It's extremely important to not use the bathroom in the snow, instead, use the facilities provided by the hut. Stomach illness is super common with hut trippers, this is often due to contaminated drinking water. Always gather snow for melting and water at least 20 yards from the yurt. Check snow for signs of humans, you want a clean, untouched snowpack. Melt snow in the vessels provided then filter the water again to ensure that all bacteria and germs are killed.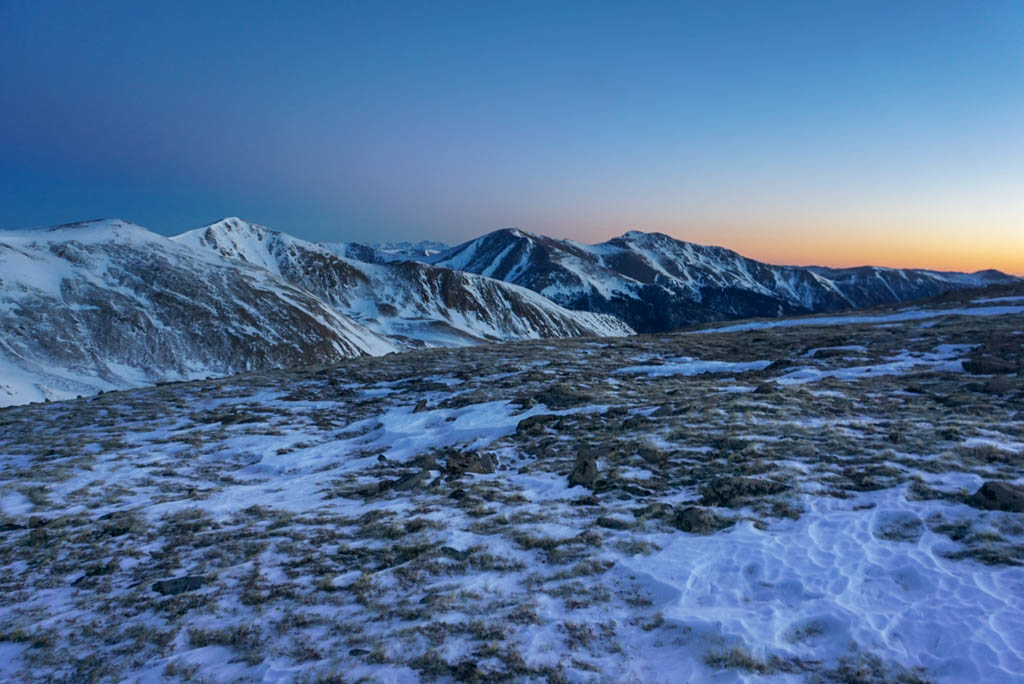 Cozy Up!
Hut stays are different from backpacking or camping in that there is some room for luxury. Pack a pair of down booties or slippers for around the hut. Take care not to track in snowy footwear (leave it by the door) and slip into those fuzzy slippers you love so much.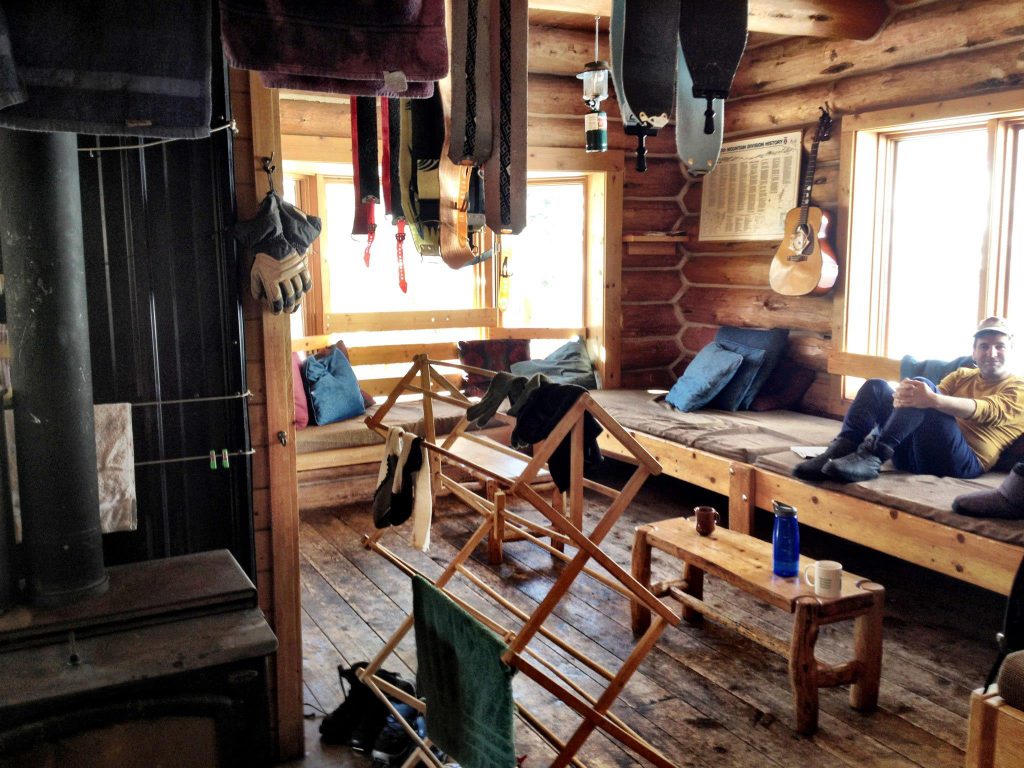 Leave it Better Than You Found it
Many hut systems operate on user-cleanliness. Don't assume that your mom will stop by to clean up after you. Be sure to follow all hut rules when it comes to cleaning and preparing for the next guests. Always pack out ALL of your trash, split some wood upon leaving, and keep the hut tidy.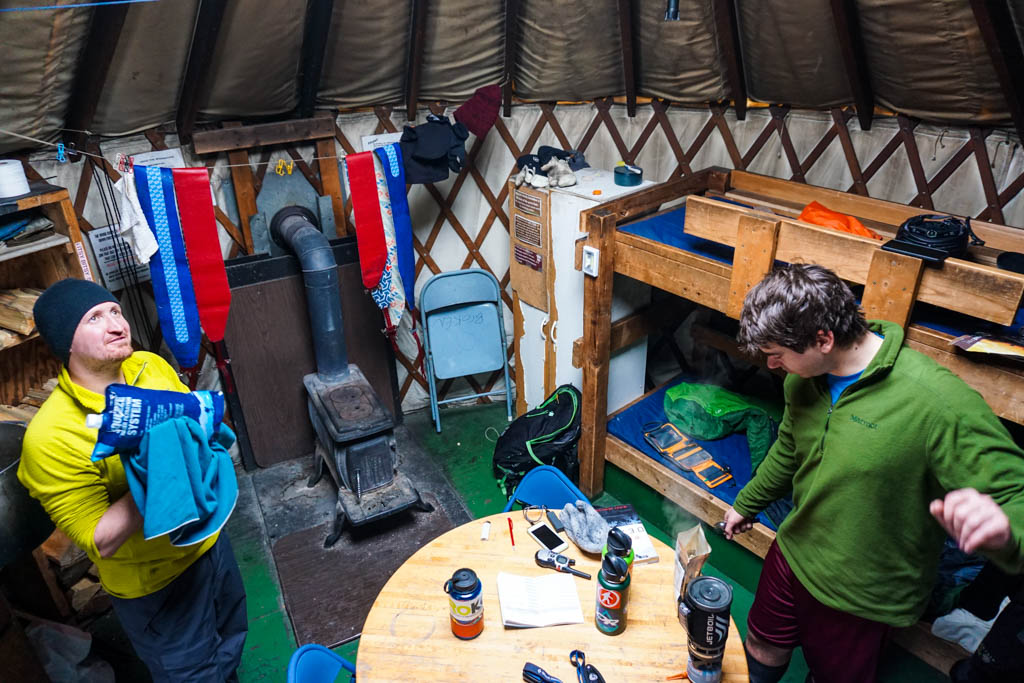 Light that Fire
Huts and yurts are heated by wood-burning stoves. Take turns with your hut mates and chop up wood. Small, thin pieces do best in a wood burning stove. Use the flue to burn the wood hot or cold. Set up shifts for night time and you'll keep your hut warm and toasty throughout your stay.
Be Avalanche Aware
A lot of folks head to huts in order to enjoy backcountry skiing, ice climbing, and mountaineering. Know your area before you go and stay up to date with current avalanche conditions. Be sure to tell someone at home your plan and when you expect to return – always remember to circle back with your emergency contact once you're home. If you're new to backcountry skiing get started by educating yourself and taking an avalanche course. These tips are a great place to start!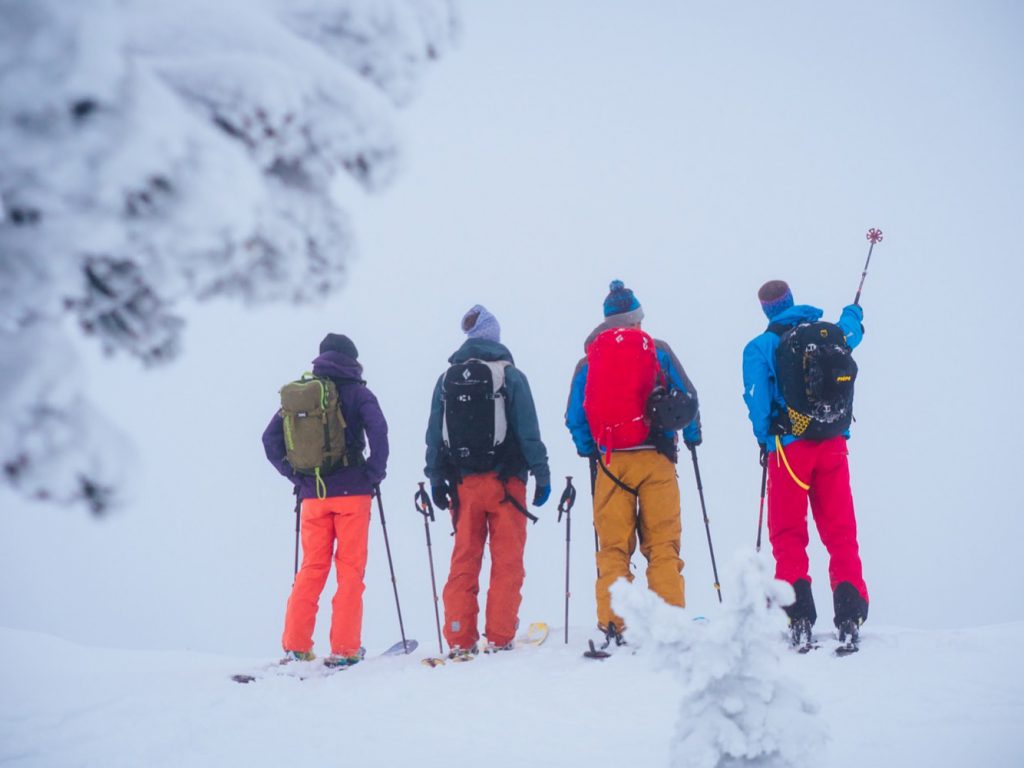 Bring a Few Luxuries
There are a few fun items that make hut trips more fun than winter camping. Consider bringing a game, some nice food (hard cheeses do really well) or a tasty drink. Gather around the stove with friends and enjoy a good laugh and a tasty snack. It'll make those short days seem a bit longer. 
Consider Taking a Sled
If you're handy, you can quickly create a Polk (a sled that can be carried with long poles) to haul your gear to the hut. Depending on how difficult the hut is to access, a Polk can help with heavy loads. Trade off who carries the sled and enjoy a more leisurely hike or skin into your backcountry hut.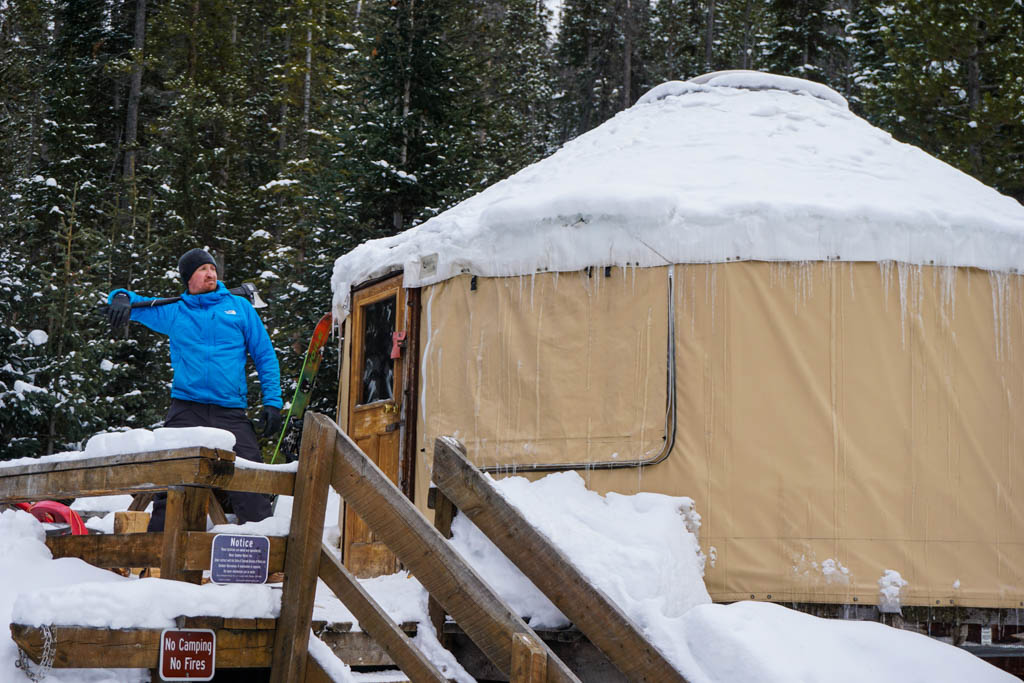 Food a Plenty!
In winter, your body needs to burn tons of calories just to stay warm, the same goes with hut life. Be sure to bring foods that are high in fats and offer quick calories when you're on the go. You don't need to live off of backpacking meals while on a hut trip. Try adding some spice to your backcountry meals with extra luxuries like cheeses, cured meats, or even a jar of salsa. Remember, you need to pack out any food that isn't eaten, so be sure to cook with that in mind.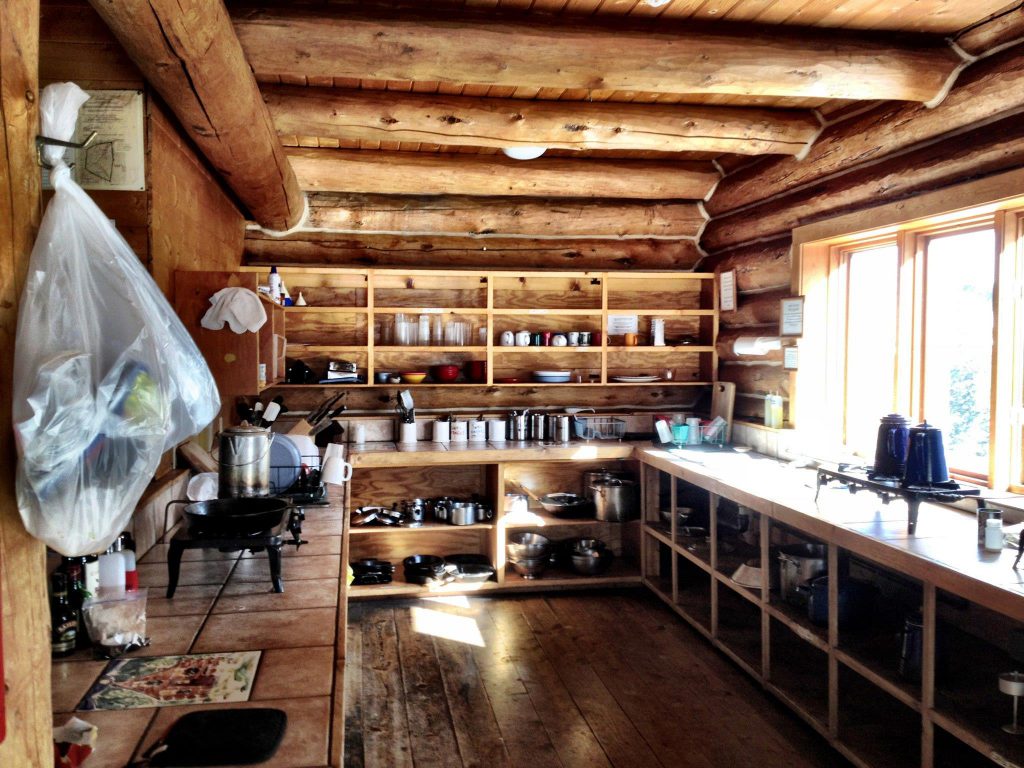 This year, pack your bags and book a hut trip. Enjoy pristine winter landscapes in the comforts of a cozy hut. Snuggle up and have an adventure!
Need gear for your next hut trip? Shop Outdoor Prolink for the ski, mountaineering, climbing, backpacking, and camping gear you need to get started today. Not a member? Apply here.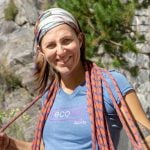 Meg Atteberry is a full-time freelance writer and outdoor enthusiast. Her mission is to empower others to get outside and have an adventure. She loves a sunny crag and delicious trail snacks. When she's not wordsmithing you can find her hiking, climbing, and mountaineering all over the world with her fiancé and adventure pup, Nina. To learn more about Meg, check out her blog Fox in the Forest. She'd rather be dirty than done up.