Nonprofit Spotlight: Latino Outdoors
During the month of September, in tandem with Latinx Heritage Month (September 15 to October 15), Outdoor Prolink is proud to have Latino Outdoors as our featured nonprofit during checkout. Every year, Outdoor Prolink partners with nonprofits to give back to organizations we align with. To honor these amazing nonprofits, we're spotlighting each one and sharing why you should care about their missions too.
Latino Outdoors is on a mission to inspire, connect, and engage Latino communities in the outdoors and embrace cultura y familia as part of the outdoor narrative, ensuring Latino history, heritage, and leadership are valued and represented. We had the opportunity to chat with Vanessa, the Development Manger at Latino Outdoors, to get the full scoop on what makes this organization so amazing.
What is the story behind Latino Outdoors?
Latino Outdoors started as a blog 10 years ago in 2013. Our founder, José González, was in grad school studying sustainability. Jose was born in Mexico, immigrated to the United States as a kid, and is a self-described Chicano. While he was in school he had two questions: Are there others like me? And if so, where?
He was in this space where he's studying sustainability, is an outdoorsy person, and is looking around thinking, "Is it really just me? There has to be more." And because of this, he started a blog and this was the beginning of Latino Outdoors. He started building community to find other like-minded Latinx folks who also shared that passion for the outdoors and who are also trying to figure out where there were other people like them.
Since then Latino Outdoors has grown into a nationwide organization. We're Latino-led and Latino-serving. We have 33 regional teams in 22 different states and we work to increase outdoor access and increase diversity in the outdoors.
Our founder José likes to talk about how nature shows us that a diverse ecosystem is robust and healthy. As an organization we want to make sure that the outdoor recreation ecosystem is also diverse, has lots of voices, and is really inclusive to everyone, especially anyone that identifies as Latino, Latinx, or Latine.
We work to diversify outdoor narratives, meaning we amplify Latino folks in the stories of what it means to be outdoorsy. We work to diversify outdoor recreation and conservation by having free outings where people could come outside and try these new activities in a really fun, community-centered and culturally-centered way. We work to diversify outdoor leadership. And we are often just a space for folks to feel comfortable. We want to make sure that everybody feels good and welcome in the great outdoors. A party with lots of people is more fun, so we want this outdoor party to be as inclusive and as fun as possible.
What makes Latino Outdoors apart?
From the very beginning our founder made it really clear that we are a community first and an organization second. We take that super seriously and are very focused on building community. Whether you're coming on a day hike with us or you're a volunteer who's been with us for a long time, we want to make you feel like you are included and you're a part of this community. We want to make sure that people feel like they can take up space in the outdoors and bring their whole identity with them whether it's on the trail or on a river or in the mountains. That community piece is something that really sets us apart.
What are some upcoming initiatives Latino Outdoors is working on?
It's our 10 year anniversary and we are really proud of that so all year long we are celebrating our 10 year anniversary. When we started, we were one of the few organizations in this space fighting for outdoor equity, access, and inclusion. Now there's lots of folks in this space talking about these issues from their own unique points of view which makes us really proud. As a part of our anniversary we have an art show that we're touring. We showcased the show in Denver in July, in San Antonio in August, and this month we are hosting a virtual auction selling that art to raise money for our organization.
In partnership with Hispanic Access Foundation we also celebrated Latino Conservation Week (July 15th to 23rd) which is a celebration of all the different ways that Latino communities work on conservation. There are panels, a photo contest, some outings, and a lot of other activities to participate in.
And then of course, we celebrate Latinx Heritage Month from September 15th to October 15th. We are celebrating Latinidad all year long, but we always make sure that we're making this month special. From September 1st to 23rd we are hosting an art show auction in tandem with Latinx Heritage Month. All of the artists are Latino and their work shows the connection between the outdoors and Latino folks. We'll also be hosting an event in Emeryville on September 23rd to close out the auction and celebrate our 10 year anniversary.
How can the people of the outdoor industry support the work Latino Outdoors is doing?
There are so many ways. Amplify our stories and the stories of Latinx folks in the outdoors. Engage with Latino Outdoors on social media (Instagram & Facebook). Encourage folks in the outdoor industry to include diverse imagery when doing advertising campaign. When you're looking at your own internal teams, build towards diversity. Make sure your organization feels welcoming and inclusive to all people, especially those who are often left out of the narrative including BIPOC folks and Latino folks.
We are a nonprofit and one of the ways that we are able to do the work that we do is because of support and donations. All of our outings and events are free for community members. For example, if we're going snowshoeing, we'll make sure to provide you transportation and provide you with all of the gear you need. The main goal for is to help get people outside and enjoy nature.
If Latino Outdoors was an ice cream flavor, which flavor would it be?
Collectively, the team at Latino Outdoors decided that we couldn't be just one ice cream flavor. We would be a cart full of paletas which are kind of like popsicles. We're about access and we want to make sure that ice cream gets out there to the people and everybody has equal access. That cart is going to be filled with a community of different flavors including mango, coconut, lime, coffee, maté, guanábana, pepino con chile, jicama, and the list goes on and on. All of these different flavors really celebrate the diversity of Latinidad and the diversity of what it means to be a part of this community.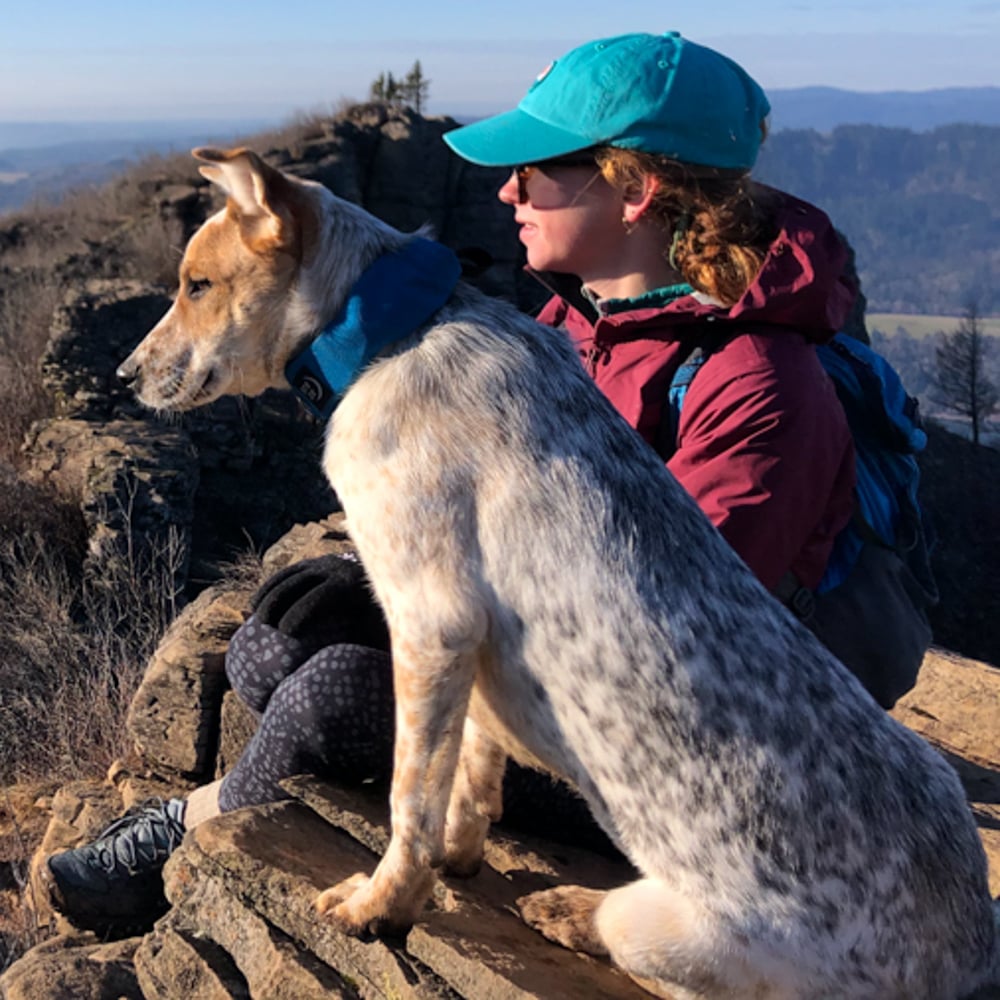 Kelly Knauf leads the marketing team at Outdoor Prolink. She is a mountain lover, outdoor enthusiast, and professional snack packer. By day she answers emails and writes content, by night she's plotting her next camping trip or snowboarding adventure.