ProView – Bern Hendrix Carbon Helmet
Have you heard to adage, "you shouldn't go cheap on things that separate you from the ground"? This saying is referring to shoes (buying a hearty set of winter boots that'll last years, instead of a cheap pair that may only last a season), or tires, or even a mattress. When the funds are available, I believe in this full heartedly. I'd say the same advice should stand for anything that comes between your head and blunt trauma. This feels like a no brainer (ha!), but spending a good bit of money on the helmets that keep your brain safe could save you thousands in medical bills, and a priceless amount in mental health.
Bern Hendrix Carbon Helmet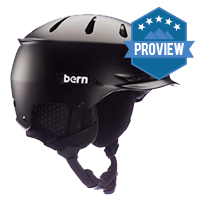 Product Name: Bern Hendrix Carbon Helmet
Product Description: Business in the front, party in the back, and a carbon fiber shell all the way around – the Hendrix is the epitome of Bern DNA. We could go on and on about its innovative spoiler design, re-engineered Bern brim, and ribbed EPS liner…but we won't. It doesn't take a bunch of helmet nerds to tell you how rad this new lid is, so we'll spare you the details. All we'll say is this – the Hendrix Carbon is just plain cool.
Offer price: MSRP: $350.00
Quality

Features

Fit

Durability
Summary
The Hendrix Carbon helmet is my new helmet for all mountain activities. It has so many features, is super light weight, and has a sleek look to it. You can switch out the liner for a lighter one, which I may just do to keep wearing this helmet all year long.
Pros
Super lightweight
Fits well
Comfortable
Durable
Cons
Regular buckle hard to do with gloves on
I've been snowboarding since high school. In the past few years, I've ventured on hut trips, backcountry laps, and even a big trip to Japan where I climbed a volcano and snowboarded down. I've always worn a helmet and to be honest, scoff at anyone who thinks they can get away with just a warm hat on the slopes. It's one of the most important parts of your backcountry set up. The Hendrix Carbon helmet by Bern may be on the pricey side, but it's packed with well though out and built features that'll last season upon season.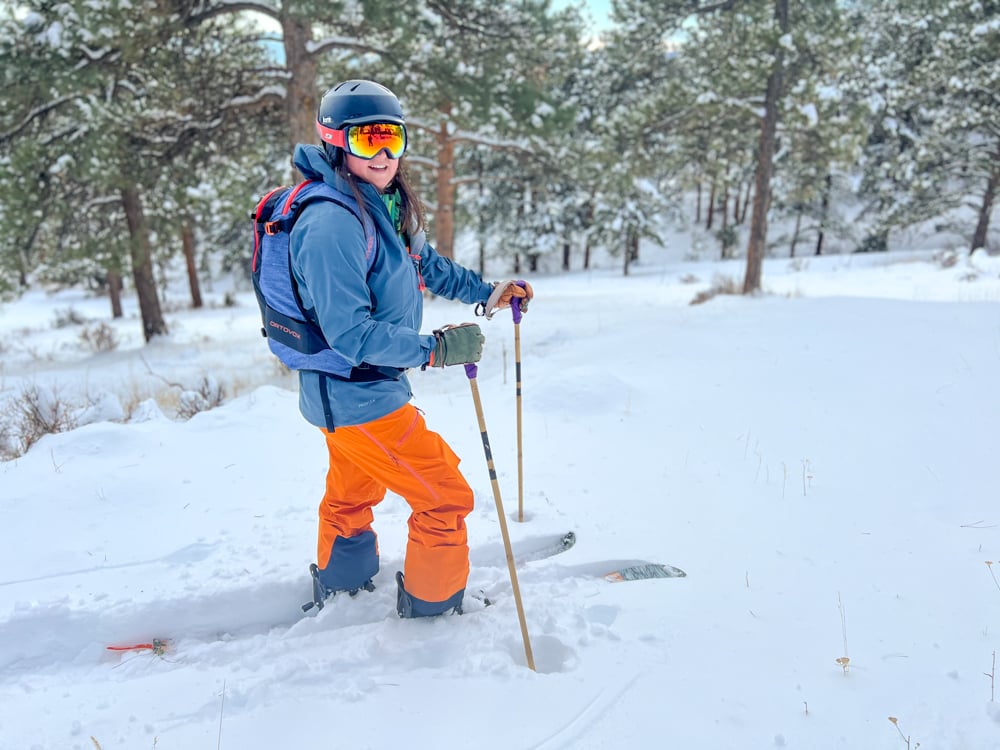 Fit/Comfort
This helmet is designed to fit perfectly for each head with Compass Fit. By using the dial in the back you can adjust how snug the helmet is. It does come in Small, Medium, and Large, so you need to take into consideration head size first before dialing in the fit. I have a 55.5 cm head and wear a size Medium (55.5 – 59cm). I really like that you can adjust it enough to fit a small beanie underneath, or have your goggles sit on the inside. I never know what the trend is these days.
Another pro for comfort is the many air passages and the winter liner. The air passages allow for warm air to move away from your hot head and cold air to replace it. The helmet comes with ear cups and top knit so you can get on the slopes right away.
Look/Style
The Bern Hendrix Carbon helmet has the classic built in brim that remind me of the classic Bern look. This is a great add on for super sunny days, protect your goggles from falling snow, and gives it a more relaxed look. I really like the two tone color across the helmet of gloss on back, matte on front. The helmet also has a back fin which balances out the visor and sets it apart from other helmets.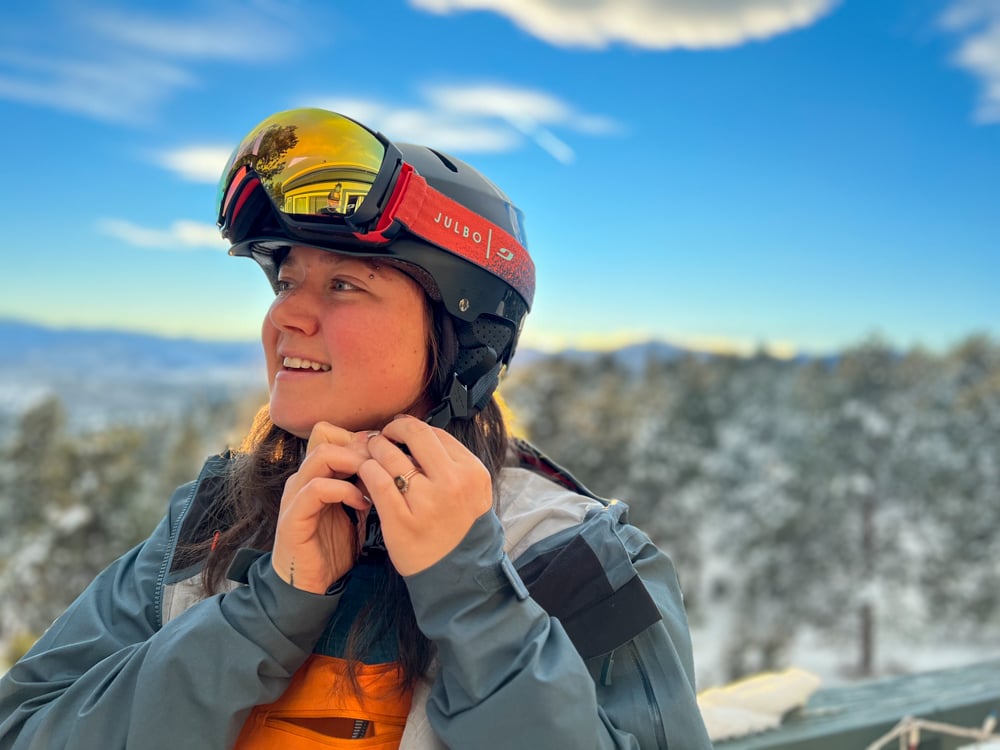 Features
Here is where the Hendrix Carbon shines! There are so many features packed into the helmet that are barely noticeable on a quick one-over.
The Hendrix Carbon helmet comes MIPS built in. MIPS is a Multi-Directional Impact Protection System which helps protect your noggin from rotational impacts that can cause traumatic brain injuries. There are two layers that move independently from each other, allowing a 10-15mm rotation in each direction. Basically, the outside of the helmet will rotate, leaving the inside independent and protecting your noggin. This is especially important when riding in the park or at high speeds. You can find more info on MIPS here.
Bern has partnered with AirFlare and a purchase of a Bern helmet gets you a lifetime subscription to the application. The app "transforms your phone into a mountain rescue beacon that provides Ski Patrol and Search and Rescue teams multiple ways to find you." Find more info on AirFlare here.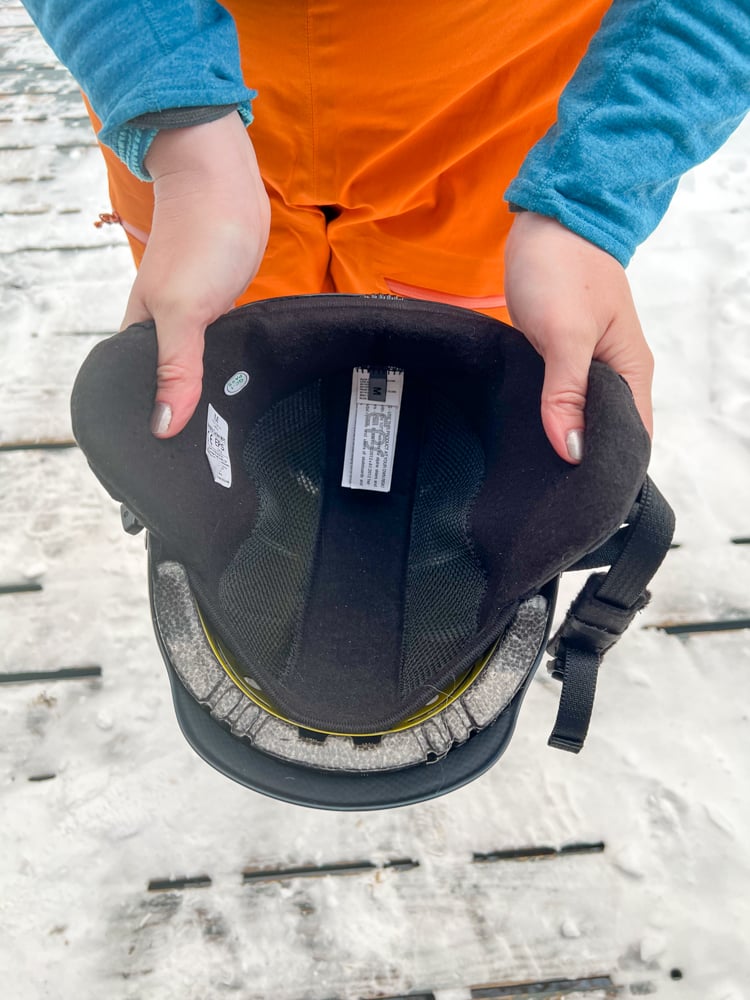 This helmet comes with an RibTech EPS lined carbon shell. That means it's incredible lightweight, but also extremely protective. The liner will crush into the channels inside the helmet if you happen to take a serious fall, further protecting your precious cargo. The carbon shell is "10X stronger than ABS plastic with a scratch and UV resistant gel coating."
There are plenty of add-ons you can select when purchasing a helmet. It's a great feature that you can customize the helmet exactly for what you're looking to use it for. I've bene using the Outdoor Techâ Drop-In Wired Audio Chips that fit into the velcro'ed pockets of the ear cups.
Weight
My size medium came in at 508 grams. That is just a little over a pound. MY previous helmet, the Anon Griffon, weighed 1.82 pounds. It is great to have such a lightweight helmet that you forget you're even wearing it.
Durability/Construction
Helmets are built to be durable. The carbon shell on the Hendrix Carbon is especially so. The scratch and UV resistant coating hasn't led me astray yet, even as I duck under heavy branches and avoid sharks in shallow coverage areas. It is a well constructed helmet that I expect to last me many years.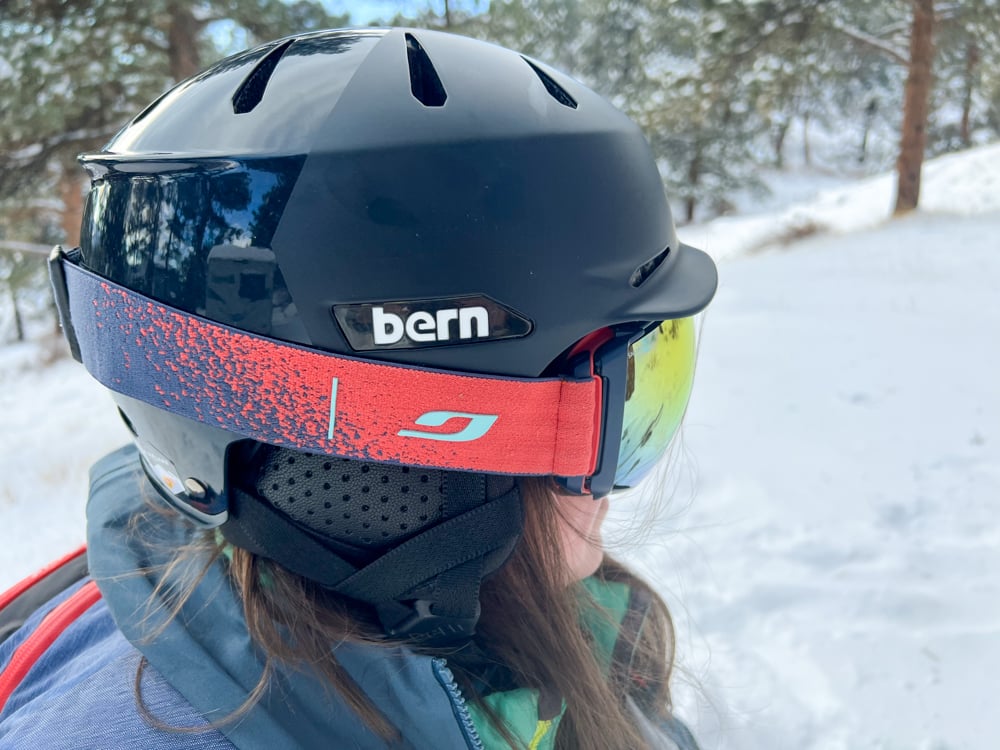 Did it hold up in areas of different terrain better than others?
I think this helmet could be used in many different scenarios. It certainly works for an in bounds cruising helmet — the Compass Fit allows you to wear a beanie underneath on frigid days. It would also work in the park, where the MIPS technology would have your back if you happen to battle a rail. The air vents would come in handy for trudging uphill in the backcountry if you don't want to hang your helmet on your pack, and especially nice when you're hot and sweaty from skinning up and don't want to put on a huge hot helmet to enjoy your ride down.
What sets this product apart?
I think what sets this product apart is the amazing amount of technology built into one helmet. Bern has been at the helmet game since 2004 and creating stylish helmets that set themselves apart from the rest.
Who is this product for?
This product is for anyone looking to upgrade their safety in the backcountry and is willing to put in some dollars to keep their noggin in pristine condition.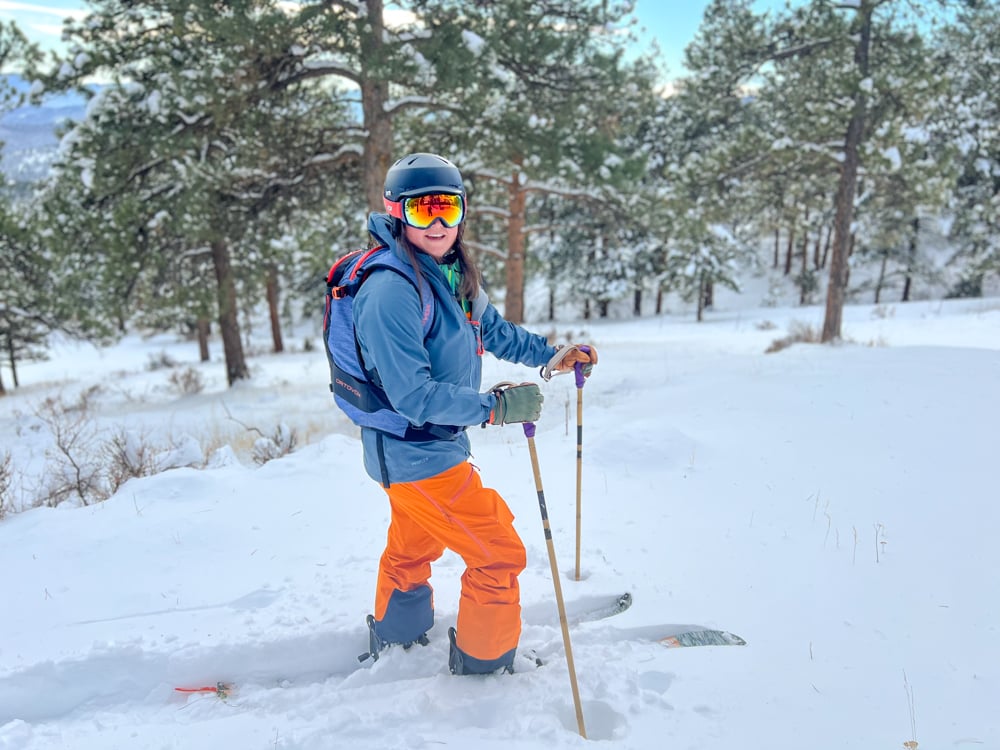 The Final Word
The Hendrix Carbon helmet is my new helmet for all mountain activities. It has so many features, is super light weight, and has a sleek look to it. You can switch out the liner for a lighter one, which I may just do to keep wearing this helmet all year long.
Shop Bern Hendrix Carbon Helmet on Outdoor Prolink. Not a member? Apply today!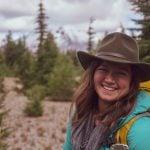 Roxy Dawson lives in a van full time and travels around the country working as an adventure journalist, searching for backcountry adventure, and using her dog as a pillow. Like most adventurers, she loves coffee, hot springs, and getting pretend lost. She works for Outdoor Prolink as the Content Marketer. She is trying to make a small positive impact on the world, and a larger one in her community. Follow her on Instagram at @roxyjan_