ProView – Cotopaxi Fuego Down Jacket
Cotopaxi, named after an active volcano in the Andes, puts 1% of their revenue toward addressing poverty and supporting community development. They are all about their motto, "Do Good", which is a part of every aspect of their company – from using recycled materials, to treating those who sew their products with utmost respect. Every phase in a product's lifecycle is meticulously measured against the company motto.
Cotopaxi Fuego Down Jacket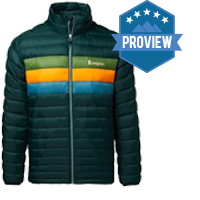 Product Description: The Fuego Hoodless is your essential down jacket for fall through spring. It's so light and packable that we even bring it on summer trips, just in case. The secret to Fuego Hoodless' success? Fill power. It's made with 800-fill RDS certified, water-resistant down, which means it's lightweight and incredibly warm. Elastic binding throughout, zippered hand pockets, and interior stash pockets means you'll be able to keep the elements out and your stuff safe.
Offer price: MSRP: $230.00
Comfort/Mobility

Breathability

Value

Features
Summary
I had an excellent experience testing the Cotopaxi Fuego jacket on some chilly spring and summer evenings in the Colorado mountains. Hiking on trails with a heavy backpack did not cause me to overheat, so breathability with this jacket was great. The simple and intuitive design made it the perfect jacket to take on spur-of-the-moment adventures. In the next revision of this jacket, it would be great to see an internal pocket up higher on both sides of the main zipper as well as vertical closure zippers on each pocket.
Pros
Great fit
Stylish colors
Responsibly made.
Cons
Interior stash pockets could be better designed.
I tested the Cotopaxi Fuego Jacket which is a lightweight all-season jacket that is versatile and made with responsibly sourced, RDS-certified down. The Cotopaxi Fuego is lightweight, packable, and ready for some epic adventures.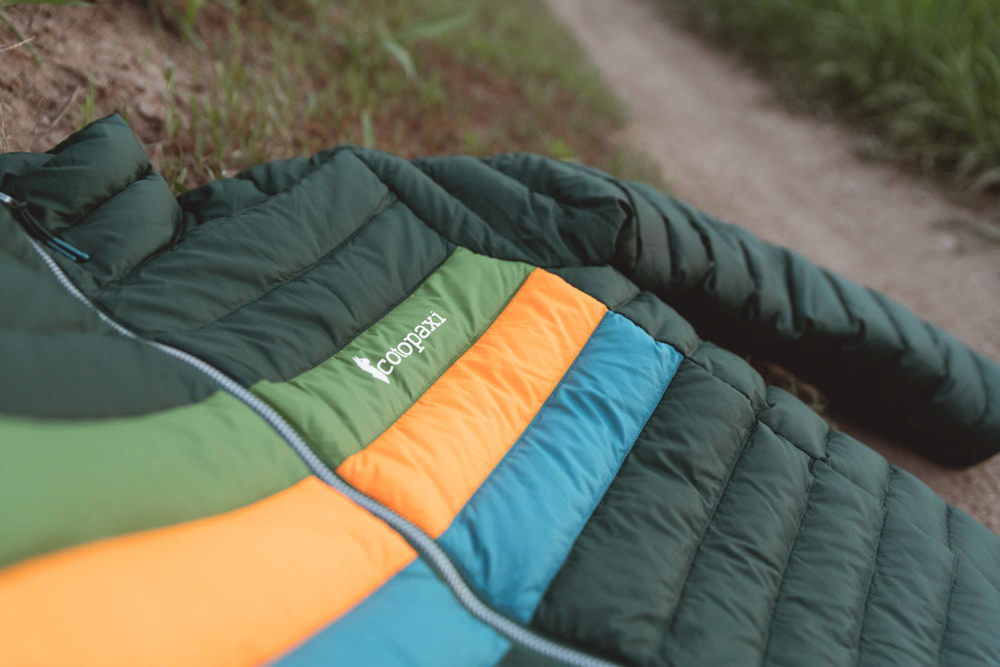 I tested this jacket out on photography shoots and day hikes in our local area during the COVID-19 pandemic. For a sense of scale, the model pictured is 5'7" 140 lbs and wearing a men's size medium.
Comfort/Mobility
From the minute I put on the Cotopaxi Fuego jacket, I felt a comfy feeling of warmth and softness. Its lightweight and snug fit were pleasurable, especially when wearing a backpack.
Movement in this jacket feels effortless. The design seams throughout the jacket and under the arms lend well to outdoor activities where a lot of movement in the arms occurs. Reaching across the body to put something into a backpack pocket does not tighten or stretch the coat. It simply feels snug and stays in place where the consumer would expect it. When raising the arms, the jacket lifted ever so slightly and still kept me warm during testing.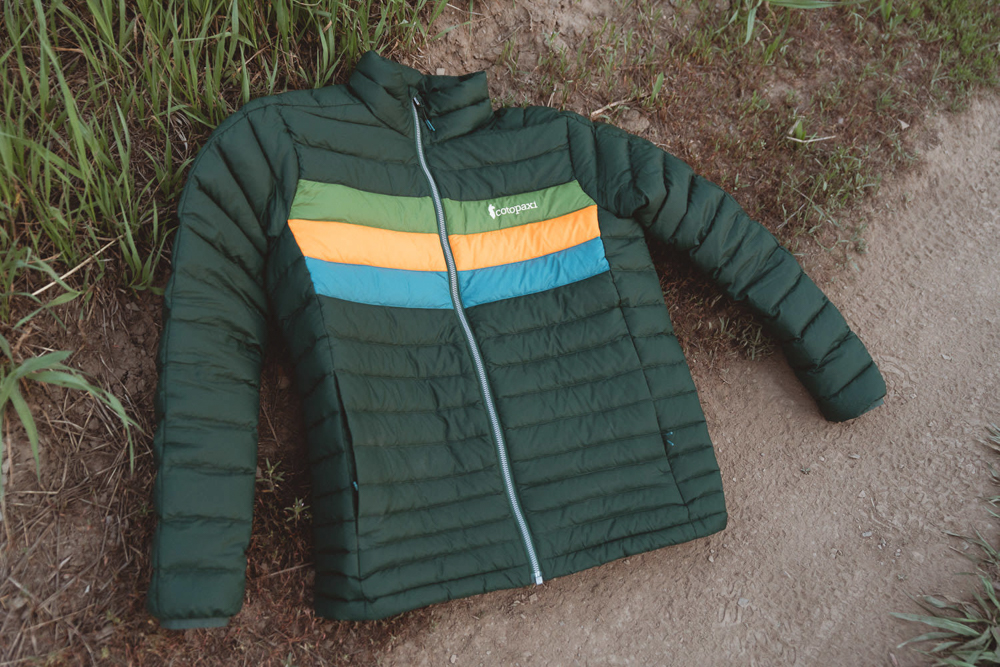 Breathability
The main zipper on the front of the jacket has a large protective flap that stretches the entire length of the zipper. This feature keeps wind from reaching the body, but allows a modest amount of body heat to escape during high output exercise. The same is true with the elastic cuffs on each wrist.
Although the jacket has an adjustable drawcord waist, I chose not to cinch it down for this testing. This allowed for better breathability as I was hiking steep inclines that produced higher exercise output. It allowed the heat to escape out of the bottom of the jacket and kept my body temperature just right.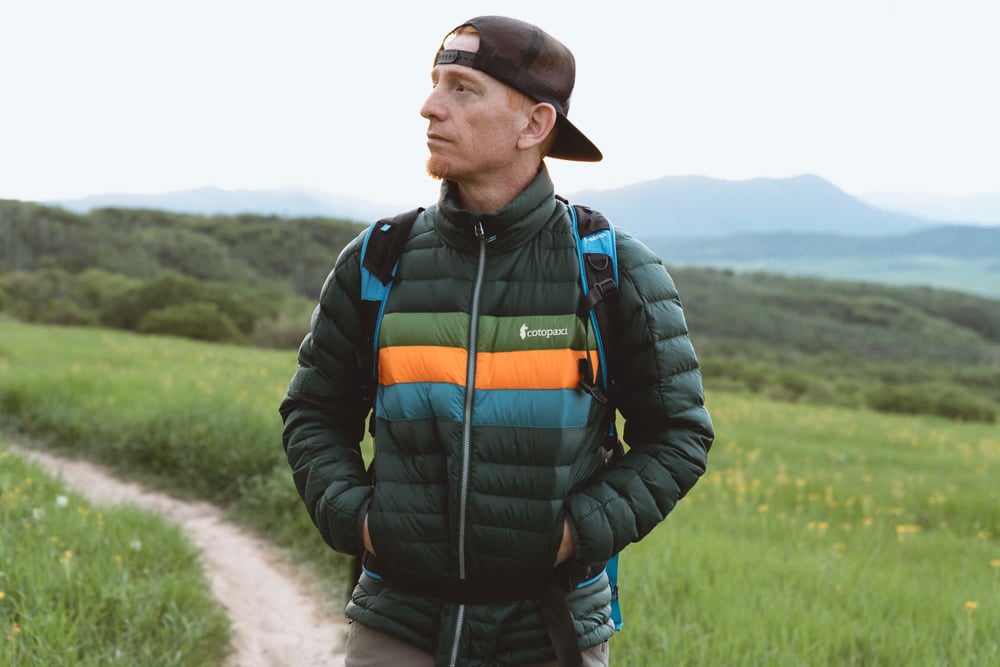 Value
At $250.00 MSRP, the Cotopaxi Fuego is listed at a comparable price point in the outdoor industry. The fact that 1% of Cotopaxi's earnings do good in the world, gives this jacket an advantage over other competitors who do not share the same views on giving back. It is such a great giving model, that I would purchase other Cotopaxi products just for that reason.
Features
Zippers are normally items that are overlooked in outdoor product reviews. One thing that I really enjoyed on this jacket was the use of the zippers. The main jacket zipper has a silky smooth operation due to the wide teeth and the perfectly sized slider. The additional webbing with rubber coated tips that connect to the pull tab also make it easy to zip when wearing gloves.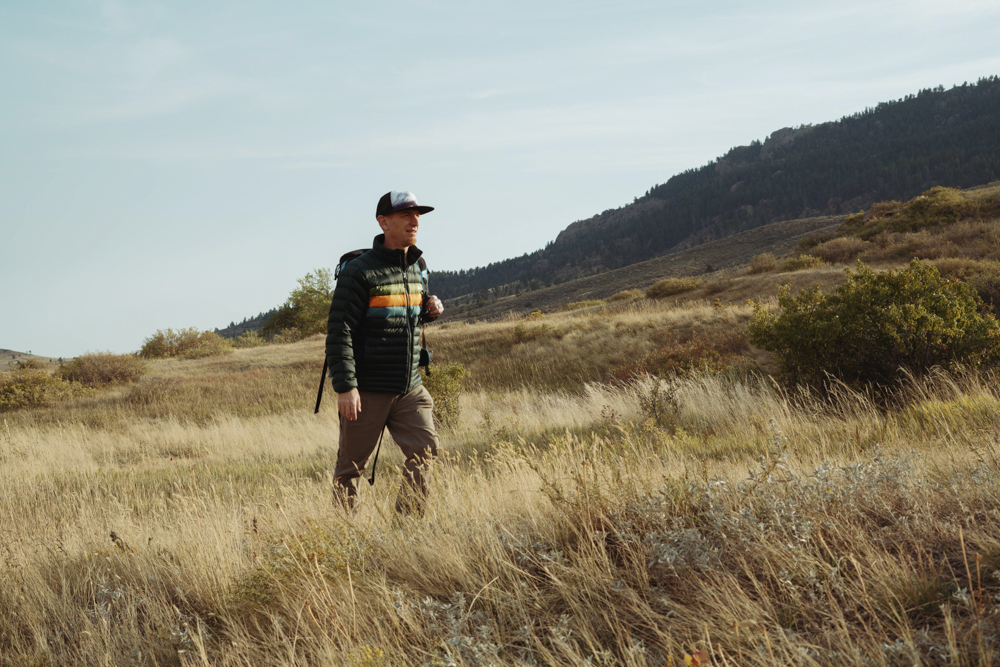 In addition to the features above, I really enjoyed the quilting in the jacket. It is a basic pattern that not only performs well, but it looks cool too. The addition of the three multi colored pleats and the "Gear For Good" lettering add a nice touch.
Room for Improvement
The outer hand pockets are generous in size and compliment the two internal pockets. However, I didn't prefer the placement of the two internal pockets because it felt awkward when reaching inside the coat. The zipper had to be brought all the way down in order to access the internal pockets which can cause heat loss in very cold weather. My recommendation to Cotopaxi designers would be to ditch the current, internal pocket design and add two internal chest pockets with vertical zippers. This would make it easier to stash a map and have it available for quick access. It would also provide a better place to keep a mobile phone and spare batteries warm during the winter months.
PRO TIP:
When heading out this summer on your next backpacking trip, be sure to pack the Cotopaxi Fuego jacket as an extra insulating layer for those cool, summer nights in the backcountry. At 14 ounces, it will barely add any weight to your pack and may just be the item that keeps you most comfortable when hanging out at basecamp in the evenings.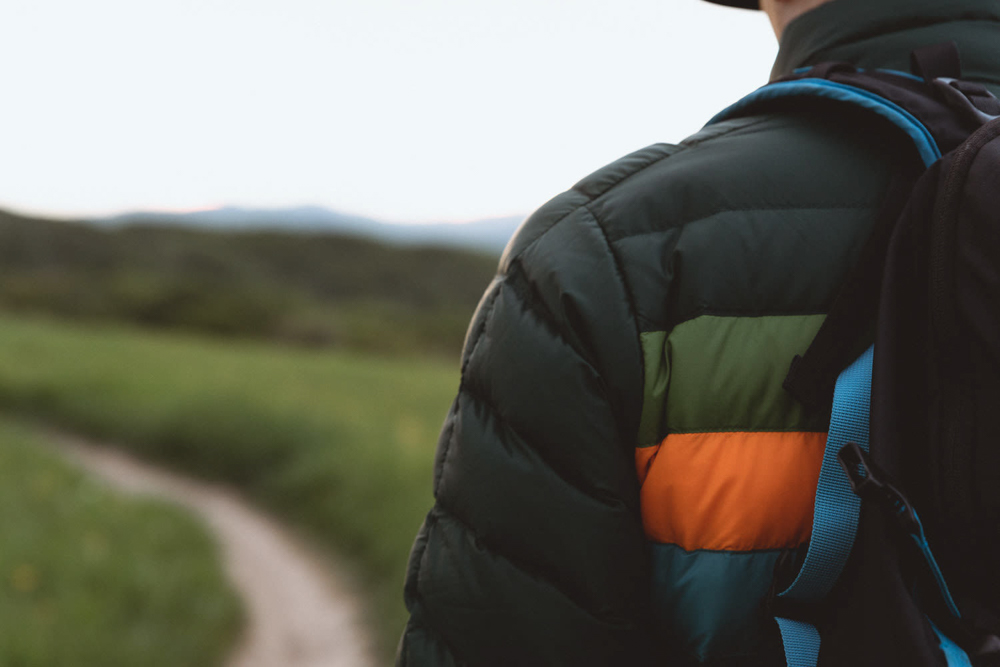 Here's a quick list of features direct from the Cotopaxi website:
FEATURES
Scuba hood (not tested)
Elastic binding at hood, cuffs, and hem
Adjustable drawcord waist
Two interior stash pockets
Zippered hand pockets
Included stuff sack (not tested)
MATERIALS
20D giant-ripstop nylon with DWR finish
800-fill responsibly sourced, water-resistant goose down
20D mini-ripstop nylon lining
TECH SPECS
Weight: 14oz (397g)
➳ Outdoor Prolink and Cotopaxi provided equipment and associated materials for this review. All photos by John LaGuardia. That's me!
Shop the Cotopaxi Fuego Down Hooded Jacket on Outdoor Prolink. Not a member? Apply today!
---
Originally posted October 6th, 2020
Updated December 22nd, 2021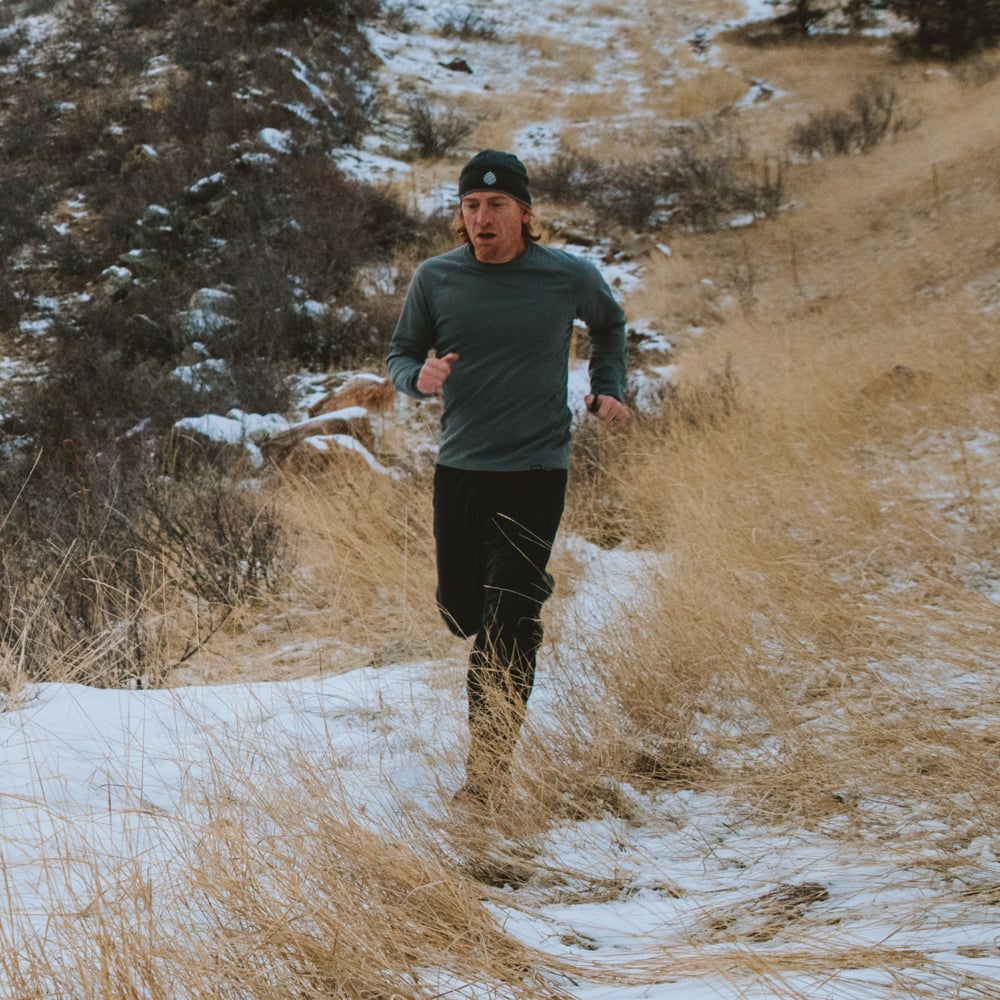 John LaGuardia is a Colorado-born, American adventure photographer who has worked in outdoor industry retail for many years. It all began back in the late 80's when he started up one of the first Colorado snowboard shops. Since then, he has worked with outdoor brands associated with snowsports, watersports, mountain biking, backpacking, trail running, and photography. His current work includes commercial photography and films that are related to outdoor active lifestyles. You can often find John out photographing nature and participating in the same activities as his subjects. You can connect with him on Instagram at @johnlagphoto