ProView – Kokopelli Packraft Rogue-Lite
Kokopelli was founded out of a garage in Denver, Colorado near where I grew up. I'm always enamored with outdoor companies that start up in my own backyard. It makes me want to support them as much as possible to help fuel their success. Can you relate?
Kokopelli Packraft Rogue-Lite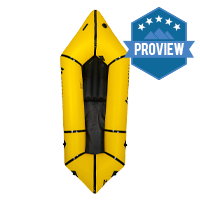 Product Name: Kokopelli Packraft Rogue-lite
Product Description: If you are someone who doesn't want to choose which mode of adventure-transportation gets left at home, the ultra-lite and durable Rogue-lite is your packraft. Light enough to go anywhere, the versatility of the Rogue-lite makes it a perfect addition to your outdoor adventures. As the foremost minimalist packraft, the Rogue-Lite weighs only 5.2lbs (2.3kgs) and packs down to the size of a paper towel roll. Rated up to Class I rivers with our first-in-class aramid fiber reinforced floor system, it's ideal for backpacking, adventure-travel, high-alpine fishing, and bikepacking.
Offer price: MSRP: $899.00 - $1,049.00
Packability & Weight

Comfort

Ease of Use

Durability
Summary
I had a fantastic experience testing the Kokopelli Packraft Rogue-Lite on some alpine lakes and mellow reservoirs in the Colorado mountains. It is a super lightweight packraft that is perfect for floating high alpine lakes after a long day of hiking or backpacking. It's great for day trips or extended backcountry missions.
Pros
Super lightweight

Durable

Well engineered design



Cons
No tracking fin so there is a lot of left and right wobble when paddling hard on flat water
I've had my eye on Kokopelli for the last year and have become more interested in packrafting in the past few months. When the opportunity came up to review one of Kokopelli's products, I jumped at the chance to get one in the water above 10,000 feet.
For this product review, I tested the Kokopelli Rogue-Lite packraft which is a super lightweight packraft designed to be portable, packable, and compact. It's great for single day missions and multi-day backpacking trips to high alpine lakes where weight is taken into serious consideration.
The Rogue Light packraft that I tested was accompanied by the Kokopelli Alpine Paddle which I am also including in this review.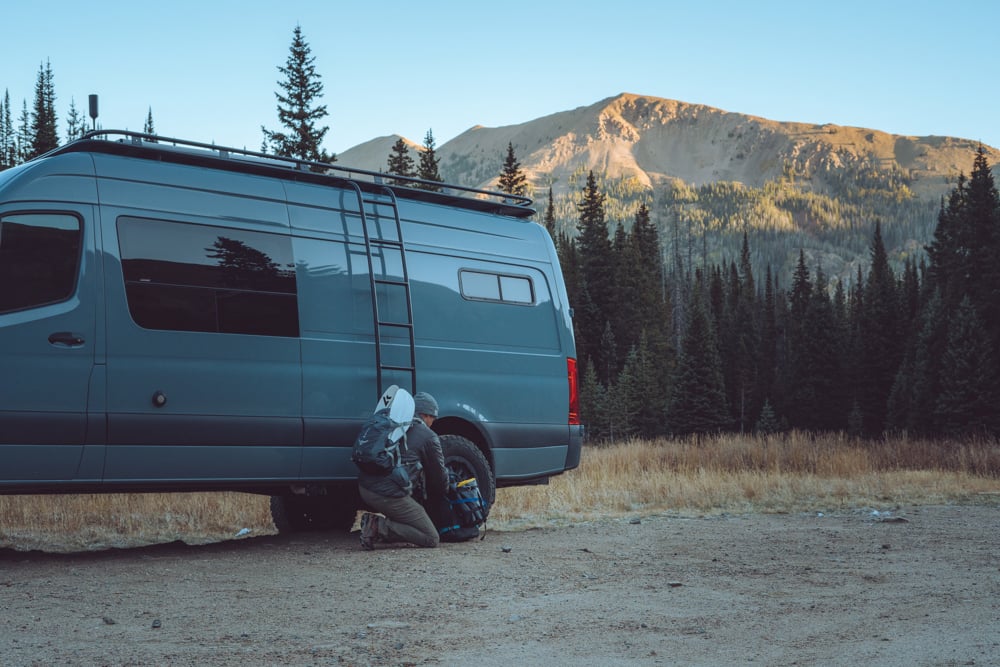 Hiking on trails with this packraft and paddle didn't tire me out any more than usual. I was pleasantly surprised how light my pack still was even with both products strapped on.
The simple and well engineered design of this packraft made setup a breeze, even without an electric pump.
In the next revision of this packraft I would like to see a single, removable, carbon fiber fin mounted on the underside stern much like a stand up paddleboard fin but lower profile. Maybe this has already been tested by Kokopelli but it seems like that would increase the overall stability when paddling hard on flat water. This may be a good trade-off for a few ounces of extra weight and could be removed when traveling in small river rapids.
Read on for additional review details…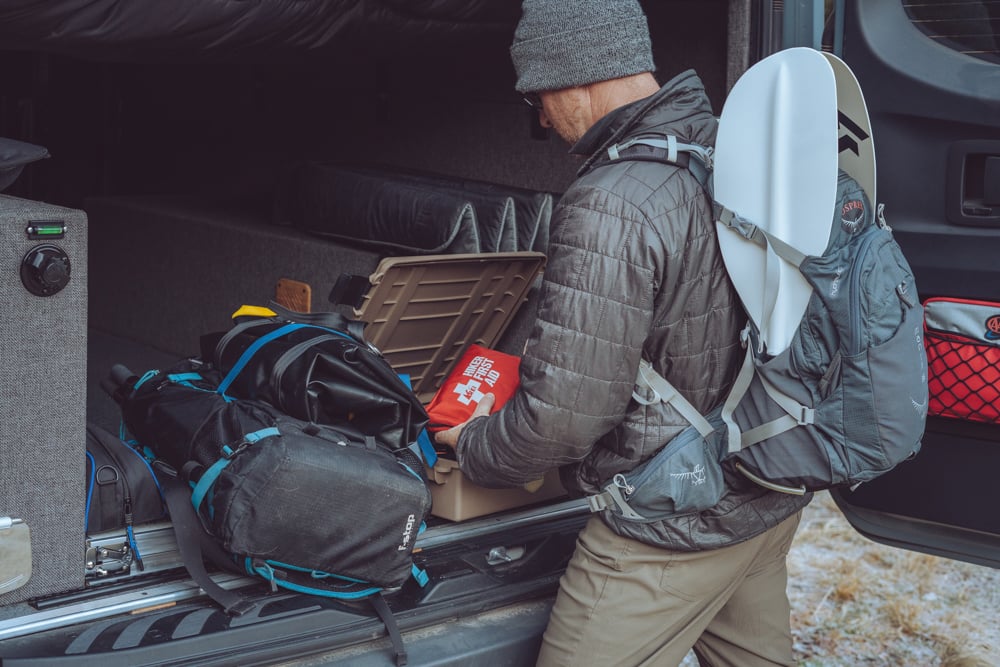 I tested this packraft on multiple occasions by myself and another time with a friend to see how user friendly this product could be. I was impressed on all of these outings which were primarily on flat water.
Packability & Weight
When I received the box from Kokopelli and pulled the packraft out, I was immediately impressed by how light it was. It took me a few tries to understand how to roll it back up but once I caught on, it was about the size of a paper towel roll. It's fairly easy to fold using the bottom material as a guide. Here's how I did it:
I pushed in all of the top material and tucked in the ends.
I folded it in half long-ways, then rolled from the bottom to the top with the air valve open. That pushed all of the air out as I rolled it.
I then wrapped the included straps around it and cinched it down.
When it came time to add it to my backpack, I used a single nylon strap to attach it.
Once it was on the backpack, I barely noticed that it was there. This packraft is super lightweight at 5.5 pounds and is super easy to get into the backcountry.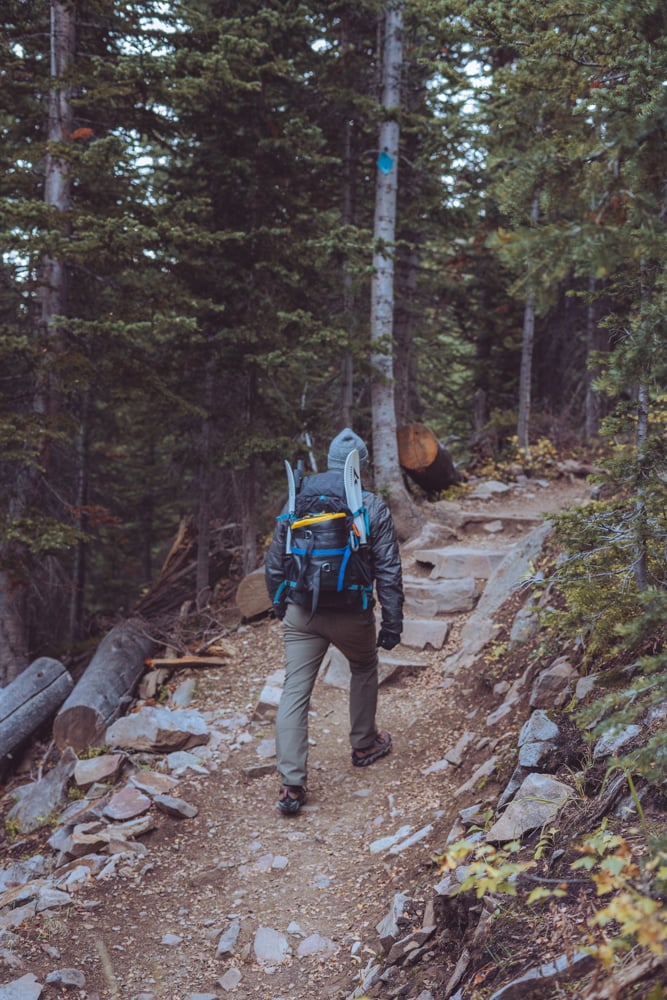 The Alpine Paddle was a cinch to take apart and put back together with the traditional stainless steel button system. It was also easy to attach to my backpack and I did this by taking them apart and inserting them into the side pockets, then cinching them down with the straps on my backpack in an area that I normally use for trekking poles.
Comfort
The Rogue Light comes with an inflatable seat that adds a lot of comfort to the paddling experience. It can be blown up manually using the attached tube and literally takes seconds to do so. Once it has been inflated, it can be add to the packraft and strapped in using the anchor that is already in the perfect position inside the packraft.
On one trip, I had forgotten the inflatable seat and learned that when it is installed, it also keeps a person dry from any water that gets into the packraft. It also provides a seated position a few inches higher than the bottom of the raft. This gives the person in the packraft a more efficient stroke when paddling.
The seated position in the packraft also places the mid back against the stern of the raft. Leaning back into the packraft is quite comfortable while paddling.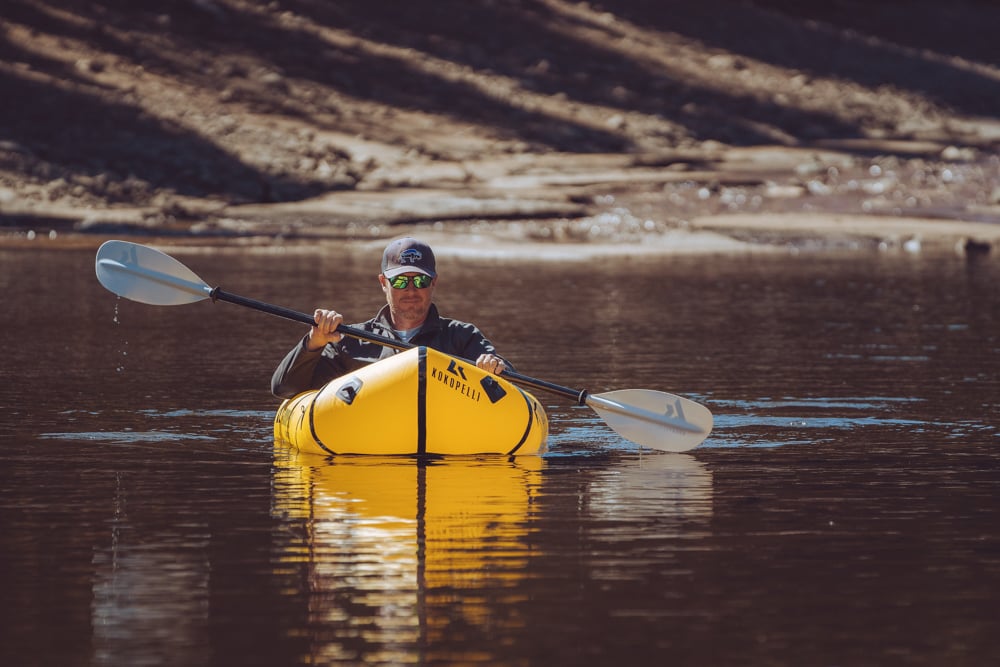 Ease of Use
When inflating the packraft using the included inflation bag, it took me about 10 times catching air in the bag and squeezing the air into the packraft. From there, it was simple to attach the included inflation tube to top it off with my breath. Kokopelli does sell a small, USB rechargeable pump that literally inflates the packraft in seconds but I really didn't mind performing this action manually with the inflation bag. It was still quite easy.
Once the packraft was inflated, I found it a breeze to get into from the shore along with the alpine paddle. This packraft excels at flat water floating but can also be used on mild rapids. One thing that I found while paddling flat water is that the packraft tends to sway from side to side when paddling hard. It's fairly easy to adjust to the back and forth sway but it left me wondering if a small, removable, carbon fiber fin near the bottom stern of the packraft would help keep a straighter course. This is why I rated this category with 4 out of 5 stars.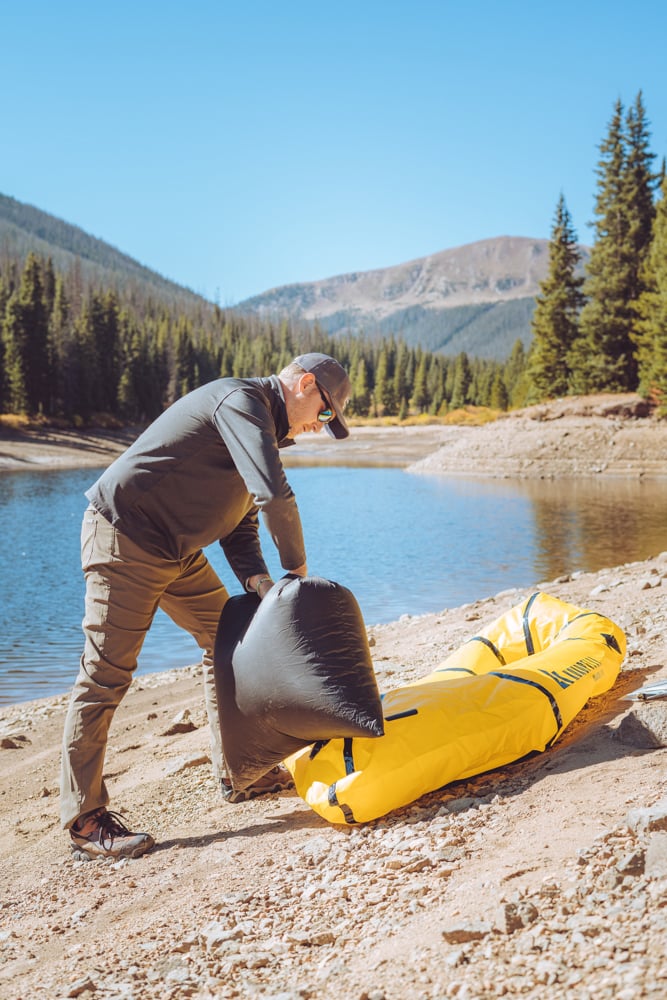 Durability
I was impressed with the construction of the Rogue Light. The sidewall is made from 210D TPU Nylon and the floor is the same but paired with Dupont Kevlar Aramid-Nylon blend. It is rigid enough to withstand scraping on rocks while at the same time pliable enough to be easily folded and rolled for transport. I used it in some tough conditions, often scraping the bottom on rocks but it still looks as if it is in "like new" condition.
Only having used the packraft on a handful of adventures, I cannot speak to the long-term durability. However, Kokopelli stands behind this product by providing the original owner with a limited lifetime warranty that covers defects in materials or workmanship.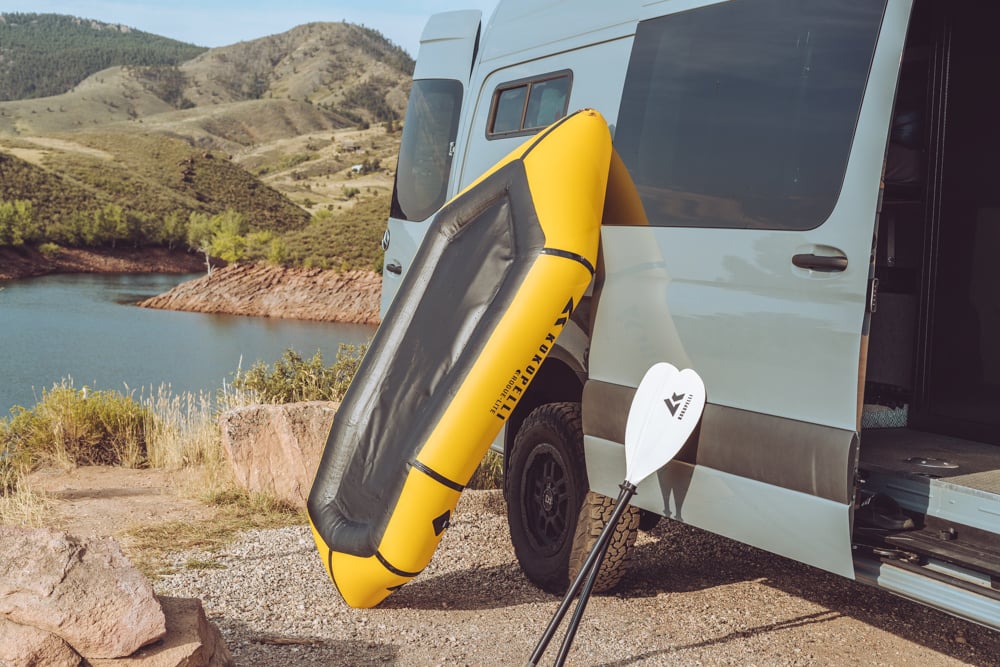 Pro Tip
When inflating the packraft, use the included inflation bag to inflate about 95%. Then close the Leafield D7 valve and insert the included inflation tube with the valve still closed. Use your mouth to blow into the tube until the packraft reaches full inflation. You'll know when the psi is just right and this process only takes a few minutes.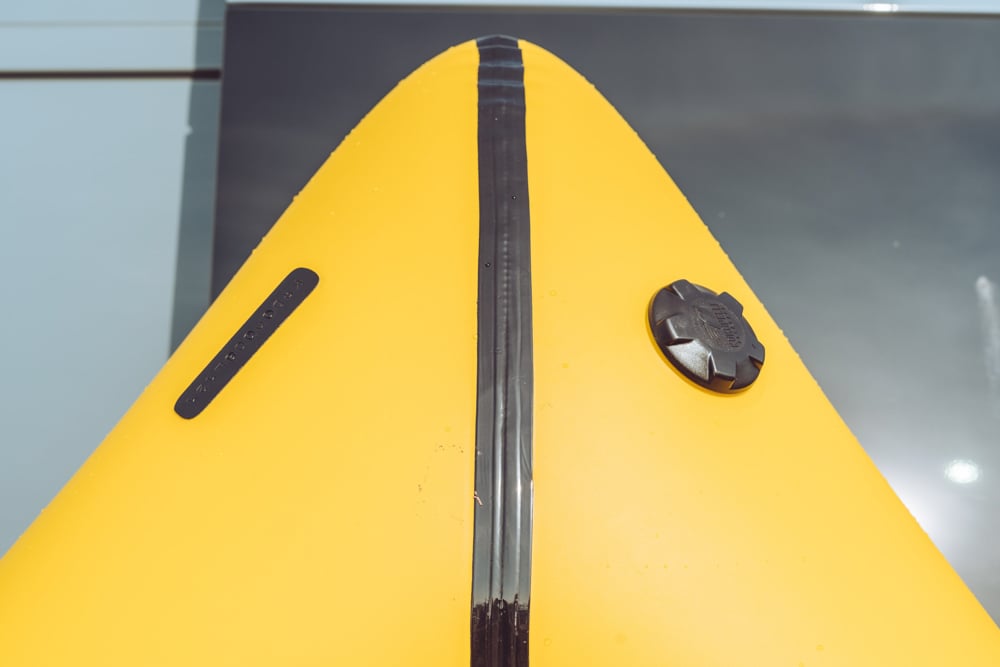 Specs
Series: Adventure Series
Material (Sidewall): 210d TPU + Nylon
Type: Bucket
Material (Floor): 210d TPU + DuPont Kevlar Aramid-Nylon Blend
Water Rating: Flat Water, Bays & Inlets, Class I
Valve (Pontoon): Leafield D7
Chambers: 1 (Main Pontoon)
Valve (Seat): Stem
Weight Capacity: 300lb (136kg)
PSI (Pontoon): 0.75 – 1.5
Weight (Boat): 5.5lb (2.5kg)
PSI (Seat): 1.0
Weight (Boat + Key Accessories*): 6.0lb (2.7kg)
Outer (Length): 85in (216cm)
Weight (Boat + All Accessories): 6.6lb (3.0kg)
Outer (Width): 37in (94cm)
Packed Size (Rolled): 12 x 8in (30 x 20cm)
Inner (Length): 51in (130cm)
Sprayskirt Compatible: No
Inner (Width): 16in (41cm)
Thigh-Strap Compatible:No
TiZip Zipper (Length)**: 21in (53cm)
E-Power Compatible: No
Removable Tracking Fin (Length): NA
Removable Tracking Fin Compatible: No
D-Ring (Material): Mil-Spec Webbing – 1in (2.5cm)
Warranty (Boat): Manufacturer Lifetime
D-Ring (# of): 4 Total = 4 Bow
Warranty (TiZip Zipper)**: 1 Year
*Key Accessories for the Rogue-Lite include the Inflatable Seat.
**TiZip Zipper is an optional feature.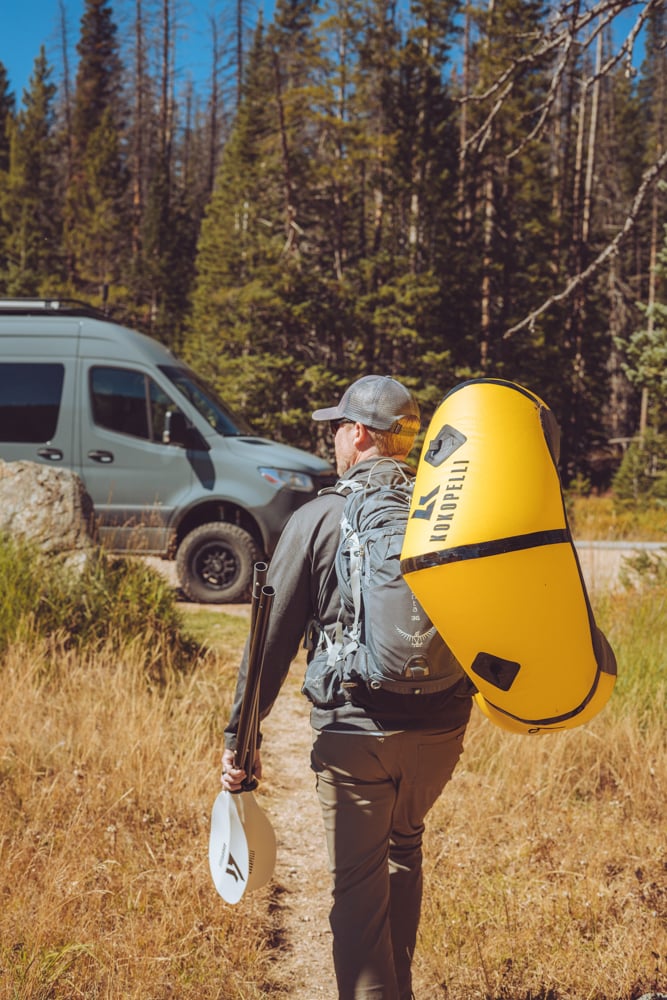 Kokopelli Rogue Light Packraft. A super lightweight packraft that is perfect for floating high alpine lakes after a long day of hiking or backpacking. It's great for day trips or extended backcountry missions.
Shop the Kokopelli Rogue Light Packraft on Outdoor Prolink. Not a member? Apply today!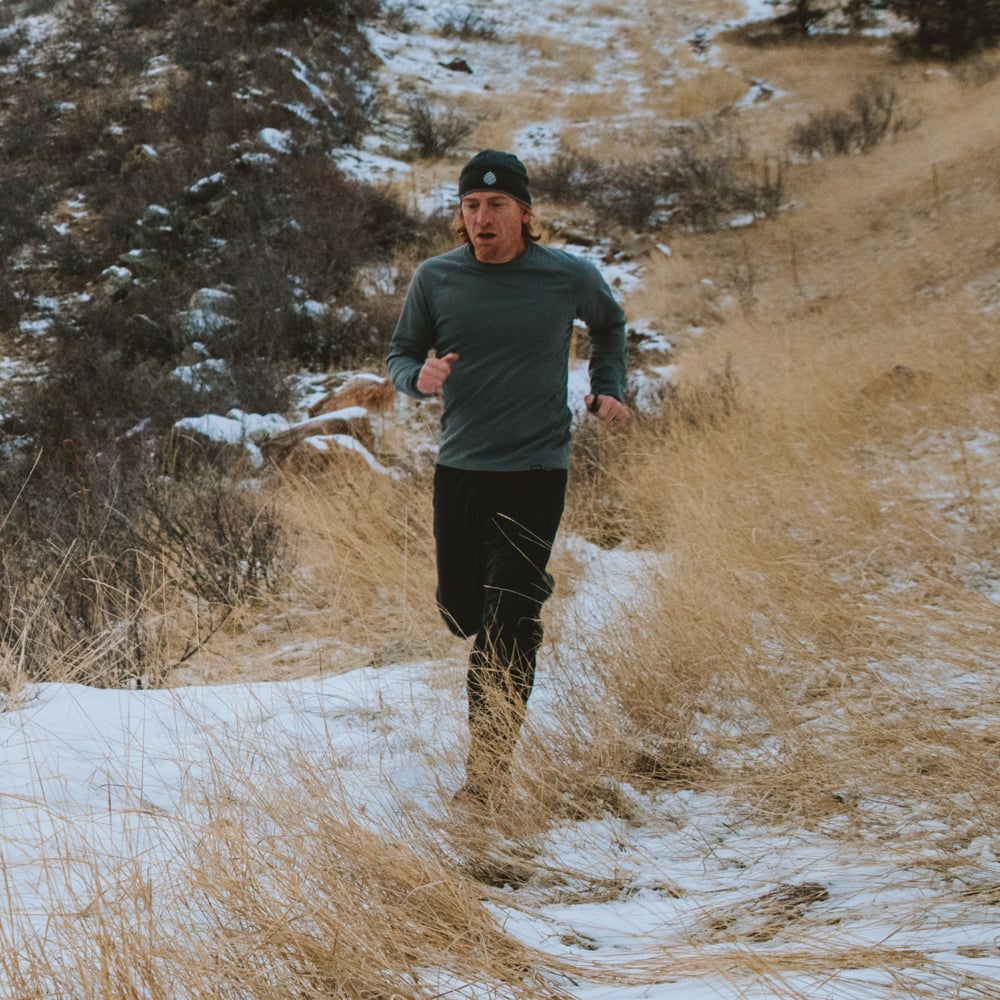 John LaGuardia is a Colorado-born, American adventure photographer who has worked in outdoor industry retail for many years. It all began back in the late 80's when he started up one of the first Colorado snowboard shops. Since then, he has worked with outdoor brands associated with snowsports, watersports, mountain biking, backpacking, trail running, and photography. His current work includes commercial photography and films that are related to outdoor active lifestyles. You can often find John out photographing nature and participating in the same activities as his subjects. You can connect with him on Instagram at @johnlagphoto