What's In My Trail Running Pack?
Fall colors are turning and it's time to hit the trails! Gearing up and packing your bag for trail running can take many different forms depending on how far you are running, and what terrain you are traveling across. Below are many of the options that might help you put together the perfect trail running pack.
Vest vs. Pack vs. Running Belt vs. Handheld
Every runner has their preference on vest, pack, running belt, or handheld.
Vests
Packs
Running Belt
Handheld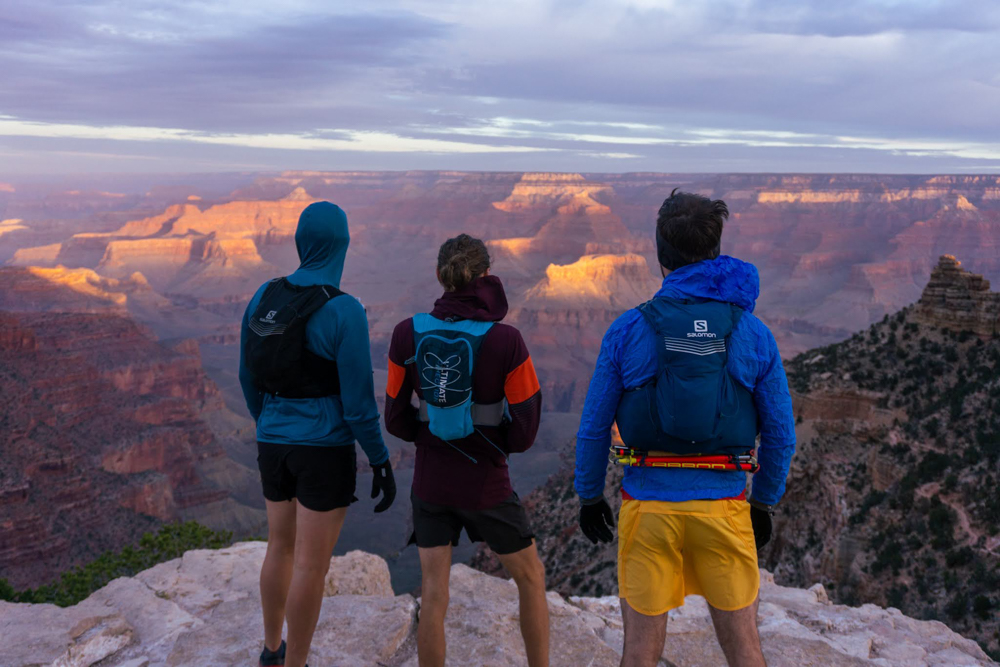 What Goes in the Pack:
Poles
Poles are typically a contentious topic amongst trail runners, a love or hate kind of relationship. I find that poles are very useful for steep climbs (>=800'/mile), where you can gain some extra propulsion from your arms instead of burning out your quads and calves. They can also be very helpful for long days to take the brunt out of long descents. Poles take some practice, though, and can be an acquired taste for runners.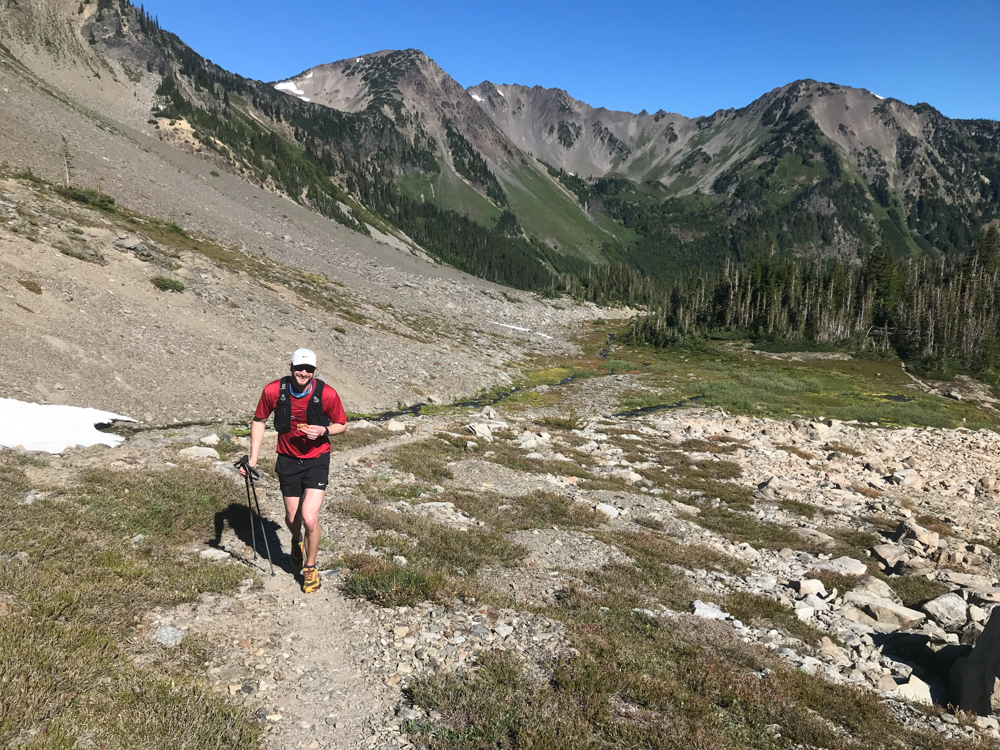 There is a difference between a normal trekking pole and a trail running pole. What's a trail running pole? Running-specific poles are folding, typically in a z-pattern. They are compact and lightweight, often made out of carbon or aluminum. Some examples include:
Hydration
Hydrating is key on long runs in the summer heat and sunshine. Typically I use soft flasks that fit into the running vest I use. They are lightweight and compact, which minimizes the weight I have to carry on me while running. I usually bring two 500 mL flasks which gives me up to 1 liter of carrying capacity. I'll also typically bring a water filter with me so that I can purify water from any streams I may find on my run. I really like the Hydrapak 500mL soft flasks that came with my Salomon ADV vest.
Sun Protection
I always bring sunglasses with me on trail runs, even if it's going to be a cloudy day. Lately I've been using the Goodr sunglasses, as they're inexpensive and durable to drops, bounces, and scratches. In the past I've loved using Julbo Aerospeed as well as Native Eyewear models.
Another item that's always in my pack is a buff (i.e. neck gaiter); they're multipurpose and can be used as a headband, neck gaiter, or just a plain rag.
I always pack sunscreen and lip balm as well, and I'll usually transfer sunscreen from a larger tube into a smaller container (a used Dermatone tin is my go-to) to keep everything compact.
Sugar
The key to long trail runs is fueling. I'm not going to get into an in-depth nutrition post here… I'm no dietician or sports scientist so it's not my place. However, I will share my general 'fueling' strategy that has worked pretty well over some long runs:
If I plan to run for >90 minutes, I'll bring food. I can get away with a 2-3 hour run without food, but it's much more pleasant with some fuel.
I aim to consume ~100 calories/hour, on average. Typically the first hour I don't have any hunger or apparent 'need' to fuel, but I'll try to get down a small nibble when I'm going for a longer effort.
I will primarily fuel with simple sugars (i.e. glucose/fructose/sucrose), coming from candies (gummy worms primarily) or more 'complex' carbohydrates (granolas, candy bars).
For long runs (>4 hours), I'll plan to have a more 'substantial' snack of 250-500 calories every 3 hours or so. This snack will likely have some fats and proteins in it to be a slower release of fuel to my bloodstream.
I will bring electrolytes, typically Nuun or Gatorade powder, and use this every 3 hours or so to help with hydration. Just drinking pure water sometimes will result in cramps or a feeling of 'sluggishness' because I'm not absorbing calories fast enough.
For REALLY hot days I will try to bring 1 or 2 salty snacks, like crushed up potato chips, salami, or cheese. This will help replenish all the salt I'll sweat out throughout the day.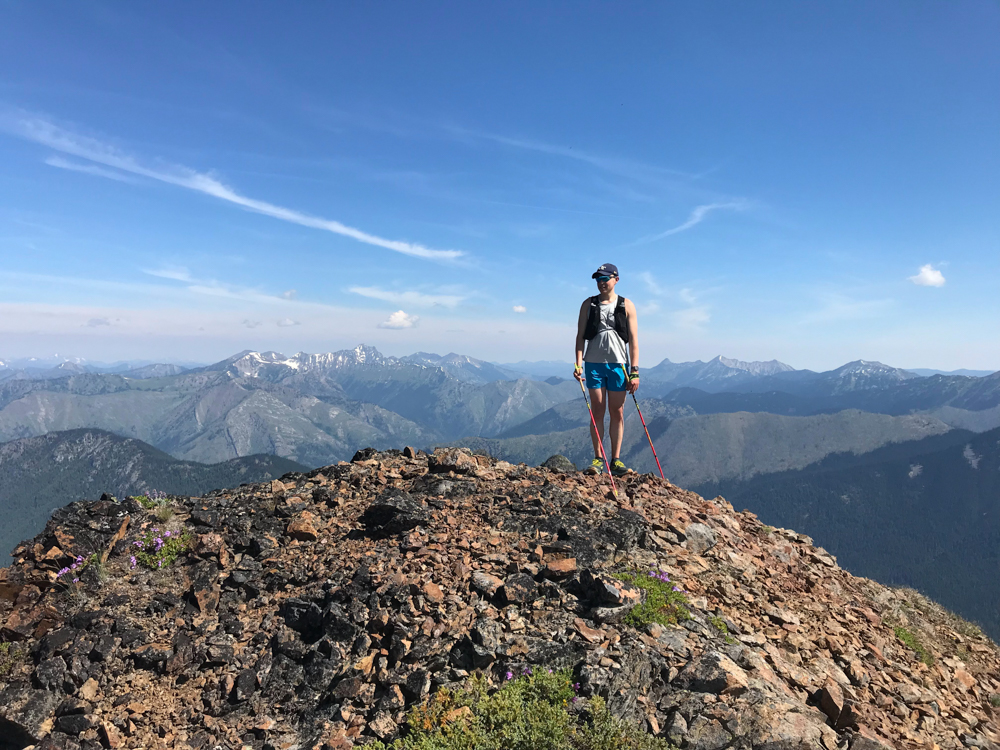 Non -Tangibles to Bring Along
Podcasts
I LOVE listening to podcasts during long runs. They help me focus on something other than the rhythm of my feet and the miles seem to fly by! Usually I'll pack a pair of bluetooth headphones in my pack and pull them out when the 'going gets tough' and I need some help with motivation.
Some of my favorite podcasts to listen to while running include:
A Good Attitude
Not every day is going to be your best. Some days I'm just not feeling it… I just need to dial it back and understand what my body can put out.
Trail running is supposed to be fun! Keep a good attitude, don't push too too hard (unless that's what you are going for), and enjoy the scenery! Pick your head up once in a while (don't trip) and enjoy the sights and scenes.