ProView – Darn Tough Lifestyle Socks
I have been wearing the Darn Tough Lifestyle socks regularly for the last few weeks. I have previously spent most of my time wearing the hiking version of these socks, which I love, so I was excited to try out the official lifestyle version. I was given four different pairs of socks with three different versions to review. I had two lightweight pairs of the crew socks with no cushion, one lightweight pair with cushion, and one pair of graduated light compression socks. Because these are the "lifestyle" socks I tried to focus on all of the everyday tasks I do while wearing them. I took them on lots of walks, ran around with kids I'm working with, lounged about my house, and even took a pair to the beach. They did not disappoint!
Darn Tough Lifestyle Socks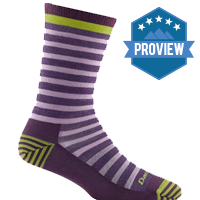 Product Description: Darn Tough Vermont Socks are purpose built premium merino wool socks made in Vermont, USA. Our socks are guaranteed for life to be the best fitting, and most comfrotable.
Offer price: $21.00-$23.00 MSRP
Quality

Features

Fit

Durability

Eco-Friendly
Summary
These lifestyle socks are another great product from Darn Tough that are perfect for every day use! They are light, comfortable, dry quickly, and can keep up with me on my busiest days! 
Pros
Light and breathable
Quick-drying
Cute and trendy
Lifetime guarantee
Cons
I had to keep pulling up the lightweight sock with cushion when I wore them
Not warm enough for the winter months
One pair wasn't seamless
Fit/Comfort
I got a size medium in all pairs of these socks and they fit perfectly, as expected. These lifestyles socks are also very thin and comfortable. The thinness of them threw me off a bit at first since I'm so used to the hiking version of these socks, but I appreciate how light and breathable the lifestyle ones are for daily living. I am very active and always on the go and these socks were always up for the challenge of my busy life. Almost every pair of these socks stayed in place while I completed daily tasks, but for some reason the Bronwyn Crew Light Cushion didn't stay up as much as the other three. Every time I wore them I had to keep pulling them up. This was unexpected given my experience with the other pairs in this set and perhaps there was just something a little off about that pair. 
Look/Style
These lifestyle socks are super cute. I am a huge fan of the Animal Haus Crew Light socks, the pair with the sloth on them, because they are playful and fun and the kids I work with love them! The Chakra Knee High Light, the ones with light compression, are comfortable and stylish. I wore them around my house after a hike and loved the way they made my calves feel. They could also be worn with cute outfits to bring a look together.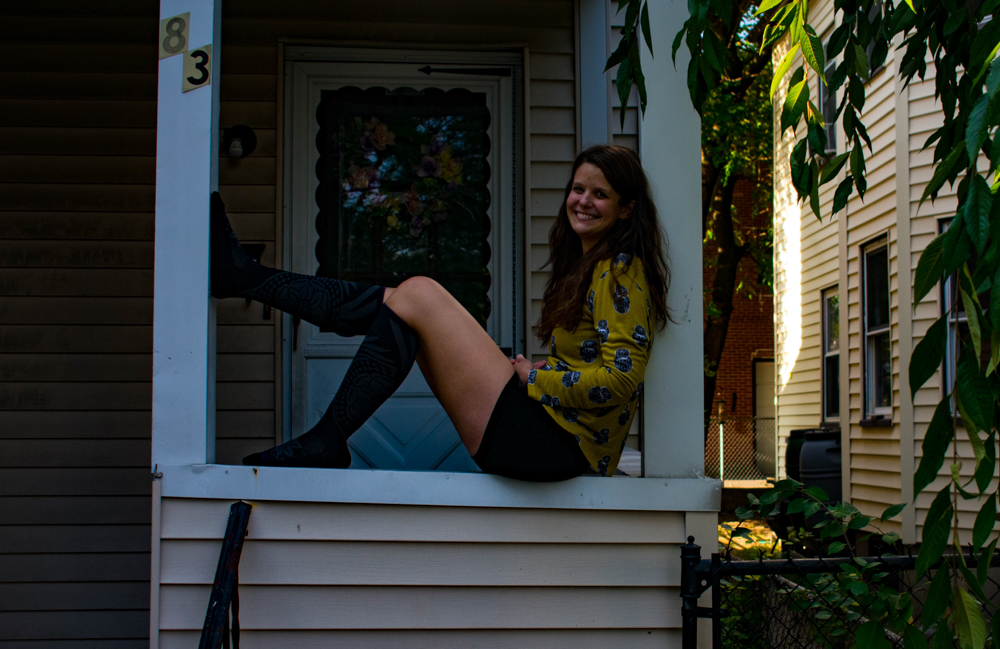 Features/Performance
These lifestyle socks are strong, light, and super breathable. Even when jumping though puddles with kids and running from waves at the beach, these socks never stayed wet for long so I didn't have to worry about changing them when they got wet.
The lightness and thinness of these socks make them incredibly comfortable for daily tasks. They are perfect for wearing during late summer and early fall. However, as the weather changes and the temeratures drop, I would struggle to continue wearing these lightweight socks as my feet tend to get cold. But for people who don't have cold feet or live in milder climates, they would continue working out just fine.  
Durability/Construction
Darn Tough socks are constructed to last and this lifestyle version is no different. They are comfortable and strong and I appreciate that there is slightly thicker fabric around the toes and heels of each sock. My biggest qualm with the construction, however, is that on one pair the seams stick out around the toe area. It didn't bother me too much, and could just be a flaw with the particular pair I had, but it was something that I noticed given their feature of a "true seamless" design.
Eco-Friendliness
Reading through the sustainability section on Darn Tough's website, it's important to note that they own that manufacturing socks takes a toll on the environment and they are constantly working to operate more sustainably. They have made a commitment to durability, though, to ensure that the socks last as long as possible, which has also led to the company's Lifetime Guarantee!
Individual Strengths
Since there were four different pairs of socks for this review I want to briefly touch on each of their strengths individually. First of all, the Animal Haus Taupe sock is absolutely my favorite in this set because it is such a fun design in a performance sock that will last for years. The Morgan Crew Light pair of socks in boysenberry is super sleek and has Darn Tough's standard fit and comfort. The Bronwyn Crew Light sock in black is incredibly flexible and can be worn with anything! Finally, the Chakra Knee High socks in charcoal have amazing graduated compression that is perfect for recovery or being on your feet all day long.
The Final Word
The Darn Tough Lifestyle socks are another great product from Darn Tough! They are light, comfortable, cute, dry quickly, and are strong enough to keep up with my busy lifestyle. Once winter hits and snow is on the ground, though, they won't be thick enough for my cold feet and I'll transition to my thicker Darn Tough hiking socks.
Shop Darn Tough on Outdoor Prolink. Not a member? Apply today!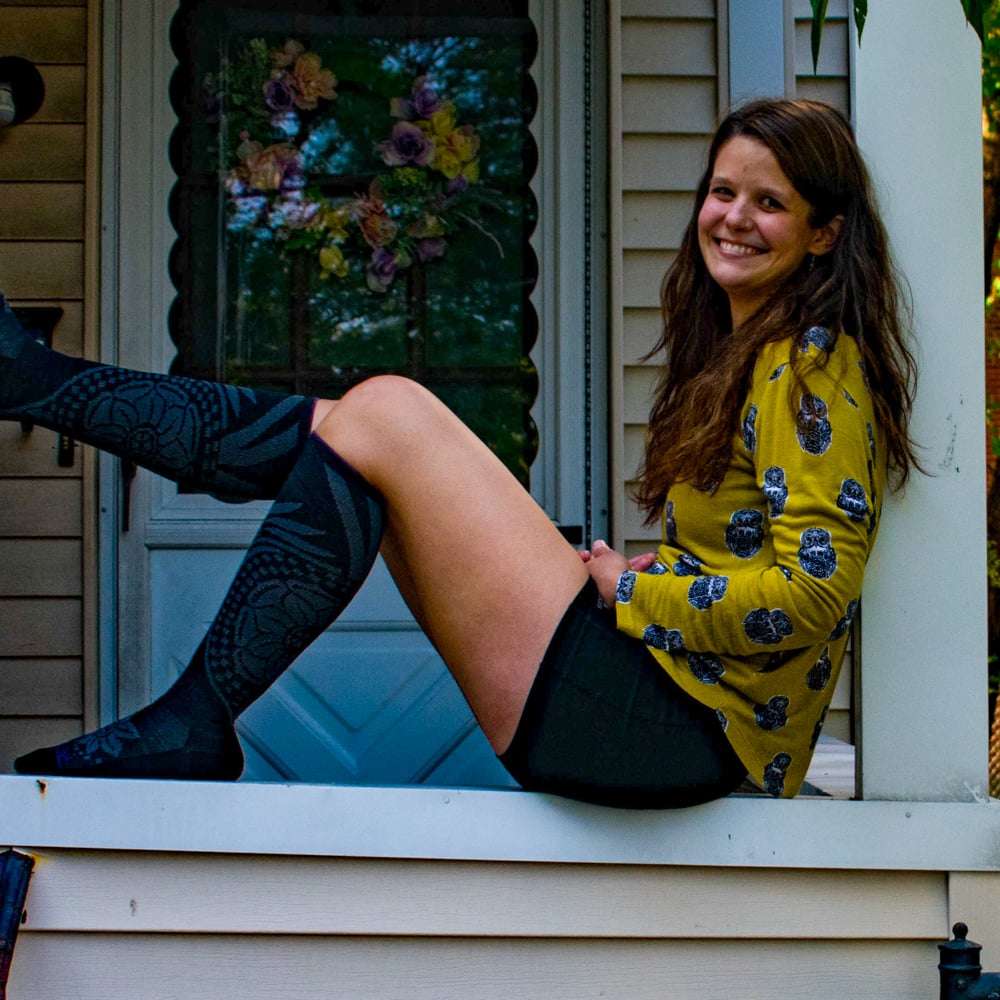 Bekah is an outdoor instructor and avid thru-hiker. She has led backpacking trips for Outward Bound California for the last four years. She has also completed the Appalachian Trail, the Arizona Trail, and the Tahoe Rim Trail. This fall and winter you can find her in Massachusetts attending graduate school where she cooks and goes to New Hampshire to hike as much as possible. Follow her on Instagram @bekah316.