ProView – Darn Tough Crew Socks
I've been wearing nothing but Darn Tough's Lifestyle Crew socks (on my feet that is, get your mind out of the gutter) for the past two months and I love them. I tried my best to abuse these socks as my "lifestyle" would normally do. For me, that meant asking the question: Can these socks hold up to work, play, and everything in between? And I'm happy to tell you the answer is an unequivocal yes!
Darn Tough Crew Socks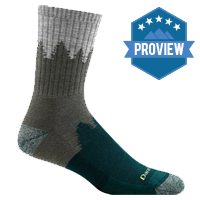 Product Description: Drink from enough streams and you'll eventually get an explosive reaction. Look closely at this hike sock and you'll see what we mean. However, a blown-out seam should be the least of your worries. That's why the Number 2 is #1 when it comes long-lasting toughness and active comfort.
Offer price: $21.00-$23.00 MSRP
Quality

Features

Fit

Durability

Eco-Friendly
Summary
Fit is great, tight without being too tight, socks don't slouch after all-day wear, do anything socks. The Darn Tough Lifestyle Crew socks are my new favorite socks. They are thin, comfortable, and durable, and if I wear them out one day in the distant future, Darn Tough will send me another pair. You just can't beat that commitment to quality! 
Pros
The weight and thickness is perfect
Durable
Don't stretch or get floppy
Lifetime warranty
Cons
Some people might want warmer socks
I work full-time at a camp doing marketing 9-5, I own a wedding photography business with my wife, I commute to work on my bike as often as possible, and I try and run 20-30 miles a week – That's my lifestyle, and those are the things I put these socks through. I like a super specific piece of gear as much as the next guy, but I love things that perform well throughout multiple activities. One day I rode my bike to work, ran for an hour at lunch, biked home, then mowed my yard all while wearing the same pair of Darn Tough Lifestyle Crew socks. Is that a bit overzealous? Maybe. But more than that it is wonderful and a testimony to how well built and comfortable these socks really are.
Fit/Comfort
Let's be honest; if socks fail in this category it doesn't really matter how good they look or how recycled they are, they are crappy socks. These socks are not crappy socks. I love how thin these socks are, for me that was the primary reason for how comfortable they were. They fit great without being too tight or too loose. They don't squeeze my calves and leave rings around my legs, but they don't pool up around the tops of my shoes. I wear a 10.5 shoe and got Large socks and that was perfect. I have a wide foot but didn't have any issues with bunching or pinching. Well done Darn Tough!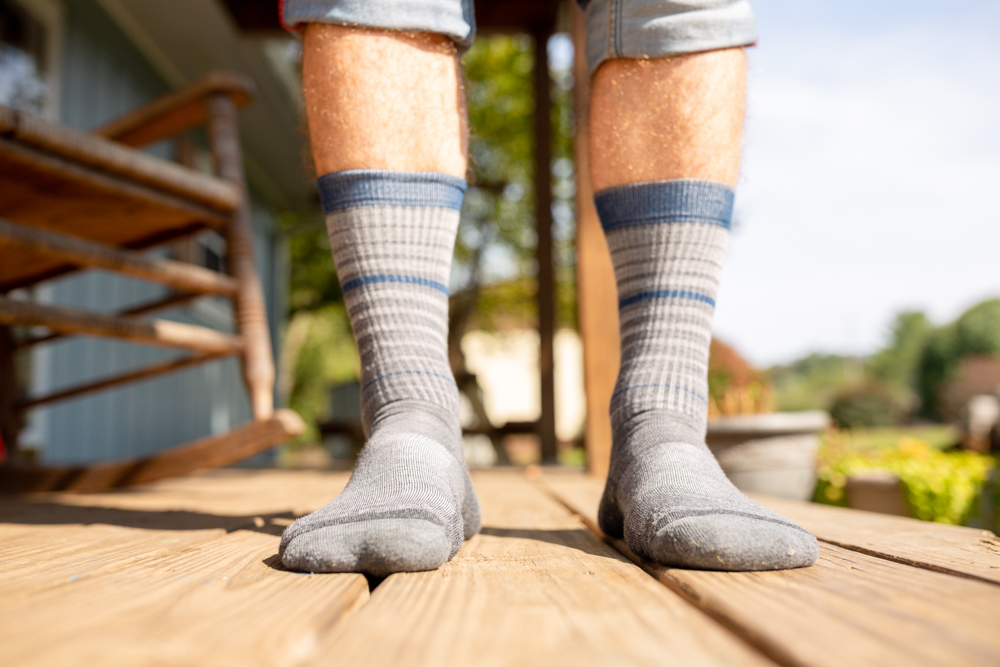 Look/Style
As in all my reviews I feel I must be up front with the fact that I don't have what some people call, "style". But with that caveat I think these socks look great. I'm not a huge fan of the Haze Crew but that doesn't really fit my lifestyle. I do think these socks, especially the Frequency and Oxford designs (the stripey ones), nail the simple style. The Oxford Crew has become my go to wedding sock when my wife and I are doing wedding photography. I'm a big fan of the clean and simple aesthetic.
Features/Performance
I know socks have features, but it doesn't matter how techy a sock is if it doesn't contribute to the comfort and durability of the sock. These socks have regulating and comfortable fabrics, they have flat seams and different performance metrics, but really they are just great socks. They aren't too warm and they wick sweat well. They can be worn for multiple days without getting crunchy or stanky. They fit well and keep fitting well day after day and wash after wash. I couldn't tell you what these features are called without looking at a list on Darn Tough's website, but I can tell you this: they work.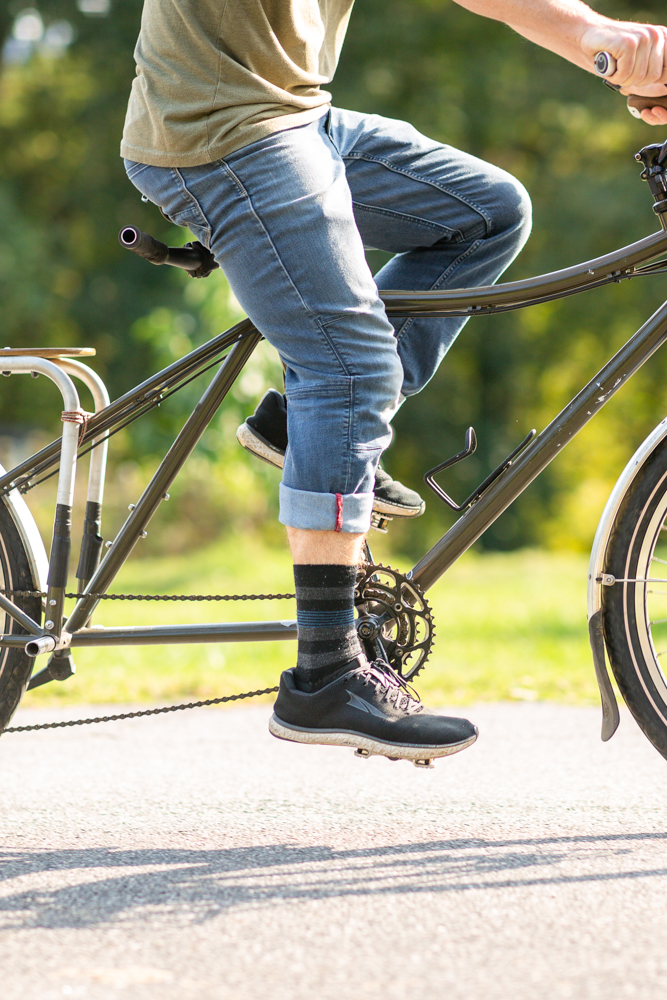 Durability/Construction
The name says it all. These things are Darn Tough. They are remarkably thin and don't have any extra cushioning. At first I was worried with how thin they were, that they would wear out, but I'm happy to say after wearing these socks for longer than I should have and doing more things than they were meant to do, they held up great. The one exception to this was the Haze Crew had a good bit of fraying where the pattern met the man sock fabric (see photo). This hasn't affected the performance of the sock yet, but I'm sure will shorten its usability.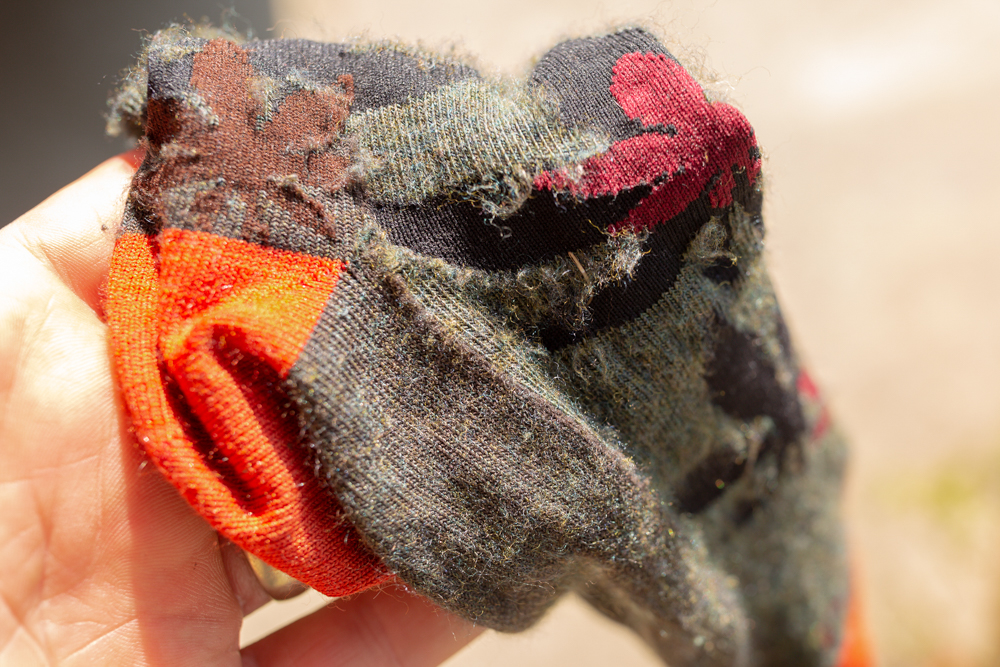 Sustainability
I really like Darn Tough on this front. Their primary goal is to make their socks good enough that you won't have to get new socks as often which cuts down on manufacturing. They are also honest; they don't try to hide what they are doing behind a ton of eco-language. They realize they, like everyone else, are having an impact on the planet and they want to do better. I really appreciate their outlook that there's a way to serve your customer well and have less of an environmental impact without cutting corners.
The Final Word
The Darn Tough Lifestyle Crew socks are my new favorite socks. They are thin, comfortable, and durable, and if I wear them out one day in the distant future, Darn Tough will send me another pair. You just can't beat that commitment to quality!
Shop Darn Tough on Outdoor Prolink. Not a member? Apply today!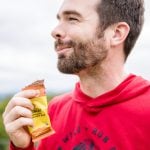 Harry is a father of 3 knee-high, ankle-biters, and the husband of one beautiful lady. He is currently mastering the zen art of balancing family, work, and making himself intentionally uncomfortable. He's also an AMGA SPI, W-EMT, LNT Master Educator, and lover of people and places. Learn more @harrymcsween.