ProView – Darn Tough Hiking Socks
The days of free feet are coming to a close. As my partner calls shoes, the "foot prison" season is upon us. That means the inevitable decision to find the right sock for the right job will come up every single morning for the next many months, sometimes multiple times a day, If you, like me, struggle to think about all the different activities that will happen in just one day, between hiking, mountain biking, meetings for work, drinks in the back lawn, and maybe an evening stroll, just grab a bunch of Darn Toughs and skip the "thinking about it" process. They are comfortable through so many different activities and transition from working outside to city plans seamlessly (also they're seamless). 
Darn Tough Hiking Socks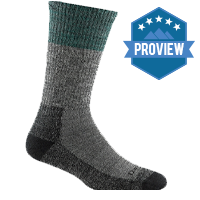 Product Description: Darn Tough Vermont Socks are purpose built premium merino wool socks made in Vermont, USA. Our socks are guaranteed for life to be the best fitting, and most comfrotable.
Offer price: $21.00-$24.00 MSRP
Quality

Features

Fit

Durability

Eco-Friendly
Summary
I was a DarnTough fan before, and these four pairs of socks only solidified my love for the brand. Call me bias, but when products are made of solid materials, built to last, and the company actually stands by their standards, I am a fan. When you're at REI perusing the socks, spend the extra few dollars and get the Darn Toughs.
Pros
Super comfy
Warm
Promote healthy feet 
Fun colors
Cons
Can squeeze ankles if layered
Fit/Comfort
I am a proponent of comfy and natural footwear, and I look for socks that match those standards as well. I wear correct toes (they've been repaired a few times, that's why they look like that in the photo) while hiking to promote natural movement and stride. The correct toes fit nicely under the socks and then inside my shoes. The Scout was especially nice for this fit. They are made with twisted yarn, which creates a softer feel but doesn't affect the fit, and makes them feel almost 'invisible.'
All the Darn Tough socks I tested were comfortable in different ways. The thicker ones were super cozy and felt nice wearing around the house. The thinner Ceres felt great while hiking and during high activity. They were perfect for hiking boots, just peaking up over the high ankle, and not squeezing my calf. They also moved moisture away from my foot during high output activities. I usually wear leather boots to hike in, and the fall season was the perfect time to test the different warmth levels of the socks. The Ceres was best for high activities when my whole body would heat up and I didn't need any added warmth for my toes. Another pair, the Her Spur was great for longer hikes where I would take breaks more often. They kept my feet warm in the dropping fall temperatures even when I was stopping for a snack. It also had a "put it on and forget it" feel. Even on hikes over ten miles, the Her Spur combined with leather boots were an extremely comfortable combination.
Look/Style
I love the looks of Darn Tough socks. Something about seeing a sock that looks cozy makes them feel cozier. Add in a fire and some hot chocolate, and I'm never taking these off. I have many pairs of Darn Tough socks, and I appreciate that they aren't overtly gendered. There are a few pinks for the women's designs, but overall, they have earth tones and funky combos that are pleasant to look at. 
Features
One of my favorite features of Darn Tough socks is the high wool percentage in all of their socks. Wool is a natural fiber that doesn't release plastic microfibers while washing, is breathable and moisture-wicking, and is straight-up comfortable. It's a great material because it's antimicrobial and can be worn over and over again without smelling — something that is super important for socks! I found the Nomad to be especially easy to wear over and over again. I would take them off to sleep and then put them right back on when I woke up. This was especially nice while traveling because I didn't have to bring extra socks, I knew I was covered. 
Durability/Construction
They don't call them Darn Tough just because it's a great name. I still have Darn Tough socks I bought five years ago and they're going strong. I can only assume these pairs will be just as durable. The only issues I ran into were heel and ball of foot rub, after many miles and years of use. The current socks I've been testing for a month still look brand new.
Eco-Friendly
Darn Tough socks are "guaranteed for life. No strings. No conditions. For life." This means Darn Tough is trying to make a product that will last a lifetime. A lifetime with one product is a great way to keep products out of the dump.
There are materials in the socks that release microplastics with each wash. It is very hard to make a product from solely natural materials, but this is still a concern with each wash.
The Final Word
I love these socks. Trying out the different weights made it easy to grab the exact pair for the exact job. But no worries if plans changed that day, the socks are able to transition easy from relaxing to high activities without issue. Grab a pair of Darn Tough socks (or four pairs of different weights) and rest assured you have the right sock for a long day.
Shop Darn Tough on Outdoor Prolink. Not a member? Apply today!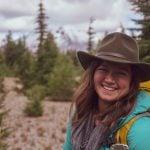 Roxy Dawson lives in a van full time and travels around the country working as an adventure journalist, searching for backcountry adventure, and using her dog as a pillow. Like most adventurers, she loves coffee, hot springs, and getting pretend lost. She works for Outdoor Prolink as the Content Marketer. She is trying to make a small positive impact on the world, and a larger one in her community. Follow her on Instagram at @roxyjan_