ProView – EXPED Serac 35L Backpack
The waterproof and minimalist backpack ready for your next alpine adventure.
The alpine provides conditions that are harsh, and sometimes inhospitable. High winds, cold temperatures, and freezing rain can be common occurrences up high where the trees don't grow. Despite these conditions, plants and animals find a way to live and thrive in this high alpine ecosystem. As a backcountry traveler and wildlife photographer, I frequently travel to these high and secluded places. I need to be safe and comfortable in this terrain, and my gear needs to be held to a higher standard to be durable in adverse conditions.
EXPED Serac 35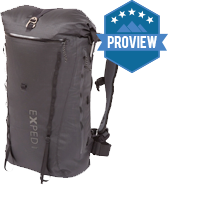 Product Description: The Serac 35 is a minimalistic Alpine pack with roll-top closure and a side-entry zipper for easy access to the taped main compartment. A generous front pocket for a shovel blade, ski skins etc. An excellent ski attachment system and various anchor points for additional gear make this the perfect pack for all-season use in any weather condition and challenging multi-day adventures and expeditions.
Offer price: $190 MSRP
Quality

Fit

Versatility

Style
Summary
EXPED has a winner here. A light and waterproof pack designed to be rugged at the same time. Traditionally those are contradictory features, but not here. This is my go-to pack for cold and fast missions in the alpine. Once spring rolls around, I am excited to try it out in ski mountaineering expeditions where I envision it being most practical.
Pros
Waterproof
Slim design
Fits true to size
Cons
Components could be better designed with alpine climbing in mind.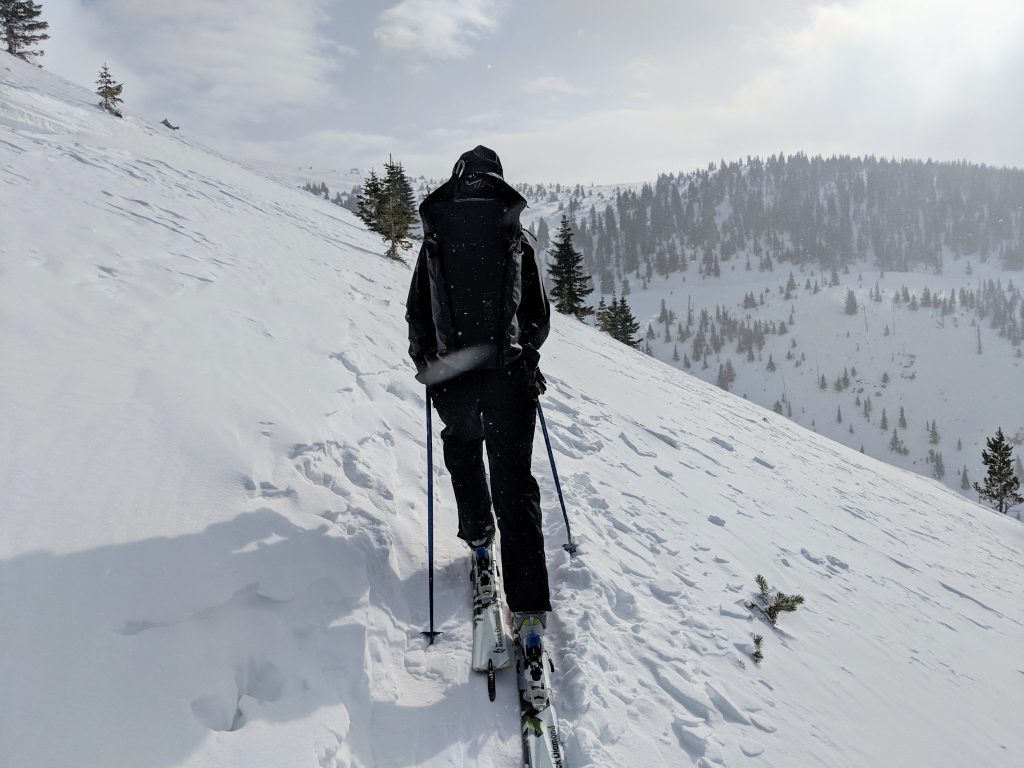 I was looking for a pack that is capable of comfortably carrying a variety of equipment, from backcountry skiing gear to photography gear, and then keep those contents safe. The EXPED Serac fits that bill as a waterproof backpack with features tailored for the backcountry skier.
I left my home in Vail Colorado to follow the wildlife to the open tundra of Iceland. Here I had the goal of finding some elusive species to photograph in their natural habitats. With dreams of reindeer, arctic fox, and ptarmigan I packed my bag full of lenses and cold weather gear and hopped on a plane from Denver International Airport. 
Arriving in an Icelandic winter, you're met with short days, cold nights, and a healthy mix of rain, snow, and wind. In the search for wildlife, the conditions for which the Serac is designed for quickly catch up with you. High winds, sleet, and snow are common in an arctic winter, and my Serac has the additional task of carrying crampons and an ice axe for a walk on a glacier. The EXPED Serac is well designed with weatherproofing in mind. The roll top closure in tandem with waterproof zippers keeps water out. During a downpour, a side access pocket lets you reach in to grab belongings and keep moisture out. The tapered design of the pack lends itself well for use in the alpine. It has a slim profile and light design that helps you stay light and fast while traveling through any terrain. Overall, this pack is well adapted to travel in a country like Iceland. With long sweeping landscapes, dramatic weather, and an abundance of waterfalls, Iceland is a paradise for photographers and backcountry travelers alike.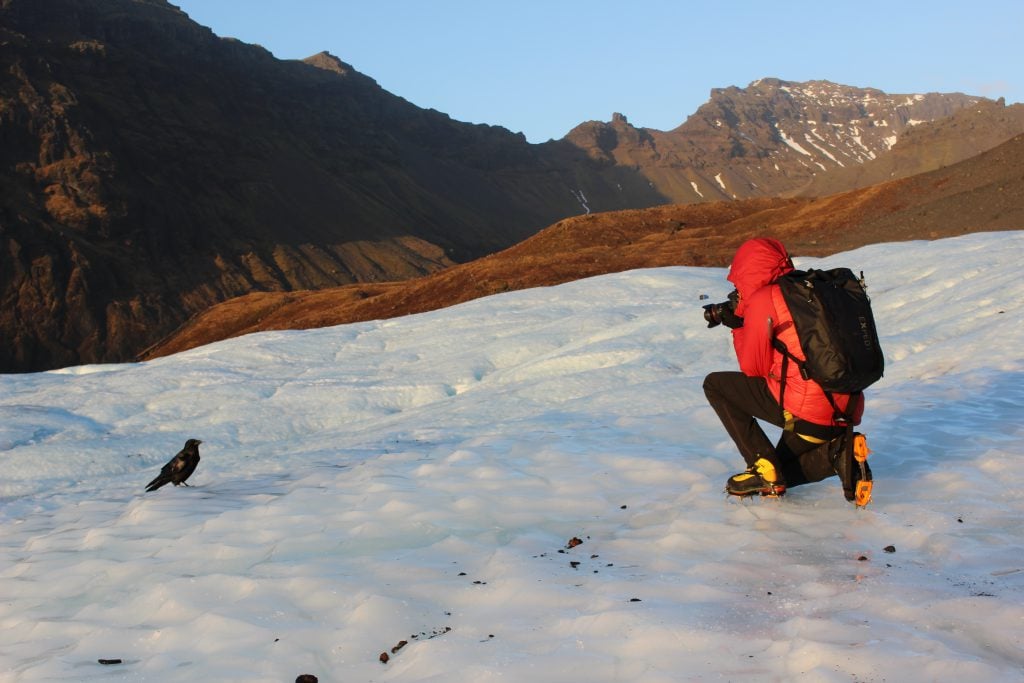 My first goal upon arriving in Reykjavik is to make my way to the east side of the Island. I wanted to escape from the common tourist hubs and find some space among reindeer and fox habitat. Taking a drive on the ring road, you're met with an incredible array of diverse landscapes and some incredible glaciers. With small and quaint towns scattered alongside the road, there is no shortage of places to stay and fresh seafood to eat. Making our way through this icy landscape, we eventually find a herd of reindeer.  Through the rain and the fog, I quickly unroll my backpack and pull out my long telephoto lens to take the picture that I traveled all of this way for – large stag grazing on some Icelandic grass and moss.
Fit/Comfort
The key feature of this pack is simplicity. One large main compartment accessed via a roll-top closure or side-access zipper. The comfort of the pack depends on how you pack it. If you are experienced in efficiently packing frameless bags, then you know how comfortable (and light) they can be. If you pack this bag inefficiently with a shovel handle or water bottle sticking into your back, then it can be incredibly uncomfortable. Knowing your gear, and knowing your own style in the outdoors determines the comfort of this pack. A well-packed Serac is a versatile tool in the outdoors, keeping your contents safe and dry, in addition to having the flexibility of having a roll-top closure to under, and overfill your pack. Your contents should not be loose inside the main compartment.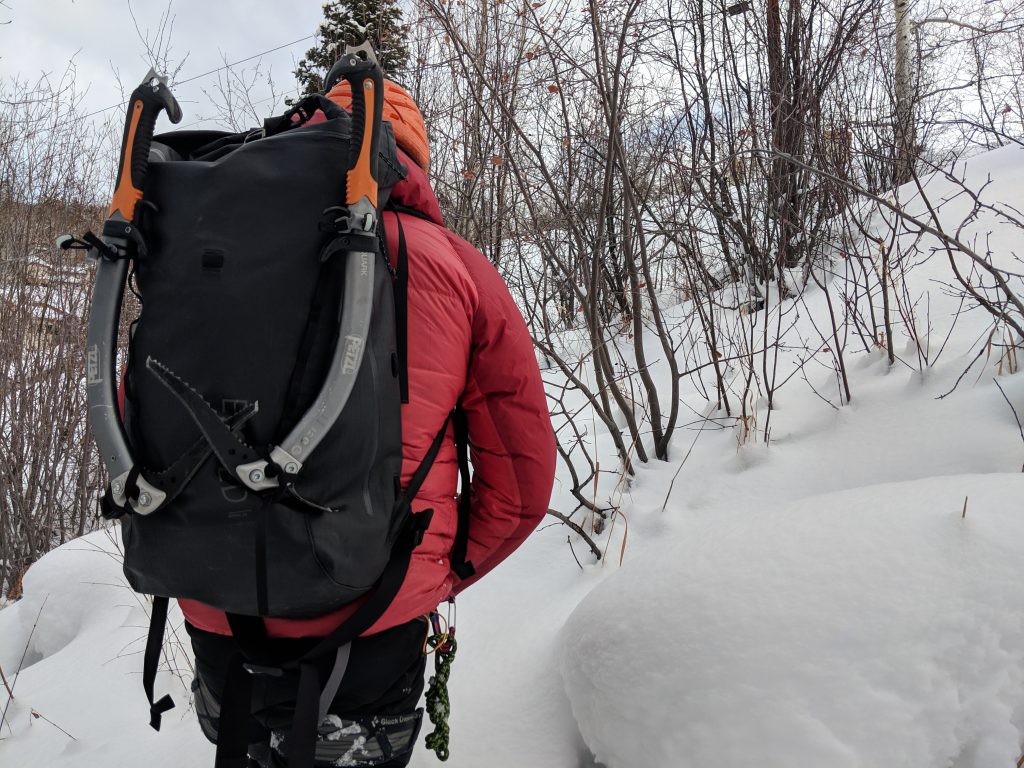 Look and Style
This pack looks modern and sharp. Sleek ripstop nylon fabric provides great waterproofing and a tapered compartment gives this pack an efficient look for light outings in cold environments.
Features
The main selling point for this pack is the roll-top closure. However, perhaps the only design flaw was EXPED's inclusion of two carabiners in their roll-top closure system. On using the pack, the inclusion of the carabiners seemed like an afterthought, and this reviewer recommends removing them for use. These carabiners are supposed to allow for modularity in the way the pack can be used, but ultimately they are pretty unnecessary.  
Although EXPED does note that the carabiners do have a specific purpose – to secure the rolltop closure to the sides of the pack, rather than the top, should you need the top of the pack to have a more streamlined profile – for hauling etc. You can see more on the video below.
After taking the carabiners off I just used the buckle clasp system, which worked better for me. The roll top closure is one of my favorite systems in climbing packs. It allows for the pack to comfortably hold a variety of different volumes. It turns a 35-liter pack into a 25-45 liter pack.  You can roll it down for low capacity days, and roll it up to overstuff the pack.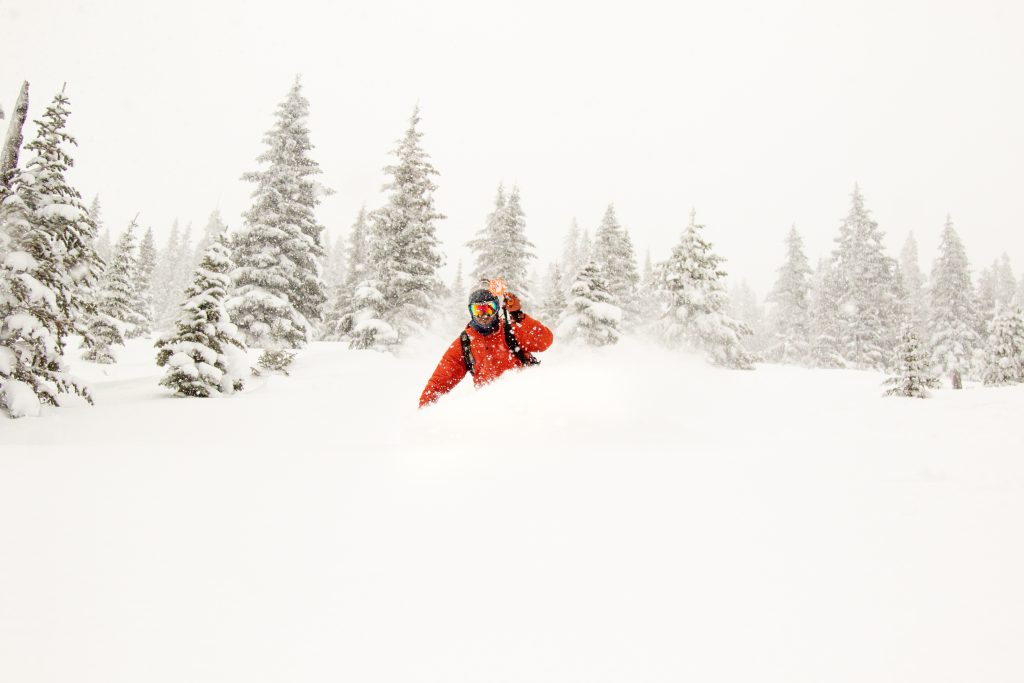 Weight/Packability
The minimalist nature of this pack is a welcome sight in the age of over-engineering gear for the outdoors. This pack doesn't have bells and whistles, it does what it needs to do, and it does it well. It is light, and with strategic packing can keep your contents inside of the pack in a tight package, immune to annoying jostling.
Function/Performance
The EXPED Serac handles well as a tool for cold and wet outings. Where I found it to exceed is during light backcountry ski tours, effectively keeping your belongings dry from a heavy winter storm. The front zippered pocket provides a good mudroom for your shovel blade and skins. And the main compartment is great to throw in everything else. The daisy chain paired with a strategic ski strap does well to carry skis on your back on long boot packs.
In Iceland, this pack proved to successfully carry a variety of glacier travel gear in addition to photography gear, a testament to the capacity that a well-packed Serac can handle.
Ideally, the waterproof nature of the Serac is better suited for cold environments. This kind of waterproof material, in conjunction with a frameless design, leads to sweaty backs, an uncomfortable feature in hot environments. A non-issue for colder adventures.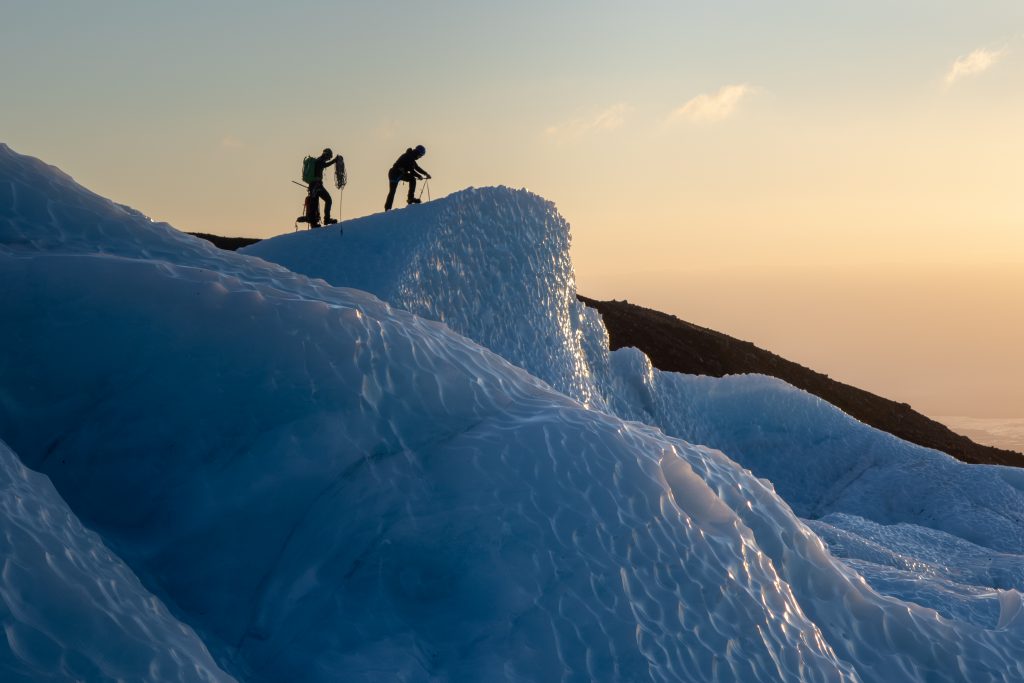 The Final Word
EXPED has a winner here. A light and waterproof pack designed to be rugged at the same time. Traditionally those are contradictory features, but not here. This is my go-to pack for cold and fast missions in the alpine. Once spring rolls around, I am excited to try it out in ski mountaineering expeditions where I envision it being most practical. With a great overall design, there are small details that could be better designed. The previously mentioned carabiner closure system is not user-friendly (especially while wearing gloves) and the waistbelt buckles could be more robust.
Shop the EXPED Serac 35 on Outdoor Prolink. Not a member? Apply today!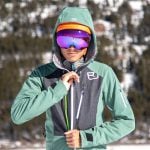 Aidan Goldie is a ski mountaineer based out of Colorado. When he is not climbing and descending peaks in the American West, he is an outdoor educator, working with schools and nonprofits guiding groups through the Colorado wilderness. Connect with him on instagram @agoldie94.