ProView – GRAYL GeoPress Water Purifier
Grayl produced the GeoPress to "empowers travelers, adventurers, and survivalists to make the world's sketchiest water sources safe" as Grayl states online. The GeoPress definitely comes with an impressive filter that will remove "99.99% of viruses, 99.9999% of bacteria, 99.9% of protozoan cysts" as well as chemicals, pesticides, heavy metals, and particulates within the water source. Grayl also states that the GeoPress will reduce odor and increase the taste of the water that is filtered.  All around it sounds like a dream filter to have in a "bug out" bag or as an emergency filtration system.  Over several months I was able to test the GeoPress in a range of water sources (tap water, crystal clear mountain streams, and urban creeks) focusing on its ability to perform as an emergency filtration system.
GRAYL Geopress Water Purifier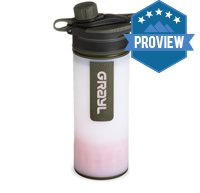 Product Description: 8 Seconds. Unrivaled Ease, Speed & Convenience. No other portable purifier rivals the speed, simplicity and effectiveness of GEOPRESS. In eight seconds, it makes 24 ounces (710 ml) of safe, clean drinking water – anywhere in the world. Effective on all seven continents, you can tap into the world's water sources and safely drink from sketchy spigots, hotel sinks, murky rivers, wells or lakes. GEOPRESS protects from global waterborne pathogens (virus, bacteria, protozoan cysts), pesticides, chemicals, heavy metals, and even microplastics.
Offer price: MSRP $89.95
Quality

Features

Performance

Weight/Packability

Eco-Friendly
Summary
When it comes to emergency preparedness and natural disasters, access to clean drinking water is essential.  I was stoked to review the Grayl GeoPress filter in regard to these unique challenges.  Grayl has produced a rugged and durable water filter, however over extended use, I am not sure the Grayl GeoPress would be great for all emergency applications, it excels at some and falters in others.
Pros
Durable construction
Strong filter
Simple to use
Cons
Heavy
Hard to press
Slower filtration rate than advertised
Short filter lifespan
Working and playing in very remote environments as well as my background as a Wilderness First Responder I understand the absolute necessity for clean drinking water, whether in the backcountry or in the front country. After testing I believe the GeoPress fits a handful of uses regarding emergency response or natural disasters. I'll explain where the strengths and weaknesses of the GeoPress lay with emergency use below.
Performance
I have to give it to Grayl, the GeoPress is amazingly simple (as long as you remember to open the cap when pressing…. oops). You simply fill the outer refill with dirty water, place the inner press and filter inside, press, and drink.  My first test of the Grayl GeoPress was with tap water in my kitchen when I first unboxed it. The filter pressed smoothly and hit the mark of around 8 seconds to filter the 24 oz of water. The speed of filtration declined as I continued to use the filter throughout testing and I never again reached 8 seconds per press, however. 
The next location I tested the GeoPress was in Eldorado State Canyon Park during the peak flow of snowmelt this spring. After collecting this water, it took quite a bit of effort and around double the time to filter this water.  Still, 24 oz of clean water in around 15 seconds is impressive and was very useful for filling other water bottles with clean water quickly. After many uses in mountain streams, I took the GeoPress to a park in Lakewood, Colorado and filtered the slow-moving creek water to test it in an urban environment.
The GeoPress had been used a dozen or so times prior to this test and upon filtering a few rounds of urban creek water the filter was taking around the recommended time by Grayl (~25 seconds) to replace the filter. I followed this test with a turbid urban canal with similar results. It seemed throughout testing that the GeoPress did well with clear water sources, but had trouble with water sources that were turbid. The GeoPress was able to provide clean drinking water no matter the original water quality, just not at the speed expected. In the end, I was impressed by the GeoPress' speed and simplicity but remained hesitant about its longevity.
Look and Style
The GeoPress comes in a good looking package with a striking design and upon unboxing it, the water bottle feels and looks great with bold colors. The grip texture and color scheme of the water bottle are all very nice. I especially enjoyed the enlarged thumb loop on the lid which functions well as an attachment point with a carabiner.
Features
The GeoPress is packed with well thought features such as the air vent on the cap to allow for air to escape the inner chamber, but simultaneously prevent cross contamination of dirty water. Grayl also placed a max fill line on the outer refill to minimize the likelihood you overfill it and cause the dirty water to squirt out the sides. The GeoPress comes with soft press pads and Grayl's topogrip on the top of the water bottle to allow for comfortable pressing with wet hands. All of these features are nice in and of themselves, but I found as the filter aged the pressure required negated a lot of these features. If you press too hard it's still easy to squirt dirty water out the sides, the amount of force required to press the soft press pads causes them to not be all that soft and hurt my hands after multiple uses, and frequently I would open up the cap entirely to allow a greater flow of air to escape to offset the internal pressure.
Weight and Packability
Although the Grayl GeoPress isn't relatively lightweight and compact compared to other water filters on the market, I love the beefy construction and durability of the GeoPress.  In the beginning I was on the fence in regard to how I liked its size and weight because emergency equipment needs to be light enough in weight to allow you to be mobile, but yet strong enough to not fail on you when you need it most. Thankfully for the GeoPress, access to clean drinking water is paramount so its size and weight is definitely worth the reward.
Durability and Construction
The durability of the GeoPress was the first thing I noticed when I received it.  I love how tough the construction of this water bottle is.  Its durability is really what impressed me the most for use as an emergency filtration system.  As I stated above, the fact that your emergency equipment won't fail you in the field is always one of the biggest considerations.  Depending on the equipment, I will often opt for heavier or higher quality gear that is absolutely necessary and skim weight or expenses elsewhere.  The Grayl GeoPress is built with thick rubber and food grade silicone for an absolutely bombproof setup that will last for many, many uses in harsh conditions.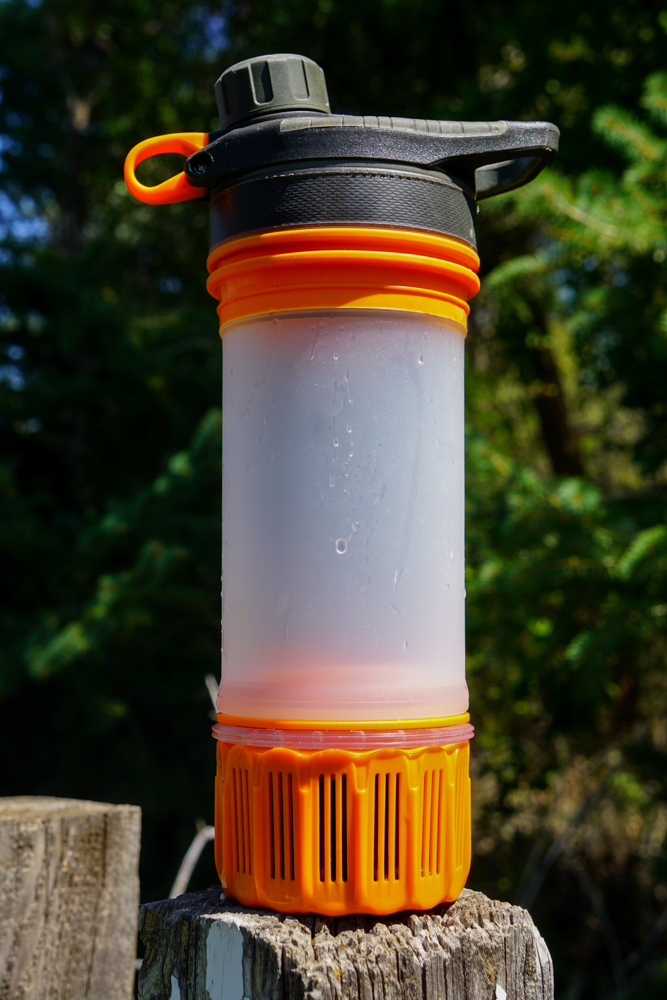 Friendliness to the Earth
Grayl has stated that by the summer of 2020 they will have a recycling program for their cartridges to keep them out of landfills. Aside for recycling their filters, the GeoPress itself greatly reduces your reliance on single use water bottles in areas with sketchy water quality. I think the GeoPress would have a substantial impact combating single use plastics if used in underdeveloped areas with poor water treatment.
The Final Word
Now let's discuss where I think the Grayl GeoPress excels and lacks in emergency use or for natural disasters.  The durable construction and relatively small package for its payout lends the GeoPress to be a major contender for emergency use.  However, the filter is almost too good for the setup, and the fact it removes such fine particulate reduces its overall lifespan.  After all of my testing, I am worried that if I had to use the GeoPress for extended periods of time in very poor quality water the filter would become either inoperable or inefficient for the task at hand.  If I were caught in a natural disaster, holed up somewhere for extended periods of time, and filtering all of the water I need for cooking, cleaning, and drinking I would be hesitant of the GeoPresses long haul capability.  With a max filtration life of roughly 65 gallons before you would need to replace the filter cartridge in optimal conditions I find it improbable that the GeoPress would be a good filtration system for this scenario. Anywhere with high sediment levels in the water or pollution would compromise the system quickly unless you have backup filtration cartridges. This is especially exacerbated by the fact the GeoPress cannot be backwashed. 
Don't get me wrong, I think the GeoPress would be adequate and is very durable, but compared to other options I would consider it average among competitors in this regard. What I believe the GeoPress excels at is travel to underdeveloped areas, rural or urban, where water quality is alright.  I personally would have loved to have the GeoPress when I was in Mexico climbing the volcanoes so that I wouldn't have to rely on bottled water and it would also lower my environmental impact.  The GeoPress would also be great for my work in Alaska where I am in remote settings with access to good water quality streams and rivers, but couldn't afford to have my water filtration system break on me. This is where the GeoPress' impressive durability would become a major bonus.  I would like to once again note, that I was reviewing the GeoPress in regards to emergency response uses. I do think the GeoPress would also function well for anyone around water sources frequently such as fishermen, SUPers, kayakers, rafters, etc.  With everything being said, I am pleased with the GeoPress and recommend you go check out its reviews online if you are interested in the water bottle for use outside of emergency or natural disaster use and not sheerly rely on my report in that regard.
Shop the Grayl Geopress on Outdoor Prolink. Not a member? Apply today!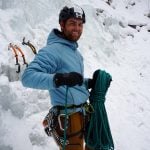 Zach is an aspiring alpinist, ski mountaineer, climber, and photographer. He is a Wilderness First Responder and frequently volunteers with the Colorado Mountain Club to help train future mountaineers. Zach works part-time as a marine biologist in Alaska and a wildlife biologist here in Colorado. You can catch him climbing around Golden where he lives today.