ProView – Julbo Fury Sunglasses
I got my first pair of performance Julbo sunglasses four years ago and I'll never go back. Ever. The Fury is a welcomed addition of the same performance I have come to love from Julbo but comes with a massive style upgrade. I can't promise that these glasses will make you faster, but you'll most definitely look faster.
Julbo Fury Sunglasses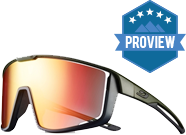 Product Description: The Julbo FURY is designed to meet the demands of cycling, trail running or any sport combining endurance with speed. Superbly vented lens is designed to maximize both lateral and vertical fields of vision for an unobstructed view in every position. FURY is compatible with all types of helmets and available with Julbo Spectron lenses.
Offer price: MSRP: $129.95 - $219.95
Quality

Features

Fit

Durability
Summary
Look Fast, Go Fast. These glasses look and feel awesome, coupled with lens technology that seems like it's actually made with magic.  You won't even notice the Reactive lens adjusting to the light, which feels like some true wizardry.
Pros
Lens technology
Lightweight
Great coverage
Comfortable
Cons
The price point is high
Lens and frame color options limited
I've been looking forward to the release of the two 'shield' style glasses from Julbo but was worried they would be too big for my somewhat narrow face. Julbo nailed it with the Fury; it looks great on my face and still covers a lot on a more wide face than my own. I've had the pleasure of testing out the Fury in three seasons (Autumn we're coming for you), two countries, four states, and quite possibly the weirdest spring aka quarantine in Vermont. I've taken them cross country skiing, backcountry skiing, gravel/road riding, mountain biking, hiking, and around town as my everyday glasses. For those of you unfamiliar with a Vermont spring, we are talking temperatures anywhere from 15 degrees to 80 degrees Fahrenheit, and any precipitation imaginable. I have tested both the Spectron lens and the Reactive 0-3 lens.
Fit/Comfort
If you do an activity with a helmet, chances are you have lived through the pain that is the temple arms of the glasses pressing into the top of your ears. This is something that I disliked about mountain biking helmets and glasses for years. Julbo has made half the temple a soft elastomer material that helps relieve the pain of your helmet pushing down on them. It also makes the glasses grip in place — but not once have I had my hair stick to it. It also helps make the glasses feel that much more light. I'll get to the lens technology later, but between the lenses and how comfortable these glasses are, I forget I have them on 99% of the time. Typically shield style glasses look big on my narrow face, and these fit great. I've used these glasses with a Fox, Leatt, and Scott helmet. I have numerous friends who have almost every brand I can think of for helmets and I haven't seen any issues with the Fury fitting with a helmet. They even fit with POC helmets, which can be tricky.
Look/Style
Shield style glasses are the thing to have. There is no denying it, and Julbo nailed the style on these glasses. Not too big, not too small: just right. Goldilocks approved. I tried out two lens/color frames and I like the style of both. I used the white frame with blue Spectron 3 lens, which was flashy and fun, and also the dark gray/orange frame with the 0-3 reactive lens, which with the touch of color looked stealthy but still noticeably cool.
Features
Grips on both nose and temples; the temples are especially comfortable and grippy. The Fury has great venting to make sure the glasses don't fog up while you're generating some heat. The wide lens provides great coverage and a nice and wide field of vision.
Let's talk about lenses. If you haven't tried a pair of the Julbo Reactive Photochromic lenses I promise you have been missing out. The lens is made from the same material that they make helicopter windshields out of, making the optical clarity absolutely tip-top. Living in a state with variable light and weather, the reactive lens is a lifesaver. The Julbo lens has the fastest reaction time in the market, and it does so in such a smooth way that you won't even notice it adjusting. What's even better about the 0-3 lens, is that it goes fully clear. You have a great lens for the brightness of the day, and the darkness of the night. No changing out or packing an extra lens. Night riding? Yep! Riding late in the day? Yep! Riding in the middle of the day in the desert? Yep! Riding in the rain, then snow, then sun? Yep! Also of note, Julbo has a lifetime warranty against manufacturer defects. This doesn't cover your dog mistaking your glasses for their favorite toy, but it is great peace of mind. And it's easy to get replacement parts in the event there is an unplanned mishap with your glasses.
Weight/Packability
These glasses are very lightweight, and you'll barely be able to tell they are there. The first time I held them, it's hard to think that such lightweight frames can take a beating, but spoiler alert, they do.
Function/Performance
Taking into account the numerous activities, weather, and locations I've tested these glasses out in, I am thrilled with these glasses. The anti-fog lenses are key when exercising, especially in hot and humid summer conditions, of which we've had plenty out here on the east coast. Fun fact, if sweat gets on the inside of the lens, it will be susceptible to fogging. A very easy solution is washing the inside of the lens (not the outside) with some degreasing soap, like Dawn dish soap. It'll restore the lens back to anti-fog perfection. The Reactive lenses continue to blow me away.
I think this lens is most useful for those in areas where you'd switch your lenses with frequency, or end up taking your glasses off in the woods because it had gotten too dark. Having only one glasses/lens and not thinking about changing light makes life really easy. The fewer decisions, the more time to focus on the fun stuff! I think even if you lived somewhere like the desert, where you spend a lot of the summer doing your outdoor activities in off times of the day to avoid the heat, a Reactive lens would be helpful. The lens would be clear if you started in the dark, and then would adjust as the light comes up. The Spectron lens is great for when you know you're going to be in the all-out sun all day but doesn't give you the flexibility of changing light conditions. I choose the Spectron lens when I'm out gravel riding and know it's forecasted to be full sun all day or when I'm in the desert or high sun places (Sedona and Jackson Hole were two places I used them almost exclusively). I rode the Reactive lenses all spring gravel riding in Vermont, temps ranging from 15-80 Fahrenheit and I saw no difference in the ability of the lenses to adjust in different temperatures.
Durability/Construction
I am not the best at returning my glasses to their bag or case every time I use them — admittedly — and there is often a pair of Julbo's tumbling around in my truck somewhere. They hold up surprisingly well considering my lack of putting them away carefully. I have no notable scratches, dings, or broken parts. I have also taken a few falls with the glasses on my face this season mountain biking and have nothing to report back damage wise. I put a previous model Julbo glasses with Reactive lenses through the wringer; including two falls to the face biking. The pair, which I wore for two seasons, has one minor scratch and one ding, but I don't notice them when riding. I think the mirror on the lens was really what scratched, not the actual glass. The Fury seems to be up to par with their prior models in my testing so far.
The Final Word
The Julbo Fury is both a stylish and comfortable pair of sunglasses but also performs in many variable conditions. I love the fit of these glasses, and the Reactive lens technology really does an incredible job across different lighting without the need to change lenses. I wish the frame options could come with any of the lenses and the price point on the Reactive lenses has some initial shellshock, but they end up being worth it!
Shop the Julbo Fury Sunglasses on Outdoor Prolink. Not a member? Apply today!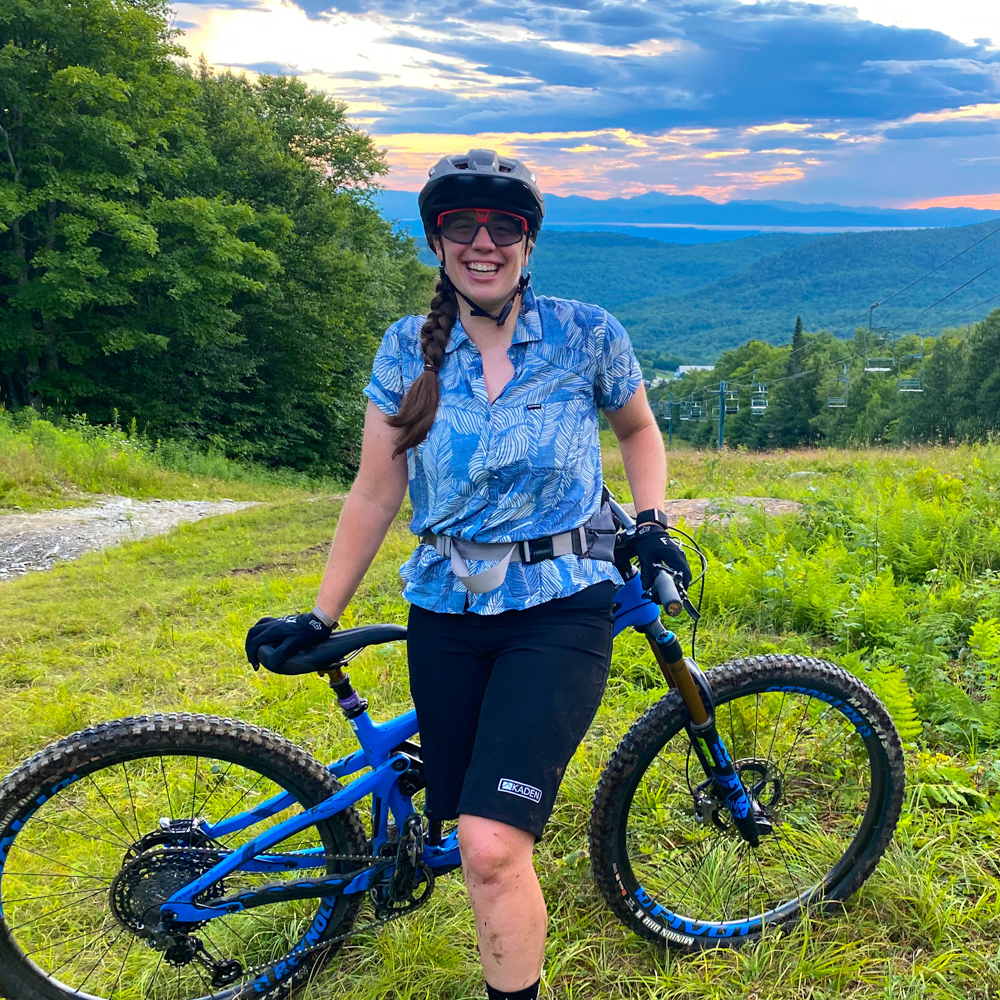 Gage is a wannabe Vermont native, arriving in the Green Mountain State at the young age of eight.  Outside of the 9-5 desk jockey job, she helps run and works with numerous Little Bellas programs in Vermont to empower girls through mountain biking. She is also active with her local trail networks, specifically serving on the board for Fellowship of the Wheel; Vermont's largest trail chapter.  She works with numerous organizations to help lead women's rides all over the state, along with helping out Ladies Allride when they swing through Vermont.  Taking plane rides to other countries to explore via bike or skis are a passion of Gage's.  You can check out her adventures on Instagram: @goldengage_