ProView – Mountainsmith Mayhem 30
Using the Mayhem 30L during a variety of sports and locations gave me the feeling that Mountainsmith knew they wanted to make a badass all-around pack but the 30L fell a little short of the mark.
Mountainsmith Mayhem 30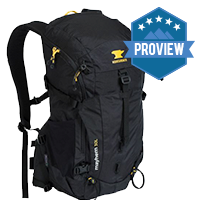 Product Description: The 2019 Mayhem makes Mountainsmith the first in the U.S. to launch a backpacking pack with Spectra® Fiber Technology. Spectra® Fiber is an ultralight, ultra-strong fiber that puts the Mayhem at the top of its class for weight and durability. The Mayhem 30's volume and its hybrid top and panel opening make it ideal for backcountry overnights, ski mountaineering, days at the local crag, and adventure travel weekends.
Offer price: $160 MSRP
Quality

Features

Fit

Durability
Summary
This pack has a lot going for it in the feature department. Durability wise, this pack is impressive. I tried to scrape it, drag it, chuck it, you name it, as often as I could to really put the Spectre Fiber to test. It's dirty for sure, but no wear and tear detected so far.
Pros
Spectre Fiber is incredibly durable and light weight
1.5 litre water bottle holders
Full Zip allows entrance to entire pack
Cons
30L size just doesn't make sense
When I first received this pack, it was the only option in the Mayhem family. After reading up on it, I was pretty excited to test it. It's the first pack to tout Spectre Fiber which is an "ultra-high-molecular-weight polyethylene known for its lightweight, strength, and abrasion resistance properties". That all sounded great to me since I tear through packs with constant rock guiding, with a decent amount of canyoneering thrown in to spice things up. I tried to be hard on the pack, especially in wet desert canyons, and couldn't get the pack to show any wear. So far so good.
But then I started using it as my climbing pack and that is where the 30L fumbled. I usually guide with a 38L pack with no problems, so initially, I wasn't concerned about the size loss. Boy was I mistaken. One day I had to choose between bringing along a sandwich or a tube of sunscreen. That's how tightly packed the 30L gets with just a 70-meter rope, shoes, water, helmet, and a first aid kit. When climbing for fun, the solution became to make my partner carry the rope while I carried the rack. That allowed more space for all the extras like my harness, lunch, and jackets.
I thought the pack was decently suited for canyoneering — if you aren't the one carrying a thick static rope. I was happy with it when I was carrying a 6.9 tag line. The water bottle holders and helmet holder are on the outside of the pack, though, which means you become quite turtle-shaped when the pack is fully filled. To give the Mayhem more chances, I started using it as a day and overnight pack. I did find use in the overnight pack, but as a day pack, it is just too large to be functional. See where I'm going here? It's just a weird sized pack. I kept thinking to myself, if only this was a 40L, it would be perfect! Well, I guess those at Mountainsmith heard my thoughts because they came out with a 45L version (and a ladies specific version of both the 30L and 45L to fit women's torsos better). I would absolutely love this pack if it was a 45L.
Performance
This pack has a lot going for it in the feature department. Durability wise, this pack is impressive. I tried to scrape it, drag it, chuck it, you name it, as often as I could to really put the Spectre Fiber to test. It's dirty for sure, but no wear and tear detected so far. The water bottle holders on the side of the pack can easily fit 1.5-liter bottles, which I find crucial. The helmet holder is simple to use and easily doubles as a jacket holder. The full-length zip allows you to get to the bottom of your pack, which is cool, but you must unbuckle the helmet holder to actually unzip the pack all the way. The classic bladder holder and brain pocket are present. The pocket can hold a decent amount of stuff if the body of your pack isn't full. One thing I'm on the fence about: the attachment points for the sternum straps are removable. They won't slide like the 'rail' style, but the loop I needed mine to be in would pop out too easily. I'm happy that Mountainsmith came out with a women's version, as the now-known-as-the-men's version that I tested does not fit my shorter torso very well. This pack is supposed to also be good for backcountry overnights and ski mountaineering. If you don't need a lot of clothes for warmth, that may well be true. There just simply isn't enough room for gear and bulky clothes in this pack.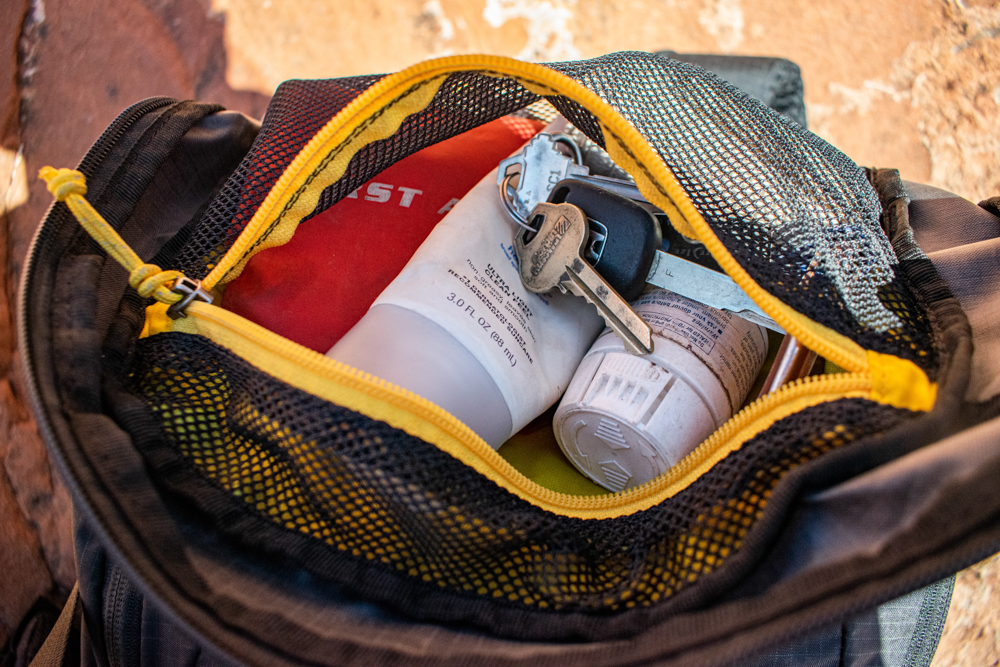 Friendliness to the Earth
I could not find any recent information about Mountainsmith's efforts to be green. The most recent articles I could find were from 2012 when they were going to offer 40% of their products to be made from recycled material, called "ReForged". I reached out to Moutainsmith for more up-to-date information but did not get a response by the time I sent this in.
The Final Word
The durability and features on this pack are outstanding. The only thing I am disappointed about is the 30L size. I couldn't find a sport or use for it that made sense to use the 30L over another pack. The 45L would make an excellent multisport pack that is crazy durable, has plenty of room, and could easily double as a multiday pack.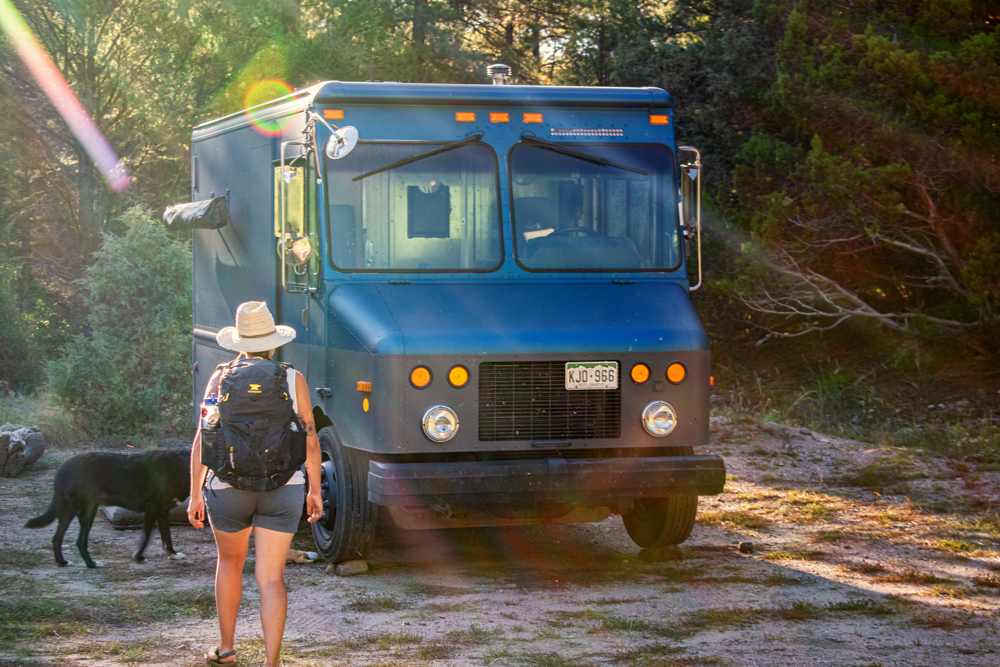 Shop the Mountainsmith Mayhem 30 WSD (or 45) on Outdoor Prolink. Not a member? Apply today!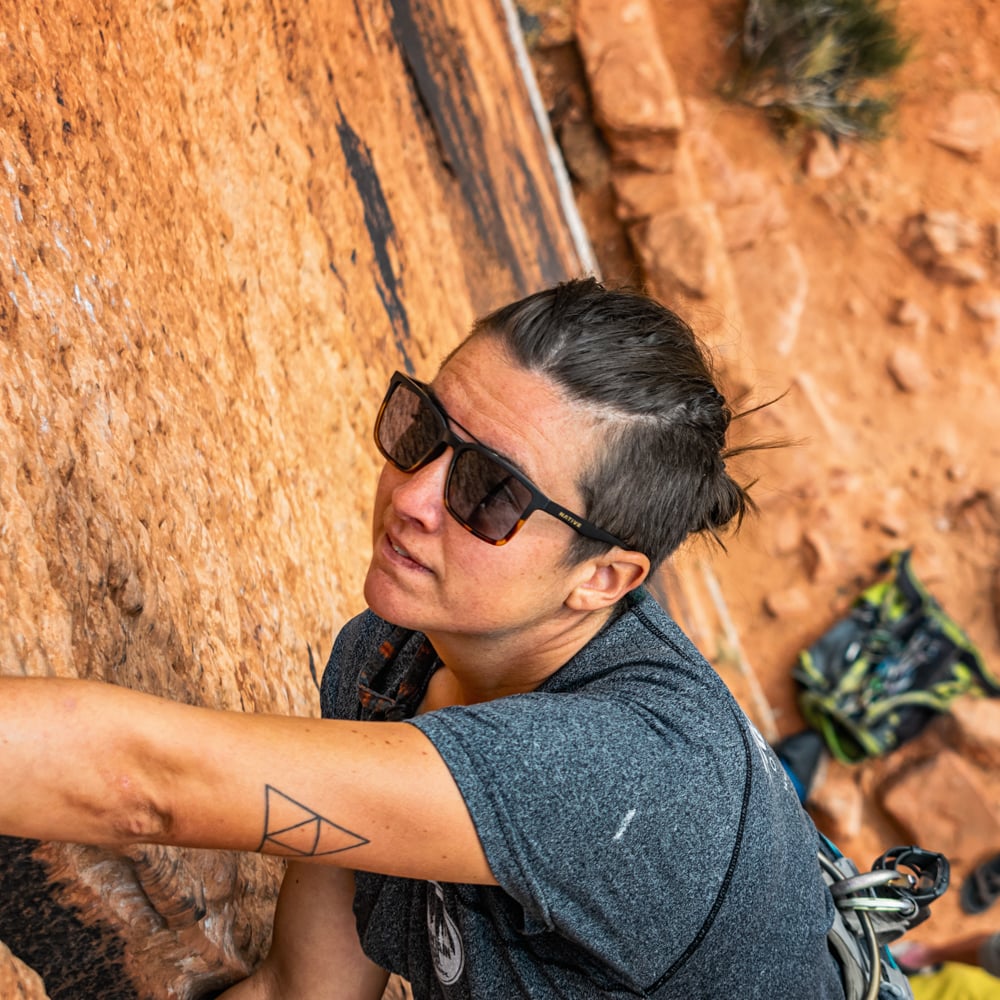 Mollie Bailey has been a Climbing Guide since 2013; and loves to teach and share the world of climbing with everyone. Currently she runs a Climbing and Canyoneering Guide Service in SE Utah. When the work season is over, she's exploring new climbing areas with her partner and big dogs. Follow along @adventurethrulens