ProView – Rhamani Women's Sandals
Sturdy sandals are my jack-of-all-trades footwear. Ever since I suffered through my first Chaco blisters in 2007, I've been on the 'you can do anything in sandals' train. Steep Creek Approaches? Yup. Water filled Canyons? Oh Yeah. Biking, festivals, town errands, and everything in between. Rhamani brings new energy to the adventure sandal game, and they came stacked.
Rhamani Women's Sandal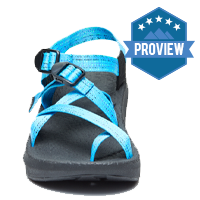 Product Name: Rhamani Women's Sandal
Product Description: A versatile, multi-funable, light-weight camp sandal, ideal for backcountry excursions. Rhamanis easliy adjust for your foot shape, with and without socks, and have removeable ankle straps so you can wear them as slides or with full ankle control. The footbed is thick, soft, and contoured for support and control. All this at a fraction of the weight of most outdoor sandals.
Offer price: MSRP: $79.95
Quality

Fit

Durability

Features

Earth Friendly
Summary
An ultra-light adventure sandal with comfort at the forefront. No matter the terrain I was in, the Rhamani sandals kept up and kept me supported.
Pros
Insanely light
Uber comfortable
Fully customizable
Repairable at home if parts made available
Cons
No clear earth conscious choices made to produce sandals
Rocks get stuck in the strap holes on the soles
Fit/Comfort
Rhamani Sandals are hands down the most comfortable sandal I have ever worn. Their thick soles are incredibly cushy, and I didn't notice stepping on even the sharpest of rocks while hiking. The soles supported me well while carrying stuffed backpacks up the steep trails at Indian Creek and did not leave me with any fatigue. The straps stay put which means no hot spots! Like a lot of other sandal brands, Rhamani's do not come in ½ sizes. The website maintains that their full-sizes-only is a non-issue; I am a solid 8 and my 8s fit perfectly, so I cannot speak to the ½ sizers in the world.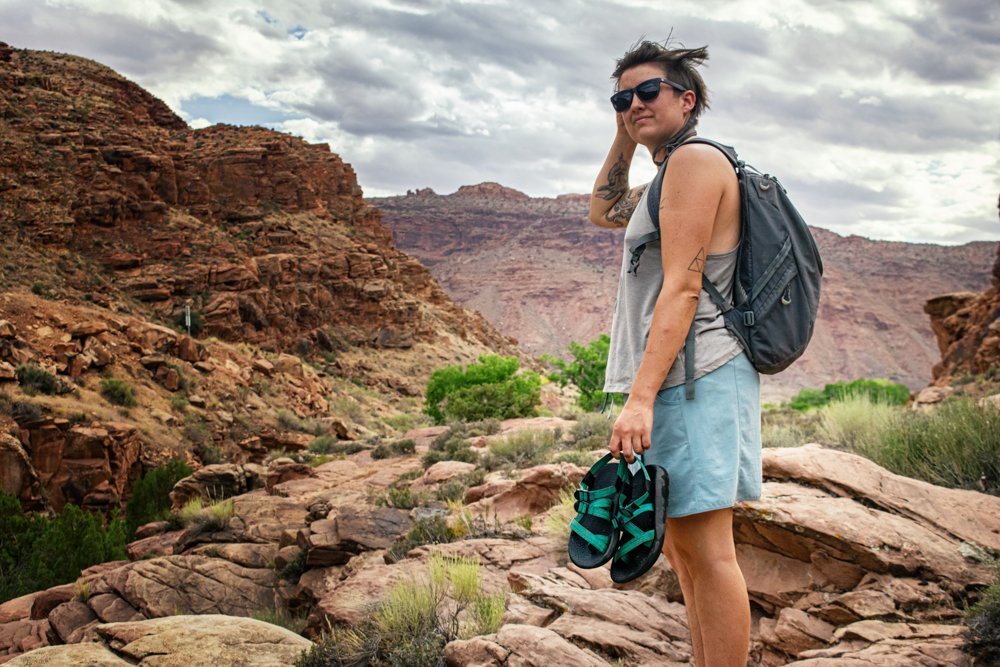 Look/Style
I would prefer more sole color options besides black, which may be in Rhamani's future as they grow. My preferences aside, these fit in well with the adventure sandal scene stylistically.
Features
Rhamani sandals are fully customizable, even down to changing the function of the sandal completely. You can choose to go full "sport mode" with all the straps pulled tight or you can have a casual slip-on sandal. The straps are a breeze to switch around so you could easily plan to have both by just carrying the included small strap adjustment tool. The caveat to having these sandals be all in one, is the exposed straps on the bottom of the shoe. So far, I have only had a little scuffing on the edges on the webbing, but rocks do find their way into the holes on the soles. Thankfully, the sandals are so comfortable, I would never feel those rocks when they lodged in.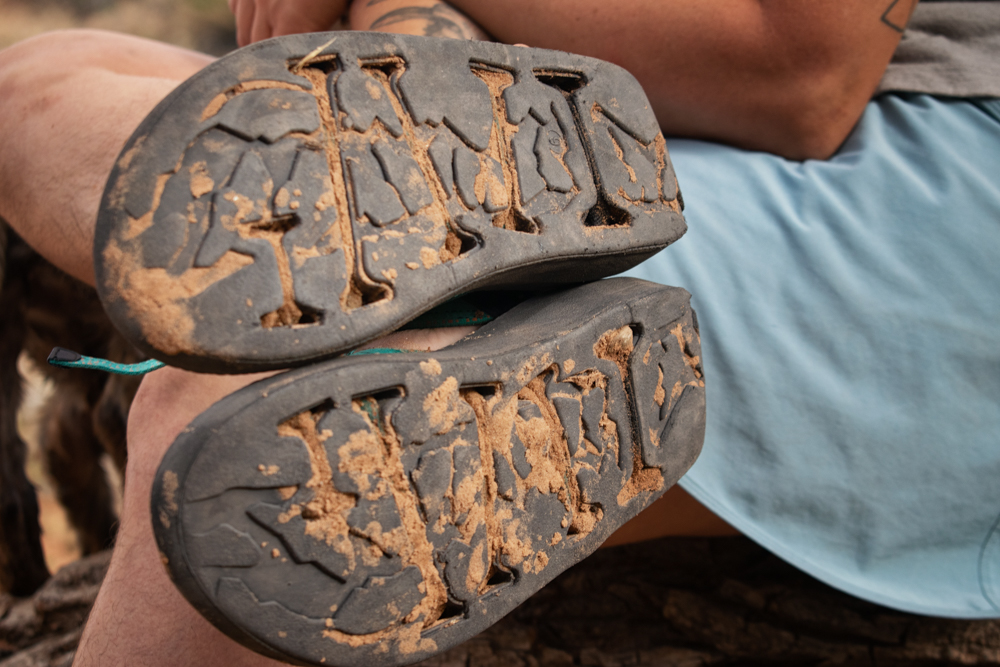 Weight
Clocking in at a feather light 6 oz for a size 8, the Rhamanis are incredibly light. It is probably my favorite aspect of these sandals.
Function/Performance
I need a sandal that can deftly switch from wet to dry terrain, in deep sand or on sandstone. I'll admit I was positive that these sandals would not have any grip to them, though I cannot pinpoint why. I got the idea that my first outing in these should be a 2 mile long wet canyoneering route – bold, for my first impression of these sandals. I was amazed that not only did I not get any blisters, but they were as solid as any in stemming and bridging scenarios even after walking through some gross canyon pools.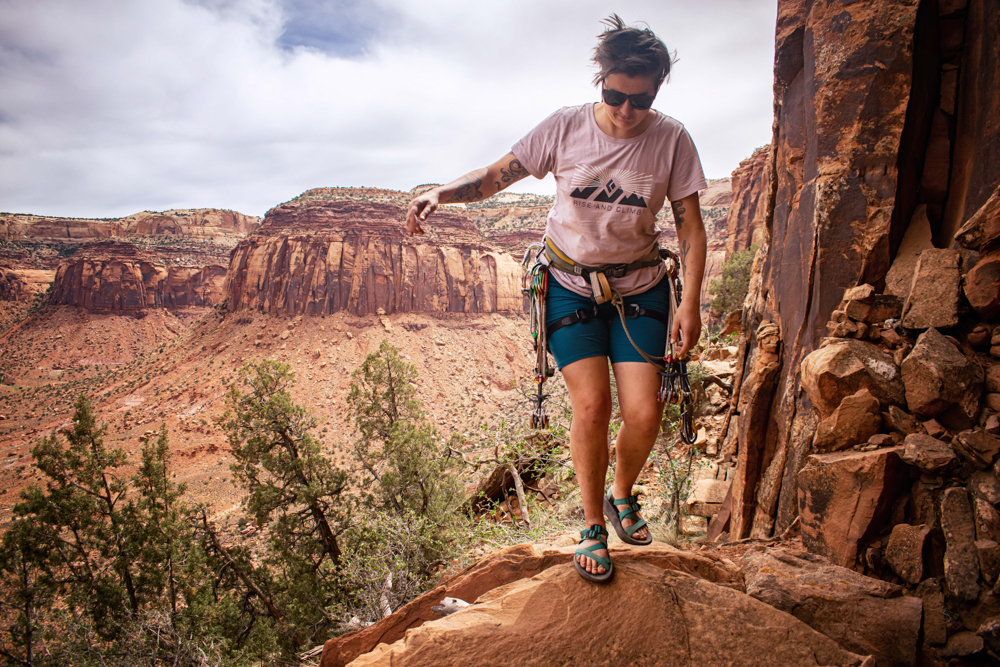 Durability/Construction
These sandals have help up great so far. My only concern for hastened wear is the holes that expose the straps on the bottom of the shoe. Only a small part of the webbing is unprotected, but rocks do wedge into the sole and one has caused the footbed to crack a little bit prematurely.
Friendliness to the Earth
Unfortunately, there are no stated facts of what earth conscious steps Rhamani might be taking during the production of these sandals. They did not ship in plastic, which is refreshing. I emailed Rhamani if they would sell the footbed or strap separately but did not get an answer before publish. If they offered these, then you could repair either component of your sandal without having to ship it back to Rhamani – which would be absolutely fantastic.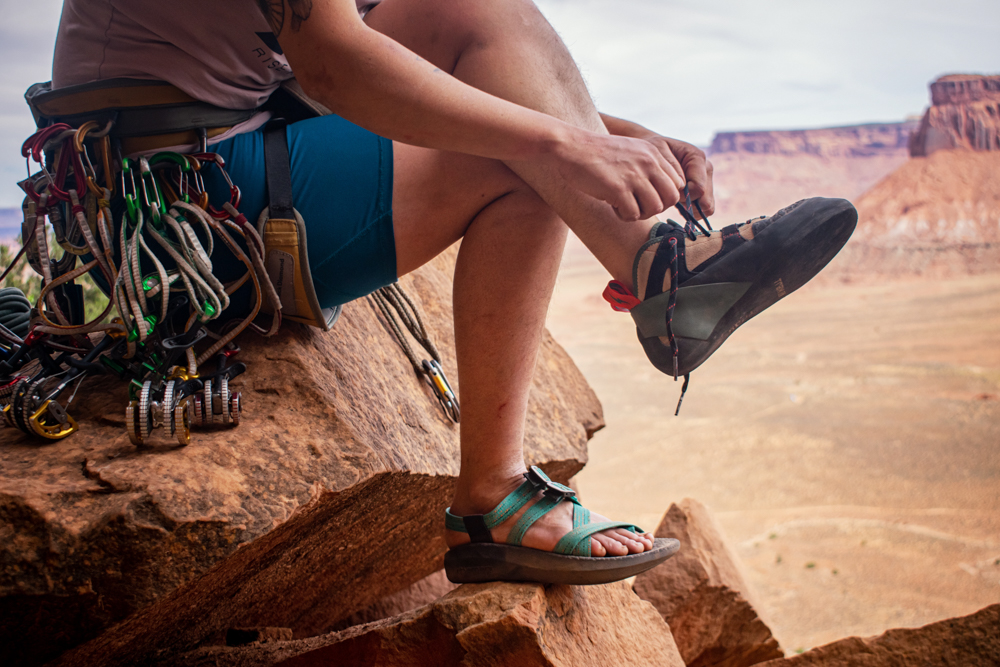 The Final Word
Southwest Utah is famous for its varied and contrasting terrain. I was able to deftly switch from canyon country to stream beds to steep approaches without having to worry about my shoes. Sharp, uneven terrain didn't cross my mind with the ultra-cushy soles and straps that kept my feet in place. If Rhamani decides to sell replacement straps and footbeds for at-home repair, then you would not have any reason to pass up these lightweight sandals.
Shop the Rhamani Women's Sandal on Outdoor Prolink. Not a member? Apply today!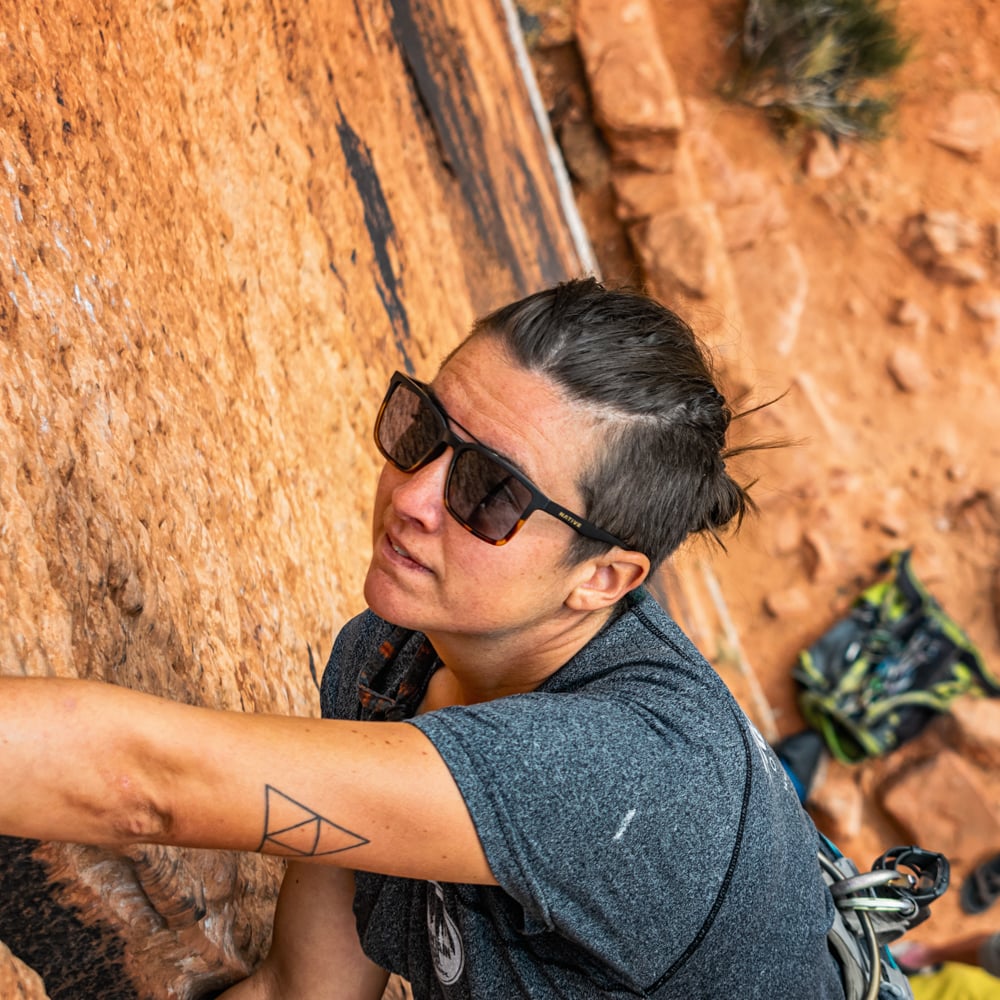 Mollie Bailey has been a Climbing Guide since 2013; and loves to teach and share the world of climbing with everyone. Currently she runs a Climbing and Canyoneering Guide Service in SE Utah. When the work season is over, she's exploring new climbing areas with her partner and big dogs. Follow along @adventurethrulens