ProView – Outdoor Research Women's MicroGravity AscentShell Jacket
The MicroGravity jacket is the perfect balance of lightweight durability and technical suave that will have you looking fresh and feeling dry.
Any day spent nature is a good day, and learning this as a Pacific Northwest native, I know that to live a good life means going out in just about any kind of weather. I've spent over 2000 days embracing Washington's dependable 40-degree rain and embodying what I find to be as the definition of hardy. As an instructor and mountain guide working primarily in Cascades and Alaska, I consider myself an accomplished tester of waterproof gear with over eight years of professional experience.
Outdoor Research Women's MicroGravity AscentShell Jacket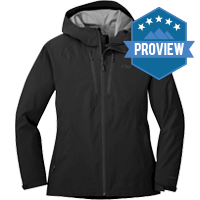 Product Description: In the high alpine, you need a hard shell that can withstand brutal, wet, windy weather with constantly changing temps. You also need a shell that can breathe when you're working hard uphill. But the trick is, you don't want to carry along the weight and bulk of two different jackets. Enter the Microgravity AscentShell Jacket: The solution to your crazy-weather yet crazy-exertion alpine adventures. With such stellar breathability and every feature you'd need to be comfortable in the mountains, you'll never have to compromise on protection again. Since 2016, Outdoor Research's proprietary AscentShell™ technology uses an electrospun process to create a 3L construction that breathes faster, weighs less, stretches more, and far surpasses the comfort of traditional waterproof membranes. Learn more about the science behind our breathable waterproof AscentShell technology right here.
Offer price: MSRP: $249.00
Quality

Features

Fit

Durability

Friendliness to the Earth
Summary
Life has taken me on many adventures, and I believe that in the company of carrying Outdoor Research's MicroGravity jacket I won't be weighed down or put out wet. This jacket is of high quality and I would feel confident bringing just about anywhere, especially the alpine.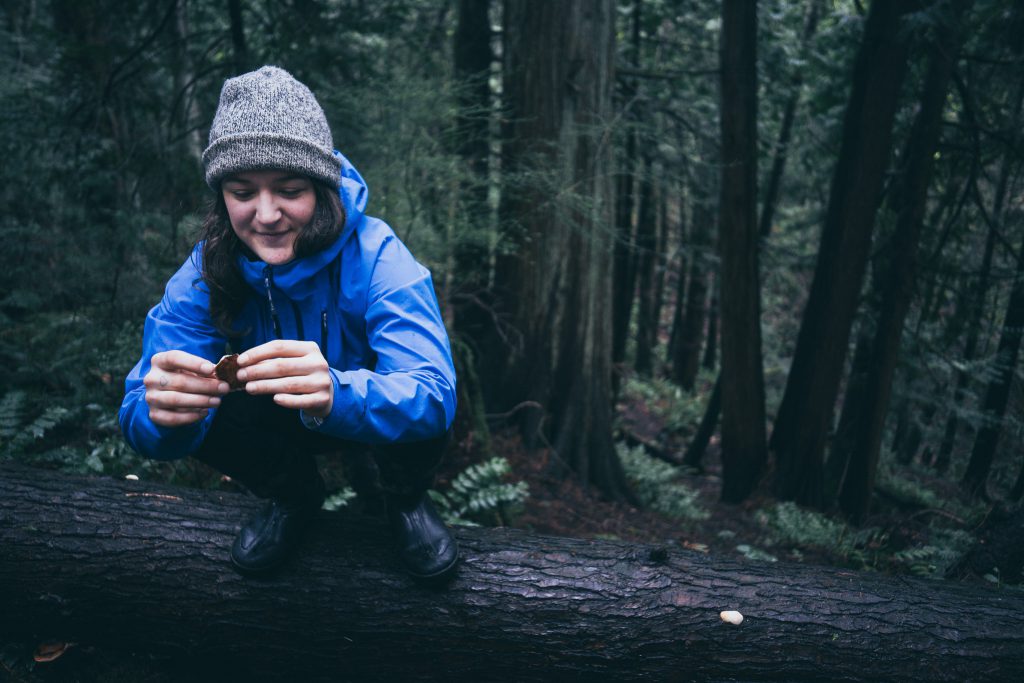 I took Outdoor Research's MircoGravity jacket out for a three-month spin during the rainiest months of the year to see if it could hang where even beloved Gore-Tex materials fall short. And beyond getting out to the high up places, that undoubtedly require trustworthy gear, I brought this piece on my daily adventures, fast-paced and diverse, to test the durability of the jacket's construction and material.
Upon first picking up the MicroGravity jacket I was thinking pfffff… this thing isn't going to last even a 30 minute drizzle! Weighing in at 11.9 oz, the jacket's name is absolutely fitting. Time after time I was surprised by its weightlessness.
I started imagining the joy of sliding it into my alpine pack next to my ultralight cams and aluminum crampons knowing I had the protection with nearly no added space or weight. Usually, I find myself cutting anything not absolutely crucial when making dashes in the mountains, but here I was excited for the opportunity to deploy the MicroGravity for my next big mission. THIS WAS HUGE!
I really wanted to know if the jacket actually worked as a protective layer for hard and dense precipitation. Would it keep me dry?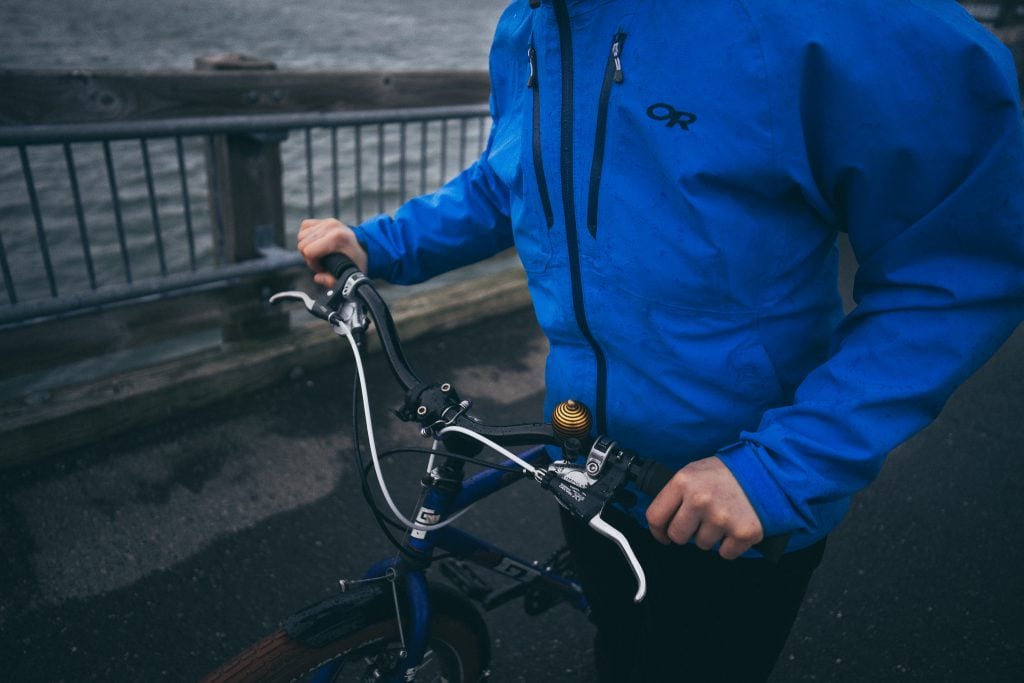 Waterproofness
Although the definite answer to this question is no, I can say with confidence that the MircoGravity jacket performs similar to most any other $200 rain jacket. After many 30 minute to hour-long bike rides in heavy rain, I found that the jacket would eventually become saturated at the shoulders and chest. By no means am I disappointed by this, though it thwarted off any notions of being a magical anomaly to PNW rainstorms, and provided reasonable confidence of taking this layer in the mountains, cutting a few ounces but not losing much in terms of waterproof protection.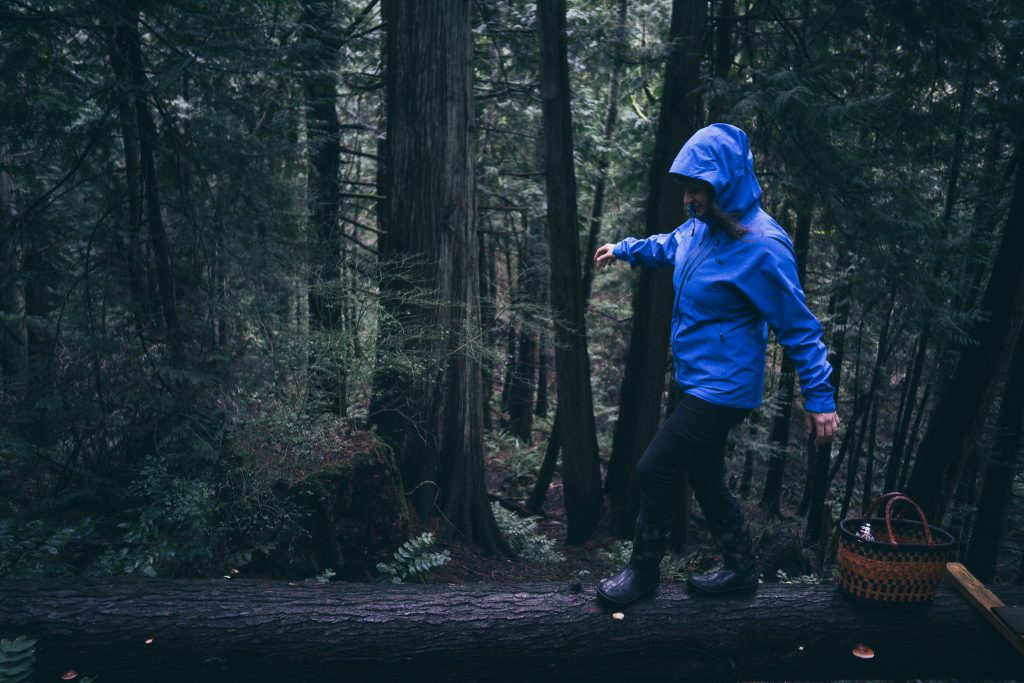 Breathability
Having lived out of my van full time for over six years now, (Note.. This is the #dirtbagvanlife, the style that Fred Becky invented, where meals are cooked on whisperlites, everything is done either lying down, sitting or squatting, and changing electronics is done through hand-held battery banks or poaching the community food co-op's outlet for a few hours. Not to be confused with #vanlife)….I've come to really appreciate the importance of moisture control. Exercise is a daily practice but if I can keep sweating to a minimum when I get back from wet runs, bike rides, and ski trips, I can keep my trips to the laundry mat to a minimum and have half my wardrobe on my dashboard. Both of which make the lifestyle more manageable.
I was really impressed with the MicroGravity's breathability, especially when I was pushing hard moving my body. The jacket would keep me dry from the rain but not turn me into a sauna underneath. This is all thanks to the construction and technology of the fabric. Electrospun polymers make a web-like membrane creating a breathable, air permeable, yet waterproof shell. And unlike Gore-Tex, the fabric is stretchy and seems to move with me, all the while allowing sweat vapors to escape out. Maybe it is magic….. Hard to say but I was always psyched to show up to my destination feeling fresh and with minimal wetness.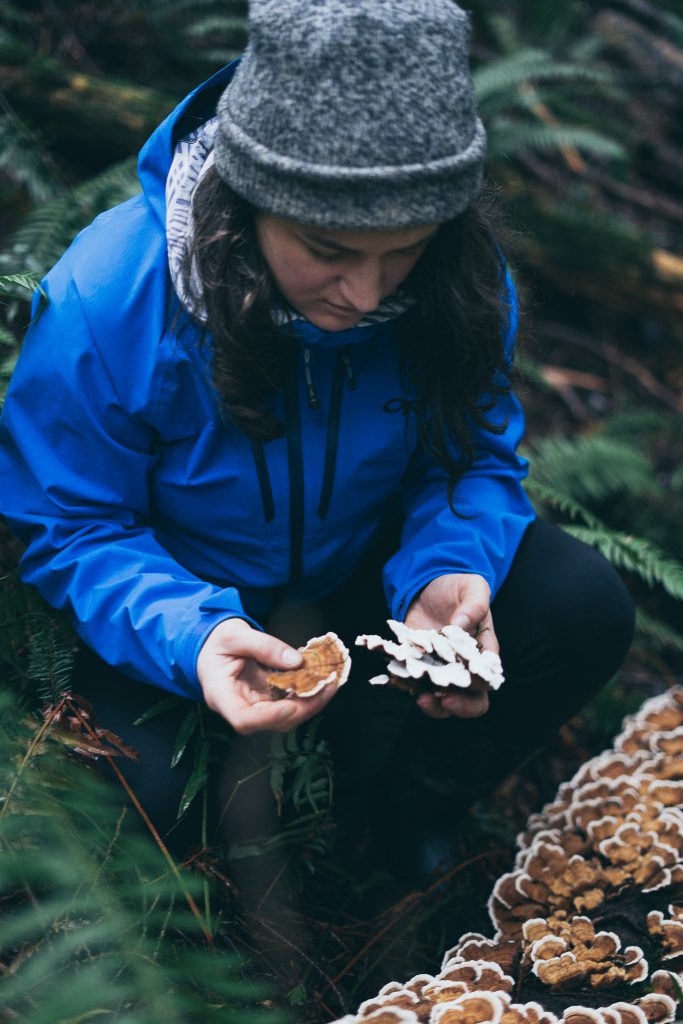 Features
I was really happy with the simple, yet key features of the jacket too. The hood easily fit my helmet, there was plenty of room in the shoulders to stretch and move freely, and the two deep chest pockets provided plenty of room to fit the essentials (and not fear losing access after putting a harness on).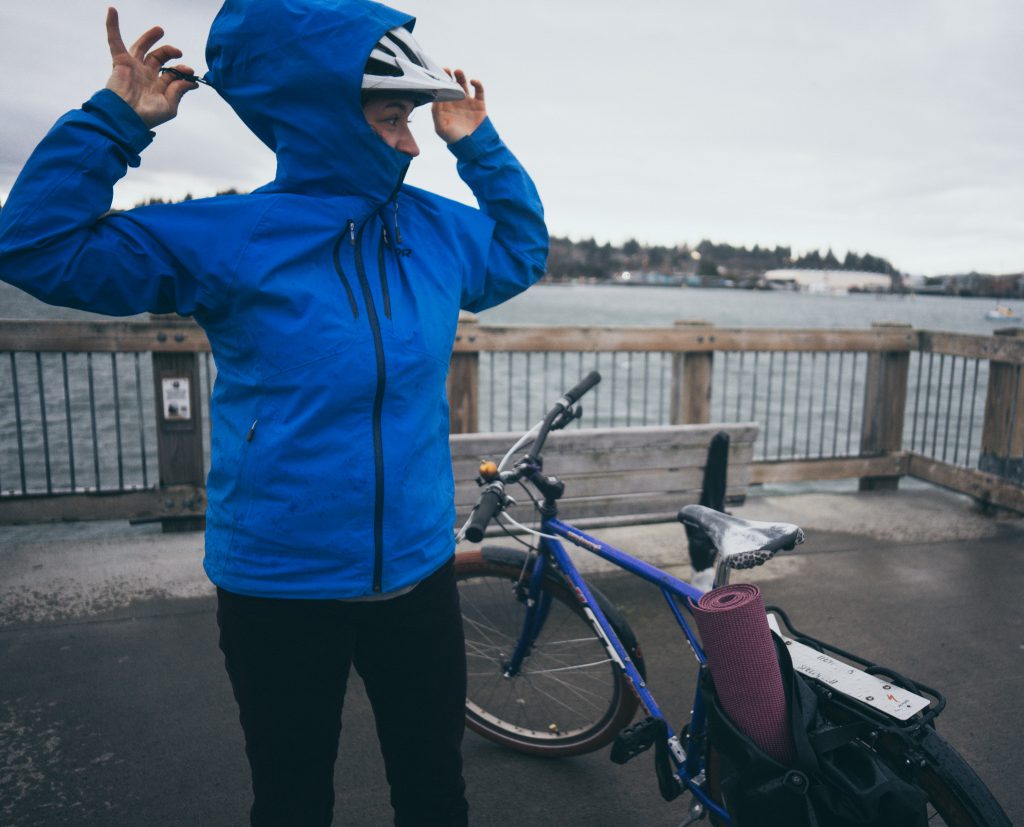 Life has taken me on many adventures, and I believe that in the company of carrying Outdoor Research's MicroGravity jacket I won't be weighed down or put out wet. This jacket is of high quality and I would feel confident bringing just about anywhere, especially the alpine.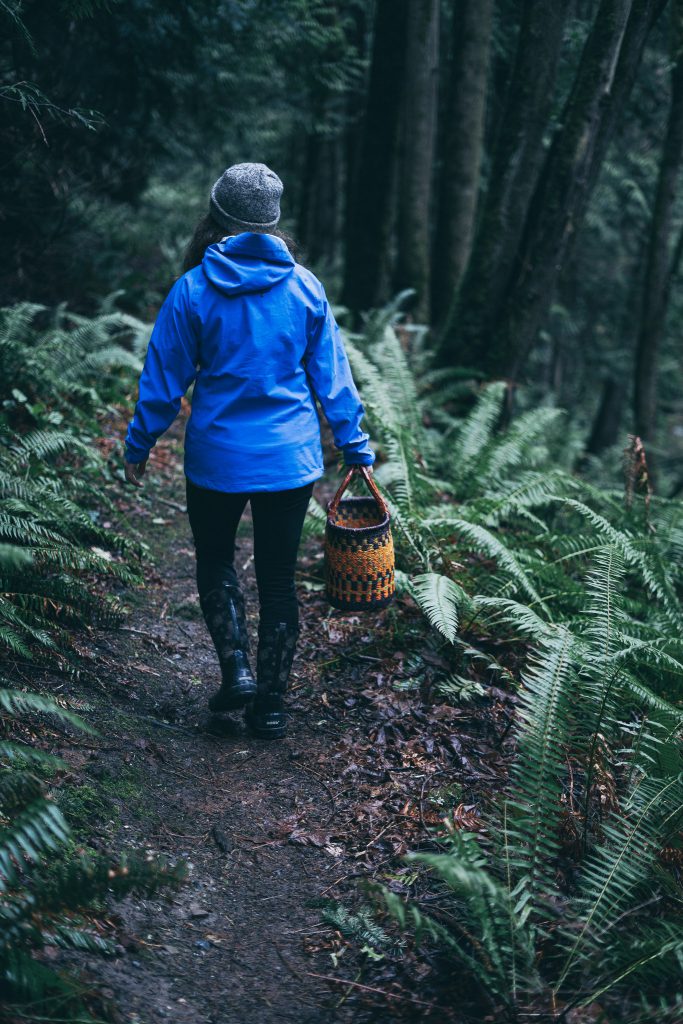 Friendliness to the Earth
OR's commitment to sustainable practices is deep and widespread. From their code of conduct for their employees being in alignment with the Outdoor Industry Association (OIA) Fair Labor Code of Conduct; to supporting the artists of the Warli Tribe of Maharashtra, India by leasing their artwork and contributing 5% of profits back to them; to having a Responsible Down Standard protocol and getting on board with the global recycled standard for their materials, Outdoor Research is helping to change the consumer market into a more conscious worldwide community.
How we spend our time and resources not only reflects but perpetuates the world in which we chose to live in.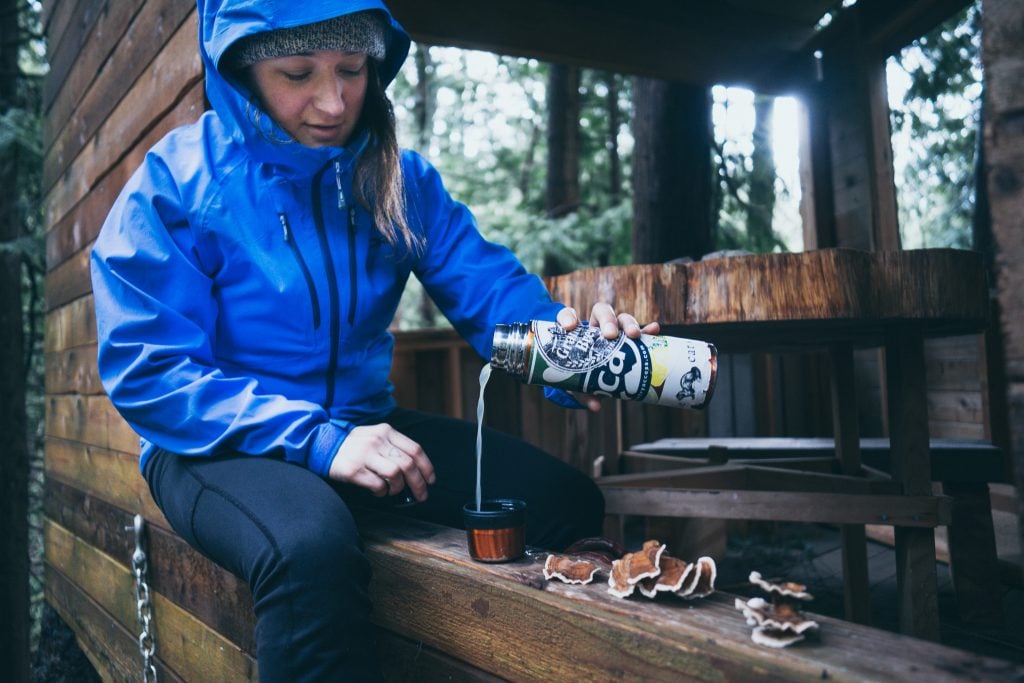 Shop the Outdoor Research Women's MicroGravity AscentShell Jacket on Outdoor Prolink. Not a member? Apply today!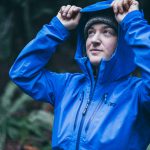 Grown and raised in the PNW, Kat Schaumberg has worked as a guide and mountain instructor for the last decade, specializing in multi week expeditions with technical, big mountain objectives in mind. She currently owns and operates an outdoor youth mentoring program and works part-time as mountain guide, licensed massage therapist, and lives on a small homestead. Kat likes to live her life close to the natural world and in full expression of her wild side.