ProView – Rab Cirrus Flex Hoody
I received this jacket right as I was headed out the door to catch a plane to Ohio for the weekend. I needed to take a jacket that was lightweight and compact, as I didn't have much space left in my pack. I couldn't believe how well the features of this jacket transitioned from the unpleasant fall wind and rain of Ohio to the sunny, snow-covered trails in Allenspark, and onto the breezy burn-scarred areas of Pike National Forest.
Rab Cirrus Flex Hoody
Product Description: Worn as either a lightweight outer or warm midlayer, the Cirrus Flex Hoody is incredibly versatile, offering durability, breathability, and freedom of movement for any winter adventure. Filled with synthetic Cirrus™ Featherless insulation, the Cirrus Flex Hoody works to balance and regulate temperature. Designed to ensure you don't overheat when you're moving or get cold when you stop, the Thermic™ stretch fleece panels offer excellent flexibility and exceptional breathability. The Cirrus Flex Hoody is made with durable Hyperlite™ rip-stop outer and lining fabric, which sheds water and is quick-drying. The left pocket doubles as integrated stuff sack so it packs away neatly when you're on the move.
Offer price: $200 MSRP
Quality

Features

Fit

Packability
Summary
The Rab Cirrus Flex Hoody met my needs no matter what elements I put it up against. As someone who is over-cautious on "just in case" layers, this jacket is just the right fit to layer on or toss in my pack for unpredictable Colorado weather. Its slim fit, but flexible design, makes it perfect as a mid or outer layer.
Pros
Lightweight

Quick-drying

Versatile

Athletic fit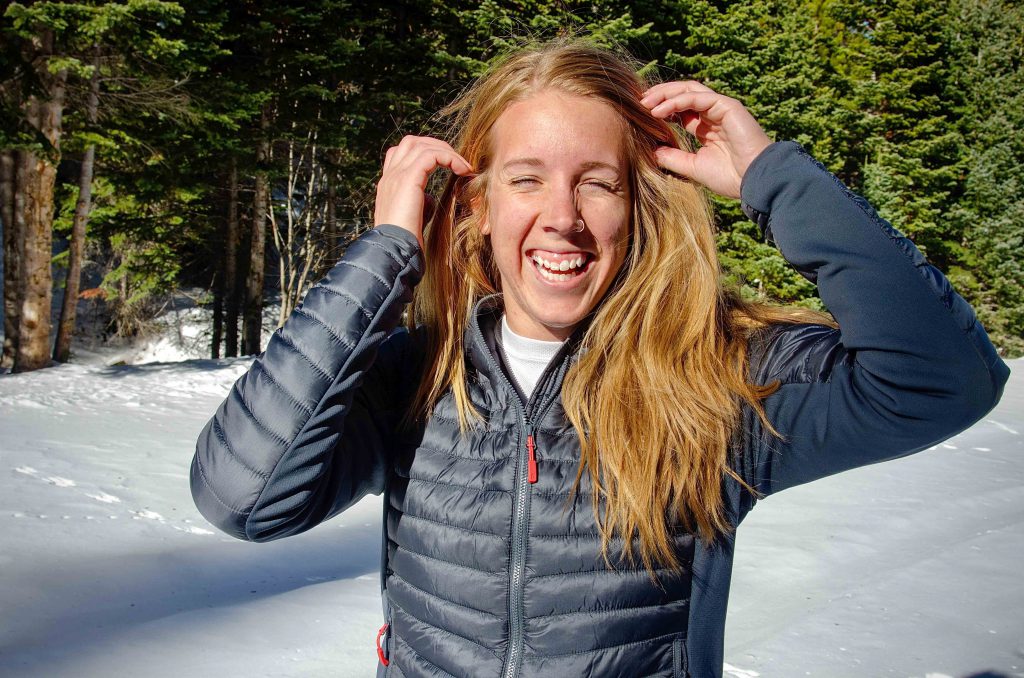 Fit/Comfort
I was really surprised at how flexible this jacket is. The fleece panels on the side give the jacket the perfect amount of stretch that you want when moving around on the trail. It's a perfect layer for climbing. Its slim fit makes it a great mid-layer, and the flexibility of the jacket allows space for it to be an outer layer.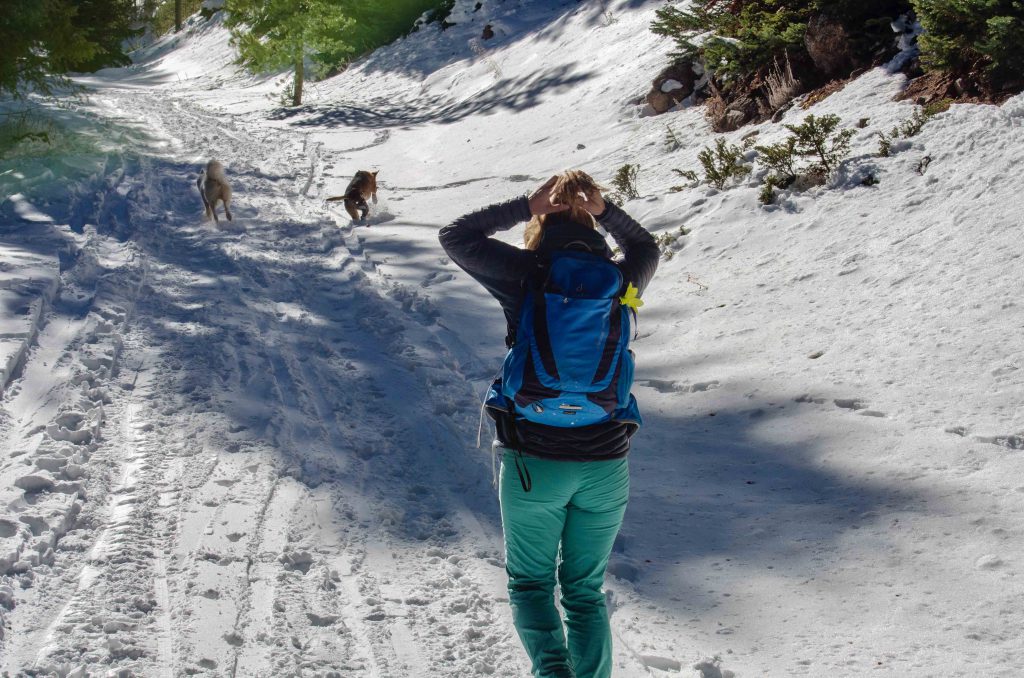 Features
I really love the hood. It fits perfectly around your head and actually stays up without having to make adjustments. It's slim enough to fit under a helmet. I would've liked to see a little more secure elastic around the sleeves to keep your sleeves in place over gloves. This jacket does have an adjustable drawcord around the waist to help get the fit just right.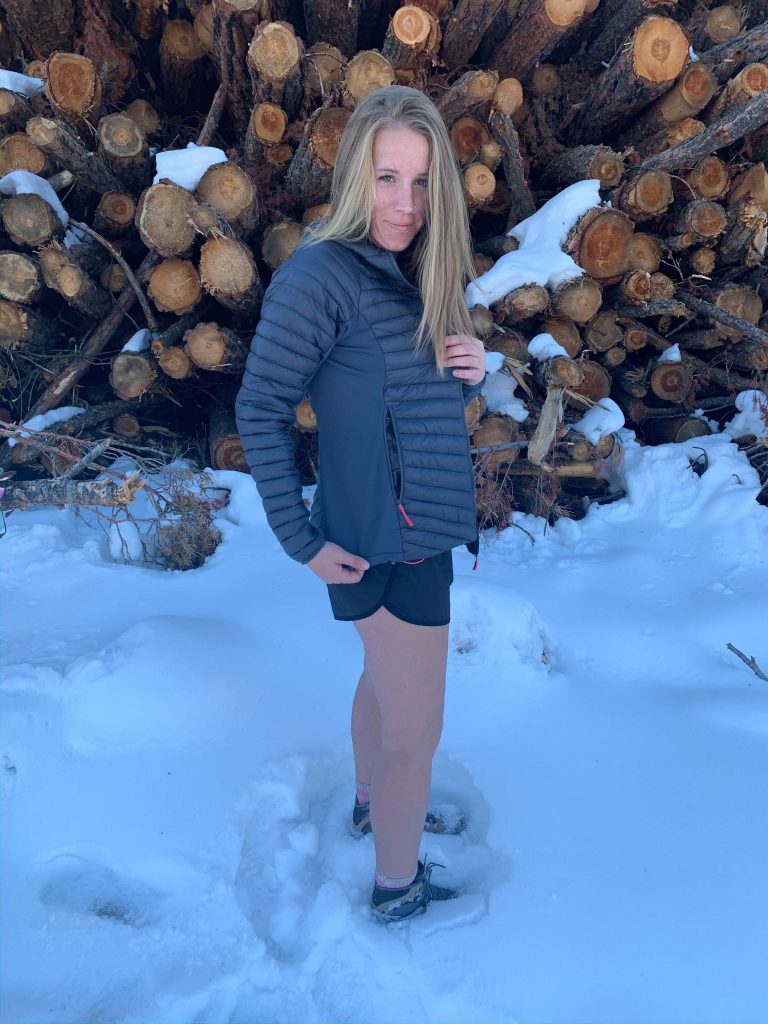 The slim fit and lined zipper do a great job at keeping in heat when necessary. At the same time, the fleece side panels on the hood, sides of the jacket, as well as the underside of the sleeves make it perfectly breathable. This adds to the flexibility of the jacket as well. The featherless insulation is a huge win as well– this makes it dry faster, be it from sweat or rain/snow.
Weight/Packability
Coming in at 12.3 ounces, this jacket is the perfect "light" but effective layer. Also, the left pocket doubles as a stuff sack to store the jacket. It's a surprising feature, as it's pretty sleekly hidden in the left pocket- I didn't even notice it until a week in of wearing this jacket. My only complaint with the stuff sack feature is that it could pack the jacket down much smaller than it did. It does make a nice pillow when in it's in the stuff sack!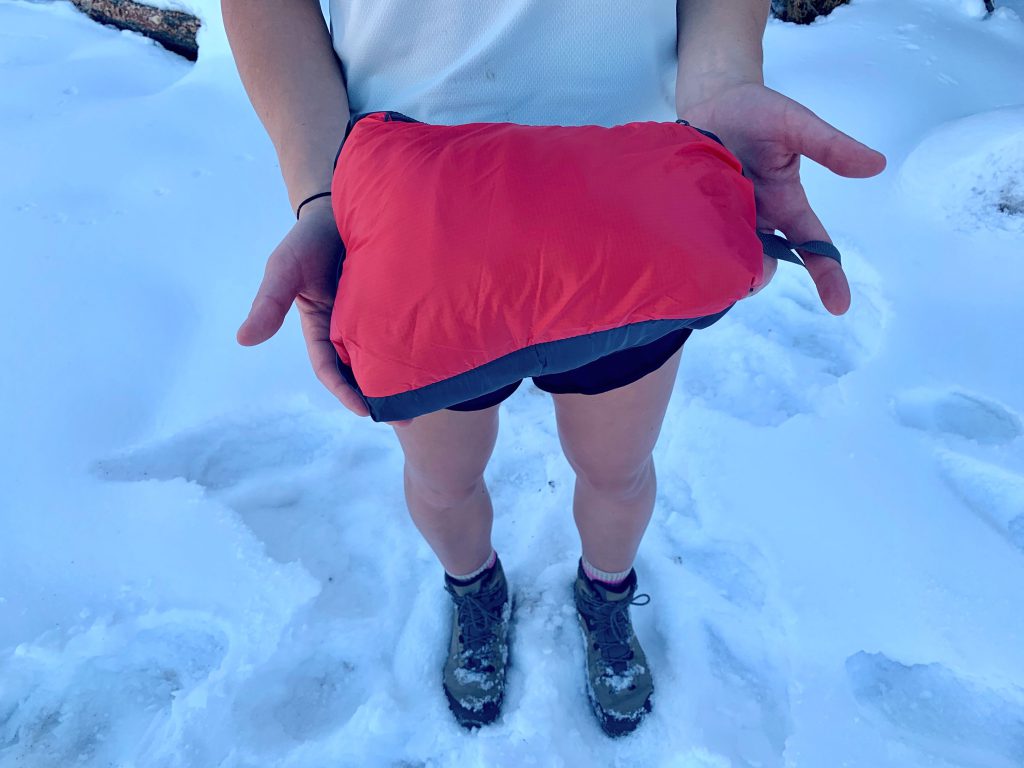 Function/Performance
This jacket is a great mid or outer layer. I was a little disappointed that the hip straps of my pack ran right across the middle of the pockets in the jacket, so much so that I wouldn't be able to get anything in or out of the jackets without unclipping the strap. A chest pocket would be a huge win on this jacket.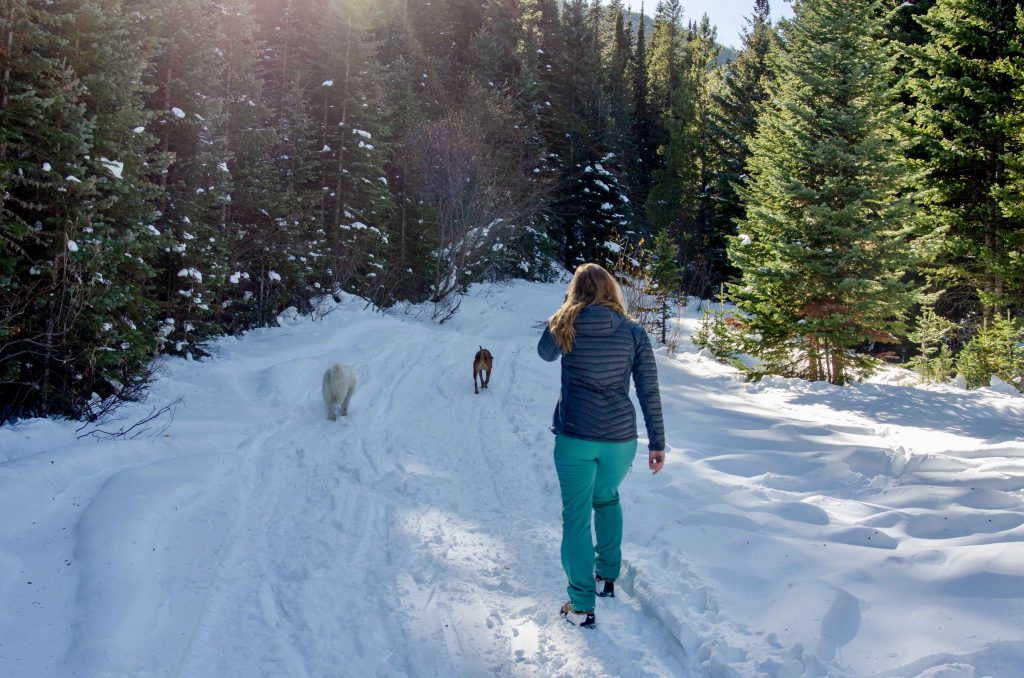 The Final Word
This is the jacket you toss in your bag 'just in case' because it is so versatile. It is ultra-lightweight, waterproof, breathable, packable, windproof, and an all-around great jacket to have in your pack, no matter what the next hour or turn of your hike may bring. There were moments I wished I would've had a zippered chest pocket available so I didn't have to unbuckle my pack anytime I needed in my pockets.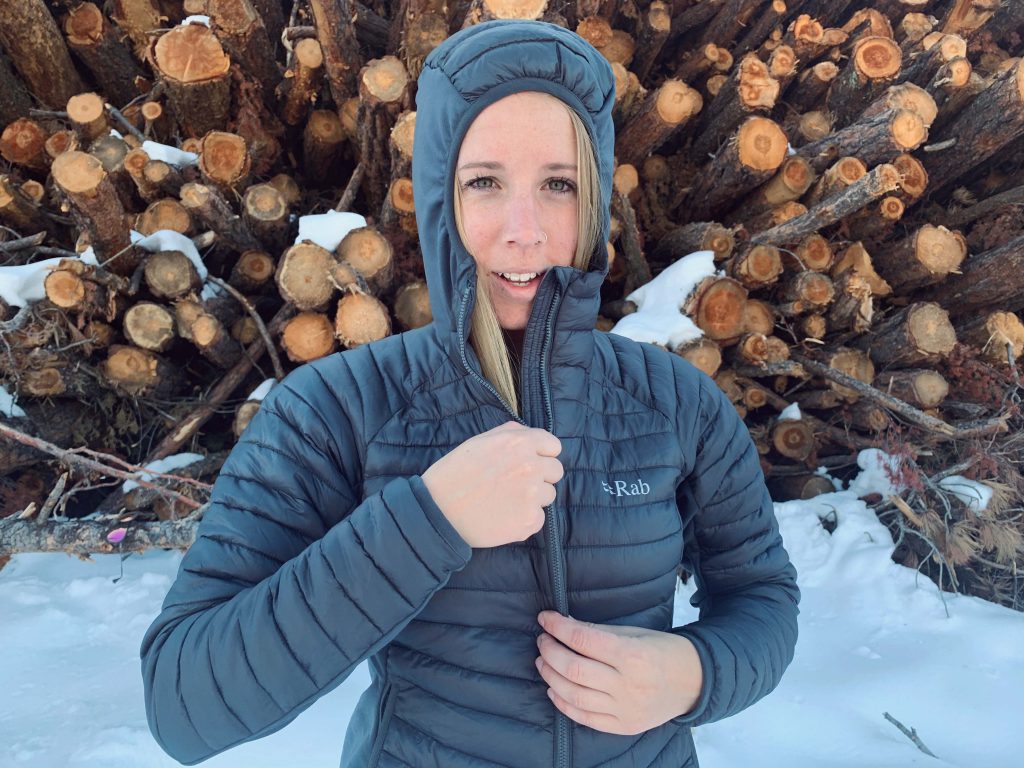 Shop the Rab Cirrus Flex Hoody on Outdoor Prolink. Not a member? Apply today!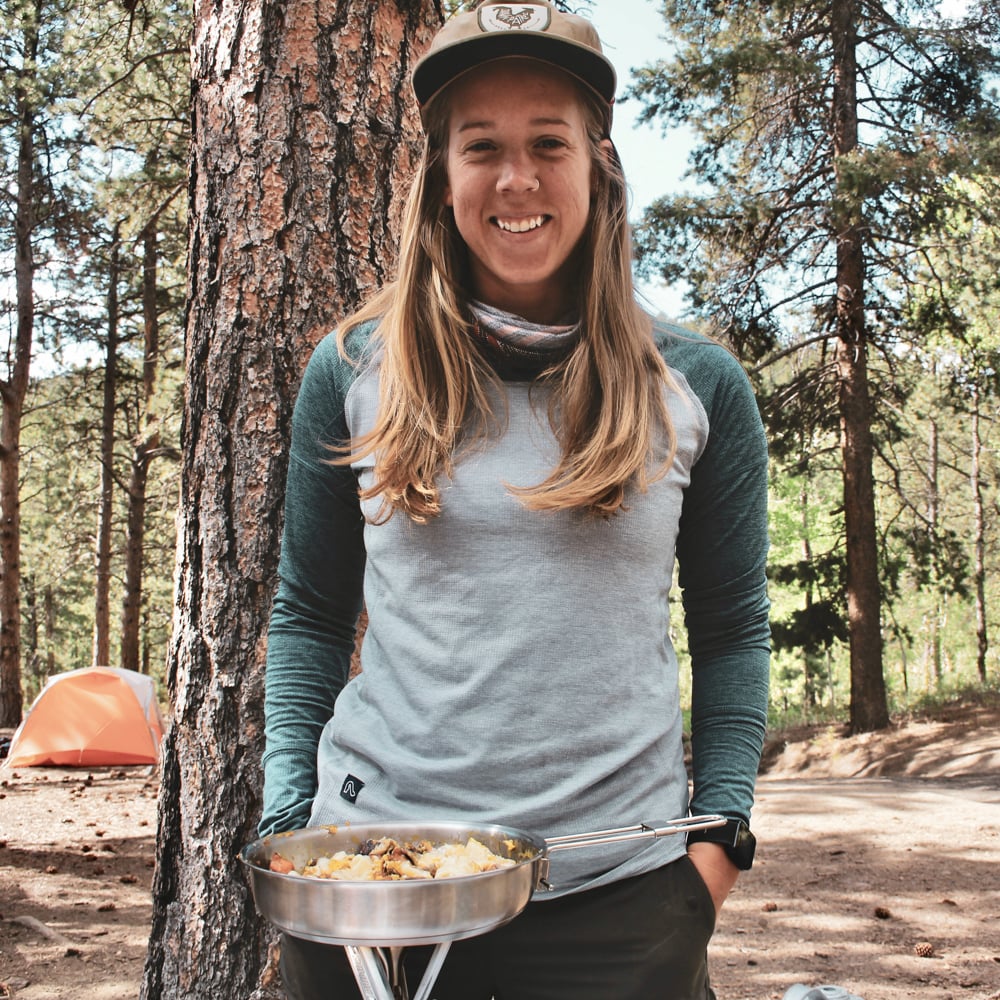 Meet Lano, the plant-loving, bread-baking, bike-riding, backpackin' Customer Service and Operations Manager at Outdoor Prolink. When she's not getting other outdoor pro's stoked on some new gear, you can find her out in nature, cleaning up the trails and chasing the sun. She's a green-thumbed guru who's not afraid to get her hands dirty, and is passionate about getting others outside.